The first game of a back-to-back following a 2 day break following 2 straight crappy 5-2 losses against 2 'big boi' teams… hard to know what to expect so I was busily expecting nothing and just waiting for my bourbon to cool down. Nothing like chilled bourbon. Ah…. bourbon. Bourbon, bourbon, bourbon…
The Big Rig gets pushed aside for the Other Finn. That would prove to be a pretty smart move by Sully…
30 seconds in, Sid was already bored with the fact he was playing the Coyotes, so to spice things up, he hooked a guy. Nice of him to keep us interested. Pens killed it off because the Coyotes aren't very good at hockey, mostly, but also because Murray is VERY good at hockey.
More hockey because that's how it works, until… well, nothing really much. So again, 9 minutes in, Sheahan was bored and took another penalty. Also killed. Wash, rinse, repeat, I guess.
Then, a twist! Dumoulin joined the penalty parade, which is fine – he has like 2 ever against and was due. But what we WEREN'T expecting was Murray losing his cool and yelling at the ref. I love seeing Murray all riled up, but him barking at the refs is not productive.
Sully threw The Blender in to serve the penalty, and he immediately took the opportunity to introduce himself to Dumo, who probably thought he was the new stick boy until then.
The PK was put to the test, down two, and did a pretty admirable job. So when Galchenyuk took a borderline tripping penalty on Dad, you figured it'd have to be a no-brainer to kill this one off too. Nope. Keller with a rocket past a confused Jerk Johnny, who was screening Murray perfectly and the home team was up 1-0.
Then they kinda skated around for a while until a horn blew.

About 3 minutes in, The Blender, uh… blended stuff… or whatever, and the Pens were on the power play. The first until had fun playing catch for a while, but then the real studs came out to play and suddenly, Sully is a genius…
Jusso Riikola (2) from Pettersson (14) and Simon (13)
Riikola with an absolute canon blast. Pearson with a nice screen. Powerplay from the point, baby.
Before our collective penises… penii? … whatever, before I was soft again, Guentzel swooped in to pick up some garbage lying around in front of the net.
Guentzel (24) from Cullen (8) and Wilson (3)
Dude with 23 goals just hanging out by the net and you decided to ignore him? Congratulations – he now has 24. It's really fun to watch Guentzel model his game after Sid. Now he just needs the tree trunk legs and huge ass…
Nothing else of note happened, I'm pretty sure. Did I mention I like bourbon?
Pens just owned the faceoff circle that period. Which is extra important with the long change, so hats off to the cagey veterans getting it done.
Stuff happened, yawn it was late, and then the 'Yotes tied it up… until everyone with a brain realized Murray wouldn't have tried to save that puck by doing a baby seal impression unless someone was messing with him. Sure enough:
Sully with 12 challenges now… winning 7 of them. Mike Tomlin, call your office.
That was great, but the fun was short lived because Derek did a thing. Not that Derrick, or that Derrik, or even that other Derik. The one that used to be good on the Rangers. Anyway, he parked in front of the net and Mr. In The Conversation apparently didn't see anything wrong with this. I wonder if Murray yells at his own teammates as much as he jobs the refs? Moving on…
Nothing else happened. End of period. FREE HOCKEY!!!
OT is always fun. So many chances, so much open ice. Oooos and ahhhhs all around. NHL really got this change right.
So during one such exchange, All American Fucking Hero, Phil 'The Thrill' Kessel was on the ice. Yotes had a breakaway. I'm guessing that most Pittsburgh fans at home were already cursing Phil's laziness, when he did this:
That lil chubber was MOTORING. I nearly dropped my 4th bourbon, which would have been fine because I was already preparing my 5th, but still… it was a sight to see.
And he wasn't done there… but the Yotes were. Some jobber took a dumb penalty and Mr. Net Front Presence did the rest, with a little help from Sid:
DEUCE
Thoughts:
The Coyotes are not good, but young and fast, so they will be
Malkin still is way to much in his own head
Murray is a Very Good Goalie
GAMEDAY 48
Vegas is a great town. They also love bourbon.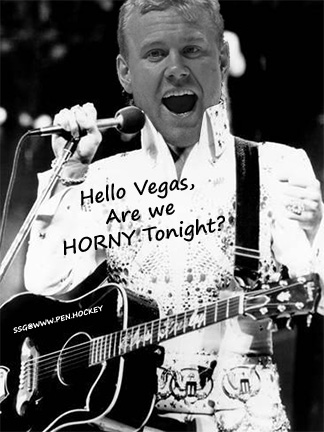 I'm tired. I hope the Pens aren't tired.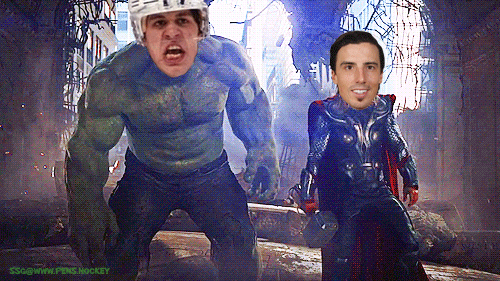 LET'S DO THIS!!!