Coming off their nationally-televised shorthanded OT win against the only undefeated team in the league on Wednesday, the Pens returned to the Paint Can for a bout with a team headed in the complete opposite direction.
The Dallas Stars were projected by most "experts" to have a solid season, and even received multiple Stanley Cup Champion predictions. We are only about 10% of the way through the NHL season, but it seems the Stars have some major problems- most importantly, their complete inability to score goals. Averaging 1.88 goals/game they are dead-last in the league. This offensive impotence has resulted in a 4-game losing streak, where the team has been outscored 14 to 5. Kids, it's always important to remember championships aren't awarded based on preseason hype…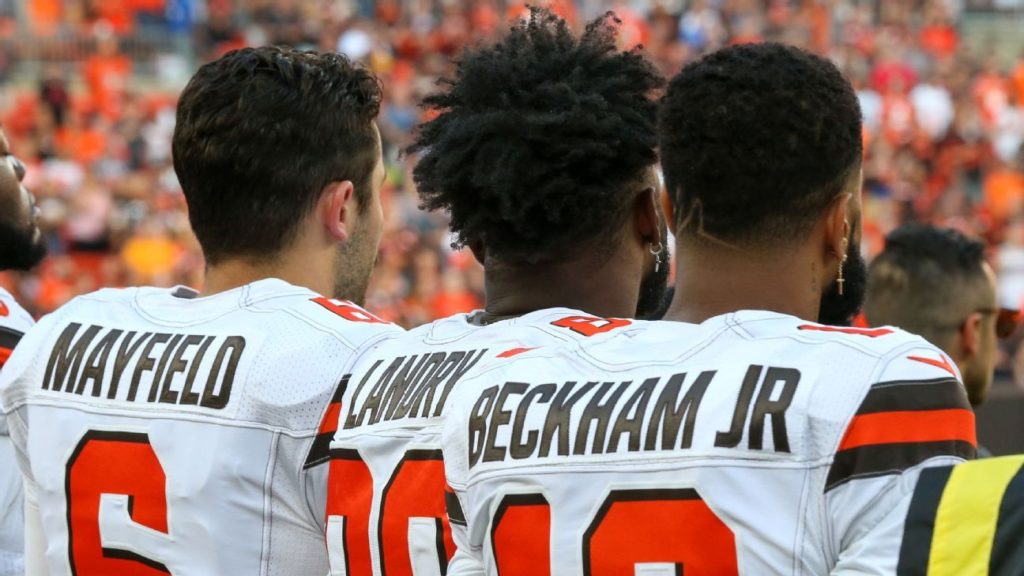 On the other side of the ice is a Penguin team on a downright miraculous 4-game win streak, despite having nearly half their players on LT/IR (Malkin, Bjugstad, Rust, Galchenyuk), or dealing with recent ailments of varying severity (McCann, Hornqvist, Guentzel). It has been refreshing to see the Pens sticking to team defense and being rewarded for playing "the right way", despite having so much talent in the press box each night.
The Stars were hungry for a win, the Pens have MAF rolling into town tonight, and eventually the magic has to wear off, right? This had "trap game" written all over it.

Honestly, this was one of the most boring periods of hockey I have seen in quite a while. It felt like 80% of the games Mike Johnston coached. You know, the ones where the play was so boring you'd fall asleep before taking a sip of your beer? What a horrible time that was. Anyhow, both teams were content to stick to their system and wait for a mistake. Nothing exciting, but sometimes this is the right strategy. How many times last year did we see a stupid pinch or an impossible pass lead to a puck behind Murray? No penalties either way. Pens had the edge in shots, 10 to 5.

The puck dropped for the 2nd and it didn't take long for the hockey game to finally start. 5 minutes in, Finish speedster Roope Hintz torched a horribly-out-of-position Jack Johnson and beat MMX- five hole. I could use this time to complain about JJ, or JR, or that absurd contract, or having to attend my inlaw's family reunion, but we all know it won't make a bit of difference.
Ok, I lied. One complaint. How is it even possible to find yourself this far away from where you need to be? Johnson is 3 feet from the penalty box with the puck 3 feet from the benches on the opposite side of the ice. His man, the lead forward, could teabag the faceoff dot at center ice. You can't give a guy with that much speed a free lane to the net. Decent gap by Marino, but it only took a quick pass to spark this breakaway.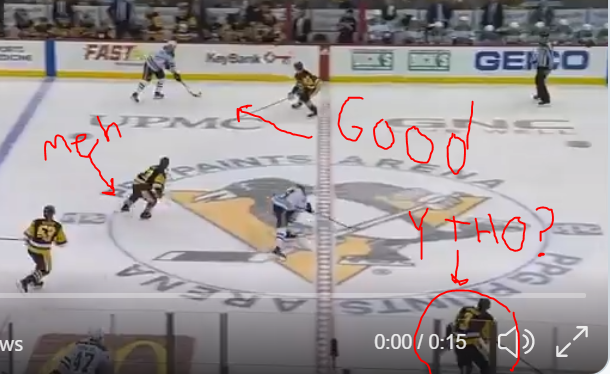 Seconds later, the Pens were given a PP chance. Looked decent, but Guentzel was stoned by Khudobin's blocker to keep the Stars in the lead.
With Dallas pressuring to double their lead, this series of (un)fortunate events showed how puck luck treats a team on a win streak compared to a team that can't buy a deuce.
Seguin's gift to Murray provided the spark the Pens needed to get going and with just a couple minutes remaining in the period, Pettersson faked a shot and then he went to Jared.
The only thing better than the seeing-eye pass to the point from Hornqvist down low is that celly from McCann. All tied at 1, and the period ended.

Any doubt I might have had about the outcome of this game was gone at this point. There is nothing better than just somehow knowing this tie game is going to end in a victory. I'm guessing the players felt that way, too.
After a Dallas powerplay that resulted in nothing of substance, Letang gave the Stars a lesson in Kama Sutra. It takes incredible patience to wait that long before finishing between the legs. So very rewarding, though.
Less then 4 minutes later, Dumoulin shot an accurate wrister from the blue line to Hornqvist for the deflection to nearly put this one away. 3-1 good guys.
Look at how late Khudobin is to react to the initial shot and notice where Hornqvist is positioned when he makes contact with the puck. This entire play was made because of his ability to take away the eyes of the goaltender. I'm guessing that puck probably goes in even if he fans on the tip. What a play. Hornqvist provides such a unique element to this team.
The Stars would add another goal a few minutes later on an absolute laser beam from John Kingberg to make it a 3-2 game, and with only a few minutes remaining, Khudobin headed to the bench.
Legame.
Guentzel was given a secondary assist on the goal, extending his point streak to 7 games…the longest in his career. Game over.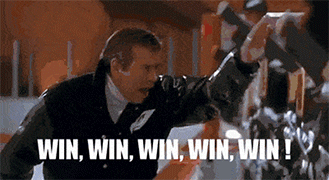 Now it's time for the newest segment here at Pens.hockey….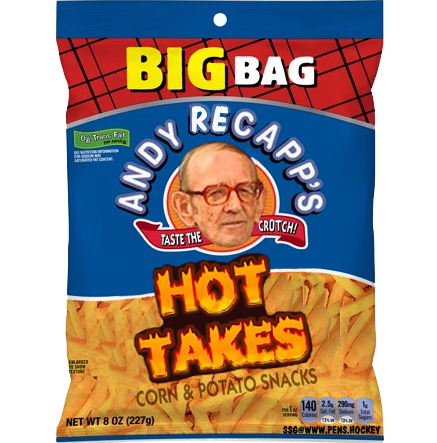 For the first time all season, Sidney Crosby did not score a point in this game. He still played responsible defensive hockey all night, fired three shots, and won 60% of his faceoffs. Looking forward to him not having to play 21:16 a night (especially in the first of a back-to-back).
Dallas is way better than their current record. This team will turn it around and make the playoffs. Confidence is a fickle little bastard.
Dominik Kahun played over 13 minutes tonight. I promise he did.
The "offense from defense" success that the Pens are seeing right now is the centerpiece of Mike Sullivan's system. I was not a believer in it after the sweep in last year's playoffs and their slow start earlier in the month, but after this recent run with a half-roster of players who are bottom-six or AHL regulars, I'm confident I was wrong. With less talent on the ice, the Pens are seeing exponentially more success because they are relying on the system. Clearly, it works. This allows them to transition quickly after a defensive recovery as a 5-man unit with support, as opposed to 2 or 3 players trying to quickly gain the offensive zone and turning the puck over at the blue line for an odd-man rush against. Hopefully the guys out with injury are paying attention.
The Tour of the Western Conference continues….RIGHT NOW!
GAMEDAY 09: LasVegas Golden Knights…Spoderflower, Far From Home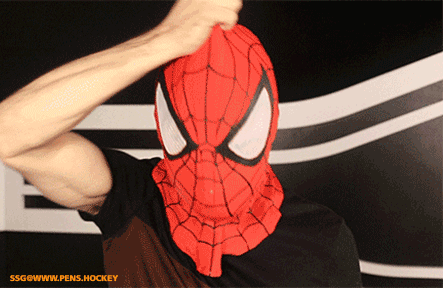 "Heeeeeees bAAaaaack" (that's the story ; ) …FRK HIM …Let's Do This.
It's Saturday. The time of year for putting away all the outdoor junk chores is upon us…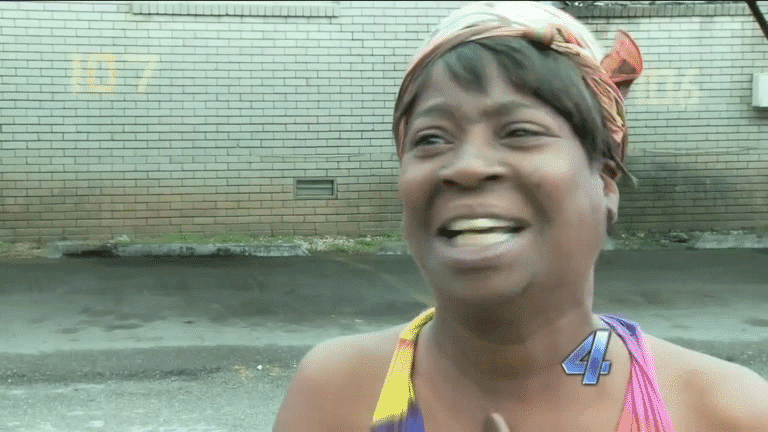 …thereore this GameDay portion of today's post is gonna be an unsatisfying, insignificant, tiny, lil- shortie. Just like Ung's, you know, "Garden Hose."