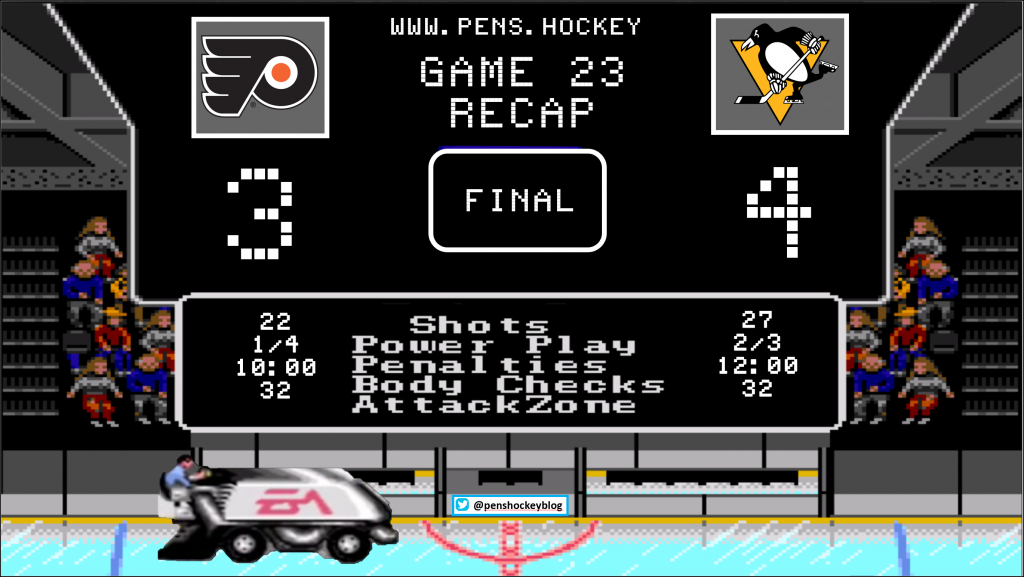 It's not too often that the third game in a rubber match (wrong rubber, buddy, put that thing away) is the beginning of a back-to-back with a different team, but that's tomorrow – we need to worry about today. Which Pens team would show up – the one that won handily in 'Game 1' or the one that screwed the pooch in 'Game 2'? Since I have no clue whatsoever, let's check in with Grover.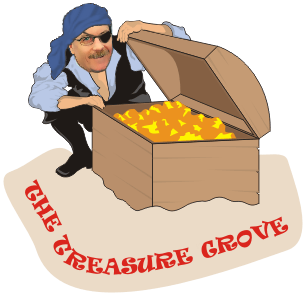 Interesting stat – maybe?
No more irregular D! I think that's what he's saying…
Now THIS is the kind of thing Geno needs to hear.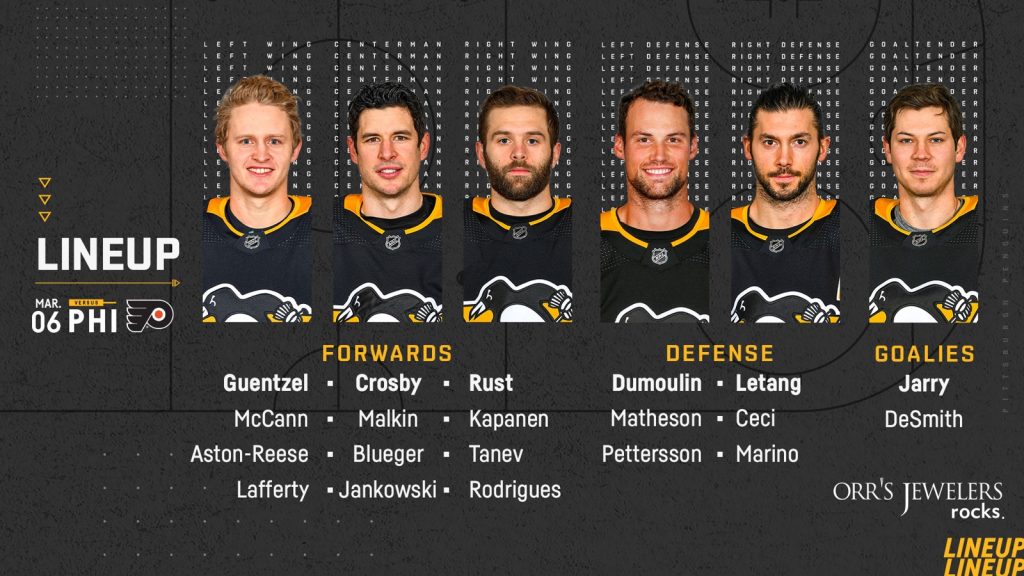 Nice to see Dumper back, finally. Rodrigues… well he's fast and stuff, so there's that. And at least he's not on Sid's wing.

Full disclosure: I was actually walking by the arena when the puck dropped. Don't you worry about why, the point is, I was THERE MAN! A mere 1000 feet or so from puck drop. I just couldn't, you know, see anything. Or hear anything. So… yeah. Neat story, right?
Anyway, because I was THERE and not HERE, I didn't know what was going dahn. That's why there are replays. You know who hates watching replays, at least as of today? Sam Laugherty…
Yikes. When you're an interchangeable 4th line spot-on-the-bench filler, ya gotta bring more than that. I have a feeling I know what Sully looked like on the bench…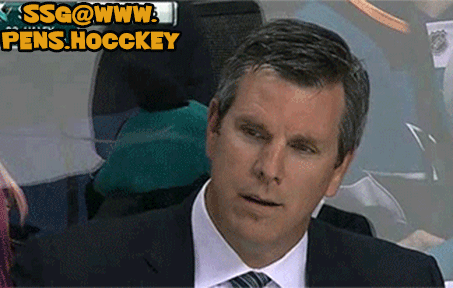 Luckily, Sullivan would have something else to think about shortly thereafter, as Ivan the Pterrible hooked up the Rusty Razor and the Good Guys would get some early PP time. Yay PP time!
Remember that last tweet up ere from Grover? Geno does.
Malkin (5) from Crosby (13), Guentzel (13) – 7:54 – PPG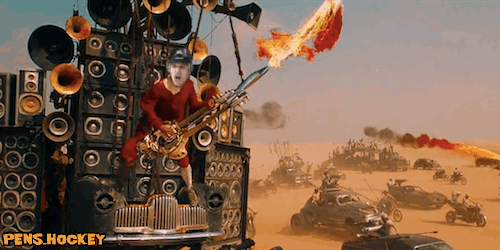 OK, so maybe that's not how they drew it up, but when Player 101 wants it, he takes it, borscht be dammed. Great feed from Sid, because Sid, but great awareness from Geno to take it to the net and see that Guentzel was causing havoc in the crease. Havoc in the Crease – playing soon at a garage near you!
The rest of the period happened, rather un-eventually, according to the highlights, until the Rust bucket would draw yet another penalty and the Pens would get more time to play with their PP. PP, PP, PP!!! You have no evidence I'm NOT 13 years old.
Rust (8) from Guentzel (14), Crosby (14) – 18:01 – PPG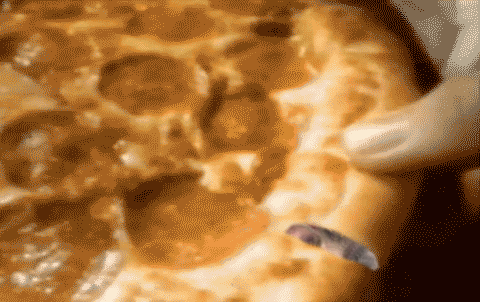 Drawing the penalty and finishing off the perfect passing play. Can life get better than that? I submit that it can NOT!
Last two minutes would include Petey taking his second penalty of the period, but the PK would stand tall til the buzzer.
Stats after one: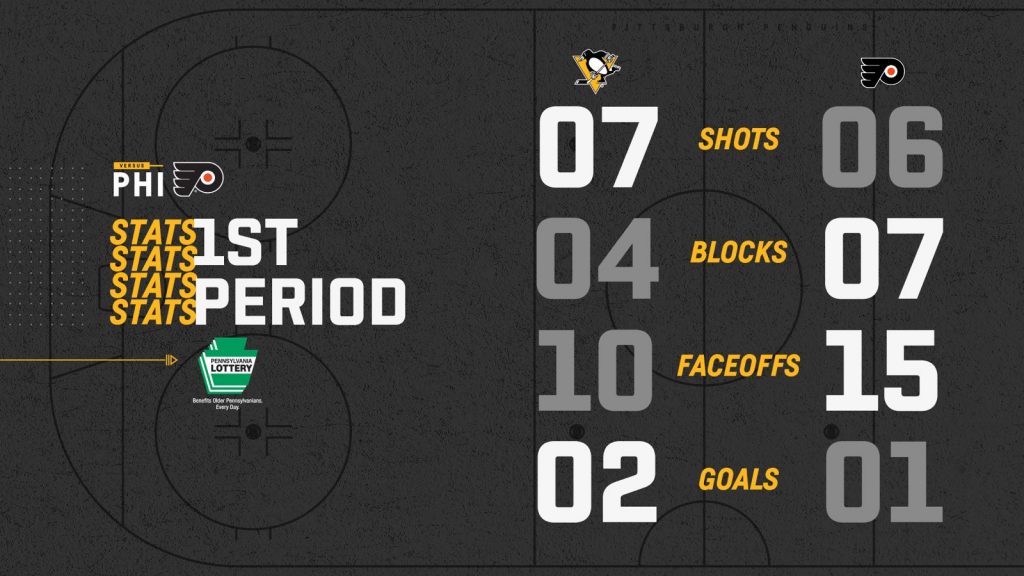 This period I was home for but I didn't feel like taking notes. Don't judge me – you didn't take any notes either. The Pens did kill off the carry-over penalty against Petey, I know that much.
Apparently that was annoying to Geno, though, as he'd take another penalty immediately thereafter. This time, the Orange Scourge on humanity knew what to do.
Too many dudes in front for Jarry to see coupled with a perfect corner pick from Hayes. Shit.
A little later, there was some silliness. I don't know precisely how it went down, but tempers started flaring. MathIsFun had a takedown of some douche that the other bunch of douches didn't like, and there were shenanigans. Or maybe that was later, I don't know. I just know it was starting to look like a 3rd game in 5 days between 2 teams who hate each other, so that was fun.
Just before the 9 minutes mark, No Chin Pete would take his third penalty of the game. For a guy who had one minor all season to this point, this was not a good thing. Thankfully, the PK stood firm, so that was also kind of fun.
What was not so fun was a seemingly innocuous shot from the blueline a couple minutes after the kill that apparently Jarry just didn't get his eyes on fast enough.
Ugh – their stupid social media still calls him 'ghost bear'. Of course, his name is Shayne so just about anything is better than that. Rough luck for Jarry there.
Since I like typing 'seemingly innocuous' and since it was almost precisely 20 minutes since the Penguins last scored, ZAR decided the time was right to throw a puck at the net and see what happened. This happened…
Aston-Reese (4) from Tanev (3) – 18:10 – EV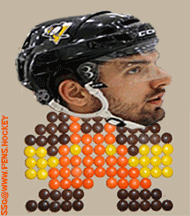 'There's no such thing as a bad shot'. No clue how it got in there, it just did, and the Pens would carry the celebration into the locker room.
Stats after two: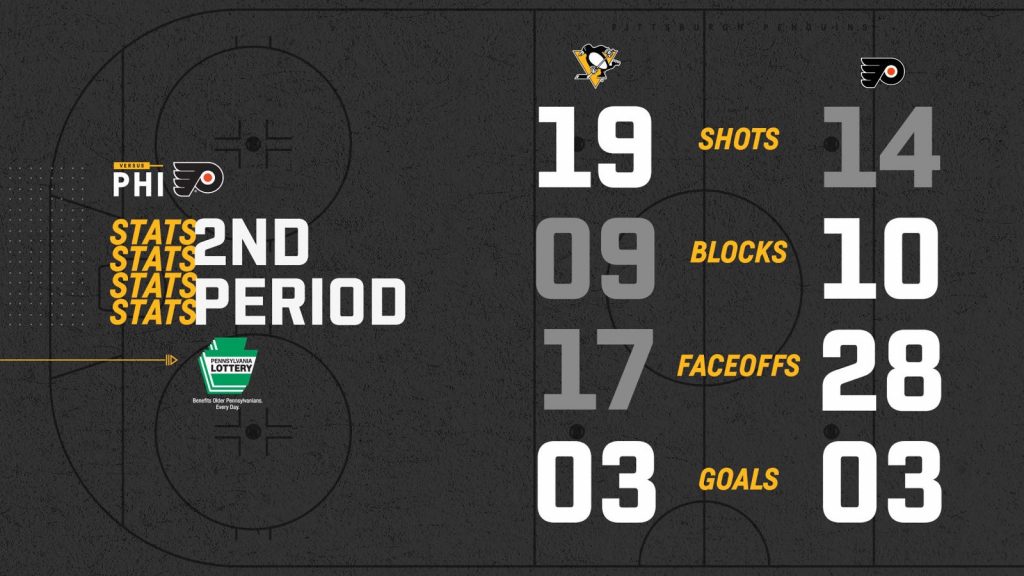 3rd period. 3rd game. Tied up at 3. 3/6/21, or 1-2-7 times 3. 1+2+7 = 10 and 10 is a perfect score in gymnastics. Ergo Ipso Facto, I'm pretty sure the Illuminati predicted this. Or Stonehenge. Or some dork in our comments on the gameday while watching. Certainly not Dillon, but some other dork. Regardless, it was pressure time for both teams. Who would reign supreme in the Battle of Pennsylvania, Chapter 897? (don't fact check that and ruin the fun, dildo, it's close enough I'm sure)
Lots of caution from both sides, but it felt like the Flyers had the more dangerous chances. Hayes and Voracek were sneaky good today and almost made the Pens pay a couple times.
And every time the puck would get deep in the Pens zone it was shenanigans. Too many times to count the puck would come high to low or low to high with a quality look on net. Blocks were big. Jarry was big. Your mom is big. But nothing made it through, on either side.
About half way in, the Pens would be recovering from some of those aforementioned shenanigans and some Flyer forward thought he could make a line change. Tanev saw that and made this face: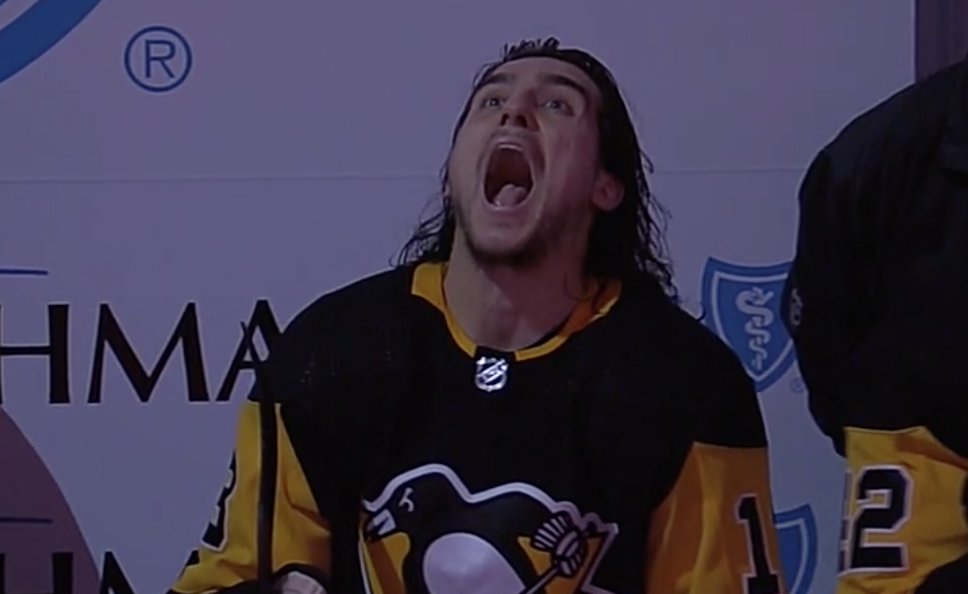 Tanev would out-race his guy into the OZ, Geno would drop it for Canner who would find Tanev for the clean SOG, but ET's friend couldn't control the rebound and McCann, gliding smoothly in Turbo's wake, would take care of the rest.
McCann (5) from Tanev (4), Malkin (11) – 10:41 – EV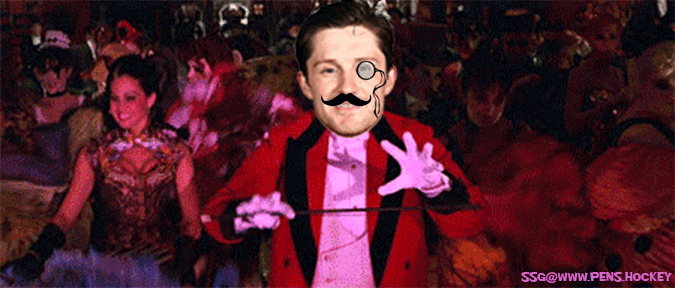 McCann is turning a corner. Goal scorers always figure out how to score goals, and he is no exception. Great play all around by those three, with Tanev showing great awareness to jump into that play.
The last 10 minutes… to say they were anti-climatic would be an understatement. The Orange had a few looks. The Pens were playing patient and careful but not as lazy as the other day. Dumo got more comfortable as the game rolled along. Petey decided that taking penalties was not as fun as Geno said it was. Jarry was up to every challenge.
In the end… well, it ended, and Black and Gold triumphed over Puke Orange and White.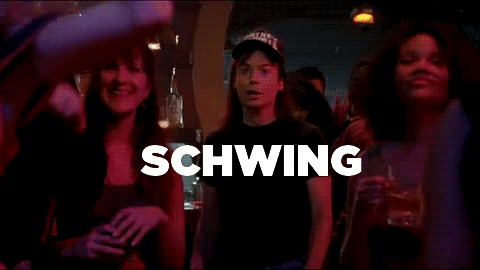 Thoughts:
Solid all around effort
Malkin with a great game
Dumo looked like Dumo
4th line is still balls
Jarry is still the starter
Gameday 24: Back on the Rags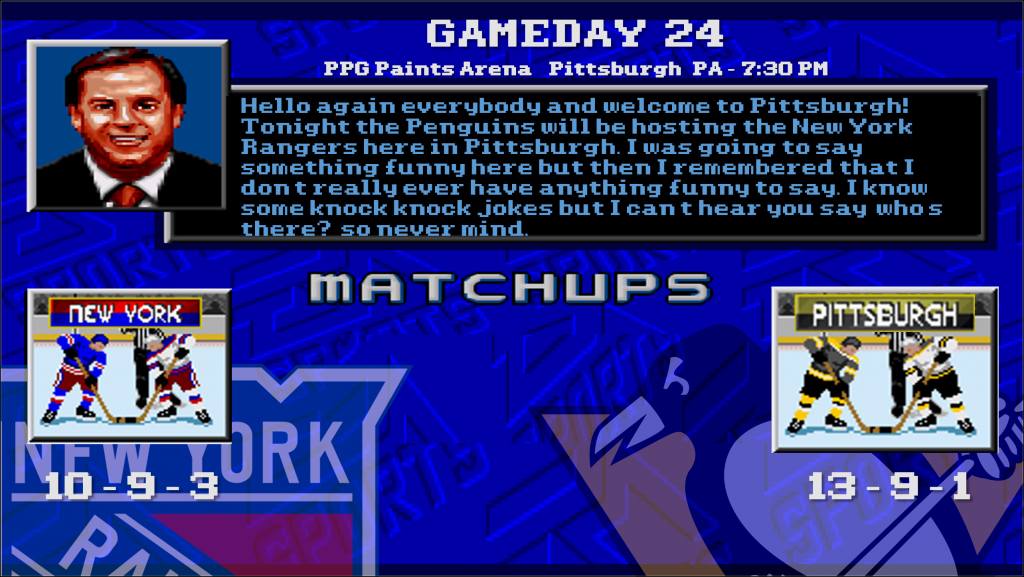 Both teams coming off of wins the day before. Both teams looking good more recently. The biggest difference is the Rangers last three wins were against the puke worthy Sabres and Devils while the Pens were battling the Islanders and Flyers. Wins are wins, sure but some are more impressive than others.
For the second game in a row, it looks like the Penguins will ice the same lineup, with the only expected change being DeSmith between the pipes.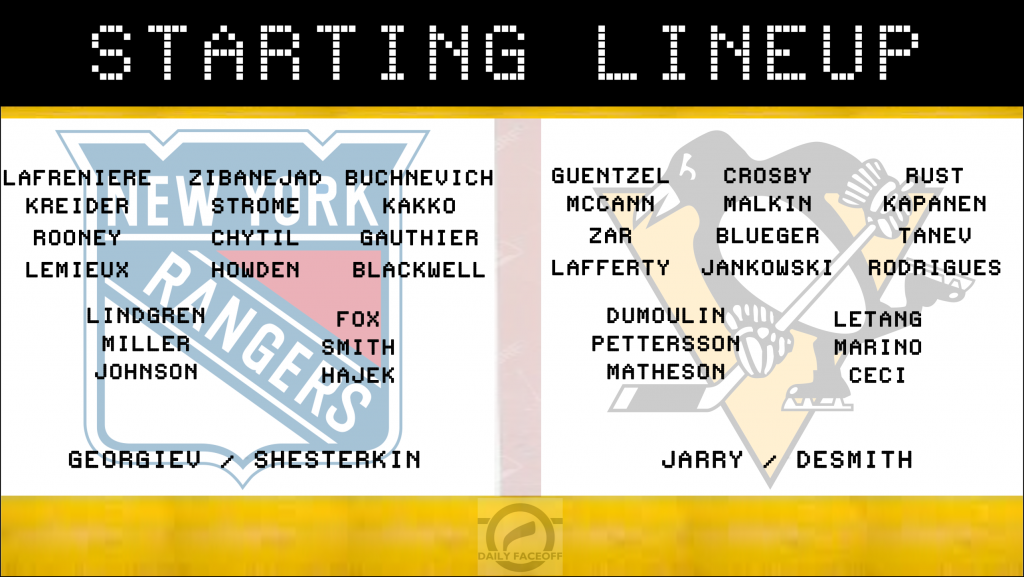 Sid and Jake lead the team with identical lines of 7G, 14A and are averaging TOI of 20:20 and 20:30. respectively. Talk about a matched pair!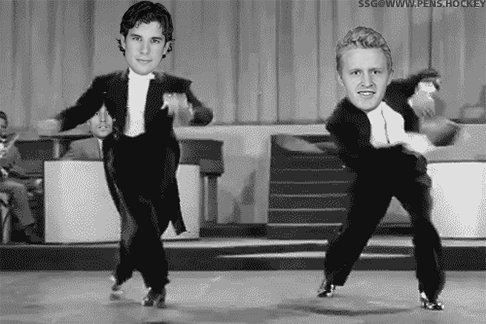 For the Rangers, as you can see above, Jack Johnson is somehow back to taking a regular shift for an NHL team. He's played just over half of their games to this point, averaging 17 minutes a night, with no points on 11 shots on goal and a -5. I bet Sid is happy to see him back in the lineup.
But the Rags have bigger troubles than Jack Johnson, if you can believe it. Highly touted rookie Alexis Lafrienere hasn't lived up to the hype and Zibanejad, the guy who was supposed to lead the team in everything, uh… hasn't.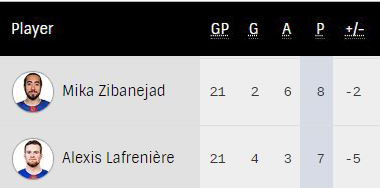 Georgiev had yesterday's start, so look for ShitShirtGrin to get the call today.
Keep it rolling, boys! Take two from these jokers and make it a super duper happy fun time weekend for us all!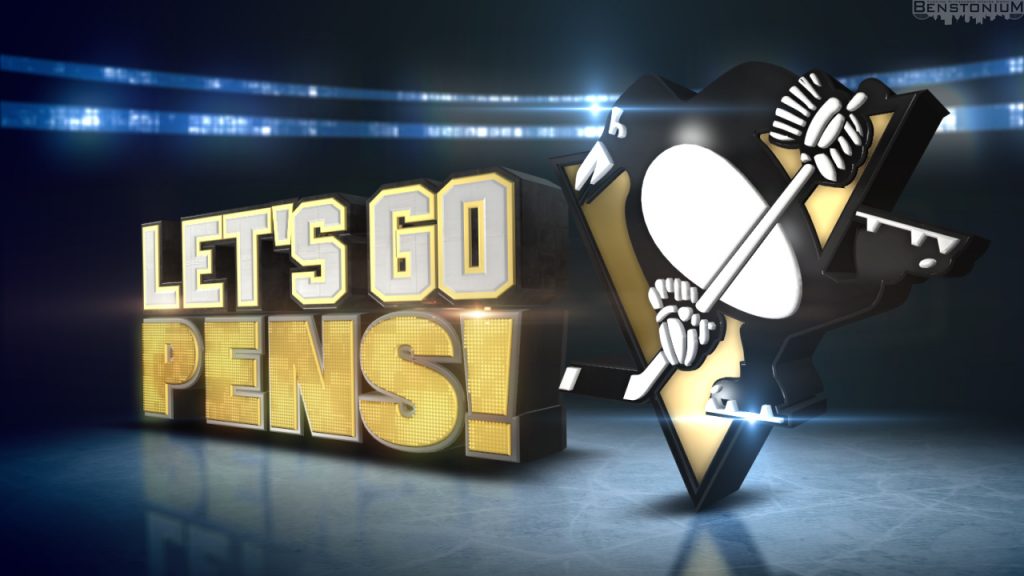 Loading ...