Gather 'round.
Yinz will have the pleasure of hearing some really great SSG stories later on in the year, but for now I'm going to bore you with one of mine. My only regret is not posting it on Tuesday, so I could have called it "Tuesdays with Douche"
Setting the mood
It was a chilly 40 degrees on a Monday night in Erie. Though for April 7th, 40 degrees in Erie is actually kind of warm. Especially since Spring officially started a couple weeks prior and my car was half buried in snow.
I recently moved into a new office space in "Downtown" Erie. A lonely little corner office of an abandoned unit, at a building called the Renaissance Centre, the tallest building downtown. It's owned by a "Tom Kennedy", who thankfully remembered the golden grammatical rule "e before r except after Cent".
I was lucky enough to snag a space on the 12th floor. The Renaissance Centre towers over all the land with an impressive 14 floors. The view was actually really nice. Especially if you like things like baseball
Not that I do, but it was a nifty thing to brag about and make me feel less lonely on the nights while I worked late.
Looking out the opposing window in the afternoon you could observe a few different rehab clinics, and of course, budding high school relationships. Sometimes I would stay late at the office, though this must have been at the crack of Dawn:
Nonetheless.
What I'd actually like to chat about was the Erie Otters game that night. Since my office was a couple blocks from the Erie Insurance Arena, I would try to make it out there as often as possible.
On the trek to the arena you have to walk past an Erie frog or two. Sprinkled throughout the town of Erie you have these statues of vibrantly painted frogs standing on their hind-legs.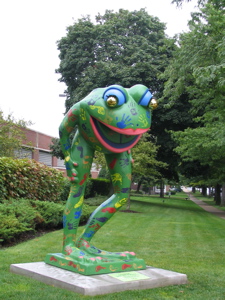 You wouldn't understand.
No one does. But I'm sure they give geocachers all sorts of boners. Speaking of boners, if you scroll up you'll see one of these frogs oogling at that couple.
So anyway, we get in and sit down and probably eat some garbage.
---
First Period
Fucking nothing happens.
Second Period
It isn't until 6 minutes of the second period that the scoreboard is opened up.
If you've ever been a patron to any minor-league team you know the feeling all too well of an entire fanbase falling in love with players who fall out of existence. Such is the case with Troy Donnay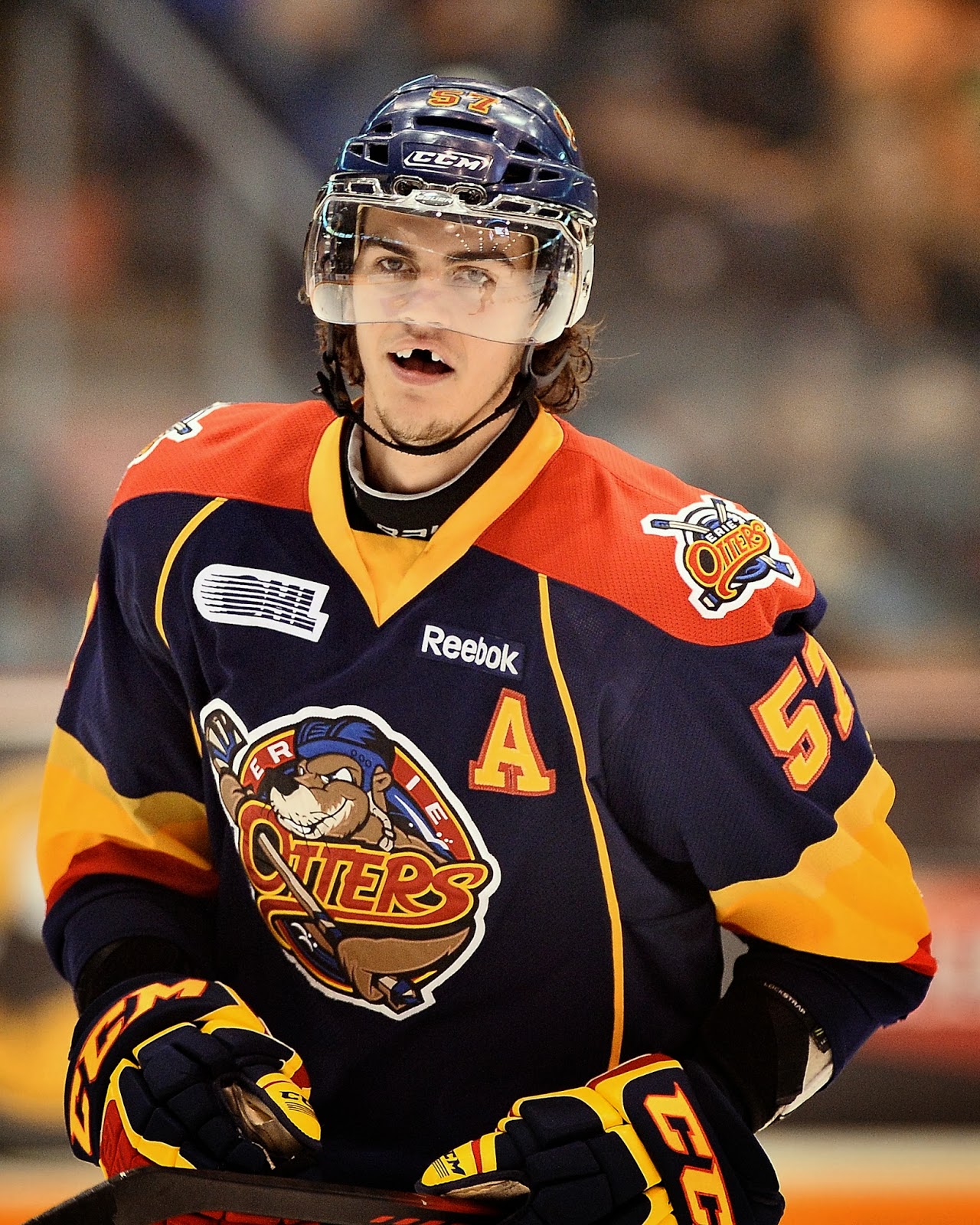 This dude is the size of Chara and was a fan favorite, if not just because he kind of looked like Letang from far away. Letang in the back, Carcillo in the front. In the 2013-14 season, the Otters held the OHL record for least goals against somewhat due to his efforts. In 2014-15 they finished 1st in the Midwest for the first time in 14 years or some shit. I actually wound up being gifted a Donnay jersey by my fiancee.
Where are they now: Troy Donnay
These days he plays for the Greenville Swamp Rabbits. You heard me right. The Greenville fucking Swamp Rabbits. Yeah, I don't know, either. I'm not going to look them up because whatever that team is all about can't possibly be as comically depressing as it is in my head, and I don't want to ruin that.
Oh shit.
Following Donnay's goal the Otters take two dumb delay of game penalties, putting them at a 5-on-3 disadvantage. The player at fault for the second penalty?
Dane Fox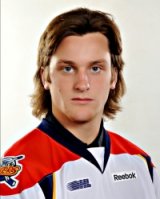 Fox was a fucking phenom. I've said it in the comments here probably a dozen times but I don't know why this guy isn't in the NHL. He got tossed from the Canucks to the Hurricanes and now he's back in the ECHL, yet to play an NHL game.

67 – 64 – 43. Are you kidding me?
This was around the time that really really great song "What Does the Fox Say" came out, so all the kids were singing that every time he scored. Every. Time.
Where are they now: Dane Fox
The Missouri Mavericks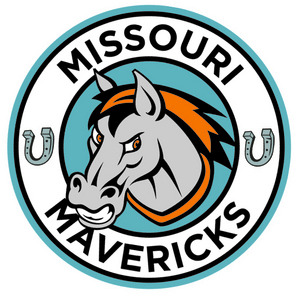 Ugh. Whatever. I'm just frustrated at this point, I give up. Dane Fox turns off How It's Made half way through. He's never going to learn how to make it.
The second period closes out fairly quiet, with some jokes named Nurse and McDavid taking careless penalties.
Third Period
The Greyhounds need to score. If they don't score then the Otters are going to be up 3 – 0 in the series.
And then:
McDavid to Burakovsky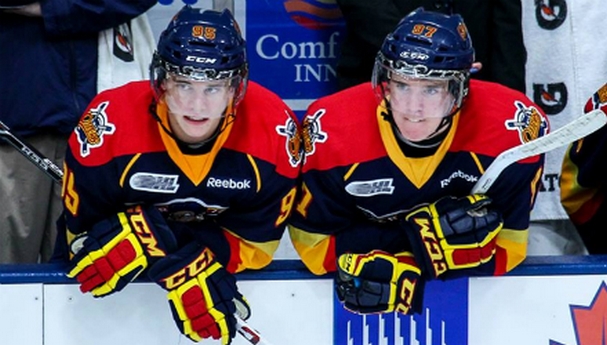 They seal the deal. Burakovsky sends it home 5-hole. We yell and hoot and holler and make fun of the Greyhound's goalie, as is tradition.
The game is done and we all go home honking our horns down the main drag, Peach street. Which has no real landmarks, aside from Long John Silvers and Arby's. There's something really unifying about cruising down this street continually laying on your horn with a bunch of other fans. I bet everyone thought we were real cool-like.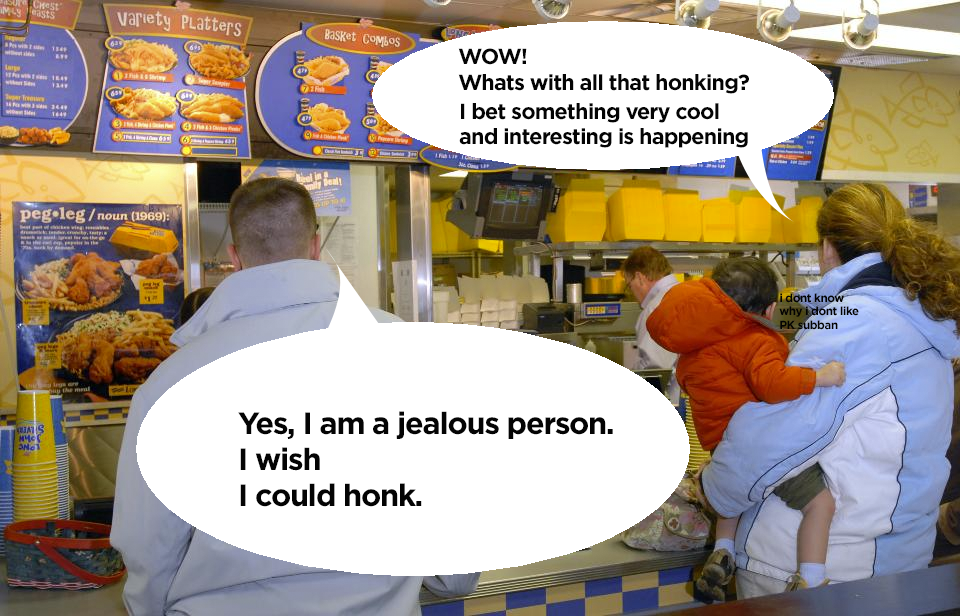 Where are they now: Andre Burakovsky and Connor McDavid
Hehehehheheheh.
A fantastic shutout recorded by goaltender
Devin Williams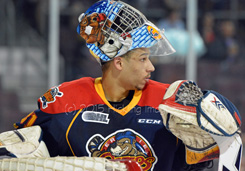 I liked Williams a lot, he put up some average numbers, but it was enough to get the job done a lot of the time.
He was certainly better than the Greyhounds net-minder. Sault Ste. Marie got swept  in the playoffs, as the Otters beat them the next game. So, even if Williams wasn't the best, he wasn't the hot garbage goalie that the Greyhounds had to work with.
Where are they now: Devin Williams
Playing in the "CIS" league (???), which is what 99% of our commenters play in every day.
---
I hope you enjoyed this trip down memory lane. I made up a lot of the details at the top, because my memory isn't too good. All of those things happened, but did they happen that day? Probably not. But I'd like to ask you, where were you on April 7th, 2014?
I know where I was.
An aisle seat.
Erie Insurance Arena.
Erie, PA.
Vehemently making fun of Matt Murray.