HEY yinz youngsters…I know it say's 'Thursdays' in the title but I'm old and doan really care (or know) what day it is…enjoy ; )
"SonnyJim, back when I was a kid we used to watch hockey by candlelight."
If you think I'm gonna write a story and make it sound like I'm that ol'e pecker-wood who lives down the block…well then, we're on the same page.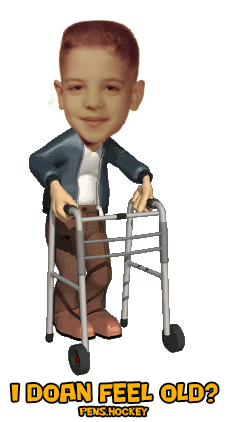 That's me BTW from a 3rd or 4th grade school pic with the 'classic' flat top flow. I had my choice, it was either that table-top-trim or a buzz-crew cut…thanks for style freedom pops! ( I eventually grew into those ears )
GENESIS…
in 1963-64 when I was about 7-8 years old, my parents bought me my first set of 'figure skates' for Christmas. JEEBUS! Totally pissed they weren't hockey skates but not wanting to seem ungrateful, I immediately took them to my dad's workroom and ground off the toe picks and rounded off the back of the blade! I've always been handy. I then got my Dad to buy me a '50lb cast-iron' hockey stick at our local hardware store
( I swear that's really how much it weighed ) and a couple of pucks….and I was all set to hawkey!

My town was cool enough to provide an area at the back of our 'youge' baseball field, 2 blocks from my home, to serve as an ice rink. They got the town backhoe and carved out a rink area the size of three telephone poles by 4 telephone poles, laid the telephone poles down end-to-end around the perimeter and then brought up the community fire truck to fill it with water.
We'd rush home from school on Fridays when the temp was below freezing, change into as many layers of clothing as we could (and still be able to move) and rush over to the rink. We'd build a bonfire, with wood the community provided for us and then the non-stop, 15+ players on a side, free for all hockey war games would begin.    IT. WAS. GLORIOUS.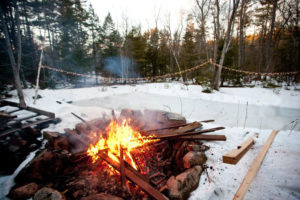 The only time I would leave the rink was when I got so hungry I couldn't stand it or my clothes were too wet and/or frozen to ever dry standing by the fire. I'd go home long enough to eat something, standing on the hot air vent while my clothes were in the dryer. When I was refueled, dry and warm I'd put everything back on, with my authentic Toronto Maple Leaf sherzey on top of everything…then head straight back to the rink.
In those day's we played around the clock, even at night under streetlights the community also installed for us. Night games till 1-2 am were the shiz! We were all 7-14 years old fer chrysake. Back then, our parents didn't have to worry about us being accosted, plus we were all armed and dangerous. Many children's teeth were lost or swallowed on that old war pond. No shin pads, helmets or hockey gloves either! They didn't even try to get me to go to church during hockey season…they knew better, even then. I'd finally go home for good on Sunday night at 6 pm or so to eat dinner, get ready for school the next day and pass out from glorious battle fatigue.
We'd get in a few hours after school on weeknights, sub 32° weather permitting…but most of our 'school-night' time was spent either playing table top hockey (I had the best game) or actually playing street hockey  in my basement (I also had the best basement.) That is where the legend began…that's when I started playing my first goal.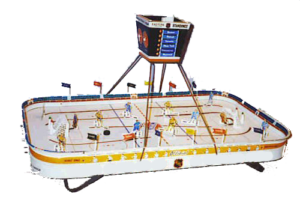 We had an old 2 seat couch down there which made a perfect goal. Crosby had his washer…I had my sofa. I started 'developing' my pads from old cushions and assorted straps. I played first base in little league so I had a catching glove and I created a waffle board from an old piece of plastic attached to some old work glove. 4-5 sweaters for a chest protector and a street hockey mask to protect those boyish good looks… *big smile & tooth sparkle!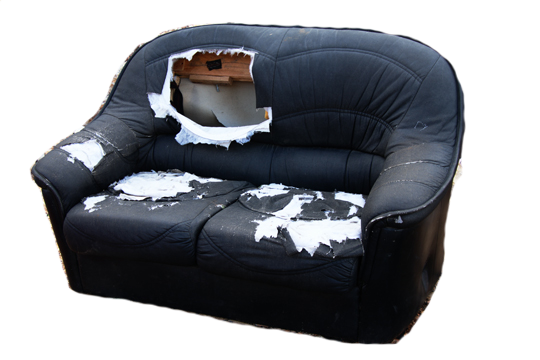 We'd play in our socks and it was almost like skating on that smooth linoleum basement floor. My buddies would shoot from ten feet away and then come in for rebounds. If it hit the couch…GOAL…if it didn't, FRK YOU! GENO SEZ NO REBOUND!! There's more than just a lil bit of a dik in all goalies. It's part of the hockey goalie DNA.
Playing indoors like this made me quick and fearless and it made my father want to kill me for ruining the couch, linoleum tile, paneling and drop ceiling. Black rubber puck marks and stick gouges on erreything.
I can still hear him from the top of the steps… "DIN'T I TELL YINZ KIDS NAWT TO SHOOT DAT PUCK DAHN AIRE?!?!?
Raising boys is the worst…hahaha…I drove my pops kray…I miss him, sniff. This is him before a baseball beatdown of some punk Ohio team, circa 1940.
Go get em 'Shutout Eddie'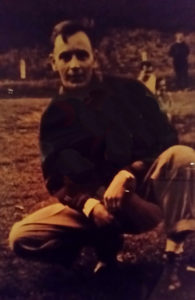 THE FEVER…
My Dad was a sports guy. He'd never brag about it but he was an excellent athlete who turned down an offer to play professional baseball in Texas because his father was an 'idiot alcholic' and being the oldest boy of 11 children he felt it was his responsibility to stay home and watch over and provide for them. Different era. He went to all of the local sports teams games and he would tell me stories about going to see the PGH Pirates hockey team at the old Duquesne Gardens when he was younger. Check out the guy on his knees front right…lol.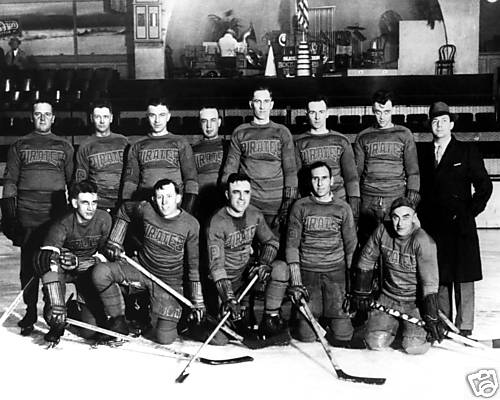 My sister had a boyfriend at the time who loved hockey and they would actually take me to see the PGH Hornets (Detroit Red Wings AHL affiliate) at the 'brandy-new' Civic Arena, which BTW opened it's doors (and roof) for the first time on my birthday on 9/17/1961. What a cool place that was and how STOOPIT were they to rip it dahn? Still angry about that decision.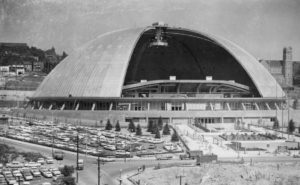 I saw a few games during that 1966-67 Calder Cup winning season. Pete Mahavolich played on that team…but Billy Harris (who?) was the GWG scoring hero in the final OT playoff game bringing home the Calder Cup one last time for the Hornets.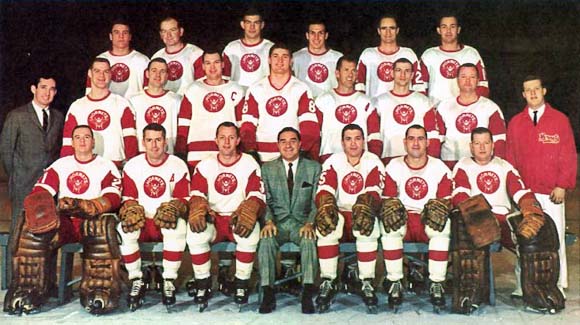 By 1966 I was 11 years old and from then throughout 1969, NBC and CBS shared the first color broadcasting rights to the NHL. They aired games of the 'Original Six' mostly on Sunday afternoons, but some playoff games were broadcast on weeknights as well. I DID NOT MISS ONE OF THEM.
Are you seriously kidding me… Bobby Orr – Derek Sanderson, Bernie Geoffrion – Rod Gilbert, Gordie Howe – Alex Delvechio, Jean Beliveau – Rogie Vachon, Stan Mikita – Bobby Hull,  Frank Mahavolich – Terry Sawchuck (my 1st goalie hero) … who actually looked like this in 1966 before goalies began wearing masks.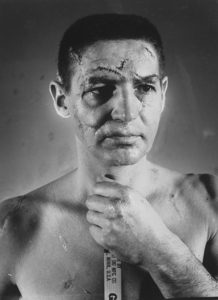 Kidding…this was a faked pic by a photojournalist for an article on his numerous injuries during his career. OMG…back then, with just 6 teams, only the best of the best played in the NHL. Errey game was like watching an All-Star or playoff caliber game.
Back in the mid '60's the Pittsburgh sports scene was…The Pirates & Clemente. Dem Stillers still sucked, there was no basketball to speak of (not that I really cared) so when I started watching these NHL Legends on TV every Sunday…I was completely hooked. FRK baseball, FRK Football …I was going to be a hockey player! Trouble was, I didn't live in Kanaduh : (
I don't know for sure how many US born players there were in the league then. I knew there weren't many, but I wasn't gonna let that stop me. I was gonna show those Frozen Socialists!  …harumph!
In early 1967 it was announced that Pittsburgh was getting it's very own NHL franchise. Our Champion Hornets were gone but the LEGENDS were coming!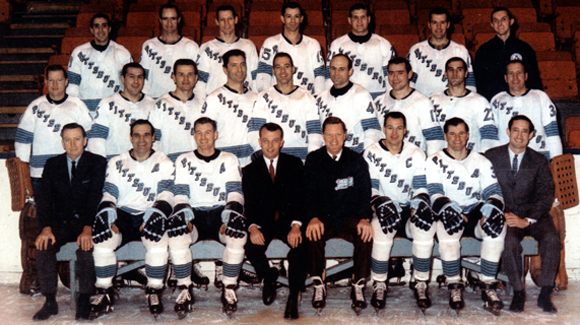 Next time… My early Penguin years and 'How my buddies started the Western Pennsylvania Interscholastic Ice Hockey League.' Till then…
"WATCH EM ROSEBUSHES YA LIL BASTARDS!"