A few days ago the good ole pens DOT hockey Twitter page got a notification from someone calling themselves @hockeywoodnovel. Now being that I am very familiar with the culture this site attracts and knowing the type of characters that hang around the comments section I assumed this was one of you with a catchy new Twitter handle. Turns out I was completely wrong. The handle actually belongs to one G.S. Oppenheim, a man reaching out to us to let us know about his new book. This isn't the typical Twitter traffic we get so I thought it was odd but I am also of the curious sort so I looked into it. After review of the background of the novel and the events in the authors life that resulted in him writing the book I decided to help Mr. Oppenheim reach our viewers and let him tell us about his story. Before we begin you can purchase the book here  for a ridiculously cheap $9.00 for the ebook and $15.00 for the paperback, or you can meet him and snag a copy of the book when he comes to the Big Idea Bookstore in Pittsburgh on his book tour July 11th. After talking with Mr. Oppenheim we decided that an interview would be the best way for him to describe his new novel to us, and so here we go.
Disclaimer: Pens.Hockey is not financially invested with the author or the novel and will not benefit in any way financially if you buy the book. We are simply doing this because the author seems to be a damn good human with a big heart.
---
Rad: So you come at us with this book called "hockeywood," in our immature parts "wood" gets a few snickers, so what is your meaning of "Hockeywood?"
G.S.O: Hockeywood is the nickname of the main character in the book, Ray Cortez.
Rad: I see, I have a pretty good concept of hockey history and can't recall a famous Cortez, so either I am ignorant or this is a fictional story.
GSO: haha yes it is fiction. Essentially Hockeywood is about Ray Cortez, a man from a family known as the royal family of hockey. His great grandparents were teammates when the NHL was founded, his older brother was one of the top prospects ever in the early 90s (a Mario Lemieux type of player), and his dad has been a beloved coach for years but has never quite gotten over the hump to win a Stanley Cup.
Rad: This went from fiction to being about the Toronto Maple Leafs really quickly. Okay, so we have a foundation of this hockey family, give me the main plot without giving away too much as I assume this isn't just about a guy that plays hockey.
GSO: Correct, that would be boring. Just after Ray retires as one of the greatest players of all time he learns that his father has been diagnosed with terminal cancer so Ray decides to come back and help his dad win the Cup before he dies. On the eve of the Stanley Cup Final a pair of thugs threaten Ray and give him a simple ultimatum, if he wins the Stanley Cup they will kill him.
Rad: Ah so the story then becomes save your own life or fulfill your dying fathers dream. A little bit more of a twist than the usual hockey story, where did the idea come from?
GSO: I've been a hockey fan pretty much my whole life, ever since we played hockey in my second grade p.e. class and I got hooked. I wrote the first version of this book as a screenplay for a high school project. It sucked because I was 18 and didn't know anything about anything but I was always fond of the core idea, which was sort of a fictional 8 Men Out but with hockey
Rad: "It sucked because I was 18" is my personal justification for almost everything I post on this site by the way, except I'm not 18 anymore. Okay so you had this idea back in high school, did it just take this long to come to life?
GSO: About 4 years ago I revisited it not long after my dad had a bout with prostate cancer and that inspired me to include the cancer aspect of the plot which gave it a lot more depth. I started writing on weekends and finally the whole thing came together. I finally finished it all last year and I am beyond pleased with it.
Rad: As you should be, writing a book is something 84% of us [made up statistic] say we want to do but few ever do. Kudos to you for sticking to it. So I have to ask, this story is about a man who plays hockey yet the cover is this female… after seeing the cover and hearing what the story is about I was interested in your thoughts and reasoning behind it and does it hint at some parts of the story?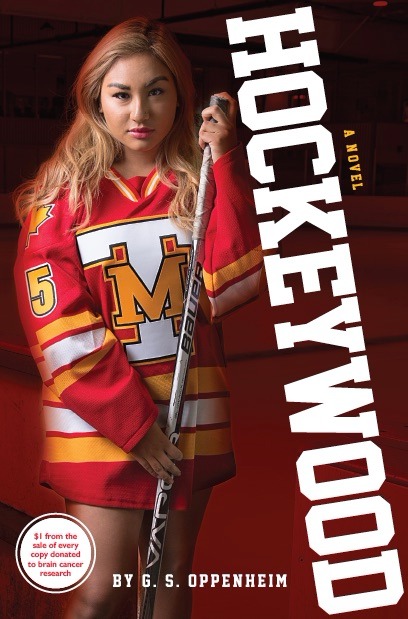 GSO: I'll tell you the story of the cover. Originally I had intended to have the main character be front and center on the cover wearing that jersey I had specially made but it was my mother who suggested going a different direction, because as she said, the book is full of pretty girls so why not have a pretty girl on the cover. It stems from a passage in Ed Willes book Gretzky to Lemieux when he noted that during the 87 Canada Cup Gretzky held court for the media at a Toronto strip club where he and the guys on the team liked to hang out and eat lunch. I thought this was shocking behavior from the choir boy Gretzky but I wanted to integrate it in the novel and the main character spends some time in a gentleman's establishment over the course of the story. So, that's a long way off saying in a small way, yes, it's a hint about the story.
Rad: Just a heads up knowing the artists we have around here your cover will most likely turn into some photoshop gems throughout this coming season.
GSO: Haha that is quite alright I just won't tell the model! I love how the cover turned out but it also has a melancholic feel for me because on the morning we shot the cover photos I received a text from my mom saying my brother was in the hospital. She told me that he had a brain tumor. In the long long days that followed he was diagnosed with brain cancer. It was about a year ago that this all happened. He's doing well now and responding positively to the treatment but of course every day the fight continues as we hold out hope that a cure will be developed. In his honor I decided to give $1 from every copy of the book sold to a charity of his choice, and he chose End Brain Cancer.
Rad: Wow. I am so sorry to hear that news about your brother. I am surrounded by that a lot and I know it is not easy to deal with at all. I wish you and your family the absolute best of wishes, and I hope this book is able to open some people up to brain cancer and maybe help get a few more donations in.
GSO: Thank you, I know it takes a lot of money to fund the research needed but every bit helps and I want to help as much as possible.
Rad: Okay, so when you first reached out to us you mentioned that you were coming to Pittsburgh next month on your book tour. Give me the details.
GSO: Yeah! I'm currently on a bit of a book tour across North America promoting the book and on July 11th I will be at The Big Idea bookstore at 4812 Liberty Avenue in Pittsburgh. The tour isn't just about me talking about the book, I also just love meeting people and talking about a shared interest in hockey. I was so happy when you said you would do this interview with me, I would be thrilled if some of your viewers were able to make it out and say "hello!" If you're coming don't forget to RSVP on the facebook page so you can get the event reminder the night of the event!
Rad: Well my friend, the word is out there. It was great getting to know you and hearing about the story. Good luck with the book and the book tour, send my wishes to your brother and the rest of your family for me.
GSO: Thank you so much!
---
Below is an excerpt from the novel:
"Ray Cortez, come get the Prince of Wales Trophy!"
Emerging from the heap of humanity my teammates had become, I barely heard the deputy commissioner summon me to skate over and take possession of what I had come to affectionately call the Whaler, the trophy presented annually to the Eastern Conference playoff champions. A lot of players are hesitant to touch the Whaler because they think it's bad luck to celebrate a trophy that isn't the big one, but not me; I've always made my own luck.
Before I skated over to receive the Whaler, my dad stepped off the bench onto the ice and approached me. He handed me a crisp new hat with a red Toronto Mounties logo and the words "Eastern Conference Champions" embroidered around it. Disregarding the sweat pouring off me in waterfalls, I slapped it down over wet hair.
"I told you I was gonna get to the Finals this year, son."
"You son of a bitch! You called it all right."
I threw my arms around him and dripped sweat all over his expensive blazer. I don't think he could have been happier to have a jacket ruined. You see, my father, Tomas Cortez, had spent thirty years of his life playing and coaching in the National Hockey League, the last six as head coach of the Mounties, but that victory punched his ticket into the Stanley Cup Final for the very first time.
---
Thanks for reading everyone, if you're in the Pittsburgh area and want something different to do why not check this out? Mr. Oppenheim gave me the ebook version of the novel which I wanted to read before posting this but due to the draft coming up this weekend and our extensive coverage of that I had to put this post up earlier than anticipated. All of the details you need are linked throughout the story, I hope you enjoyed this minor break from talking Penguins. Carry on.