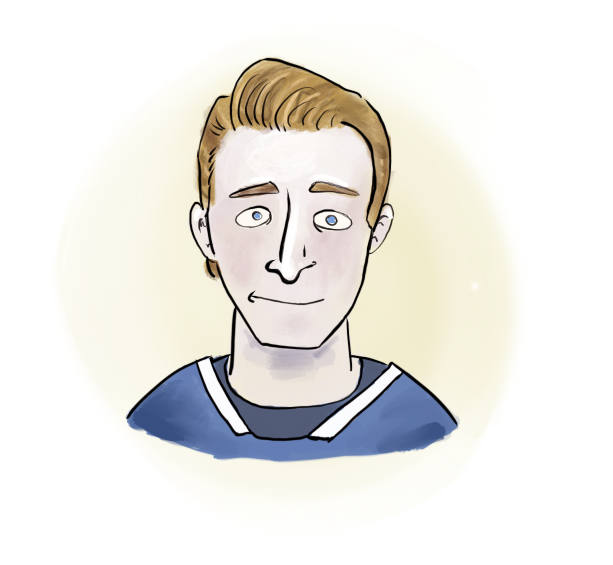 We don't have a post celebrating Kunitz or Flower or Daley or Bonino.. Yet.. We have all summer to do that. Until then, let's look at Hunwick a bit.
Aside from having a really cool hockey name, I wasn't quite sure how to feel about him. I did some minor digging and would like to present everyone with some information on him from the past two years. I can't write well so this is going to be a conglomeration of quotes, articles, videos and screenshots.
The TLDR?
Get hyped. Maybe.
November 8th, 2014
This article from TheHockeyWriters is informative but maybe a bit exaggerated. Back in 2014, Boyle, Moore and McDonagh were out/injured and Hunwick stepped up to the plate with some incredible stats in 12 games (five points and excelled in the powerplay)
Now, 12 games into the season, Hunwick has played in 10 of those games. He's currently averaging 18:09 of ice-time per game, he leads all Ranger defenseman in points with five (0-5-5), two of which have come on the power play, and is an even in the plus/minus category. Pretty impressive for a guy who was recently given up on by the Colorado Avalanche, played the majority of last season in the AHL, and barely made the Rangers this season.
The article goes on to tickle some of our commenters fancy by elaborating into advanced stats land.
Matt Hunwick's Corsi-for percentage is the best among active Rangers defenseman at 53.1 percent. Additionally, when other defenseman play with him, their numbers go up.
Not too bad for a $600,000 player who barely made the team.
The Hockey Writers jump in again about six months later
---
April 20th, 2015
Through two playoff games Matt Hunwick has played 23:33, has an even plus minus, and one shot on goal. Hunwick showed off his versatility in game two. He had some power-play time (1:36)
Adding in a clip of Hunwick saving Lundqvist's ass for good measure
https://www.youtube.com/watch?v=WD5w9zTXbVI
Reddit's general consensus didn't disagree with THW's assessment.

---
Then, in 2015 Hunwick was signed to the Leafs for two years at 1.25M
Fans seemed to be pretty excited about his shot suppression.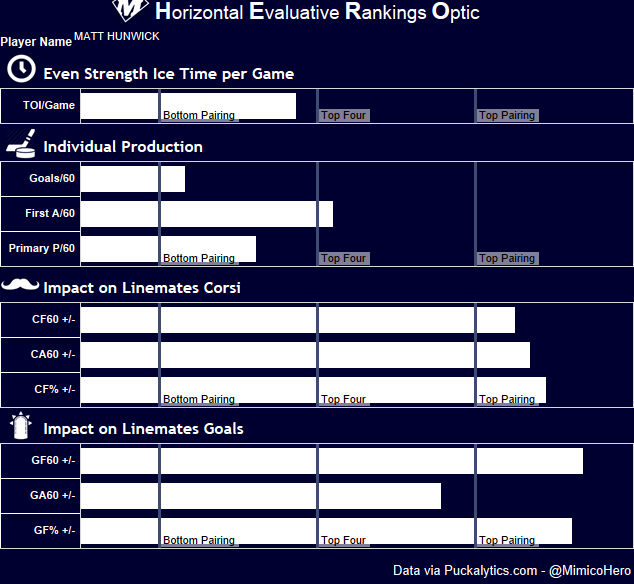 Hunwick has some interesting nicknames…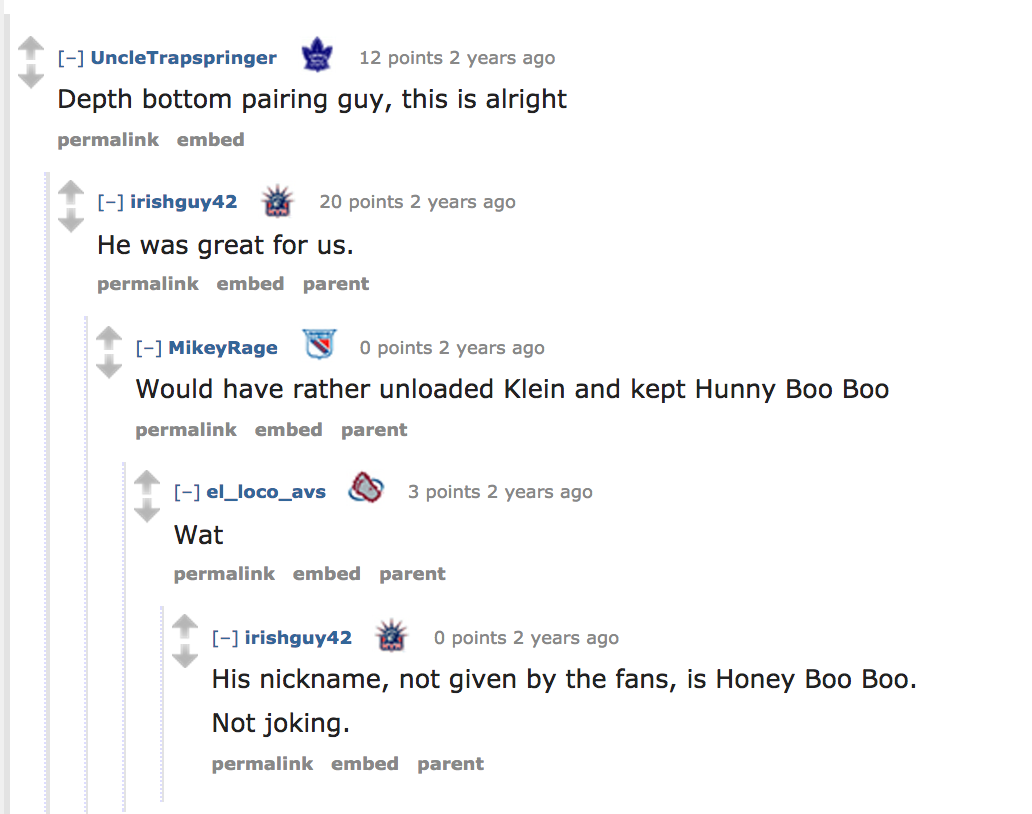 "Not given by the fans"? Who gave it?
https://twitter.com/SethDRothman/status/565691036111228929
One thing I didn't go into
Was that before the Rangers and the Leafs, Hunwick played fairly poorly in Boston and Colorado.
When announced that Hunwick would be an Alternate Captain, Reddit was butthurt.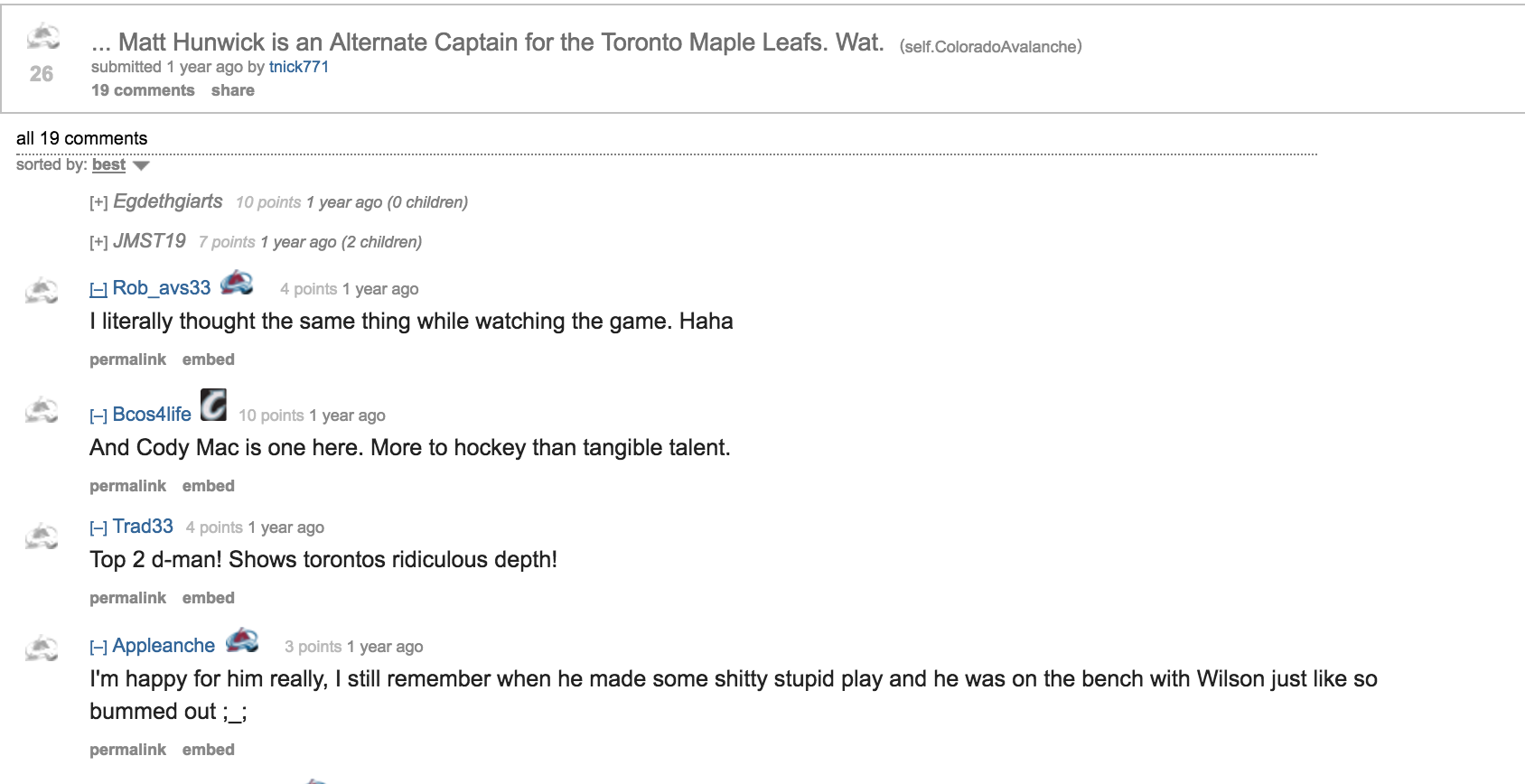 ---
Now, only 21 games into the season (I feel this is a bit too early to judge, perhaps) here's a post looking into Hunwick's WOWY Leaf's stats.
November 23, 2015
Unfortunately, he has had an overall negative effect on the players around him so far. Here are his With You/Without You (WOWY) stats for this season with his two most common D-partners, Morgan Rielly and Dion Phaneuf: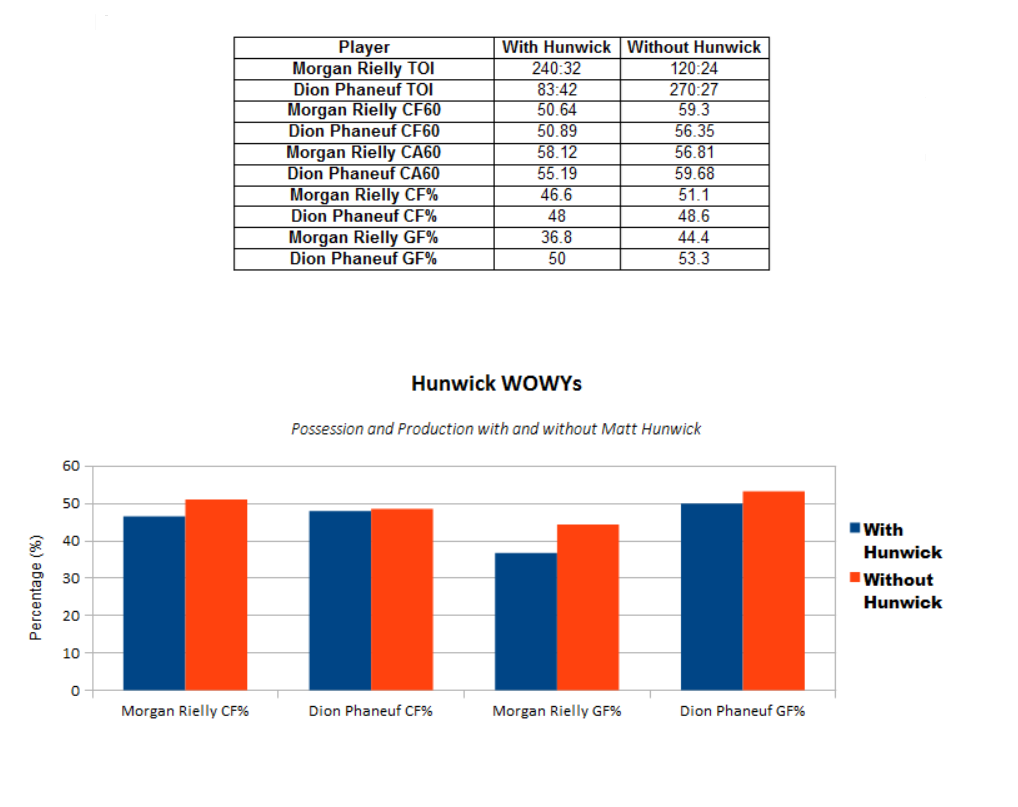 Concerning, right? But then seven days later the New York times writes:
Here comes some bad stuff.
Leafs fans hate Hunwick.
March 8, 2016
He plays a lot, but mostly because he's willing to and physically can, not because he's exceptionally talented. Today, it was announced Hunwick was shut down for the rest of the season with a sports hernia injury. Frankly, Toronto might be better off without him.

But Hunwick might be the worst regular player on the team, and with the Leafs currently being at the bottom of the NHL standings, he's probably in consideration for the bottom few percentage points of NHL talent in the league.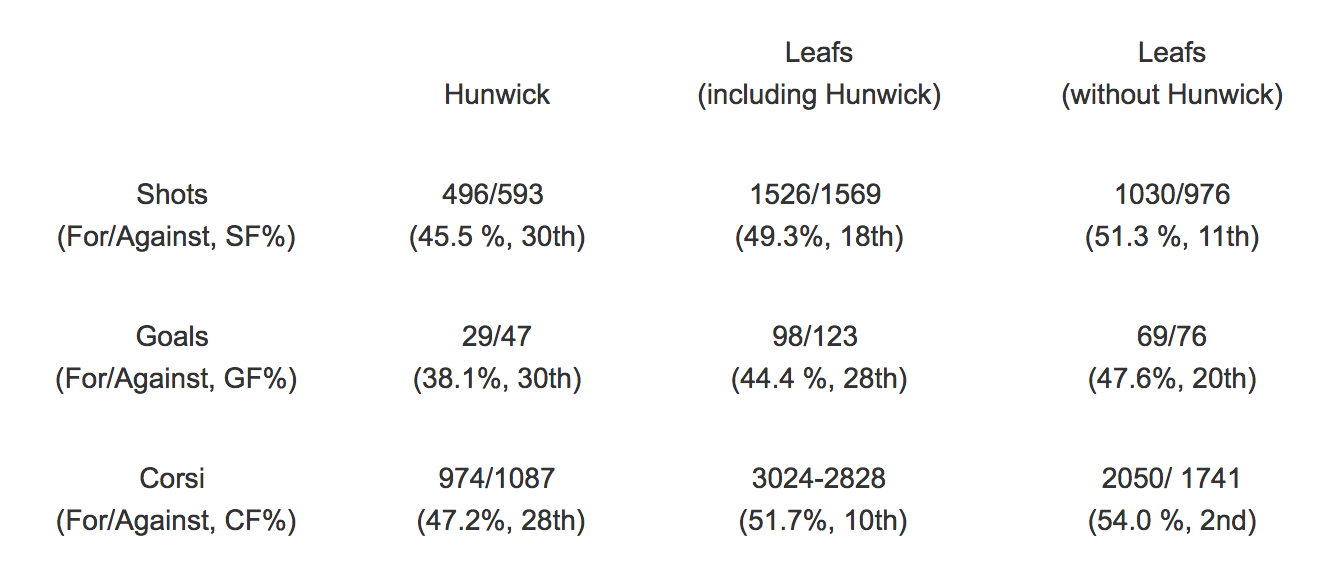 There were even commenters on Reddit suggesting the Leafs were intentionally playing Hunwick more often so that they would tank.
As the year went on the Leafs fans became more and more upset about Hunwick, seemingly dismantling their team's chances of a playoff run.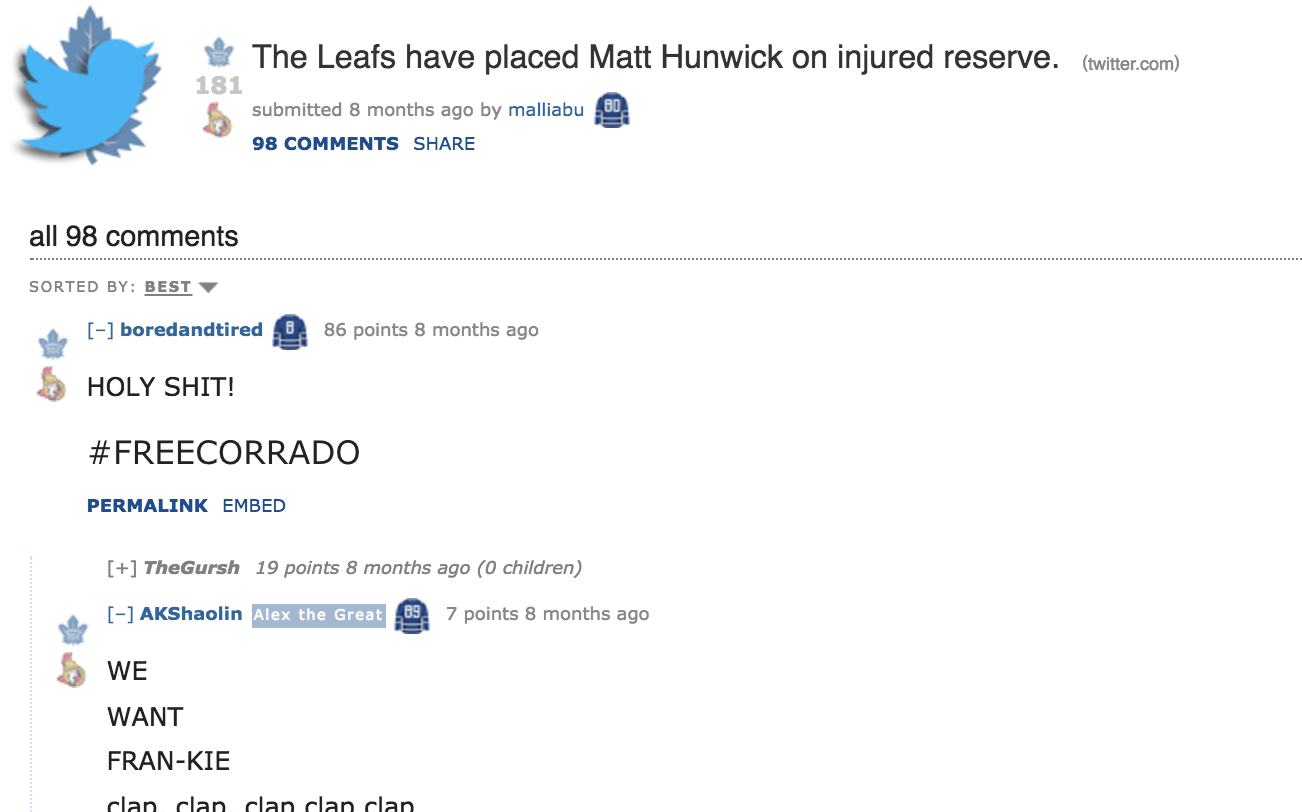 One month later…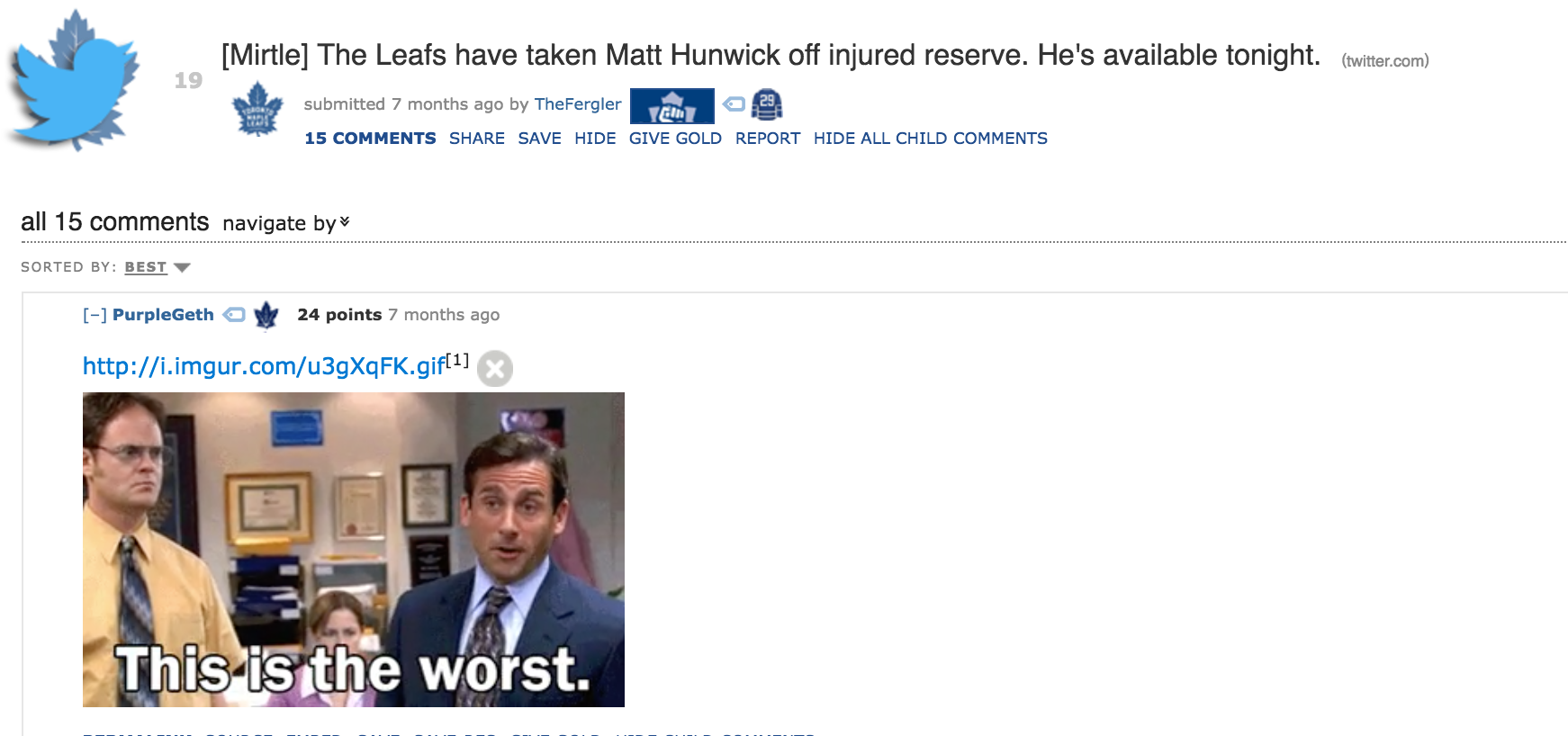 So that leaves us at Hunwick to the Penguins for $2.25M AAV
We saw above that when the Rangers lost Hunwick they were depressed, they loved Hunwick. So, what do the Leaves fans have to say about Hunwick's departure?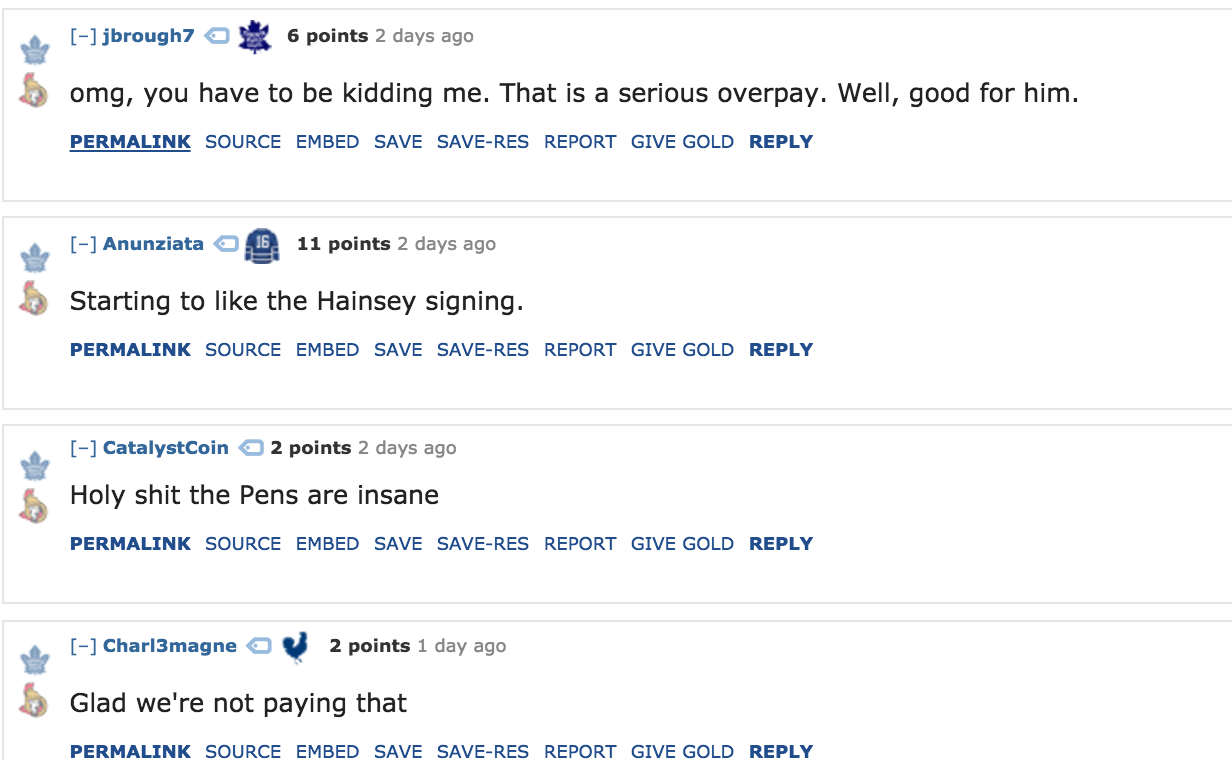 On the other side of the coin, Penguins fans are hopeful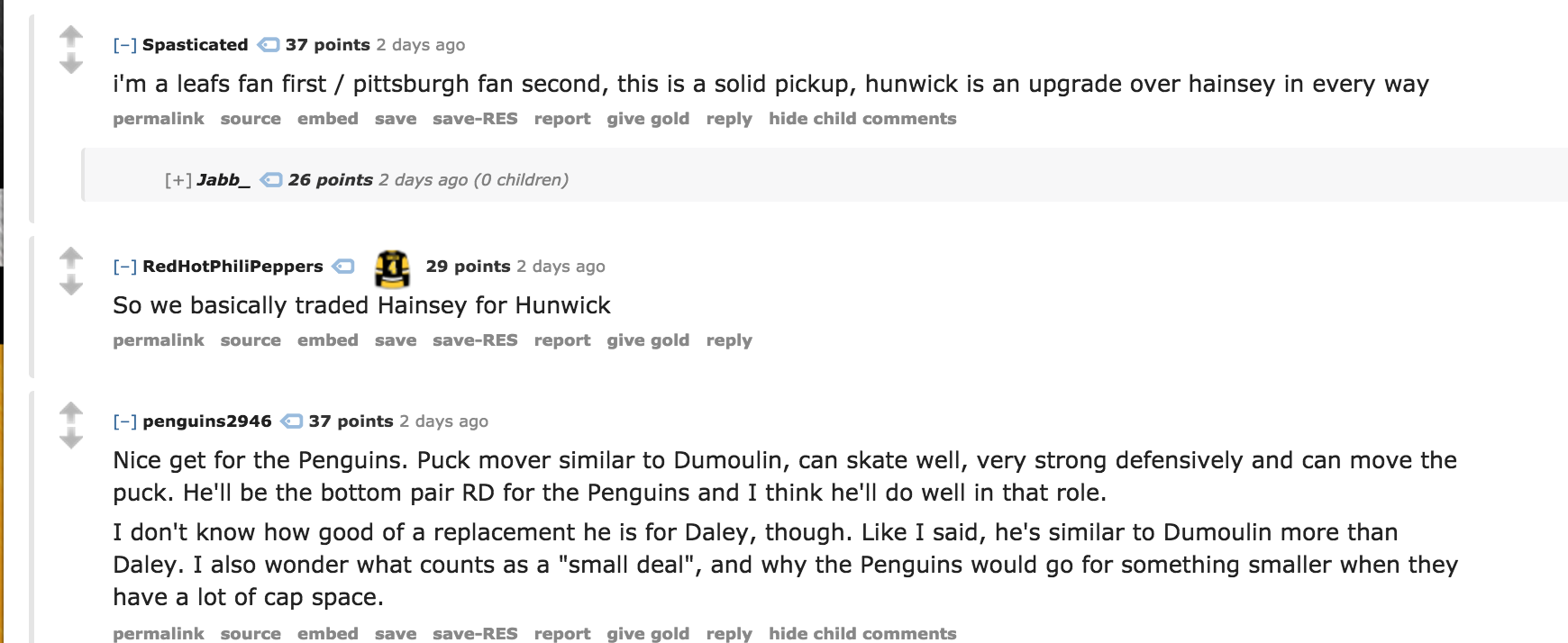 My take from all of this is that he's an upgrade over Hainsey as long as we don't put him in our top pair.
The Leafs suck. If you play on the Leafs you will suck.
The Oilers were celebrating when they lost Schultz, remember.
I'm thinking Hunwick will impress us.