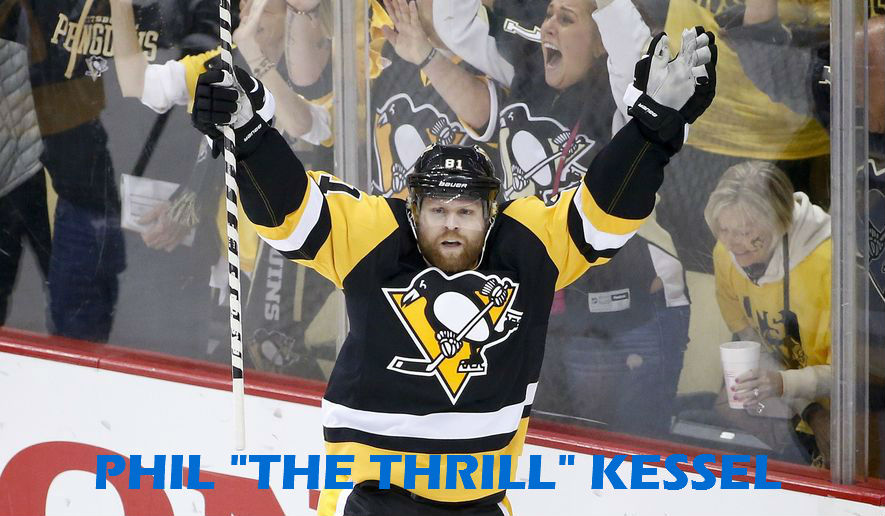 This was an interesting research project because I really didn't know much about Kessel before he arrived.  My only memory of Kessel was that he was last pick at one of the All star games and everyone thought it was funny.  When Kessel escaped from , fled from , arrived here 2 ys ago from Toronto, it was amongst a lot of controversy.  At the time, I thought it was just that he didn't work out well in Toronto or that the crazy Canadian media hated him but, Kessel's has been a drama magnet from the start of his career.
After Zeus made love to a beautiful young female eagle, Philip Joseph Kessel was born in Wisconsin on October 2, 1987.  He honed his skills on mount Olympus and learned to wield lighting, but he could not remain hidden forever.  His parents thought it was time for him to experience mortality and to remain among the humans.  Of course he was not like the other child and that brought on new challenges that he had to maneuver around.  People called him harsh, haughty, and arrogant; he was quickly labeled as a problem despite all his gifts.  When the time came for all of the hockey world to evaluate his talents … it didn't go as …. expected.
On paper he was compared to other greats and was supposed to be the 2006's version of the Sidney Crosby sweepstakes.
Central Scouting Report:
Is a very fast and quick skater who often surprises opponents with an extra gear … with outstanding breakaway speed he can carry the puck and separate himself from pursuers in an instant and can turn an opponent inside out one-on-one … has a heavy accurate shot and very quick hands when releasing his wrist shot at top speed … can beat a goaltender in many ways and is an excellent passer and play-maker who can find his man in traffic or open ice with ease … has the ability to go end-to-end and bring fans to the edge of their seats … is excellent on the power-play and a threat to score when killing penalties … is good on face-offs and capable of using his offensive instincts to determine the outcome of a game … he wants the puck when the game is on the line and while not overly physical he does not shy away from the corners and along the boards … protects the puck well with his body and has strong persistent pursuit of the puck … has become more reliable in his defensive play this season … became USA Hockey's National Team development program all-time leader in career goals with 104 and points with 180 in the 2004-05 season … has played on two U.S. World Junior Teams and in 2005-06 was selected rookie of the year in the WCHA and was selected to the all-rookie team while playing for the U. of Minnesota.
However, Kessel arrived at a judge-jury-executioner meeting with the heads of all the NHL teams during the combine.  This article is as scathing as 'Bald Britney'; definitely sip your tea slow while reading.   Apparently this Gare Joyce person wrote a book called "Future Greats and Heartbreaks", in which he documents what he saw at the 2006 draft.
Kessel has a reputation for being disliked by teammates wherever he's played.  Jack Johnson, second overall in last year's draft, called him "a dirtbag" during one of his combine interviews.
Despite putting up 51 points in 39 games with Minnesota and an additional 11 points in seven games at the World Junior tournament, Kessel's stock fell.  So instead of going first or 2nd, Phil was picked 5th by Boston.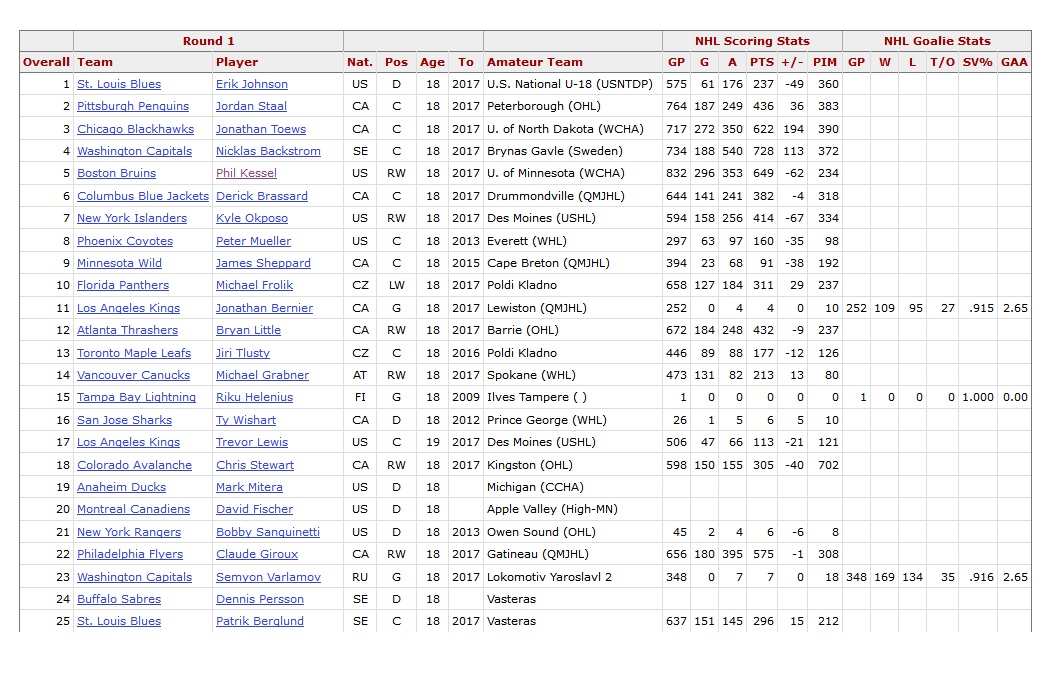 In Boston, Kessel was placed on a line with Marc Savard and Milan Lucic.  There is not a lot of info of his time in Boston (at least that I could find).  It was like after the trade, the internet expunged all traces that Phil was even in Boston. It seemed his first 2 yrs were unremarkable.  He did win the Masterton his rookie year after he was diagnosed with testicular cancer.

The highly touted collegiate star had a difficult rookie season. He returned after being treated for testicular cancer, but managed just 11 goals in 70 games. He'll get more opportunity this season.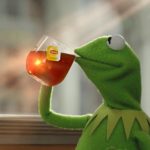 So let's talk about the massive trade that Toronto made happened to get Kessel.  Kessel's 3rd season was a break out year for him, with 36 goals and 60 points in 70 games played.  In 11 post playoff games, he had 11 points and 6 goals.  At the end of Kessel's entry contact, and after his most productive season under new coach Claude Julien, it was time for Kessel to get his pay day.  Boston was in talks with Kessel's agent but lurking the background was no other than Brian Burke.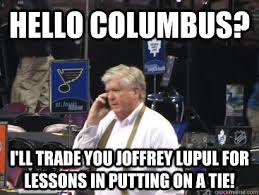 So apparently Burke called and was like hey, we'd love to have Kessel, what do you want?  And Peter Chiarelli (Boston GM) was like, how about Tomáš Kaberle and some picks.  However Burke only heard the first part, so when the time came to complete the deal during the following draft, it was cancelled.  Burke refused any additional picks, so Chiarelli called it off and instead tried to sweeten the pot with Kessel.  Unfortunately, Kessel had already mentally check out and was like, 'I'm good, just trade me'.  His time in Boston was not going well under the new head coach.
… Chiarelli said. "We stress defense first. We stress competitiveness. ''   Julien wasn't shy about using playing time, or the lack of it, to send messages to Kessel.  He called out Kessel for playing soft in situations where he needed to be stronger on the puck and more aggressive about applying back pressure.  By his reasoning, Julien was tough on Kessel because he knew the depth and breadth of his goal-scoring talent, and that more was expected of such players."
Eventually the Leafs and Bruins were able to come to an agreement.  However the Bruins still had some control and it would cost the Leafs a lot.  The Leafs sent the Bruins a first- and second-round pick in the 2010 draft, plus a first-round pick in the 2011 draft. Kessel signed a five-year, $27 million deal with the Leafs.  The picks eventually turned into Tyler Seguin, (No. 2 overall pick) and defenseman Jared Knight (second-round pick: He was traded and never actually played for the Bruins).  The 2011 first-round pick was used to pick defenseman Dougie Hamilton.
So the Maple Leafs got their prize and Kessel was about to be offered up in front of a hungry Toronto community.  However before he could put on the blue jersey, he had to have shoulder surgery.  It was a little secret that the Bruins left for Toronto.  When Kessel was ready to return to play, he lived up to his billing as prolific goal scorer.  Sadly, he was trying to steer a dead ship.  "The Leafs were not built to win during Kessel's stay. Former Leafs general manager Brian Burke talked of five-year plans and patience and then traded two firsts and a second-round pick to Boston. Toronto got a great player but lost sight of what every team's goal should be: consistency. Burke, meanwhile, would later explain that he felt ticket prices needed to be justified and that acquiring a player of Kessel's caliber did just that."
The first shoe to drop was the type of talent on his team.  The next shoe was his status as the face of the Maple Leafs.  Kessel was thrown into one of the biggest hockey media circus and well, he's Kessel.
https://youtu.be/yk3AfqpJ1DE
https://youtu.be/-V63paQj5wk
"Kessel was not the type to lead a team, though he was put in the position to do so, optically. Ownership and management and coaching put Kessel in a spotlight inappropriate for him and fans rightfully balked. It's neither their fault nor his. There's no fault to be passed around here."
I agree with Kessel, who the hell can talk to the media ever damn day!  Before practice, after practice, during games, after games, while you're trying to take a dump.  Tell me, who has that kind of stamina?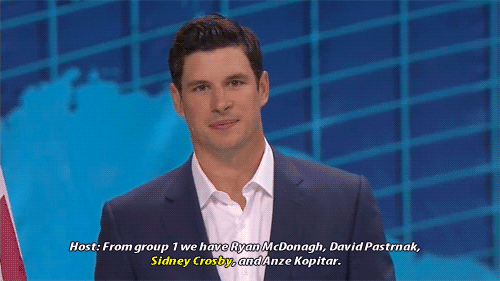 The last shoe, well, I guess the pants or shirt or socks.  Anyway we all know about Kessel's love for some of his teammates, like Dion Enough and Tyler Bozak.  But not all his his teammates had the same affinity for Phil.  Colby Armstrong gave his own impression:
"We all see what he does: He skates fast to the puck, he shoots the puck, he can make things happen. But when the game's on the line, if he can get a goal for you, that's about all he's gonna do. As far as winning battles and the extra mile, it did become, for me as a teammate, a little bit frustrating at times.

As a teammate, exactly what you see is what you get. And sometimes it was frustrating, wondering whether he was gonna be there for you or not."
A lot of the articles I have read about Phil's time in Toronto, all seems to complain about his personality.  He was too quiet and did not interact well with the media.  But everyone was happy with his point production.
"He, van Riemsdyk and Tyler Bozak have combined for 42 points in the last 12 games, and Kessel is sizzling, with five goals in three games and a seven-game point streak (six goals, eight assists). The longest he's gone without scoring a goal this season is five games, perhaps a sign there's more consistency in his game."  Kessel has found the back of the net 156 times in 364 games with Toronto. Only four other players have more tallies in that time frame: Steven Stamkos (210), Alex Ovechkin (203), Corey Perry (172) and Patrick Marleau (161). In addition, he has been highly durable, participating in 97 percent of Toronto's games during his tenure.
For whatever the cause Kessel's time in Toronto was ending.  Fans seemed ready, the media seemed ready, and Phil seemed more than ready.  'No need to split the assets, you keep the house and dog, I'll take the Keurig'.
https://youtu.be/H1akAAkscWE
https://youtu.be/fdRX910Rk68
Oh the tears!  It is so good especially since you already know the ending.

So lets not delay this any more, its time for FREEDOM AND THE PURSUIT OF HAPPINESS.  It was time for Kessel to bring his flag down from Mt. Olympus to the hallowed halls of Wexford.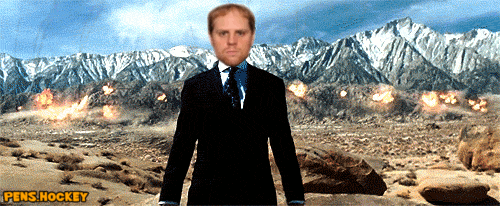 Pittsburgh gave up center Nick Spaling, winger Kasperi Kapanen, and defenceman Scott Harrington, plus a first- and third-round pick next year.  Kessel, winger Tyler Biggs, defenceman Tim Exison, and a 2nd round pick were sent to Pittsburgh.  Oh, and lets not forget that the Maple Leafs retain part of Kessel's salary, $1.2-million annually to be exact (for 7 years!).
https://youtu.be/C6bPiEBXHd0
[Did you guys know that Gary Roberts was involved?  That guy could turn cardboard Oprik into an All Starer.]
In the beginning of the 2015 campaign, I personally was not impressed by our expensive new toy, Kessel.  He was giving Perron feelings: a lot of expectation with little results.  He was pretty quiet, so quiet, that the Leafs forgot to honor him on his first return back to Toronto.  However this was a different team, a different fan base, and a different media.  Kessel was given time to find his way.  Quite honestly, there were other fish to fry; most of the team was on zombie mode under FHCMJ.
"Maybe the most disappointing part of Kessel's short tenure in Pittsburgh is his production. If you're concerned that he isn't scoring, I can't necessarily argue with you. One thing that you'll want to consider though, is that Kessel is Pittsburgh's third leading scorer right now, falling just one point behind Crosby with 18 total points on the year. His nine goals are second to only Malkin, who has 14 tallies so far. So, in other words, Kessel is positioned exactly where most would have predicted prior to the season. Unfortunately, the entire team's scoring totals are down and he's being impacted greatly by that.  I believe the biggest test for Kessel is yet to come. A true test of his character and how much of a team guy he is. That test is whether or not he's willing to do whats necessary in order to help this team power through some very troubling times."
What could new coach Mike Sullivan do with Phil Kessel?  Did we over pay for a dudd?  Thankfully not, Kessel was still the prince that was promised.  Sending FHCMJ to the woodshed broke the curse over the team.  The stars began to align and hot dog stocks were on the rise.  Kessel started clicking with Malkin on the second line then Malkin got injured in Febuary.  Dreams of redemption, for the whole team, started to fade but then cagey old Jim Rutherford made a trade.  And so was born the HBK line.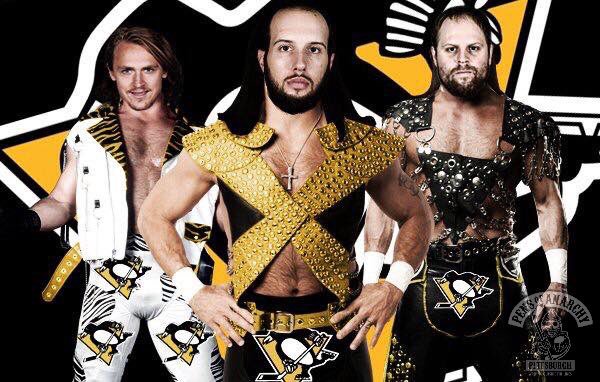 Kessel's during this time, showed a guy who bought into a system completely.  He had a coach he respected, not feared, and he had teammates who had his back.  He found like minded people with a common goal.  What look like a dumpster fire in November was now a well oiled machine.  The Penguins wanted to go deep and Kessel was willing to do everything that he was previously criticized for.  Time to take the plastic wrap off his ball, it was time to become a man.
https://youtu.be/O-WnTTONu64?t=53s
"Phil Kessel, nice guy, tries hard, loves the game."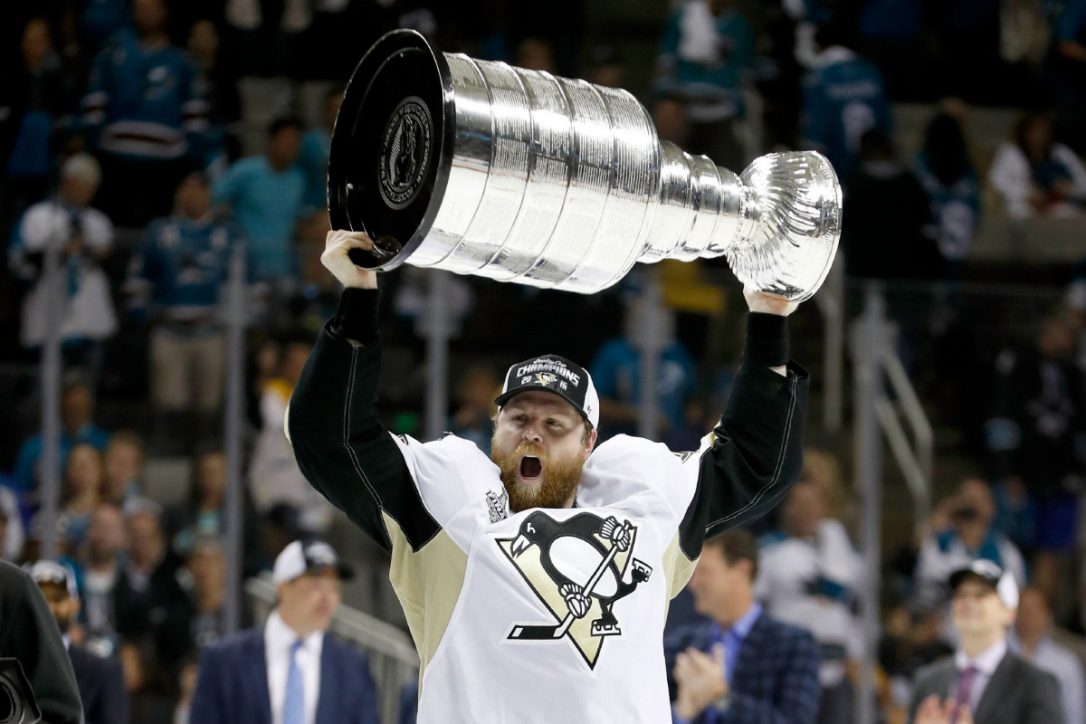 So Phil Kessel, you win the cup and take your flag of redemption to the White House.  Where do you go afterwards?  Well he was kind enough to hose off that bridge he burned and carry the Stanley cup to Toronto.  Why?  Because that's what MERICINS do.
Year 2 of Kessel had some hiccups.  HBK line lost its magic and he was moved around for a bit before he officially landed back on The Russian's line.   Something I don't think Kessel gets recognition for is his skills as a  passer.  His production goal wise wasn't bad but he was setting up Malkin left and right.  However the injury bug hit everyone except Iron Man Kessel.  Line juggling occurred but the team still found a way to win.  Playoff time arrived and Kessel was a main figure once again.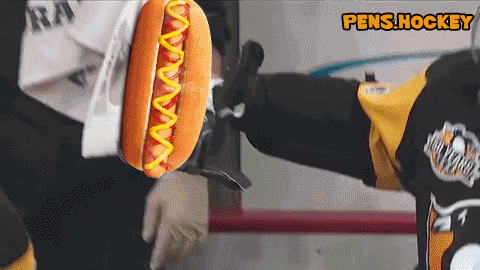 Well, different year but same story …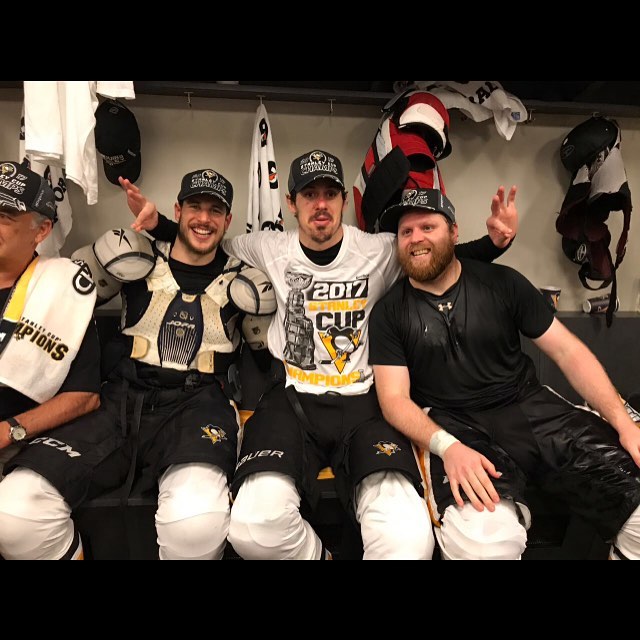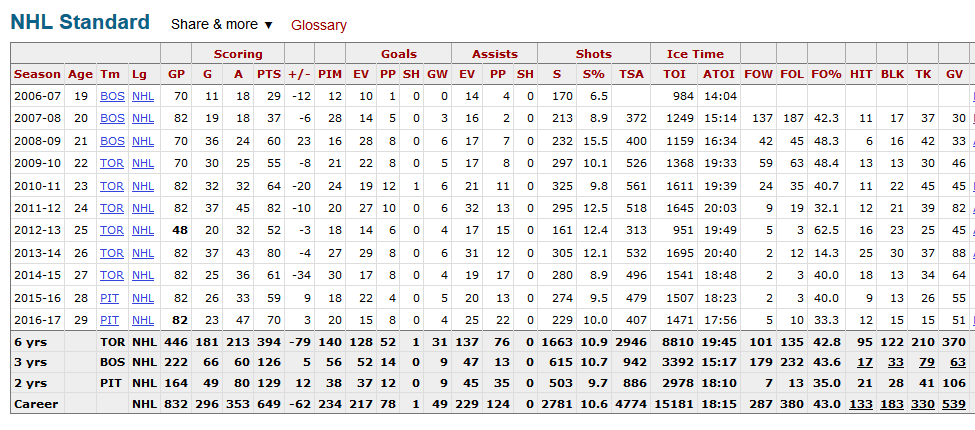 HAPPY FOURTH OF JULY PEEPS
https://youtu.be/ipyEcctgYes
Notable Links:
Olympics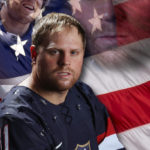 General info: If should have just copy/paste this article instead of writing a post.  Explains the 'Nice guy' origins story.
Kessel discusses being diagnosed with cancer
https://youtu.be/nTTtFZNDGeY
Kessel making 'friends'
https://youtu.be/fURZ7dQFTKU
https://youtu.be/Sz_f7ayRbEQ
Random
https://youtu.be/A8tLXOHXG5U
https://youtu.be/JLzkeDXkxPg
https://youtu.be/twfd6QAkb_c
https://youtu.be/gX2InN8OoWU