The second round of the playoffs concluded last night, a round that featured far fewer surprises compared to the hectic first. The race to the claim of 2019 Stanley Cup Champion is now down to four teams, so which house should you pledge your allegiance?
EASTERN CONFERENCE FINALS
BOSTON BRUINS VS CAROLINA HURRICANES
HOUSE HURRICANES
The Hurricanes made quick work of the New York Islanders, beating them with ferocious neutral zone speed and a relentless forecheck that never let the Islanders gain any momentum… sounds familiar. Almost everyone outside of Boston is pulling for the "Bunch of Jerks" at this point, and for good reasons. First and foremost, they play an exciting type of hockey that resembles the style the Penguins used in their back-to-back runs. Secondly, the longer the Hurricanes continue winning the more Don Cherry exposes himself as the spokesperson for mental health awareness week. Furthermore, every team in the NHL tries to copy the teams that make it to the Finals, would you rather every team attempt to get faster with skilled puck movers or fill up with Brad Marchand's?
HOUSE BRUINS
The Boston Bruins were crying and whining about how unfair the playoff seeding was and look where they are, color me surprised that a lot of crying and whining came out of Boston over nothing. After handling the Maple Leafs in the first round the Bruins were able to hold off the Blue Jackets in round two. There is only one reason you should be pulling for Boston in this series and that is if you are a die-hard Bruins fan. If you aren't, you want this overhyped bunch of bums to get rocked like a hurricane.
SERIES THOUGHTS
The Hurricanes are the remaining darlings of the playoffs and thanks to great play on the ice and in the PR office they have picked up a lot of casual fans. The Bruins are the "original 6" blow job that analysts still get excited about, like original 6 really means anything, it's equivalent to a state bragging about being in the original colonies. The Canes play with speed and agility, the Bruins play with intimidation and capitalization. I have a sneaky feeling that the league (read as: the refs) will do almost everything in their power to get the Bruins into the final as they desperately try to stretch a storyline out of Thornton in the Finals against the Bruins because that makes sense.
WESTERN CONFERENCE FINALS
SAN JOSE SHARKS VS ST. LOUIS BLUES
HOUSE BLUES
The Blues were out of the playoffs until they fired their coach and rode the momentum a rookie goaltender handed them to get to the conference finals, which sounds like a very familiar story for some reason. It's hard to find a reason you shouldn't be rooting for the Blues in this series, and personally a Blues vs Bruins series where St. Louis defeats David Backes would be way cooler than Thornton and friends.
HOUSE SHARKS
The San Jose Sharks put together a ridiculous offseason that almost didn't pay off for them. Despite spending $31 million on defense the Sharks have been forced to a game 7 in each of the first two rounds. San Jose is desperately trying to get this aging core of Pavelski, Thornton and Couture a championship and with 11 expiring contracts on their books, including Erik Karlsson, this may be the best chance they get. The best reason to not cheer for San Jose is because they pay Martin Jones $5.75 million to act like a goaltender, and because of that awful Metallica national anthem.
SERIES THOUGHTS
Much like the ECF, there is a sneaky suspicion that the NHL has a predetermined favorite for this series. The Sharks have the most recent Stanley Cup experience of the four remaining teams and perhaps that experience will help them continue to grind after 14 games in the first two rounds. The Blues just keep finding ways to win and they are playing like a team that is tired of living with the "never going to win" stigma. It wouldn't surprise me to see this series also push 7 games, and it's going to come down to Binnington vs Jones. Also, Pavelski isn't a hero, grow up.
SPECIAL ROUND THREE MATCH UP
PITTSBURGH MEDIA VS EVGENI MALKIN
You know the Penguins didn't win the Stanley Cup when the media starts to turn heel on Malkin. Mark Madden has been all over the story saying the Penguins are taking offers. Dan Kingerski wrote a story on his blog about the Panthers being interested as well (no Instagram accounts were linked, but the reported "haul" is Huberdeau and picks lolololol). Look, I understand where these guys are coming from and I'm not doubting Madden's claims that the Pens are hearing offers. 3 times a week I get credit card offers in the mail, I read them to see what the perks of this new card are before shredding the documents, I'm certainly listening to the offers from these companies, that doesn't mean I'm going to apply. The real issue is the media is attacking Malkin and his "awful, team leading -25" without questioning other players on the roster. Mark Madden focusing on a +/- stat without using newer stat tracking abilities is the perfect example of old school vs reality. Malkin was a -25, that is the final total. Malkin was a -2 at 5v5 play. Malkin was a -12 on the powerplay. On the powerplay. ON THE POWERPLAY. G-off over at thepensblog summed this anomaly up perfectly and there is no point in rewording it, here is what he said:
-10 when the Penguins had an empty net, BLAME MALKIN!!!! -12 when the Penguins were on the powerplay, BLAME MALKIN!!!!! That alone is a -22. If this anomaly coupled with Malkin posting his worst goals-scored total in a full season in his career culminates in the General Manager wanting to trade the future Hall-of-Famer then perhaps it is time to retire. If one bad season by a future Hall-Of-Famer warrants a trade, in which a bad season was still 21 goals and 72 points, then why are some of the other players who don't possess Hall-Of-Fame resumes not getting blasted?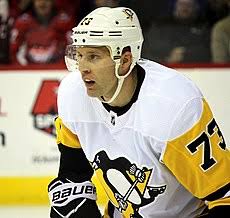 Madden wrote on his blog that Penguins fans are ungrateful and other franchises would build a statue of Rutherford based on his two Cups, but instead we complain. Here is the direct quote:
Mario Lemieux is the reason hockey is still in Pittsburgh, he has a statue. Roberto Clemente was a hell of a baseball player and an even better human, he has a statue. Nobody, ever, no matter how stoned they were, thought it would be a good idea to give Rutherford a statue. A statue for winning back-to-back cups, Mark? How about we put that Rutherford statue right next to the one of Craig Patrick who also achieved that feat with this team, and who, by the way, drafted Crosby, Malkin and Letang; a core that the GM you're defending could piss away instead of admitting he has made some awful deals the last two years.