With the series now shifting to Columbus, the Blue Jackets are in dire straits.  Their main strategy, hit everything until you get an opportunity, did not work very well in either Game 1 or Game 2 as they came away with only one goal in each game.  Meanwhile, the Penguins' strategy of move the puck and support your linemates has worked gloriously to the tune of six goals (plus one empty-netter), three in each game.  It is getting to be frustrating for the Blue Jackets, who ended Game 2 like, well…a bunch of loser babies.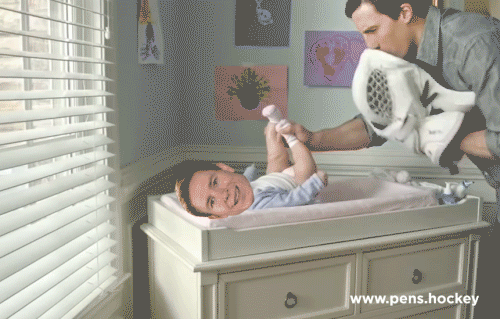 The worst part for the Blue Jackets is the one guy who could be keeping them close in these games isn't doing his job.  Sergei Bobrovsky, likely to be a candidate for the Vezina trophy, has been anything but peerless.  Midway through the first period, Bobrovsky went to play a puck behind his net and Conor Sheary got on top of him quickly.  Sheary gained the puck away from Bobrovsky and made a lightning quick back-pass to Jake Guentzel, who likewise snapped a quick pass over to Crosby.  Let's have a look at Blue Jackets defenseman Seth Jones giving Rocket Richard winner Sidney Crosby the respect he deserves: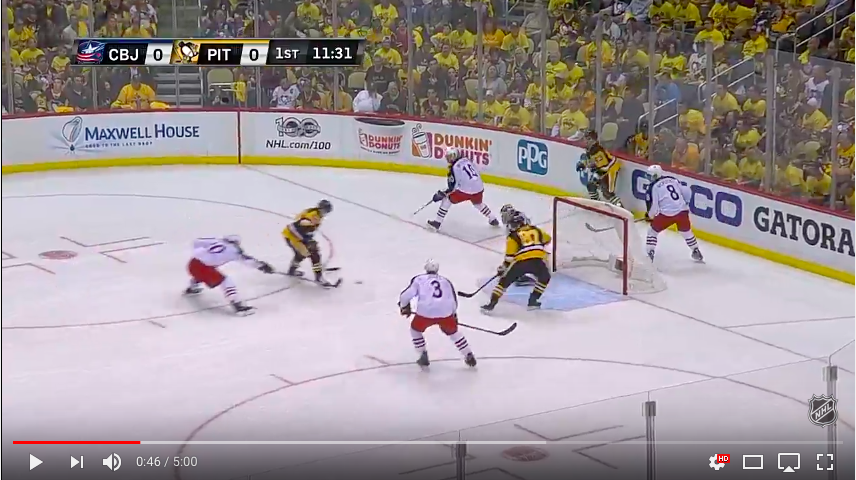 Hmm, no, that's not a recipe for success.
Later on, Sid returned the favor to Guentzel on a 2-on-1 by assisting on Guentzel's inch-perfect goal, and Crosby capped off his night with the assist on Evgeni Malkin's first goal of the playoffs, a snipe job on Bobrovsky's left side as a power play was expiring.  The first two goals were perfect examples of how the Penguins' speed and skill has and likely will continue to overwhelm Columbus.
Due to the holiday the garbage man had to come early this week so there will be no Calvert on the ice tonight.
Why does the NHL allow garbage like this on the ice?!#Calvert #Kuhnhackl pic.twitter.com/tT1xmFtpd0

— Benstonium (@Benstonium) April 15, 2017
So what hope do the Blue Jackets have? We'll find out how much home ice really matters tonight.  John Tortorella will be able to get the matchups he wants, and the Blue Jackets may benefit from having their fans and streamers and cannons, just as they did all season on the way to the fourth-best home record in the League.  Maybe then Columbus' tenacious and hard-checking play will be that much more effective.  Maybe Bobrovsky will cover that extra inch that would've prevented Guentzel's and Malkin's goals.  That's a lot of maybes for a team that needs definites as the end of their best season ever is coming closer and closer.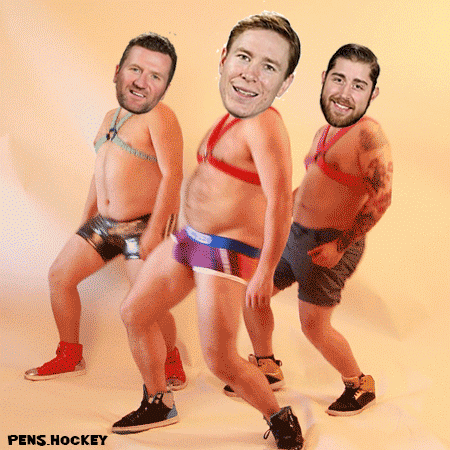 Home ice belongs to Columbus tonight, but Mike Sullivan holds all of the cards. I'm not sure of which matchup Tortarello can favor that will swing the outcome we saw in the first 2 games. Seth Jones has been embarrassed by Crosby and Bonino so far, so unless Torts is going to match his top pairing up against the 4th line there isn't much to change. It all comes down to Bobrov, and it wouldn't surprise me to see the Blue Jackets attempting to block every shot possible tonight to help their goalie. They will be fired up and ready to go at home but it is the Penguins with the maturity and momentum to control tonights outcome.

1st ANAL-UAL PENS.HOCKEY PORN POLL PLAYOFFS
SEMI-FINAL ROUND  BRACKET 1
Game 38 vs Game 4 - SEMI-FINAL PIK-A-PORN
Game 4: "Taste it, you just taste it. You don't sit there and guzzle it, you just taste it. Okay?" "I think at the end of the night there will be some guzzling" - Bob Errey (26 votes - 84%) (85%, 28 Votes)
Game 38: "Crosby just whacked off with his left hand." - Bob Errey (16 votes - 52%) (15%, 5 Votes)
Total Voters: 33

Loading ...
LET'S BOWL PHIL …oh wait
LET'S GO PENS
DO IT