One week ago there were a ton of experts telling you that the Columbus Blue Jackets were going to push the Pittsburgh Penguins to the limit. The majority predicted 6 games minimum while some went as far as to say the Penguins wouldn't be able to answer to the Blue Jackets rock 'em sock 'em robot style of play. Turns out that pre-playoff opinions are worth as much as NBC analysts should get paid. Game 3, first game on your home ice, down two games to none, this is it. This is the moment you have to fight to save your season, and fight they did. The Columbus Blue Jackets played the best game that they could've possibly played in game 3, and it wasn't enough. I'm not a fan of most clichés but one that has always stood the test of time is that the NHL playoffs will separate contenders from pretenders in a hurry. The Blue Jackets now have a full day to think about how their best effort wasn't enough, and at that thought one sad streamer fell from the rafters of Nationwide Arena.
You knew the Jackets would be starting with everything they had, and the Penguins knew that too so they just decided to omit defense and get it over with. The plan worked to perfection as Cam Atkinson scored 11 seconds into the game. FOR THOSE ABOUT TO ROCK, FIRE.
CamSANITY pic.twitter.com/eL3fKryjfs

— ColumbusBlueJackets (@BlueJacketsNHL) April 16, 2017
The arena was rocking and people were feeling good, so 3 minutes later THE TOP LINE did the things that THE TOP LINE does, and we were all tied up.
JAKE GUENTZEL (2) Assisted by HAINSEY & CROSBY (3) @ 3:17
Guentzel skates wide and puts it in on Bobrovsky. Assists go to Hainsey and Crosby. pic.twitter.com/6LyNC1bISa

— Pittsburgh Penguins (@penguins) April 16, 2017
No clue why all of the footage from this game looks like a teenager was trying to use a vintage filter on Instagram. No clue why I even know about the vintage filter on Instagram. That's what you get with cNBC coverage I guess. Not a good look for Bobrov so far this series.
Those pesky Jackets weren't going to be bullied on their home ice dammit, so Cram Itinson decided to notch another one 2 minutes after Guentzel scored.
LIGHTS. CAM. ATKINSON.#MarchOn #CBJ pic.twitter.com/apS3KEaExy

— ColumbusBlueJackets (@BlueJacketsNHL) April 16, 2017
This game may turn out to be a battle of Twitter puns. One minute later the Jagoffs were on the powerplay and rookie sensation Whack Yerdickski gave Columbus a commanding lead.
never seen this before

oh wait pic.twitter.com/mPQSE6IQz1

— ColumbusBlueJackets (@BlueJacketsNHL) April 16, 2017
FOR THOSE ABOUT TO ROCK, FIRE.
Marc-Andre Fleury thought he would be slick and hide the puck from the ref, +10 for effort.
Fleury tries to hide the puck from the refs 😂 pic.twitter.com/Oqccbf35cP

— Flintor (@TheFlintor) April 16, 2017

The Penguins are losing to Columbus, quick nobody panic. 5 minutes into the 2nd it was Mr. Rusty Balls bringing his, well, rusty balls down the throat of Bobrov.
BRYAN RUST (2) Assisted by DUMOULIN & MALKIN (3) @ 5:21
In Rust we trust (especially in the playoffs).

That's six goals in Bryan Rust's last 11 playoff games. pic.twitter.com/nsbWDO4RSu

— Pittsburgh Penguins (@penguins) April 16, 2017
In Rust We Trust, indeed, I hate when I have to agree with a pun but man how youge is this guy in the playoffs?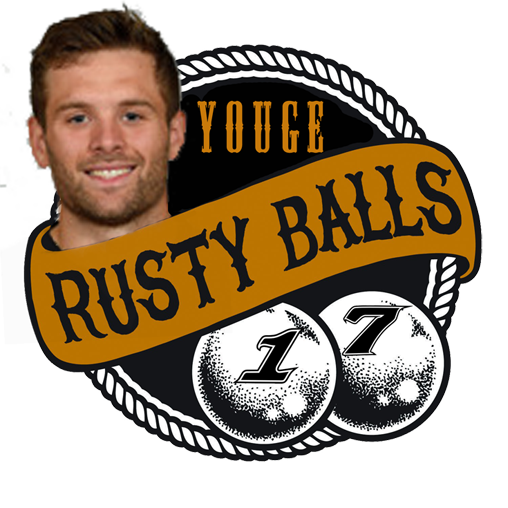 The Blue Jackets got caught in a precarious situation after the Rust goal, they had the lead but it was down to one, they haven't had this opportunity all series so they needed to protect the lead while trying to add to it. Agent 101 said "Сосать Путина Дика Боброва."
EVGENI MALKIN (2) Unassisted @ 13:25
Malkin and Rust connect to tie it up, 3-3. We think we can hear the #PARTYHARD music blasting from Pittsburgh. Let's Go Pens! pic.twitter.com/TxkRCNFuY6

— Pittsburgh Penguins (@penguins) April 16, 2017
The original listing was that Rust scored but after further review it was determined that he had bigger balls than the Columbus defense. One of the few times where the scoring should change because Bryan Rust deserves credit for this goal. Him wanting that puck more than the defender is exactly what playoff experience looks like. The Blue Jackets were back on familiar ground with a tied game and they weren't feeling too good about it, Nationwide is on your side.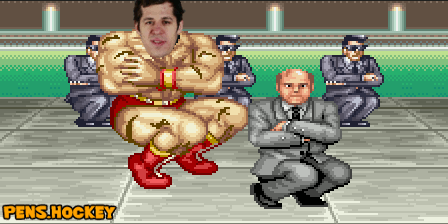 Third period in a must win situation, now is when we see the best hockey of the series. Like I said in the intro, the Blue Jackets brought it in this game. They gave everything they could, but it was this damn kid from the farm that kept showing up like Dennis the Menace.
JAKE GUENTZEL (3) Assisted by MALKIN (4) & KESSEL (2) @ 11:48 PPG
How good has this kid been in the playoffs so far? Unreal. pic.twitter.com/mQtY0vzDcj

— Pittsburgh Penguins (@penguins) April 17, 2017
What a move by Sullivan to get Guentzel time on the powerplay. Great coaching and understanding of the game, and Guentzel did not waste the trust placed in him by his coach.
The Jackets weren't going to go away easily, and with 5 minutes left it was the perfect villain Dubinsky tying it up.
everyone's fav pic.twitter.com/gwpje8z5GS

— ColumbusBlueJackets (@BlueJacketsNHL) April 17, 2017
Everyone's true fav: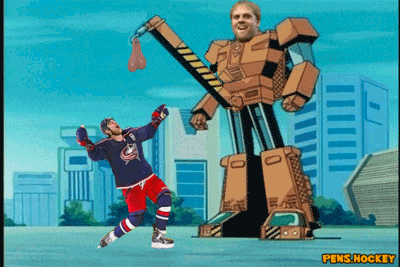 Following the goal the Blue Jackets decided they would just hang on and secure at least one point in the standings before heading to overtime.
Ahh playoff overtime, the only thing better than 3 on 3 overtime. Back and forth they went, time and time again your ass cheeks clenched up tighter than Jack Johnsons wallet. Pucks off posts. Near orgasms. Near hernias. Fleury saved the universe with his head:
https://twitter.com/atrichmiller/status/853818800894091264
When will it end!?! When Jake Bravo gets on the ice.
JAKE THE FUCKING SNAKE GUENTZEL (4) Assisted by CROSBY (4) @ 13:10
FOR THOSE ABOUT TO LOSE
That's the first-ever playoff hat trick by a rookie in Penguins history. Unbelievable night, @jakenbake20! pic.twitter.com/pUNNeeQFMN

— Pittsburgh Penguins (@penguins) April 17, 2017
FIRE!!!!
WILL YOU LOOK AT SIDNEY CROSBY!? Kudos to Guentzel for being smart enough to get open, but good God this play by Crosby.
Sidney Crosby shift on the GWG was truly wonderful. There is a reason why he's considered the best player in the world pic.twitter.com/uiDCTgBDfd

— Bar South N Celly™ (@BarSouthNCelly) April 17, 2017
The body language of Columbus tells you everything here, they know they are no match.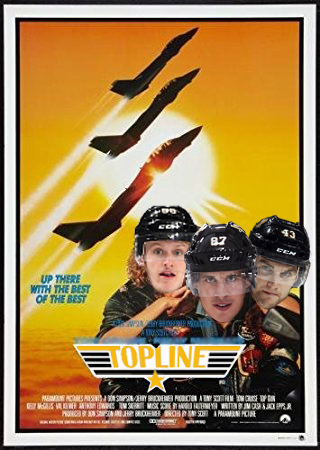 3:50 left.

Tie game.#MarchOn pic.twitter.com/qKJaMpkoHs

— ColumbusBlueJackets (@BlueJacketsNHL) April 17, 2017
You bitches need more lines than Scarface to matchup against this Penguins team.
GAME
---
THOUGHTS:
After a shaky start by the team and 3 goals given up on the first 6 shots Fleury stopped 30 of the following 31. There isn't any blame put on Fleury or the Penguins for the first period, the Blue Jackets were going to bring it. The biggest take away is the team not getting in their heads and playing to their strengths the rest of the game.
Rumor is Matt Calvert would've scored with a minute to go to give Columbus the win
Zach Werenski took a puck to the face and returned in the game. Saw a few Pens fans on Twitter making fun of it, don't stoop to that level. Make fun of anything except for injuries.
Playoff hockey… pic.twitter.com/4GNoLYVECu

— Zach Werenski (@ZachWerenski) April 17, 2017
Game 4 on Tuesday, no word yet on if the Columbus Dispatch is coming with a broom.
---
Around the Stanley Cup Playoffs
MTL@NYR Game 3 – Montreal wins 3-1, leads series 2-1
The Montreal Canadiens went 2/3 on the power-play and Carey Price stopped 20/21 shots to take Game 3 on the road and take away home ice from the New York Rangers.  Shea Weber's first goal of the playoffs (on the power-play at 7:42 of the third period) was the difference maker, but Alexander Radulov's determined, one-handed effort for the third goal with 4:25 left in the third put Montreal ahead for good.  Game 4 is Tuesday in Manhattan.
MIN@STL Game 3 – St. Louis wins 3-1, leads series 3-0
The Minnesota Wild are on the brink of elimination thanks to three-straight one goal games.  St. Louis goalie Jake Allen made 40 saves, and Jaden Schwartz's game-winning tally on the power-play at 15:19 of the second period helped give St. Louis a 3-1 win and a chance to eliminate the Wild with Game 4 in St. Louis on Wednesday.  Besides Nashville's Pekka Rinne, Jake Allen has probably been the best goalie in the playoffs thus far, with an 0.91 GAA and a .974 save%.
EDM@SJS Game 3 – Edmonton wins 1-0, leads series 2-1
Zack Kassian provided the only goal the Edmonton Oilers needed, and Cam Talbot stopped all 23 shots as the Oilers beat the San Jose Sharks 1-0.  Kassian's goal came on a bad clearing attempt by the Sharks as it appeared the Oilers had failed on the zone entry; from behind the goal line, Sharks defenseman David Schlemko threw the puck into the middle of the attacking zone, and it hit Kassian who followed the puck unfettered into the slot and backhanded the puck through Sharks goalie Martin Jones' legs.  Game 4 is Tuesday in San Jose.
TODAY'S GAMES
Ottawa @ Boston, Game 3, series tied 1-1
Washington @ Toronto, Game 3, series tied 1-1
Chicago @ Nashville, Game 3, Nashville leads series 2-0
Anaheim @ Calgary, Game 3, Anaheim leads series 2-0

1st ANAL-UAL PENS.HOCKEY PORN POLL
SEMI-FINAL ROUND  BRACKET 2
"This one, no…that one …Nooooo, THIS one"
Game 28 vs Game 49 - SEMI-FINAL PIK-A-PORN
Game 28: "Feels good when it's goin in…you want to ride it as long as you can." - Sid Crosby (30 votes- 94%) (78%, 36 Votes)
Game 49: "He beats his man off the wall, tries to open up his legs; but he just couldn't go down on him." - Bob Errey (17 votes - 52%) (22%, 10 Votes)
Total Voters: 46

Loading ...
"WE" will be selecting a First Time PENS.HOCKEY PORNPOLL WINNER
tomorrow in the Game Day Post.
LET'S GO PORNGUINS
DO IT