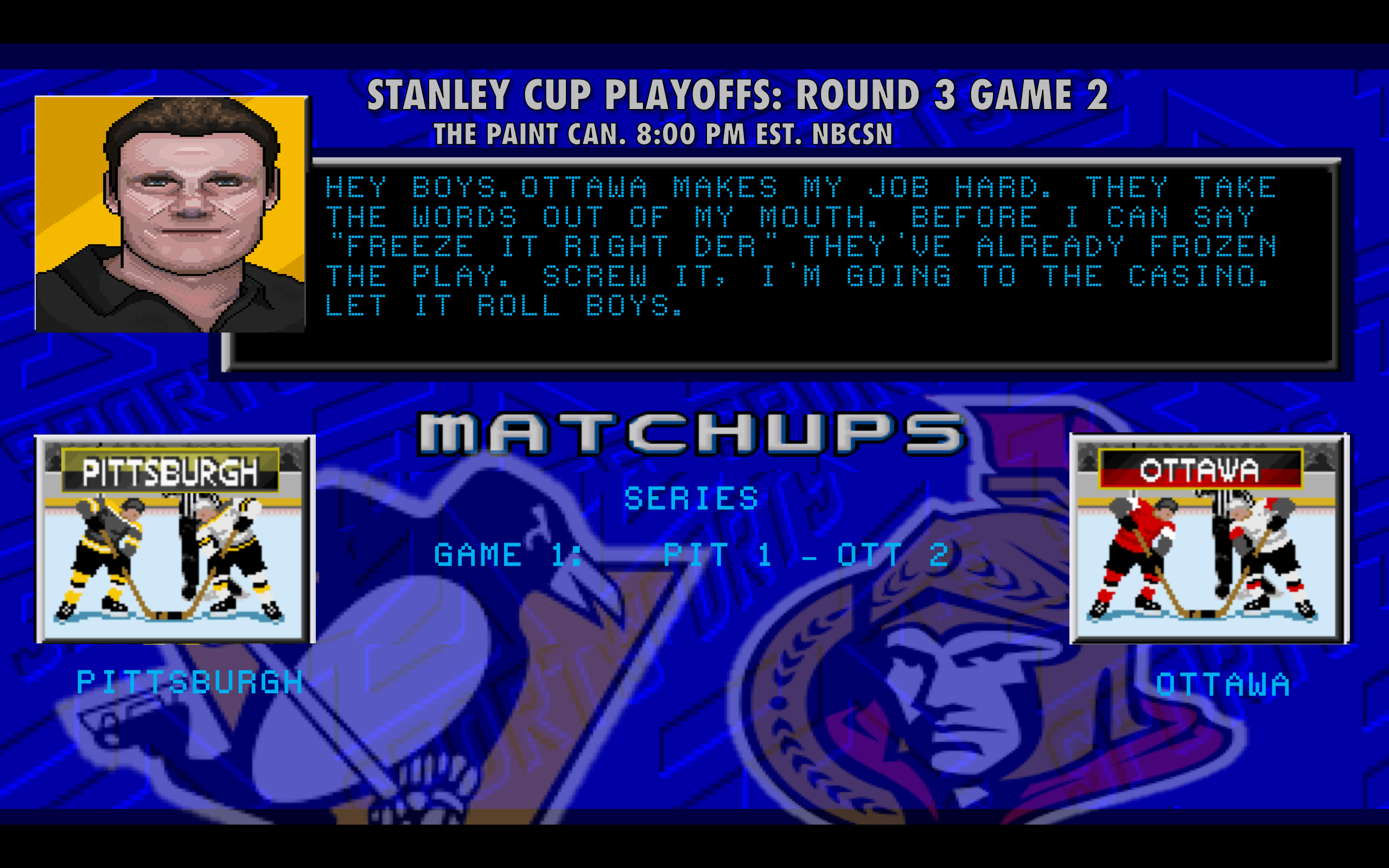 The Penguins look to respond to their first game one loss since last year's Eastern Conference finals following a dramatic finish against the Capitals, weird how familiar that sounds. The Penguins went through the motions in game 1 and found themselves short of an overtime victory. After one full game to analyze and a few more days removed from the Washington series I would expect to see a different looking Penguins team tonight, and though they won't admit it that should scare the shit out of Ottawa. The Senators have made their living in the playoffs playing a trap style of hockey and etching out 1 goal overtime wins (7 of 13), which has obviously worked for them but isn't sustainable against this Penguins team if they can get to their game. Senators fans will tell you their team is a real hockey team, as opposed to fake teams  or something, and that they are smarter than the Penguins. It's cute. You're enjoying your first taste of moderate success since 2007, you could cherish it for what it is or you can build it into something it isn't only to be crushed later, your choice.
Coming in to game 2 I wouldn't expect too many (if any) roster changes from Sullivan as the players weren't the issue in game 1. Trevor Daley was reportedly skating yesterday which is always good news, though his level of play is significantly less than last season he is better than Chad Ruhwedel (no offense to Ruhwedel, who has put together solid play in Daley's absence). I would expect to see a more prominent emphasis on matchups, during the first game Sullivan had his ideal pairings vs Ottawa's lines but also tried different combinations throughout the game. With 60 minutes of footage to watch I would imagine he has a better grasp of who to match where.
Awe look, it's Dion. The biggest change the Penguins need to see is less emphasis on the perfect play and more pucks to the net. Craig Anderson is the only reason the Senators won regardless of what any Senators fan says. He made the timely saves that otherwise would've resulted in a deficit that a trap team can't play a trap to. Bottom Line. You're an idiot if you think otherwise. The Penguins fourth line was easily their best offensive line in game 1 and that is how you lose playoff games. If 3 of 4 lines play with the effort the 4th line had in game 1 this is a 5-1 game easily. After receiving 5 powerplay opportunities and throwing them away quicker than a crackhead out of rehab hits the pipe again I don't think the Penguins will have many man-advantage opportunities tonight, as are the rules of the playoffs. It shouldn't shock anyone to see about 3-4 powerplays for Ottawa and 1 for Pittsburgh tonight.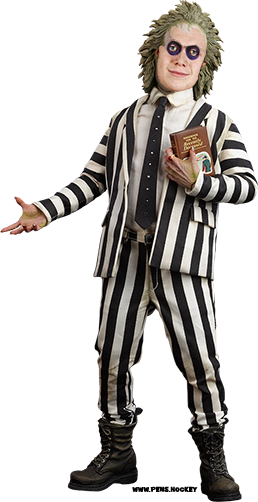 The start time isn't until 8:00 pm tonight, so if the game is as boring as game one the majority of people will be waking up to a random Subaru commercial at 1 am wondering what happened. The Senators are one win closer to the ultimate goal than the Penguins right now and the Pens have a chance to even this series tonight. Much like the Washington series demonstrated, the Penguins coaching staff and video team will put in any amount of time needed to make sure their team adjusts properly. I would be on the look out for a defensive adjustment to handling Ottawa's dump and chase style, which will probably come with a slick D to D transition similar to the one your mom took last night. If the Penguins can take away that aspect of the game efficiently then they already have bodies moving through the neutral zone and into the trap, which I felt the team did a pretty good job with in game 1. The biggest issue the Penguins had involved the Senators progressive breakdown from the neutral zone trap, where they drop 3 men strong right on the blue line forcing the Penguins to play dump and chase, a style that they don't like. This will most likely be the second adjustment we see tonight, as I imagine a Penguins forward will be flying up the boards as another one slings  a puck in. We've seen it before earlier in Sullivan's tenure and I fully expect to see it tonight.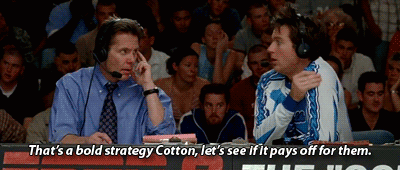 Game 1 was about seeing a new team in a new round. Game 2 will be about seeing if your adjustments paid off. A 1-0 series lead isn't anything to be excited about, but when your team has sucked more dick in the last 10 years than an 18 year old heroin addiction with daddy issues, I guess I understand the excitement in Ottawa. I can't wait for your pissbaby owner to file an investigation into this blog for offensive language. The Capitals series is over. The new series has begun. If the Penguins realize that tonight then the next game in Ottawa will be to break a 1-1 series tie.