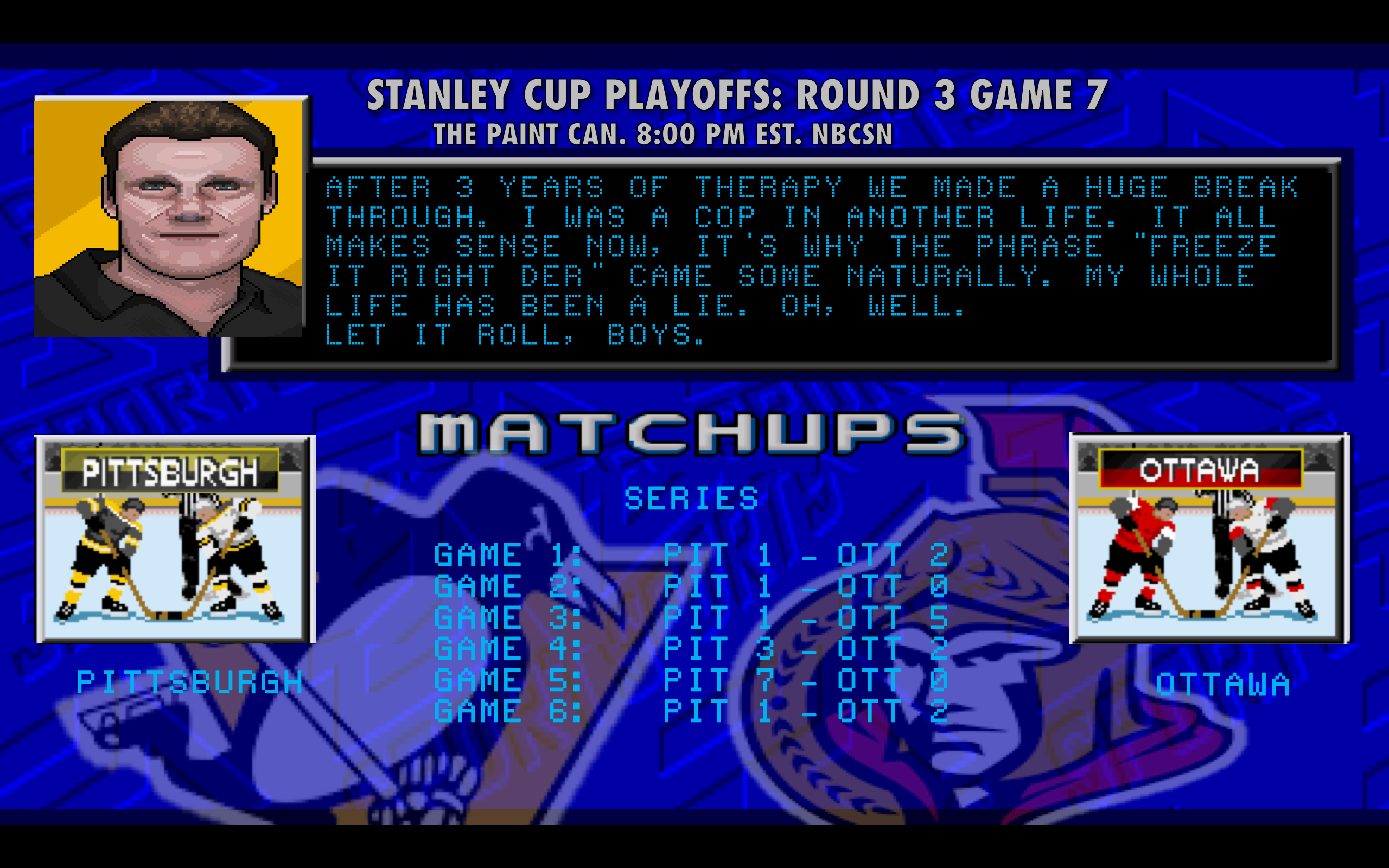 There's plenty for Penguins fans to be confident about as the Penguins and Senators hit the ice tonight for Game 7.  The Penguins hosted Game 7 of last year's Eastern Conference Final and ended up eliminating the Tampa Bay Lightning with an all-around team effort.  They were in Washington two weeks ago for Game 7 and eliminated the Capitals then too.  Home or away, the Penguins look to be in great spirits and should be confident in their ability to close out the Senators.  Ottawa, meanwhile, has an all-time 0-5 record in Game 7s, which may not matter much in the grand scheme of things, but there's a decent number of present Senators around who would remember the last time the team lost a Game 7 back in 2012.  Craig Anderson, Erik Karlsson, Chris Neil, and Kyle Turris dressed for that 2-1 loss in Madison Square Garden, while Mark Borowiecki, Mike Hoffman, Zack Smith, and Mark Stone were scratched or otherwise unavailable.
Of course, the Senators will come in to Game 7 sounding and acting like the underdogs, which means they will be looking a bit like the Columbus Blue Jackets for the first few minutes; they're gonna be pushing, hitting, and checking hard for an early goal and try to take the hometown fans out of the equation.   Unfortunately for the Senators, that didn't work at all for Columbus.  They also need to get the Craig Anderson that they got from Games 1-3 and 6, the one that allowed only four goals combined and had a 0.9675 save%.  Unfortunately for the Senators, that Craig Anderson has been the exception in these playoffs, not the norm.  What would be ideal for Ottawa is an exact replica of Game 6: Anderson stands on his head, Ottawa gets its special teams in order, and Pittsburgh starts getting itchy with the puck as the game winds down.
The bad news for Ottawa is that Craig Anderson is less reliable than Marc-Andre Fleury at this point, and they don't have a better goaltender waiting in the wings like Pittsburgh had with Matt Murray.  Even if the Senators have Alex Burrows and Mark Borowiecki in the lineup tonight, the Penguins have two better players in Patric Hornqvist and Justin Schultz that they haven't needed to win three games in this series.  Pittsburgh has everyone they need to win this Game 7 and advance to the Stanley Cup Final, and if Hornqvist and Schultz are in the lineup tonight and anywhere near 100%, the Penguins should be well equipped to win this game.
So what is there to worry about? The same thing that we've worried about all along: the officiating crew.  If they swallow their whistles and let the boys play like they would normally do in these circumstances, the Penguins are in trouble because Ottawa will take advantage of the lax refereeing and try to mitigate the Penguins' skill advantage.  For the penalties that are called, the Penguins have one less power-play than Ottawa in this series, and up until Game 6 that hasn't been an issue but then again it took a 5-on-3 for Ottawa's power-play to finally get something done.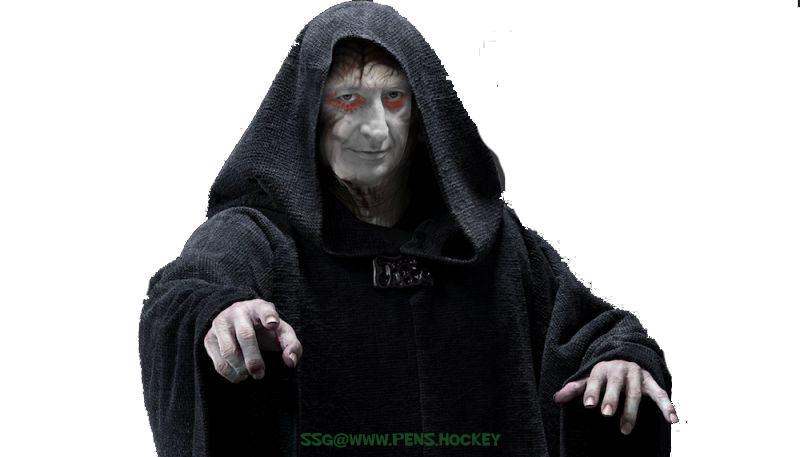 The Penguins also have to get out of their own way.    The too-many-men penalty with 4:05 left in the third period of Game 6 was lazy and terribly-timed, and they had two other such penalties in Game 4.  They cannot allow Craig Anderson to get locked in like he did in the second period of Game 6.  Defensively, the only even-strength goal they allowed in Game 6 was Mike Hoffman's beauty; everything else was largely fine.  Pittsburgh's success will come at the hands of its forwards, back-and-forechecking and supporting the puck well out of their own zone.  Defensively we all know what Ottawa's going to want to do (clog up the neutral zone with their trap and force the Penguins to dump-and-chase), and if Pittsburgh can get a goal or two up then it will be all over for the Senators.
I started writing this article trying to fend off feelings of trepidation.  Ottawa has been a challenging opponent, moreso than the Blue Jackets or the Capitals, and they will make this Game 7 one to remember.  But the gas tank is running on empty for many of their big name guys – Erik Karlsson, Craig Anderson, Kyle Turris, Derek Brassard, and Clarke MacArthur – and I have to imagine that if they gave their all in Game 6 they're going to be playing on borrowed time for Game 7.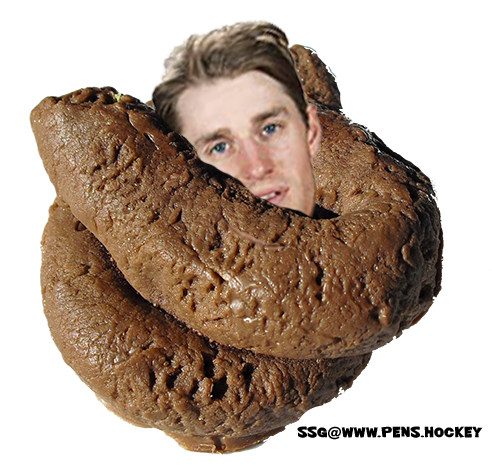 I know the Penguins won the Cup last year and I am immensely proud of their effort this season, but I do not believe that tonight will be the end.  Pittsburgh's Cup appearances seem to come in pairs, and we all like a good pair.  #hockeyporn