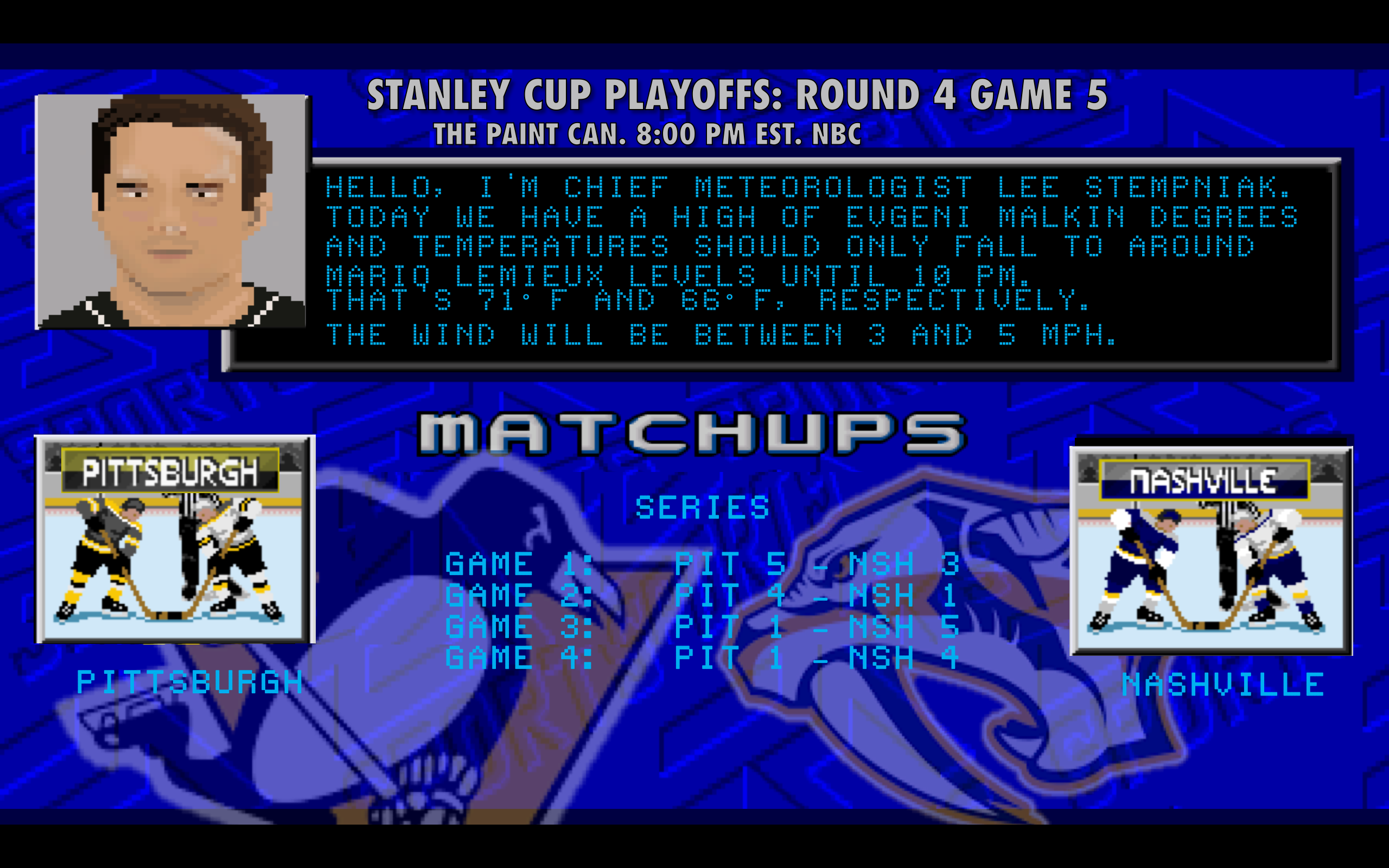 Good God is it nice to have a hockey game tonight. Though I'm sure the team appreciates the two days off it was absolute hell for anyone that is a fan of the Penguins and can read. Things started out predictably with some "end of the season" articles after Nashville tied the series up 2-2, because Pittsburgh is a very "what have you done for me now" driven media forgetting that other teams can win games too. Those were expected takes. Then came an ESPN article which should've been ignored solely because it is ESPN covering something other than football and basketball. TL;DR the article questioned Crosby and Malkin's legacy, saying this game determines it… because a duo that has carried the team to twice as many Stanley Cup Finals as Lemieux/Jagr and only one less than Gretzky should be questioned. Unfortunately as a society we have a hard time ignoring the dumb shit, and that article was possibly the dumbest of them all in the last two days; though Dan Kingerski saying Nashville lied about their noise levels based on his own decibel meter he had at the game and Steve Simmons trying to get some additional clicks to support his coke habit by saying Letang might play were both very good competition.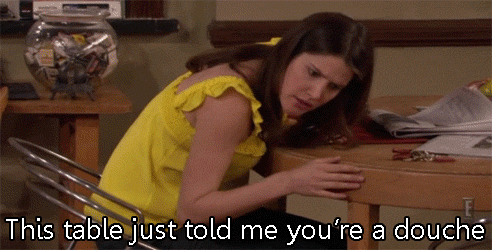 Even DK jumped in to the race early by, as usual, writing only what they know will get reads, posting a full article on why Fleury should play game 5. Unfortunately for DK his piece actually involved some real hockey talk so it was buried. Unfortunately for us, all of the DK Lunatics out there ate it up and have been all over Twitter now.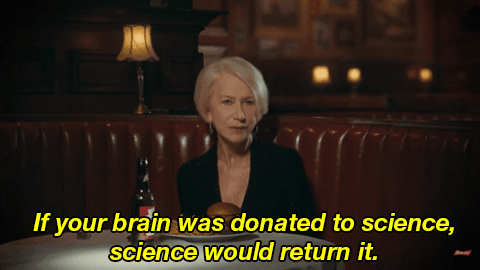 SO FINALLY HERE WE ARE. Game 5. Best of 3 series.
What do we know?
That it doesn't matter if the Penguins managed a way to create a super goalie using DNA from Patrick Roy and Dominik Hasek if the team can only score 1 goal
Mike Sullivan should start Matt Murray, but Matt Murray should wear Tristan Jarry's jersey just for the hell of it
Evgeni Malkin says Phil Kessel will score tonight
Ron Hainsey should never be compared to Brian Dumoulin in an article that you are publishing if you want to be taken seriously as a sports writer. These last two days were a terrible time for @BuDmOoNsHiNe. The biggest similarity I can find between the two players is the color of their jersey.
Pekka Rinne is being elevated to God levels for some reason after 1.5 good games, even though his 0.886 Sv% (78 saves, 88 shots) is less than Murray's 0.901 (110 saves on 122 shots).
PK Subban will fake another injury at some point, I'm not sure the scene where his leg was completely blown off in game 4 that resulted in him throwing his gloves off and play being blown dead while the Penguins had possession has been discussed enough… Subban was back on the ice for the next shift and somehow Crosby is called a diver.
What don't we know?
How the Penguins plan on changing the powerplay, which though it showed more promise in game 4 it still didn't capitalize. 0/3 in back to back games could quickly change the outcome of games if they cash in.
Who steps up. The driving force behind last years run was the dominance of the third line, which would be a perfect thing to have against a Nashville team with such a heavy top 4 presence. At home Mike Sullivan gets the matchups that he wants, and you have to think he is going to try to get one of the top 2 lines out against Nashville's third whenever he can. The only issue with that is Peter Laviolette (for the record I have no clue how to spell his name and guess every time) doesn't trust his third pairing either and limits their minutes each game. With 2 days rest between each game the rest of the way I would expect Petey L to give his top 4 25-27 minutes each and the bottom 2 right around 10. This is why scoring against the third defensive pairing and on the powerplay are so critical for the Penguins, it makes the game a lot more manageable at full strength.
Pittsburgh is definitely going to be loud tonight, but we won't be able to trust anything we hear until we see a picture of a decibel meter Tweeted out by someone with a blue check mark.
What should happen?
If you're reading this you're not one of them so this is equivalent to screaming into my pillow, but to those of you out there that would rather see the team lose because Fleury isn't starting, do us a favor and just don't watch the Penguins ever again. I don't care if Sullivan went live right now and said he was calling up and starting Casey DeSmith, that's his decision and he coaches the team I love so that's that.  Does DeSmith have a glove?
The Penguins have made a lot of adjustments between games 1 and 4. Now they have had 2 days off to adjust their adjusted adjustments. Game 4 showed a more focused offensive attack than we've seen, so tonight the Penguins will try to build on that and start capitalizing.
Hopefully yinz don't mind this odd gameday format, to be honest the Pittsburgh media has really done a number on this series. They've almost suffocated the fun of the game out of it with their own narratives, their stats, their opinions, so I really didn't want to use anything fancy in this post. Stats are great. Opinions are shit, especially mine, but when the team you're covering is two wins away from the prize of all prizes maybe it shouldn't be all doom and gloom. I've listened to  deathmetal that is more positive than most of these articles. It's like they are trying to prove how much more of a hockey town Pittsburgh is than Nashville by showing how much they "know."  It's stupid. So is saying Nashville isn't a hockey town because they've never won. Absolutely retarded. They have fans that support their hockey team, that's a hockey town. I used to live outside of Atlanta. That was not a hockey town. People showed up to Atlanta Thrasher games because they thought the Atlanta Hawks were playing, no joke.
Pittsburgh needs to be united and loud. If you're in the area get your ass outside to the screen and enjoy hockey. It is game 5 of the Stanley Cup Finals and the team you cheer for is playing. 29 other fanbases cannot say that. You can. Tonight The Paint Can needs to remember the Mellon. Tonight the fans need to remember why they are fans. Tonight it doesn't matter if you've been cheering since 1983, 1993, 2013, or 1903 like SSG. Tonight the fans unite as just that, fans, to support this team that we so proudly support, playing the sport we so dearly love, on the biggest stage possible. It's game 5, it isn't game 7, but if the Penguins can get back to what got them here there won't be a game 7.