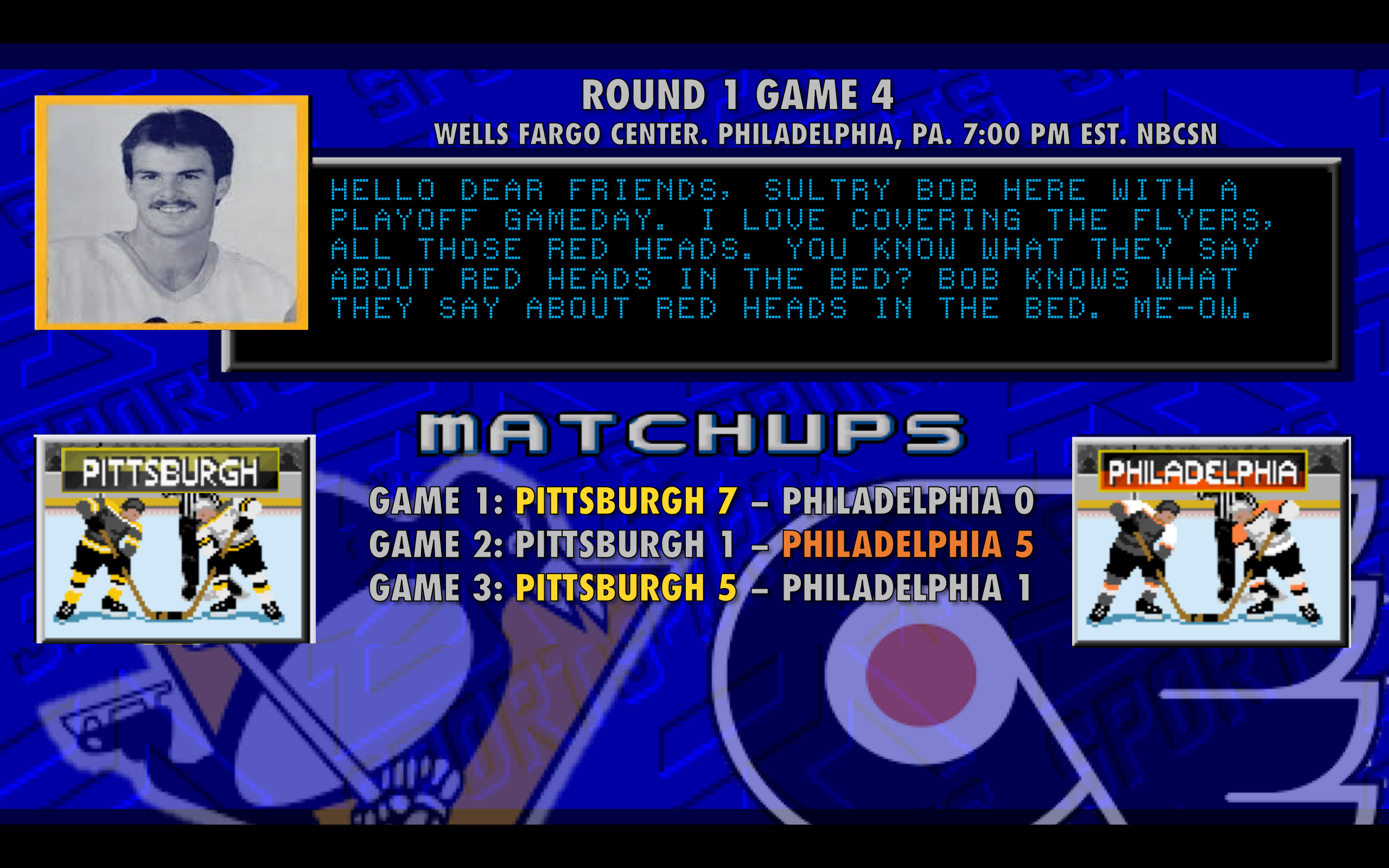 Despite the 5-1 whomping the Flyers gave the Penguins in Game 2, Pittsburgh stuck to the script in Game 3 and returned the favor to the Flyers, washing out the Flyers' Game 2 victory with a 5-1 win of their own.  The script for the Penguins is pretty simple: keep shooting.  The Flyers had the second-worst save percentage amongst this year; only the Penguins had a lower save percentage.  If you knew nothing about the Penguins and Matt Murray, you would think that would indicate that the series should be a lot closer, or that the Flyers have a chance to win it.  But, of course, you have to consider Murray, and he's been dynamite in the playoffs.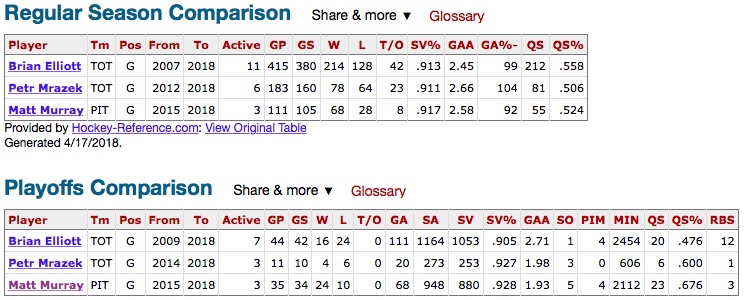 Looking at these numbers, I'm a little surprised that Dave Hakstol doesn't go with Mrazek at this point.  At least on paper you can see that Mrazek might be able to keep up with Murray.  The Flyers need a spark and it is not going to come from their offense or their physicality; they need someone who can hold the fort in goal and keep the score close.  Brian Elliot looked like he could have done it in Game 3 when it was 1-0 Pittsburgh at the end of the first period (much better than Game 1), but a power-play goal by Derick Brassard at 2:48 of the second started the rout and things started falling apart for the Flyers shortly thereafter; a 4-on-3 power-play led to Evgeni Malkin's second goal of the playoffs, and then Sidney Crosby did more Sidney Crosby things with a backhand saucer pass that not even Brian Dumoulin could ruin.  It was 3-0 in short order, and that was more than enough.
The Flyers could also use a leader on offense.  Jakub Voracek is a +1 but has no goals.  Claude Giroux also has no goals and is a -4.  Really, their best bet could be 19-year-old Nolan Patrick, one goal on five shots, one assist, only a -1, but Dave Hakstol is seemingly shy about letting the reins off the kid as he's still a few minutes behind Giroux in time on ice.  I don't want to give Hakstol any ideas, but giving Patrick more shifts might help them out at this point.  Philly's leader in points, Sean Couturier, got unintentionally(?) hip-checked by teammate Radio Gudas during practice Tuesday morning and he had to be helped off the ice.  Losing Couturier for any length of time would be ruinous for the Flyers and their chances to make this a series.
Not everything is perfect for the Penguins, mind you.  Also yesterday morning, Mike Sullivan announced that Patric Hornqvist had an upper-body injury that rules him out for Game 4.  The Penguins didn't give Hornqvist a contract extension for nothing, and the power-play is going to suffer in his absence.  Hornqvist was tied for third in the League in power-play goals; it's his ability to get in front of goal and draw attention away from Malkin and Kessel at the half boards.
Speaking of Kessel, he hasn't missed a beat ice-time-wise, but he has just one assist and no goals on four shots.  Uncharacteristic for the sniper, who is likely being hampered by some injury.  Still, he can't be that bad off since he's third amongst Penguins forwards in ice time.
---
This time last season I had more time to do recaps of the other postseason series(es?), but clearly things have changed! So I'll do a quick summary of the goings-on in case you are also too busy for such things.
The most relevant and perhaps surprising series thus far is the Columbus/Washington series.  The Capitals became the first team to lose both Games 1 (4-3) and 2 (5-4) at home in overtime.  Of the goalies who have not been replaced by their backup at some point in this series, Sergei Bobrovsky has the third-worst save percentage and the second-worst goals against average.  To their credit, Washington won Game 3 last night, also in overtime (double overtime in fact), so that series won't be over in four (hooray!).  If you're a Penguins fan, this potential second round matchup is probably causing you to salivate.
On the Atlantic Division quarter of the Eastern Conference, the home team has yet to lose in both series, with Boston ahead of Toronto 2-1 and Tampa Bay leading New Jersey 2-1.  Game 4 is in Toronto tomorrow night, while New Jersey hosts Game 4 tonight.  The home teams also have won every game in the Central Division playoffs, with Nashville ahead of Colorado 2-1 and Winnipeg leading Minnesota 3-1.  The biggest new injury in these playoffs is the one sustained by Jets defenseman Tyler Myers.  He left Game 3 with what is being called a lower-body injury and he was out for Game 4 (which the Jets won anyway).  He's #3 defenseman for the Jets in minutes, #2 in points, and was tied with Dustin Byfuglien for second in points for the Jets so far.  His absence could be a huge hit for the Jets.
The Vegas Golden Knights have finished off their first-round matchup with the Los Angeles Kings in a four-game sweep.  Marc-Andre Fleury (remember him?) recorded two shutouts including the series-clincher, and the Kings just could not get any offense going as they scored just three goals with a 1.0% shooting percentage.  Vegas now awaits the winner of the Sharks/Ducks series, which could end in a sweep for the Sharks tonight against a similarly offensively-challenged Ducks team (three goals, 1.5% shooting percentage).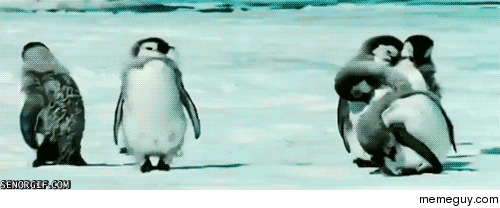 Foul Four, Showdown 1
Game 11: "He's played with that long stick all his life, so he's accustomed to it. He's just able to choke down, feels very comfortable doing that." – Errey (50%, 33 Votes)
Game 5: "Guentzel doesn't waste any time and he bangs all the holes." - Bobby "The Chief" Taylor (50%, 33 Votes)
Total Voters: 66

Loading ...
Foul Four, Showdown 2
Game 71: "It's not a fun feeling, Dan, when you get fingered like that." – Milbury (52%, 35 Votes)
Game 54: "I want to touch as many young boys and girls as we can." – Willie O'Ree (48%, 32 Votes)
Total Voters: 67

Loading ...