It's Game-Day
Continue reading
Day 43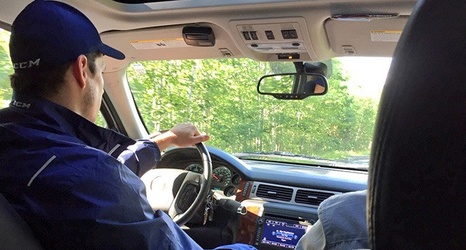 Today was Jake surgery and I know people joke that I'm his Dad but I really do try to look out for the kid.  So I told the staff doctor that I wanted to drive him home after the procedure.   They told me that Jake would be ready at 12, so that gave me time to see my surgeon for a follow up.  Dr. McGlovin did an exam and ultrasound of my groin.  I was so nervous because he never really said anything during the whole exam. 
Continue reading
Day 35
Christmas was great. I spent time with my family and I met up with some of my bantam crew. Mom made Grandma's special peach cobbler, just for me. We stuck to our family tradition of watching "A Christmas story" on Christmas eve night and waking up early for Pajama hockey. Of course Taylor's team won, but that is because Uncle Joe cheats his ass off. He elbowed dad in the throat, while they were behind the net, during the game winning goal. Thankfully, cousin Brandon was able to find Uncle Joe's teeth and said he could fit him in on Thursday. It really is helpful having a dentist in the family. As always, it was tough leaving, but I had to get back to training.
A glitch in the schedule allowed me to workout with the team. Geno kept ball-taping me with his stick, which was really pissing me off, but he just laughed and laughed. He kept saying some shit, like "man of steel is so soffe" and "girls no love weak sacks". I finally had to shoot a puck at his head to get him to shut up. I didn't feel like going home after practice so I went to my favorite Cineplex to catch up on the latest movie. I bought a souvenir lit saber, a big tub of extra butter popcorn, and I was all set for the next 4 hours.
Continue reading