Tonight the Anaheim Ducks visit the PPG as they continue their 5 game road trip to open the season, which started on Thursday with a 4-2 loss to Dallas. The Ducks have created a team that is $360,000 from the salary cap but only have 5 recognizable names on their roster. This is one of those teams that is creeping up on the closing of a window. They have tried to build a team around Corey Perry and Ryan Getzlaf, but now they are coming in to the 10th year since their cup win, and the water is starting to boil.
They shipped out Bobby Ryan. They shipped out Carl Hagelin (remember when people were legitimately mad about that trade??). They fired head coach Bruce Boudreau after years of subpar playoff performances, and replaced him with their previous coach Randy Carlyle, who will most likely coach them out of the playoffs. Maybe it would be easier for the Ducks to just admit that they aren't that good? Due to their weak division the Ducks may squeak in to the playoffs, which is just enough to raise the hopes of their fan base, but expecting anything more than an early exit is a waste of time. To this date, this is still the best lineup the Ducks have ever iced: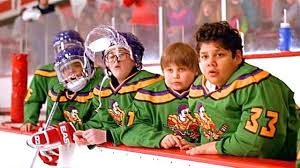 The Penguins come in to this game following a win against the Washington Capitals. Bryan Rust and Sidney Crosby are both out tonight for the Pens, as is Simon Despres for Anaheim, who is once again suffering concussion like symptoms which is terrible to see in such a young player. The Pens first game of the season left a good amount of room for improvement, and it will be interesting to watch for any developments tonight. If Scott Wilson duplicates his first game, he will be enjoying a nice trip to Wilkes-Barre. In other Pens news, Evgeni Malkin has his own emoji now (available in the apple app store). I think we need to develop a Geno voice over for Siri, just saying.
If the Pens stick to their game, and Sullivan has made the necessary adjustments, this should be a 2 point night for the Penguins. The Ducks have a strong defensive core, but they lack the offensive depth to support it. They are sort of like the poorer version of the New York Rangers, except Gibson isn't a giant douche yet. Steigy Powerball: When will he remind us that Gibson is from Pittsburgh?
Bottom line, this team was created and named after a Disney movie, and the only reason they have fans is because people were tired of cheering for the Sharks. Fire up the Nintendo boys, it is time to go Duck Hunting.

LET'S GO PENS

[socialpoll id="2394159″]
[socialpoll id="2394202″]
[socialpoll id="2394204″]