As a self committed Penguins nerd I have a weekly routine that carries on even during the offseason, some of those weekly checks involve a quick visit over to capfriendly even if I know the Pens didn't make any moves that week and a quick look over at dailyfaceoff. It's a weird habit but it is just part of the routine at this point. Maybe you are not aware but in the last two years dailyfaceoff has teamed up with powerhouse Corsica hockey to rank players based on position, a tool that anyone joining our fantasy hockey league this year should definitely not use.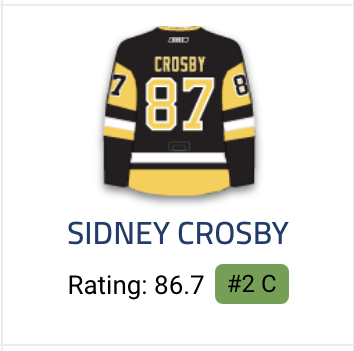 Crosby is given an 86.7 rating by Corsica which puts him as the 2nd best center in the league from a fantasy standpoint. As usual with Corsica they have developed fancy maths to come up with this rating, here is what they say about their process "We distilled all the statistical information that is available into one single number using machine learning algorithms. The rating captures all contributions made by skaters – offensive, defensive, even strength or special teams! All player ratings are updated daily to reflect the latest information." Here is their current list of player rankings heading into the season.
Now as if that isn't cool enough I noticed that they added a new level to this calculation this season, one that takes the ranks of each player on a line and then ranks that line against all other said lines in the league. For example:

Using the Corsica method the Penguins first line is ranked as the 2nd best first line in the league. Also Jake Guentzel is the 9th best statistical left winger but didn't make the top 20 list, lol. Tom Wilson is the 47th best RW according to the site.
I thought this feature was super cool, and then the nerd in me really started to churn. I thought "Rad, I wonder if you could make a spreadsheet ranking all of the teams with this information." I decided to make it as simple as possible by taking each lines rank and then averaging them (for example if a team had the 4th best first, second, third and fourth line their average line rank would be 4). In this situation the lower the average rank the better for the team. I then color coded the numerical list to show which teams had lines ranked in the top 5 in the league, and which teams had multiple lines ranked. I did the same with defensive pairings (newsflash, Jack Johnson isn't highly ranked).
Some things to note before we dive into the numbers:
The stats are based on last season, obviously
Some of the lines are constructed by dailyfaceoff (for instance in teams where trades were made like Toronto and Tavares, dailyfaceoff has predicted what the lines will be)
If a player is currently injured (Shea Weber) and will not start the season they are not on a line
Ranking the teams overall by their average is a little flawed. For example Nashville has the number 1 first and second defensive pairings in the league, but their 30th ranked third pairing gives them a 10.67 rating average overall.
When it comes to the colors below I tried to go with the traditional medal colors with gold being number 1 overall, silver 2, bronze 3… then the chart didn't look right so I added in green for 4th, blue for 5th and peach for 6-10. I feel like the colors help you quickly identify the teams with multiple top 10 lines.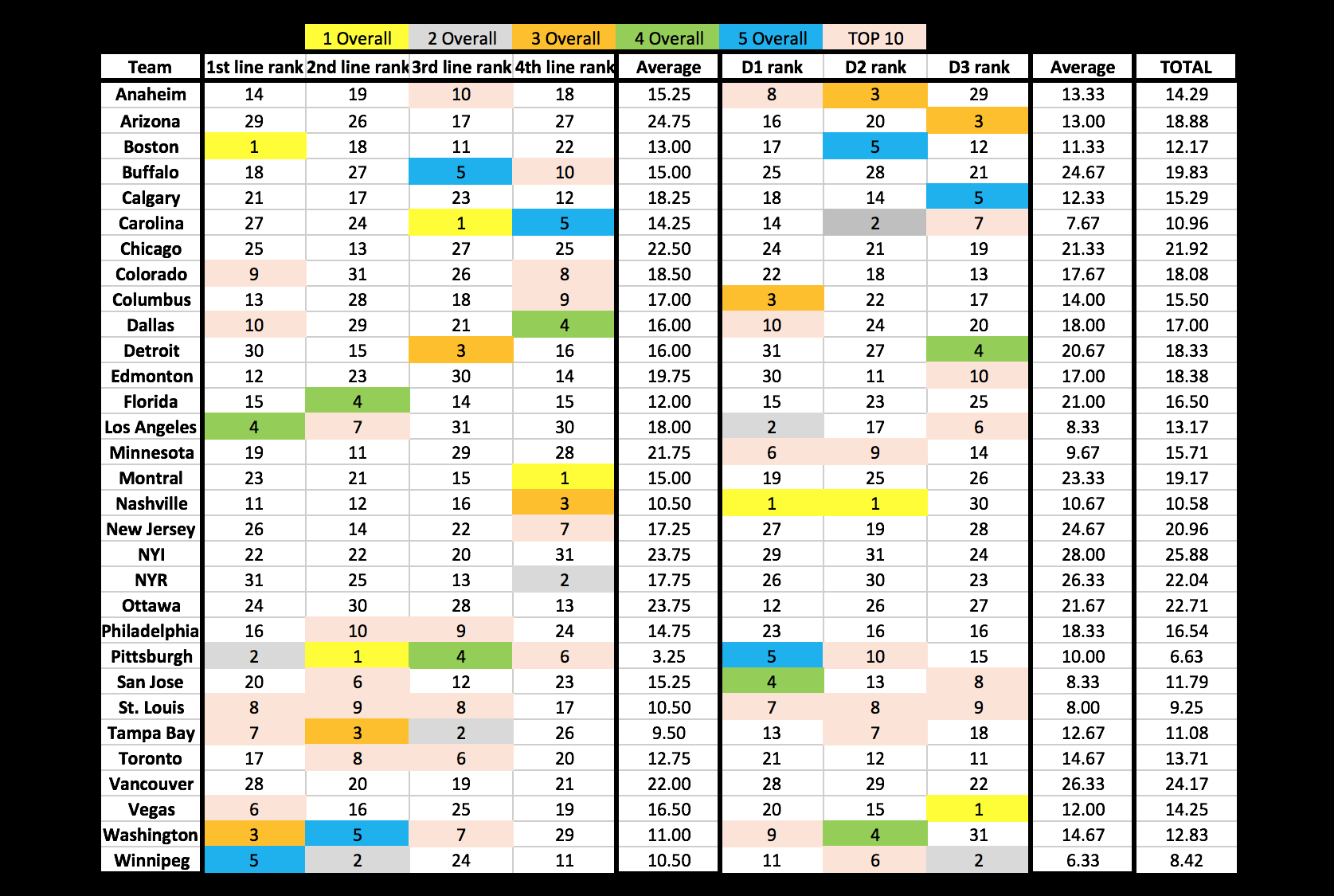 Here is a quick break down of the top 5 per line, listed in order of 1-5:
1st Line: Boston, Pittsburgh, Washington, Los Angeles, Winnipeg
Notes: Ilya Kovalchuk despite being 35 years old and not playing in the league since 2013 is listed as the 8th best left winger at the moment, thus giving LA a bit of an unwarranted boost. LAs top line over Tampas? I know who I am picking if I need a game tying goal on the last shift. The top 3 shouldn't be surprising.
2nd Line: Pittsburgh, Winnipeg, Tampa, Florida, Washington
Notes: No surprise that a line with Hagelin-Malkin-Kessel is the best overall. Florida adding Hoffman to the second line gives them a scary top 6, fortunately they fired the coach that could've helped.
3rd Line: Carolina, Tampa, Detroit, Pittsburgh, Buffalo
Notes: Jordan Staal is Carolina's third line center which is 50 shades of irony. That 4th ranked Penguins third line is currently constructed as Rust-Brassard-Sprong.
4th Line: Montreal, NYR, Nashville, Dallas, Carolina
Notes: The 4th line (ZAR-Cullen-Sheahan) is the only line not ranked in the top 5 for the Pens, they come in at a disgraceful 6th.
Defense Pair 1: Nashville, LA, Columbus, San Jose, Pittsburgh
Notes: Kris Letang = not that bad? During a season that saw everyone ripping on Letang he finished with the statistics to put him as the 2nd best right handed defender in the league despite coming off of a surgery to repair a broken neck… pretty decent year considering the most athletic thing those constantly ripping on him did was open a SlimJim.
Defense Pair 2: Nashville, Carolina, Anaheim, Washington, Boston
Notes: Yes, Nashville has the number 1 first and second pairing in the league. Yes this comes at a price, that price is them having the 30th best 3rd pairing. Carolina jumps into the picture here with both of their newly acquired defenders getting placed on the second pair. The Schultz-Maatta pairing came in as the 10th best 2nd pairing.
Defense Pair 3: Vegas, Winnipeg, Arizona, Detroit, Calgary
Notes: This is the only line for the Penguins that doesn't rank in the top 10 of their respected lines, the current third pairing is listed as Jack Johnson (61st best left handed defender) and Jamie Oleksiak (61st best right handed defender).
---
After recording each individual lines ranking I then added the offensive ranks up and divided by 4 (fancy stuff I tell ya) to come up with the average rank for each team. Recalling that the lower the number the better in this situation, here are the top 5 offensive teams with their average line ranking against the rest of the league:
Fifth Best: Nashville. Average line rank = 10.5
There are three teams with an average rank of 10.5 and I used higher level reasoning to break the tie…
Nashville uses the old school "build from the net out" mentality with a focus on "defense wins championships." This method generally doesn't work in the new NHL but Nashville is able to supplement this with some middle third ranked lines.  Their first two lines come in at 11th and 12th overall, the third line is a middle of the road 16th (Nick Bonino < Derick Brassard say the stats), and their fourth line is the 3rd best.
Fourth Best: Winnipeg. Average line rank = 10.5
Tied with Nashville, Winnipeg gets a nod here due to their overall construction being more top heavy than the music city. The Jets put years of mediocrity behind them by finally playing the way they were supposed to last season. It should come as no surprise that this was in part due to some very good lines. The Jets top two lines rank 5th and 2nd best in the league, respectively. The salary cap and Canadian dollar may be a factor here, but the team then falls off with just the 24th best 3rd line and the 11th best 4th line. If this team can build up a solid third line then look out Loretta.
Third Best: St. Louis. Average line rank = 10.5
Though there was a three way tie with average ranks of 10.5, St. Louis comes out on top of that trio based on overall lines in the top 10. The first three lines in St. Louis rank 8th, 9th and 8th in the league, with a middle of the pack 17th ranked 4th line. This is also known as the formula for first round defeat.
Second Best: Tampa Bay. Average line rank = 9.50
Tampa would likely be higher if the world wasn't so stiff over Ilya Kovalchuk as described earlier. Stevie Y has built a strong offensive team with a top 9 that ranks 7th, 3rd and 2nd, respectively. Their overall offensive rank falls with their fourth line which currently comes in at 26th best in the league. The scariest news for those in the Atlantic, the Lightning have the 2nd best third line and most people haven't even heard of the players that make up that line.
If you ain't first, you're last: Pittsburgh. Average line rank = 3.25
3.25… holy hell. The Penguins (and their fans) are obviously blessed with two future hall of famers centering the top two lines, but that isn't what automatically gets them this rating. Jim Rutherford and Co have flanked this team with scoring machines throughout the lineup and it shows. The Pens first three lines come in at 2nd, 1st, and 4th overall with the newly constructed 4th line coming in at 6th. The only team with all four lines ranking in the top 10, the Penguins have used a quiet offseason to stock up and prepare for another run.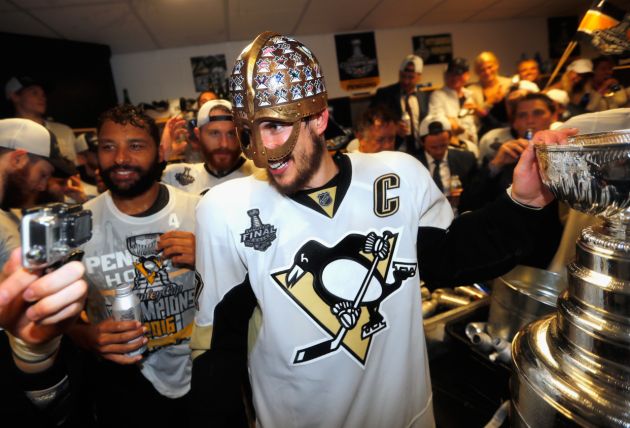 With the offenses finished we turn to the defense.  I used the exact same formula of taking the line rank and finding the average of the three pairings before comparing them to the league. Here are the top 5.
5th Best: San Jose.  Average Pairing Rank: 8.33
The Sharks are just 3 years removed from reaching the Stanley Cup Finals and they are still trying to win within their current rosters window. It should come as no surprise that a team with Brent Burns comes in the top 5 of fantasy ranked defenses. The Sharks are sporting the 4th best top pairing, 13th best 2nd pairing and 8th best 3rd pairing.
4th Best: Los Angeles. Average Pairing Rank: 8.33
Drew Norris helps the LA top pairing finish 2nd best overall. Their second pairing of Dion Phaneuf (hahahaha) and Alec Martinez ranks as the 17th best which almost took them out of the top 5 before the third pairing came in at 6th overall. That third pairing is currently made up of players named Daniel Brickley and Derek Forbert and it is unclear if these people actually exist.
3rd Best: St. Louis. Average Pairing Rank: 8.00
There is a reason why we call them the consistent underachievers, folks. The Blues are one of two teams with a top 5 ranked offense and defense and are the 10th favorite in Vegas to win the cup, where they've been for the last 8 years. The Blues defensive pairings rank 7th, 8th and 9th, respectively. Ex-Penguin Robert Bortuzzo is still holding down the third pairing for St. Louis.
2nd Best: Carolina. Average Pairing Rank: 7.67
This one may be a bit of a stretch since a lot of the stats for these players are based on seasons spent with other teams. Nevertheless Carolina has made one thing clear this offseason and that is they want a good defense and hate Jeff Skinner. The Canes top pairing consists of Jaccob Slavin and Justin Faulk, a duo that ranks as the 14th best top pairing. Their second pairing brings the overall ranking down as the newly acquired Dougie Hamilton and Calvin de Haan pair up to form the second best 2nd pairing. Their third pairing is Haydn Fleury and Brett Pesce, who somehow clock in as the 7th best 3rd pairing.
Numero Uno: Winnipeg. Average Pairing Rank: 6.33
The Jets take their fourth best offense and pair it with the top ranked defense in the league. The only thing stopping the Jets last season was the momentum of the golden misfits, and in my opinion this team should be the favorites in the West to start the year. Dustin Byfuglien anchors the 11th best top pairing, followed by Josh Morrissey and Jacob Trouba making up the 6th best second pairing and Dmitry Kulikov and Tyler Myers forming the 2nd best 3rd pairing.
---
After comparing the offensive and defensive ranks individually the only thing left to do was take the overall offensive and defensive ranks and average them out to determine the top ranked teams. To build suspense I will list the teams in descending order. Remember that since I took the averages the numbers aren't whole numbers and each number is the average of their line rankings which is why the 31st place team doesn't have an overall line ranking of 31.
31. New York Islanders | Offense: 23.75 Defense: 28.00 Overall: 25.88
30. Vancouver Canucks | Offense: 22.00 Defense: 26.33 Overall: 24.17
29. Ottawa Senators | Offense: 23.75 Defense: 21.67 Overall: 22.71
28. New York Rangers | Offense: 17.75 Defense: 26.33 Overall: 22.04
27. Chicago Blackhawks | Offense: 22.50 Defense: 21.33 Overall: 21.92
26. New Jersey Devils | Offense: 17.25 Defense: 24.67 Overall: 20.96
25. Buffalo Sabres | Offense: 15.00 Defense: 24.67 Overall: 19.83
24. Montreal Canadiens | Offense: 15.00 Defense: 23.33 Overall: 19.17
23. Arizona Coyotes | Offense: 24.75 Defense: 13.00 Overall: 18.88
22. Edmonton Oilers | Offense: 19.75 Defense: 17.00 Overall: 18.38
21. Detroit Red Wings | Offense: 16.00 Defense: 20.67 Overall: 18.33
20. Colorado Avalanche | Offense: 18.50 Defense: 17.67 Overall: 18.08
19. Dallas Stars | Offense: 16.00 Defense: 18.00 Overall: 17.00
18. Philadelphia Flyers | Offense: 14.75 Defense: 18.33 Overall: 16.54
17. Florida Panthers | Offense: 12.00 Defense: 21.00 Overall: 16.50
16. Minnesota Wild | Offense: 21.75 Defense: 9.67 Overall: 15.71
15. Columbus Blue Jackets | Offense: 17.00 Defense: 14.00 Overall: 15.50
14. Calgary Flames | Offense: 18.25 Defense: 12.33 Overall: 15.29
13. Anaheim Ducks | Offense: 15.25 Defense: 13.33 Overall: 14.29
12. Vegas Golden Knights | Offense: 16.50 Defense: 12.00 Overall: 14.25
11. Toronto Maple Leafs | Offense: 12.75 Defense: 14.67 Overall: 13.71
10. Los Angeles Kings | Offense: 18.00 Defense: 8.33 Overall 13.17
9. Washington Capitals | Offense: 11.00 Defense: 14.67 Overall: 12.83
8. Boston Bruins | Offense: 13.00 Defense: 11.33 Overall: 12.17
7. San Jose Sharks | Offense: 15.25 Defense: 8.33 Overall: 11.79
6. Tampa Bay Lightning | Offense: 9.50 Defense: 12.67 Overall: 11.08
5. Carolina Hurricanes | Offense: 14.25 Defense: 7.67 Overall: 10.96
4. Nashville Predators | Offense: 10.50 Defense: 10.67 Overall: 10.58
3. St. Louis Blues | Offense: 10.50 Defense: 8.00 Overall: 9.25
2. Winnipeg Jets | Offense: 10.50 Defense: 6.33 Overall: 8.42
1 Pittsburgh Penguins | Offense: 3.25 Defense: 10.00 Overall: 6.63
Keeping in mind that the fantasy ranks are based on last seasons individual performances with this upcoming seasons roster status it will be interesting to see how this plays out. Obviously more goes into hockey than player rankings and ratings, but if we take these ratings and directly turn them into standings the upcoming season looks as such: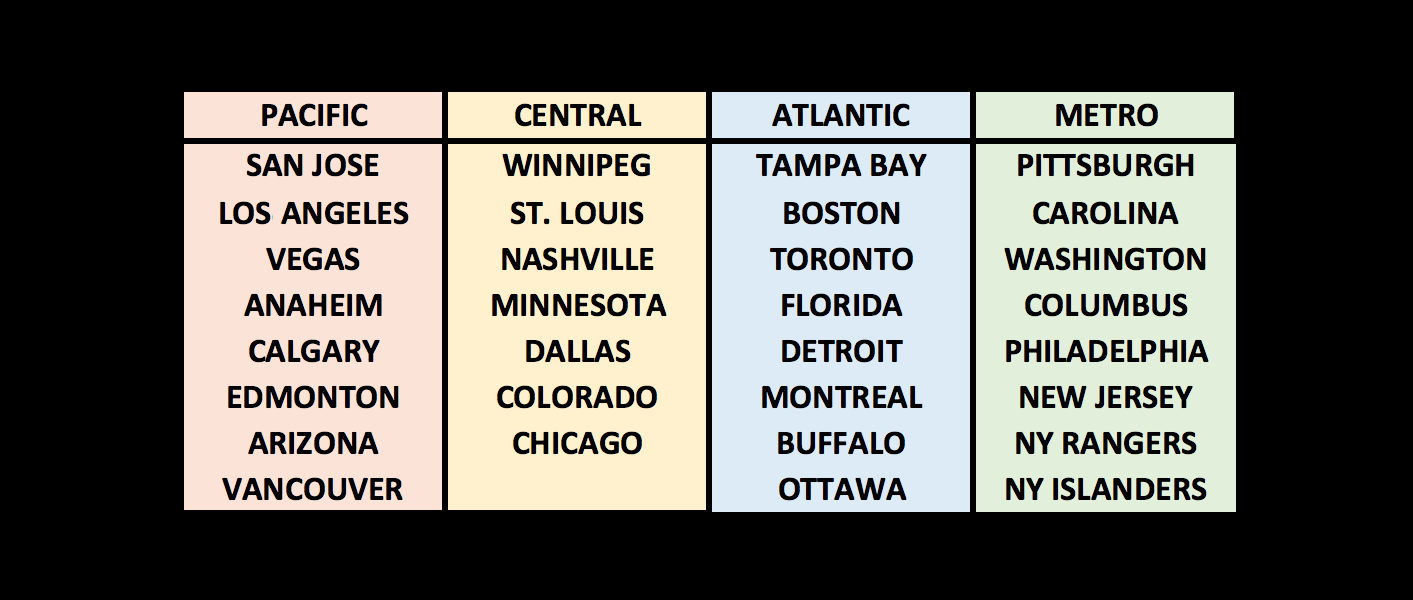 Carolina is the oddball in the Metro but other than that these aren't the worst predictions in the world. Chicago most likely doesn't finish last in their division but for the most part these are pretty interesting.
I hope you enjoyed this article and I hope you are enjoying the offseason, get the rest because we are less than a month away from camp!