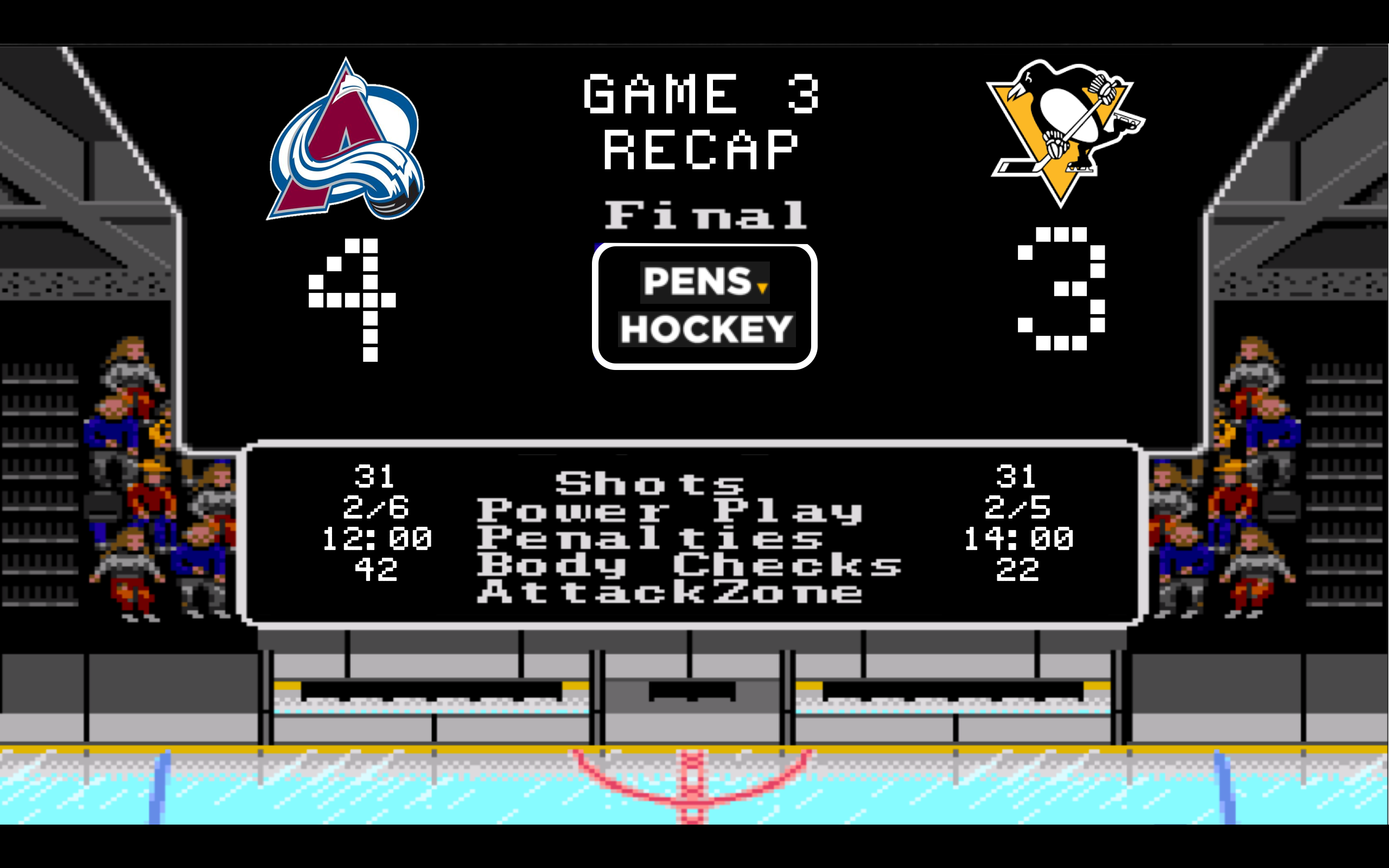 Losing this game should only come as a surprise to those fans that just started cheering for the Penguins in May. The bigger surprise of the night was the interesting career move of thepensblog and the shutting down of generalfanager.com, can't believe that site was up for less than 2 years, feels like way longer than that. The site closed because the owner has been hired by the Las Vegas franchise, so that is one way to get a promotion. As for the game, if you decided to do literally anything else, it was the right choice. The Penguins continuously decide to take penalties when already shorthanded, because why the hell not? Getting a point out of this game is more than I expected after blowing the early load lead. The discipline is an issue for the team right now, but there is no time to fix it with this packed schedule to kick things off. Speaking of which, the Pens play in Montreal tonight at 7:30.
It does seem like the Penguins will be doing some sort of history video each home game as the 50th season rolls on, and here is the one from last night.
We bleed black and gold. pic.twitter.com/zc4FbKTRgB

— Pittsburgh Penguins (@penguins) October 17, 2016
Just adding Steigy into these videos dumbs them down a lot, the Pens missed a chance to bring back those original yellow "Pirates" jerseys for one of the Winter Classic games.
---
1st Period:
Phil Kessel (2) assisted by Letang (2) & Bonino @ 8:57 PPG
Remember how many times you slammed your head on the wall last season when they kept trying to set Kessel up for one-timers on the power-play? This right here is Kessels zone on the power-play. All. Damn. Day.
Matt Cullen assisted by Kunitz (2) & Sheary (2) @ 9:33
Cullen and Kunitz are two players that should see more time together, this 76-year-old duo is just a pest to deal with. They both forecheck, and just look at the freeze frame of the video, they are both in front of the goal with 4 Avalanche players behind them. Really wouldn't mind seeing more of these two paired up later in the season.
Jarome Iginla assisted by MacKinnon & Barrie @ 16:27 PPG
For some reason after Iginla scored the Colorado announcers were acting like he was throwing shade at the Pittsburgh organization. If Iginla has a rivalry with Pittsburgh, he should probably at least let the Pens know because nobody cares. It was 4 years ago and you played like 18 games. This is also the 293rd goal this season that Fleury has given up from that same spot.
Patrick Weirdcock assisted by Bourque & Tyutin @ 17:50
The look on Sullivans face from the 0:22-0:25 mark is most likely going to become a gif for the rest of the season. It is the same look your parents give you when they are extremely pissed off and want to beat your ass, but you are in a restaurant during peak business hours.
---
2nd Period: ZZZZZZzzzzzZZZZZzzzzzZZZZZzzzzz
---
3rd Period:
Trevor Daley assisted by Cullen (2) & Schultz @ 9:12 PPG
#whatwouldScuderido great look by Cullen, better look by Daley. Honestly thought he was going to hold it and then force a pass pack to Schultz. During the preseason it was said that Sullivan is fully operating the power-play, and the results are there. Keep shooting the puck. Crazy how that works.
Gabriel Landeskog assisted by Grigorenko & Johnson @ 13:28 PPG
Oh, make that the 294th goal Fleury gives up a goal high glove side this season. And while we are talking about things that don't change, Malkin was in the penalty box when the team allowed a big goal late in a game. Stop me if you've heard this before. New season, but some things never change.
Gabriel Landeskog assisted by MacKinnon & Johnson @ 0:22
This may possibly be the most boring overtime winning goal possible. Colorado broadcasters acted like they just won a playoff series. Reminds me of the movie Little Big League, "Don't you think there's something wrong when you're this excited over a base hit?"
THOUGHTS:
Maatta with 12:49 ice time, 3 minutes less than Schultz. His lowest amount of ice time since leaving a game last year with an injury.
The power-play is looking very good in this young season, going to be interesting if when Crosby comes back it goes to shit
Need to see a little bit more offense from the HB of HBK. Bonino with 1 shot and Hagelin with 0 isn't exactly the production the team needs with Crosby out
Good time management work by Sullivan, only 4 forwards exceeded 18 minutes of ice-time in the first of a back-to-back situation. Kris Letang played 28:17, meaning he is good to go for 35 minutes tonight3.  "See the mobility of the big Johnson" -Errey
2. "Iginla couldn't hold it in." -Steigy
1."he's gonna hit ya, and he's gonna keep comin' and comin' he hits ya with everything" -Errey
"he does" -Steigy
"he hits ya with every…" -Errey
"inch of his body" -Steigy
"Im tellin ya its unbelievable. I mean I can feel it from here, between the benches, and the opponents, trust me they know he's comin" -Errey
"He does not look 37 does he bob?" -Steigy
"No…" -Errey
"even facially he looks like a younger hockey player." -Steigy
Thanks for all the great entries guys! Look for the Gameday post for tonights game to be up hopefully by 4 pm!