Some narratives about the Pittsburgh Penguins were reinforced in their season-opening 3-1 loss against the Buffalo Sabres on Thursday. I think the biggest problem for me was the continued lack of teamwork to maintain control of the puck in the offensive zone and to recover the puck in the defensive zone. For those who have observed this problem as carrying over from last year, it is becoming increasingly apparent that the problem is one with the coaching staff and their system. Mike Sullivan just signed a four-year contract extension in July so he's very unlikely to be going anywhere.
Another problem is that the Penguins couldn't get anything going directly in front of Sabres goaltender Carter Hutton. They were outshot on many levels but particularly in high-danger shots; that is, shots directly in front of goal. When you don't get quality scoring chances, you're gonna have a bad time. Considering that all of this seems to be carrying over from the first-round series against the New York Islanders in April, it's starting to feel like teams have figured out the Penguins, how to attack and how to defend against them.
Like Evgeni Malkin, I'm not a fan of the "it's just one game" mentality. One game could make or break a playoff berth in the Eastern Conference this year, and for a Penguins team that is risking falling into mediocrity, that cannot be satisfactory.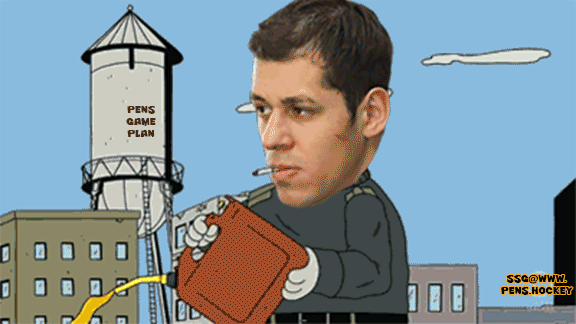 The Sabres played like they needed to win that game – regular season opener, on the road, against a team with Cup aspirations – and it showed in their performance. The Penguins played like it didn't matter if they won or lost, so long as they played the system the coaches expect them to play. Like I said in the Gameday, it feels like the Penguins aren't playing as freely as they ought to, like they were when Sullivan was first brought on. Instead, they're playing like they were under Mike Johnston: much too structured and without much confidence in that structure.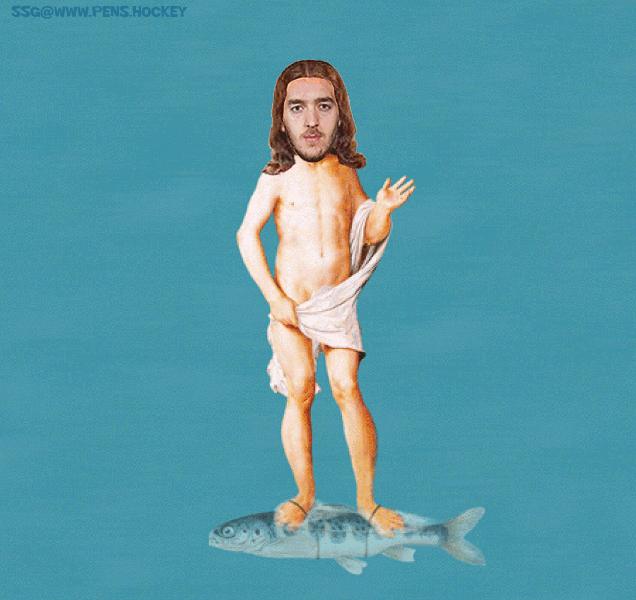 You have to feel for Matt Murray. As I've noted many times in the past, he performs much better when faced with heavy pressure, and for his part, he did the best he could to keep the Penguins in the game Thursday. He came away with a .927 save percentage with 38 saves, and the combined distance from the goal of the three goals he allowed was 12 feet. If the guys in front of him had done a better job in both ends he would be getting even more credit for his performance. Particularly worrying is that both Kris Letang and Brian Dumoulin were -2; they are supposed to be the top defensemen on the team and in tandem with the Crosby line they tilted the ice towards their opponent's goal all last season.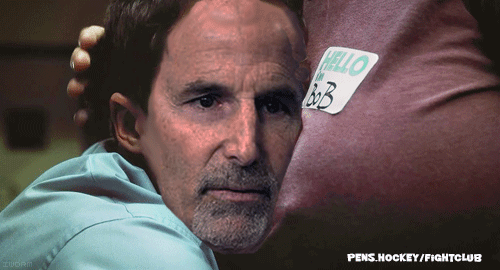 Tonight the Penguins face their new old foes in the Columbus Blue Jackets. Columbus swung for the fences in acquiring Matt Duchene from the Colorado Avalanche at the trade deadline last year and, to their credit, they managed to sweep the President's Trophy-winning Tampa Bay Lightning in their first-round series.
That was as far as they got though, and they ended up losing their three most-talented players, Duchene, Artemi Panarin, and Sergei Bobrovsky, in the offseason. This is not to say that they're absolutely going to suck this season, but the playoffs will be a taller order than it had been for the last five years.
It took all of one game for Sullivan to remember that there was a reason behind him using Hornqvist on the third line throughout the preseason. Simon to the top line, Hornqvist to the third, Kahun can be invisible on the fourth. Guentzel-Crosby-Simon were a very productive line last season, people who throw shade at Simon for his lack of goals hate reading that line but the stats are there to back it up.
The argument I hear (especially from Mark Madden) is "Simon doesn't score so he shouldn't be on the first line." I hear you, but I don't understand you. If having Simon on the first line increases the production of Crosby and Guentzel by more than one goal per 60 I could not care less about Simon's stat line. 5.3 goals per 60 when you account for Sid and Guentzel playing 20 minutes a game is 5 goals in 3 games, almost two goals a game (1.766). 1.766 goals per game over the course of a season is 144.86 goals, that is the pace this line clicked at last season. If this top line comes close to scoring 100 of those 144 goals, and Crosby-Guentzel score 90% of them leaving Simon with just 10, does that bother you? Crosby with 45, Guentzel with 45, Simon with 10… think about it. I understand that this is an extrapolation of data, but I also understand why this line should be together. If Simon increases the production of Guentzel and Crosby and the puck keeps finding the net who the hell cares who is putting it there?
The second change to the lineup was with the defensive pairs. I just do not see Johnson or Gudbranson getting scratched already, so that's my opinion on Riikola or Marino getting in. The move of Pettersson with Schultz is a no brainer and makes the team instantly better. Coupled with the fact that we will (hopefully) never witness a game where Brian Dumoulin AND Kris Letang are as awful together as they were Thursday, I expect a better defensive effort in this one.
The All-In movement by the Blue Jackets left their opening week lineup a mess. They played their starting goaltender Korpisalo last night meaning they may either use him again as Tortarello loves to break down goalies, or they may start a dude named Elvis Merzlikins. The 25-year-old Latvian native has never played in the NHL.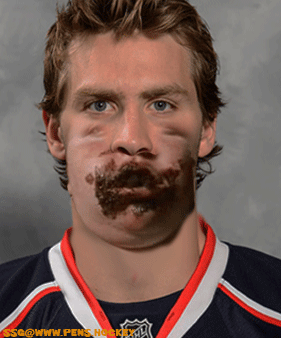 There's two bits of good news heading into tonight's game if you're looking for optimism in the Penguins' prospects for victory. First is the expected absence of Columbus' spiritual leader and long-time pain-in-the-ass Brandon Dubinsky, as he suffered a wrist injury in the preseason (whacking it too much, I suspect)…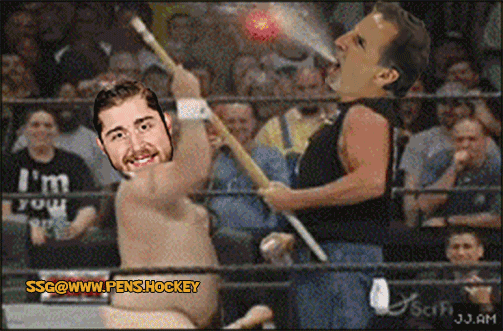 …and that will keep him out for at least another month. Second, tonight is the second of a back-to-back for the Blue Jackets as they played the Toronto Maple Leafs last night. If there's ever a situation for the Penguins to tee off on another team after a bad performance, it's tonight and against this opponent.