The first two weeks of the 2019-20 NHL season have been fascinating to say the least, with some surprises up and down the standings. The Pittsburgh Penguins have managed not just to stay afloat despite injuries to Evgeni Malkin, Nick Bjugstad, Bryan Rust, and Alex Galchenyuk, but they have won three out of four games by hanging seven goals on their opponents. The Edmonton Oilers are not (yet) the train wreck everyone expected them to be. One team remains winless, the New Jersey Devils, while there are just two remaining undefeated teams: the Buffalo Sabres (technically defeated with one overtime loss, but still with the best record in the League SOMEHOW), and the Penguins' opponents for tonight, the Colorado Avalanche, who are a perfect 5-0-0 heading into tonight's game.
The Avalanche started their regular season in strong fashion, sweeping their four-game road trip to Calgary, Minnesota, Boston, and Arizona, although each game except against the Coyotes saw Colorado win by one plus an empty netter. Then the Avalanche got back to Denver to start a six-game, eleven-day homestead against the Washington Capitals and the Capitals got blown out of the Pepsi Center 6-3.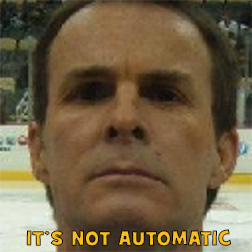 Holy crap that Colorado lineup is pretty sick. First line, obviously. And even with scumbag Kadri on the second line, they somehow ended up with Donskoi and Burakovsky? Crazy. That's quite the forward group.
On the blueline, rookie Makar is now in their top pairing. And they have the Good Johnson. Also, hello Ian.
I'd make fun of Grubauer but he's actually not bad at all. Dammit.
Meanwhile, the Penguins added Jared McCann to the injured list yesterday. That's it, that's the list. Should be interesting to see who the 12th forward is, because you KNOW Sully ain't rollin 7 D ever again. Unlike your mom.
The Avalanche are steamrolling and the Penguins are limping, sounds like a perfect game for the Pens to make their NBCSN season debut with. This might be one of those games to just try and pick out the good things. This might be one of those games where the young guys shock the hockey world. This will most likely be a game where Crosby gets a hat trick.