It's a 70's night in Pittsburgh – but since it's on NBC, nobody saw Potash. Just a reminder that me and Mrs. Ung went to 70's night last year, and it was a success. Today, I'm on the couch, but I'm still in 70's gear. Not really, but my house was built in the 70's, so that'll just have to be enough. Also, I'm 98% sure SSG is wearing underwear from the 70's so we're definitely covered. Well, as much as 1973 tightie whities can cover that guy. *shudder*
The Avalanche are the last undefeated team in the league this year. Speaking of the 70's, maybe the '72 Dolphins will be drinking champagne tonight to celebrate being the only undefeated team ever. Or an Iron City or something. Which was last popular in the 70's. Holy shit, the 70's were over 40 years ago. That's it – no more 70's mentions.
Roster notes: The good news – Riikola is seeing his first NHL action in *checks notes* a while. Like, a bunch of months, if you don't count the pre-season, which no one does. Also, Lafferty is lining up as second line center, and since he's the leading rookie scorer in the NHL, that's pretty cool. The bad news is that both of those things are happening because McCann just McCan't play. Dunno why but it really doesn't matter. At least they won't be cycling seven defenders.

As Mears likes to say, puck down, sticks down and we're underway.
Just around 3 minutes in, Simon with a glorious opportunity, and nothing but pipe. And if the Great Mike Lange has taught us anything, whenever there's a great chance at one end, it often leads to a great chance the other way. Of course, it helps when your #1 defenseman makes the wrong call and covers the wrong guy. 0-1 Avs.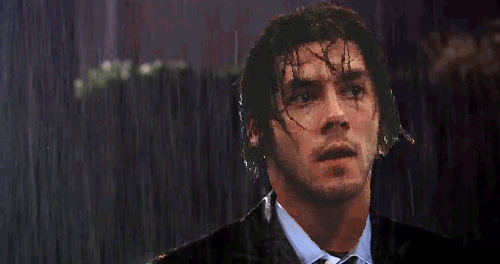 At the 13:51 mark, SNL newsman Colin Tyson (Chicken) Jost (s)trips The Blender and Pens head to the PP. Read it again – I promise it makes sense. At least it did to me.
PP was lookin' pretty good, though if Sgt. Schultz could hit the net from the left point that'd be great. Still, the possession was good, and the zone entries were good. In general, they did everything right but score. Even the 2nd unit looked good. But if lookin' good won games, I'd be…. Well, not much.
Buncha back and forth, and then Tanev does what he does best and draws another penalty. If that guy starts scoring, he'll be everything he was advertised to be. (THIS IS FORESKINNING, er, SHADOWING)
The next PP was pretty awesome, though Sgt. Schultz missed wide, again, and suddenly there's a breakaway because Letang got handcuffed by a tough pass from Sid. Thankfully, Murray Saves and all was forgiven.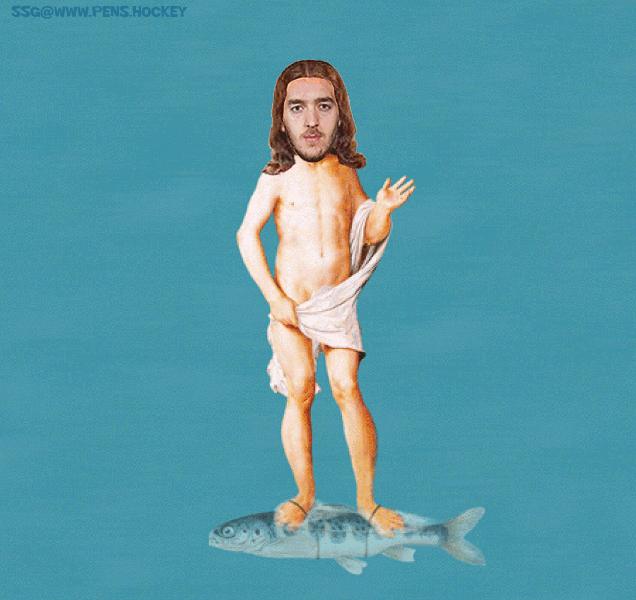 Pens had a glorious opportunity with the second unit, but someone used the force or something and the puck just wouldn't go. Cole outta the box, makes a great feed that a diving Riikola almost stops, but the Avs get another great chance and this time the crossbar says 'no'.
Horny tried to kill MacKinnon with his butt, so that was fun. People got upset and Marino cross checked a guy, which was actually great. The young kid ain't afraid to mix it up. There was a scrum, but nothing came from it.
With 4 minutes left Tanev draws ANOTHER penalty, from Cole no less. Pens played with the PP for a minute or so, flaccidly, and then Kahun reminded us he was on the team by taking a slashing call to save a goal. Great, not great, go sit down, loser.
On the ensuing 4 on 4, Sid decided he was done waiting for something to happen, and made it happen.
Dayum. He's the best for a reason, kids. Wow. As a writer, it must be so hard to try to describe the things Sid does. And since I'm writing this, I can tell you… it's DEFINITELY HARD.

Oh, and the streak continues.
Some stuff happened, but the period ended all tied up. What a fun period of (mostly) quality hockey.
Really interesting note from Bob McKenzie during the break – a reaction to a friggin' SPIDER BITE is slowing down Galchenyuk's recovery. A LITERAL INJURY BUG. Where's my bourbon?
Stats after 1:

Doc reminds us coming in that the Avs have scored 13 2nd period goals, leading the league, while the Pens only have 4. I hope I don't have to find and torture that poor man to death for jinxing the team…
90 seconds in, Kadri decided to end his shift early and dived into the bench. Yes, it's dived, don't look it up.
And then a super scary play – linesman catches a rut and mashes his head into the boards and the ice. Not a good look, but he got up and seemed to be able to move his extremities, so hopefully he's OK. The refs may suck, but nobody wants to see them hurt.
Anyway, back to work, lots of back and forth, neither team really pressing an advantage.
Pens finally get a good look right around 7 minutes in and Tanev had a chance to be a hero but Grubauer was up to the task. Oh, and that was the Pens first shot on goal for the period. Yikes. Perhaps it hasn't been as even as I'd hoped. Whatever, nothing went in.
Pens must have heard that too, because they generated a couple quick chances, including one that went under review – a seemingly innocuous puck on net from Marino. Ain't no goal, kids, let's move on.
After a long shift in their own zone, the Pens were able to finally get a few fresh bodies on the ice to get the 'heat out of a hot kitchen', but Lafferty got a little over-zealous and went off for a trip.
Overall, the period was pretty boring. Until…
Are you frking kidding me??? Simon with a nice up to Sid, Sid with a pretty simple area pass that was anything but because he's Sid and he knew Jake would slither up there to get it and then… well then Jake made my pensboner ruin yet another pair of pants. Yours too, I'd be willing to bet. Yes, even if you're a 'girl'. Backhand, forehand (under the D man's shaft, no less *giggle snort*) and popped the water bottle behind a helpless Grubi (no really, that's his nickname – it's on his mask). Sweet Baby Jeezus that was pretty.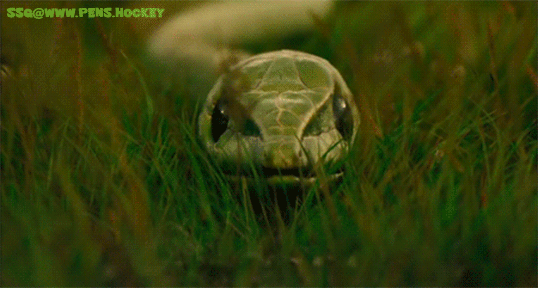 Skating around resumed for a few minutes and the Pens headed into the locker room with the lead.
Stats after 2:

The third opened pretty wildly, with the Avs having the advantage and putting the Pens are their heels a bit. Pushing like a team looking to tie it up, basically. But the Pens held the fort.
Then a rough bounce 3 minutes in that gets away from Dumo, putting Letang in a tough spot. Once again, though, Letang takes the wrong tack and does nothing on the 2 on 1 aside from look bad. If you're counting at home, that's Pens 2, Avs against Letang, 2.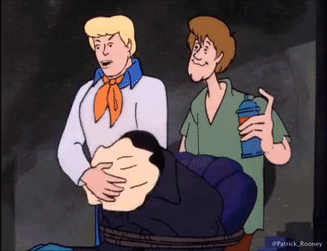 Quick note on Letang: He's REALLY good at what he does… most of the time. Then there are times like these when you wonder if he ever played defense in his life. If I were Rad, I'd post some pics or GIFs that illustrate just how badly Letang mis-judged the play on both goals against. But since Rad *checks notes* oh, uh, wait… he doesn't get paid? Huh… well, tough luck, reader, he ain't here. The point is, Letang really looks stupid at times when he should know better. If you ask me, it's because he likes being The Man and wants to make the amazing play all the time. Well, when you swing and miss… yup, that's what happens. I still love the guy, I just wonder what he is thinking sometimes. Then I remember how hot his wife is and it makes a little more sense. Anyway, back to the action…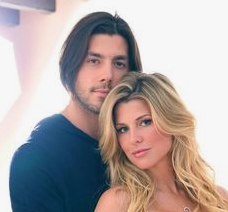 After the goal, the Avs were tilting the ice and the Pens were surviving. Pens still owned the advantage in the shot department, and never really looked like they were floundering, but they were having trouble coming up with an answer against the MacKinnon line. No shame in that, says me.
Halfway point in the 3rd and the restless crowd started the wave. If you read us regularly, you know that some of use have very strong feelings against the wave. Meanwhile, I'll drop my popcorn and beer to participate. You know why? It's fun. So on Friday and Saturday, when this writer is in the stands, you can bet your sweet bippy I'll participate in the damn wave. Hell, I may even start one. Take that, ANDY.
Meanwhile, 10 players were out there skating around and whacking things with their sticks, seemingly at random. Around 11:15, Doc FINALLY told us that the probing continues, but I didn't feel anything odd. Did you?
At 13:25, Boucher reminded us why he is mostly useless and started questioning Murray's glovehand. Rad and other assorted friends of the blog (whether they know they're our friends or not) have thoroughly debunked the 'mUrRaY hAs No GlOvEhAnD' bullshit, but, again, you've got me, so you'll just have to take my word for it that Murray Saves. Period. I can show you the shirt if you'd like. Or buy one yourselves!
Regardless, people kept skating and flailing and doing not a whole lot. In fact, aside from one great chance for Jake from Sid it was LITERALLY nothing for the rest of the period. Free Hockey, yay!!!!

Both teams are so SO dangerous, but Letang looks to be mostly a danger to get an unsportsmanlike for yapping at the refs on some close calls (that were both right, btw). Then they let the kids out to play, and Lafferty promptly wiped out Grubi. Was he pushed? Sure, but Grubaurer still went down hard.
Then Dumo took a slash that he REALLY didn't like (may have been watching Tanger too much…) but was the right call nonetheless. Astonishingly, the worst Johnson on either team made a great play on the PK to create a shorthanded chance, but it was blocked out of play. Oh well.
Turns out the worst Johnson we know still made things happen, and was able to get the puck up to Tanev.. with space… and with young Lafferty in tow… Tanev used the young rookie as a distraction, zigged, zagged, shot and let Grubaurer and Landeskog do the rest of the dirty work…
DEUCE BITCHES
Thoughts:
Tanev earned that one
Sid was brilliant, as usual, and kept the streak going
Tanger deserved to end his streak, and owes Tanev a couple of steak dinners for undoing his mistakes
Pens can play with anyone and look good doing it
Youthful legs are the new black in today's NHL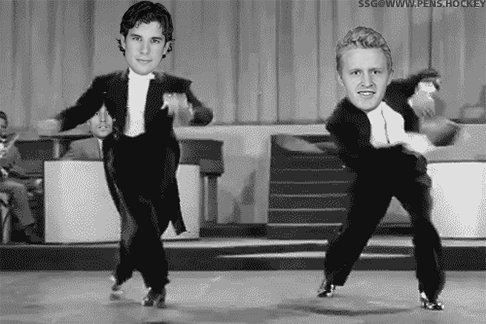 Loading ...