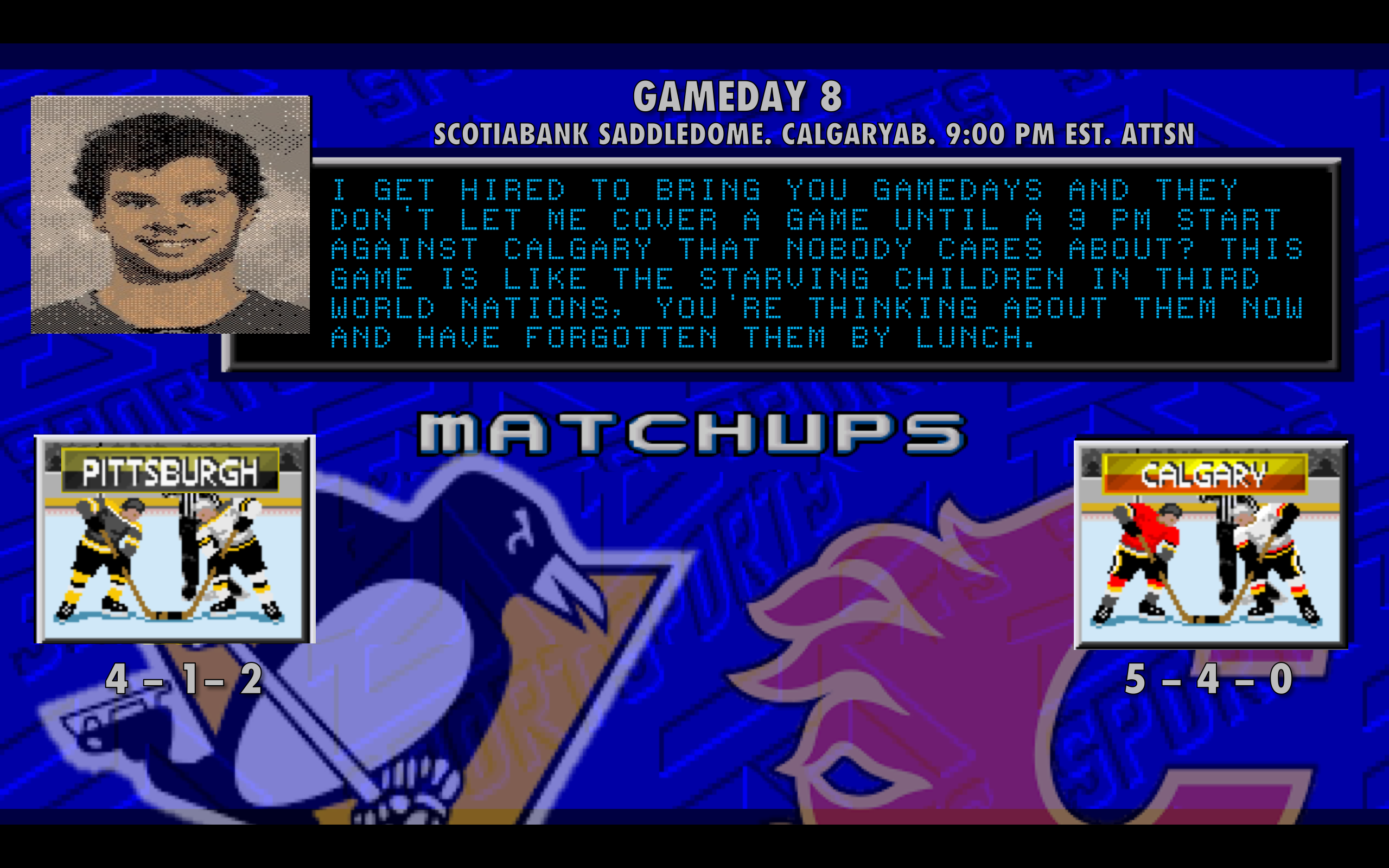 Following their shootout (the fun kind) win over the Oilers on Tuesday night the Penguins traveled [enter obscure Canadian direction here] to Calgary to take on the

It feels good to finally be in a game on, day off, game on scenario, one that the team will continue as it travels to Vancouver to complete this road trip on Saturday night. Tonight marks game 3 of 5 on said trip, and the Penguins have won both of the first two in different fashions, they  played one game (Toronto) to a perfectly executed blueprint and one (Edmonton) in a whip your dicks out and see who can piss the furthest style. The best news to take out of the two games is that the Pens can adapt and play both styles, also if Edmonton had any type of coaching/GM combination they would be so much better than Toronto that it isn't even funny. Okay enough with the past man, lets get on with tonights game!
UNBELIEVABLE. CROSBY IN OT. pic.twitter.com/dq15URr2aw

— NHL GIFs (@NHLGIFs) October 24, 2018
Like the Pens, Calgary also played Tuesday night, and like the Pens Calgary lost to Montreal. Tonight is the 10th game of the year for the Flames already and they are a regulation loss away from being exactly where they were last season, .500 hockey. The Flames currently sit 5-4-0 through 9 games and are yet to lose back-to-back games this season. So far the teams highlights have been blanking Nashville 3-0 (which the Preds returned the favor a few days later), and beating Boston and Colorado. The Flames are getting early production out of their best players, sorry can't relate. Johnny Hockey and Matthew Tkachuk lead the team with 12 points each and Elias Lindholm paces them in scoring with 6 goals. Between the pipes Mike Smith has been a meh 3-3 with a 3.38 GAA and a .885 save percentage (this is lower than Murray's at the moment if that tells you anything). Due to the inconsistent play by Smith backup David Riitich has started 3 games this year and has posted a stellar 1.83 GAA with a .950 save percentage. NINE-FIFTY!!! Who you gonna start? The answer is probably Smith and the Pens probably ring him up for 7.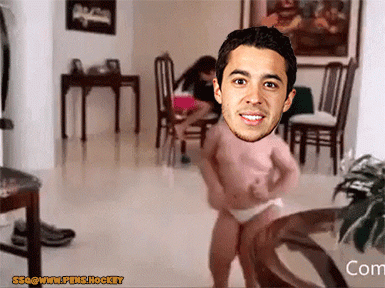 After visiting the Flames site to look at their leaders I realized I haven't really looked at the Pens stats for goals and assists yet this year since I usually wait until after ten games. Currently the Pens are paced by Agent 101 who has collected 13 points (3 G, 10 A) through 7 games and have a three-way tie between Guentzel, Letang and Kessel for most goals with…4 much wow. It was at this point in browsing that I looked at shots, I discovered that Olli Maatta is tied for last on the team with shots with 3, that isn't a problem since he needs to focus on his feet anyways, the man he is tied with is Daniel Sprong. Sprong is currently sporting a statline of 0 G, 3 A , -3 with 3 shots in 7 games played. Only three other players carry a -3 (Rust, Sheahan, Johnson) but Jack  Johnson being the only defender with a -3 is coincidence. Every mother and their brother on Twitter wants Sprong to jump up to the top line with Sid and I agree this should be attempted since the coach was willing to put Brassard there for a few games, but I also feel it should be earned. Conor Sheary started his career on Sids line, he quickly became a fan favorite for scoring. Eventually Sheary cooled down and even Sid couldn't get him points (see also: Dominik Simon), when this happened Sheary was moved elsewhere in the lineup and became a hole. Now look at the other part of that original "Sid and the kids" line, Bryan Rust. Rust started in the bottom six when he was called up before joining the top line and creating that ridiculous stretch of games with Crosby and Sheary. Rust was taken off the top line that year when players came back from injury and he made a name for himself in the playoffs in other roles. You now have one guy looking to be a clutch performer in the playoffs and one chain smoking Marlboro's with the filters cut off in Buffalo. I guess my point is that hanging everything on "Sprong should play with Sid before we trash him" isn't reasonable if what you mean is "Sprong has to play with Sid to be effective." This removes an entire spot in the top 6 all because the "future winger of the organization" can't score without playing next to the best player on the team. This is "Tom Wilson is a 20 goal scorer when he plays with Ovechkin and Kuznetsov" scenario. I would love to be proven wrong, I would like to see Sully plug Sprong in up top and him just go crazy and score even 15 goals the rest of the year but I don't feel it at the moment, and more than that happening I would have loved to see Daniel Sprong break up a play with a back-check, or score a big first period goal when the team was getting shelled with shots against. Sullivan has caught some crap for "not knowing how to develop his young players" because of how he has handled Sprong, anyone saying that deserves to have their knees carved out with a spork. Players like Guentzel, Sheary, Rust were all developed under Sullivan so don't come at me with that, this involves the player himself. If Bryan Rust was held to 3 minutes of ice-time one game how do you think he would respond based on what we've seen from him in his career in the next game? Now wait and see how Sprong responds tonight (if he plays).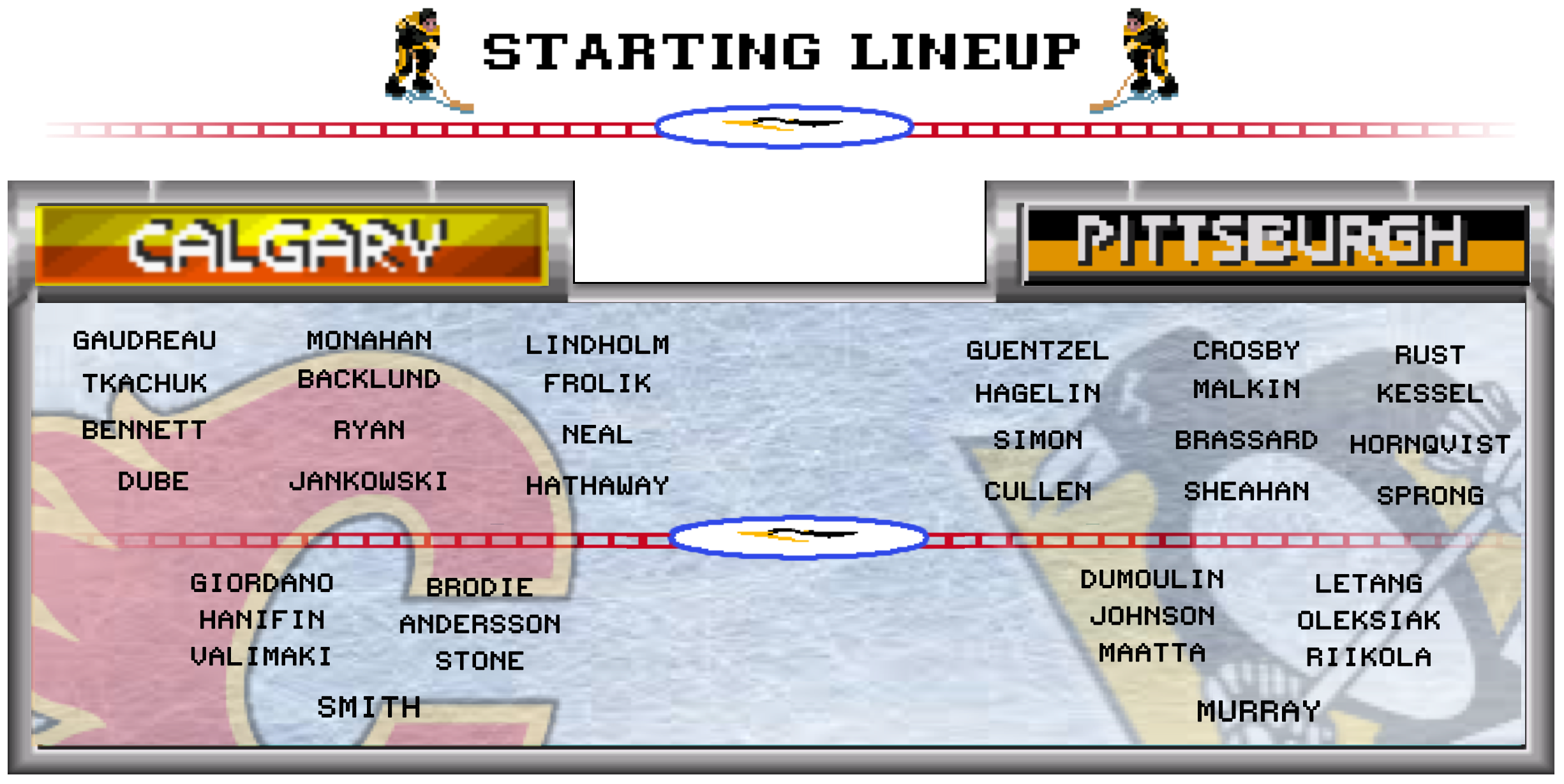 I wouldn't suspect many, if any, changes on the Penguins end unless they do rotate Grant in for Sprong and if they are going to do so tonight would be the night, the dude has slogged around Canada with the team for a week now. We are also nearing the 10 game mark and you have to start thinking that Ruhwedel gets into a game soon before he turns into a skeleton, which would still be an upgrade over Johnson. In case you missed it in the chat I went through all of the goals scored against the Penguins this year, of the 23 Jack Johnson has been on the ice for 12 of them. Now some other blog writers will tell you this is mere coincidence and will support that argument with pictures of his television, but I'm here to tell you that when Johnson has been on the ice for 12 and his carousel of playing partners Schultz, Maatta, Riikola and Oleksiak have all only been on for 4, that is no longer coincidence, it's sucksassidence.  The problem is GMJR actively went after Johnson, they gave him a big check with term, and we were all told by Mark Madden how dumb we were to hate the deal. Well we are 7 games in and right now, as usual, Madden hasn't been able to say "I told you so." Due to the contract and term the Penguins are going to stick with Johnson in the lineup but for how many games? How long do you try? The Penguins are the sad dude in highschool waiting for the girl of their dreams to break up with her boyfriend so then maybe, just maybe, he will be able to take her to McDonalds for a date. "You have to wait for the Gonchar effect!!!" Here's the thing Bob, the so-called Gonchar effect, or Sully/Martin effect, or whatever the hell you want to call it, works on reclamation projects and what makes reclamation projects work is potential. Pintrest is full of reclamation projects, turning coffee tins into flower pots, toilet paper rolls into cord organizers, wooden pallets into coffee tables. You can't build a coffee table out of a wooden pallet that was burned to ash in a fire. Schultz had potential, the coaches saw it and brought it out. Oleksiak has potential and we are slowly seeing it come out. These were players in not so structured defensive environments (Edmonton and Dallas). Johnson on the other hand has been in LA and Columbus, two teams that stress defense first. There isn't potential to change, Johnson is the pallet on fire, which isn't fair to fire because at least it serves a purpose and keeps us warm.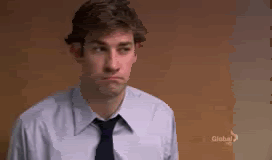 As for the Flames, the ghost of James Neal is on the third line, rumor is the water in Calgary has caused his hair, and by extension his game, to go flat. If the Penguins defense can lock up the top 6 then there is some serious mismatch potential with the Calgary bottom 4 defenders. Against Toronto Sullivan used a Cullen-Sheahan-Hornqvist combination to shut down the Matthews line, I wouldn't be shocked to see something similar out there against Gaudreau and Monohan tonight. If that is successful you will eventually get either Crosby or Malkin up against a bottom pair, look out.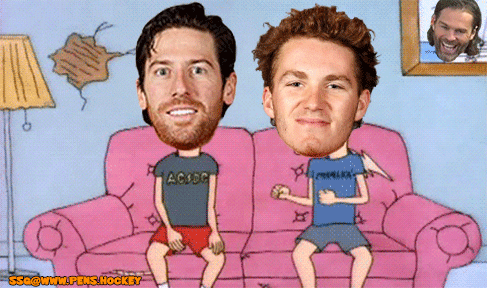 I feel like I've just turned this gameday into a gigantic rant and I'm not sorry for it. The Pens are looking at game three of the road trip tonight and after preparing for Crosby vs Matthews and following that up with Crosby vs McDavid, by the way the clear winner in both contests was Crosby, they now have to go to Calgary. I'm not saying this looks like a trap game but yeah, this looks like a trap game. Calgary does have a very fast top 6 and they are very good at making defenses look silly. I've been working a lot of 3p-11p shifts this month and I've caught 2 or 3 of the Flames games in the third period and if the Pens defense sneaks into the habits we saw in the first 4 games of the year then this will not be a good evening for Murray and the D.
It's fun to get the superstar matchups out of the way, but now it is up to Sullivan to have his team ready to go for Johnny Hockey and the Flames. Kind of crazy but Matt Murray will be playing in his 116th career regular season game tonight as he makes his 110th NHL start. Even with the injuries it seems like he's played less than that. Time flies. Thanks to back-to-back solid performances following his return from injury Murray's save percentage is inching closer to the above .900 that we are used to seeing, currently sitting at .893.
Grab some coffee, take an early nap, do what you have to do and get ready for another 9 pm EST puck drop. It's tough getting excited for this game as a blogger, imagine being a player debating between playing a game against the Flames or taking advantage of the new Canadian law and playing a game with the flames.