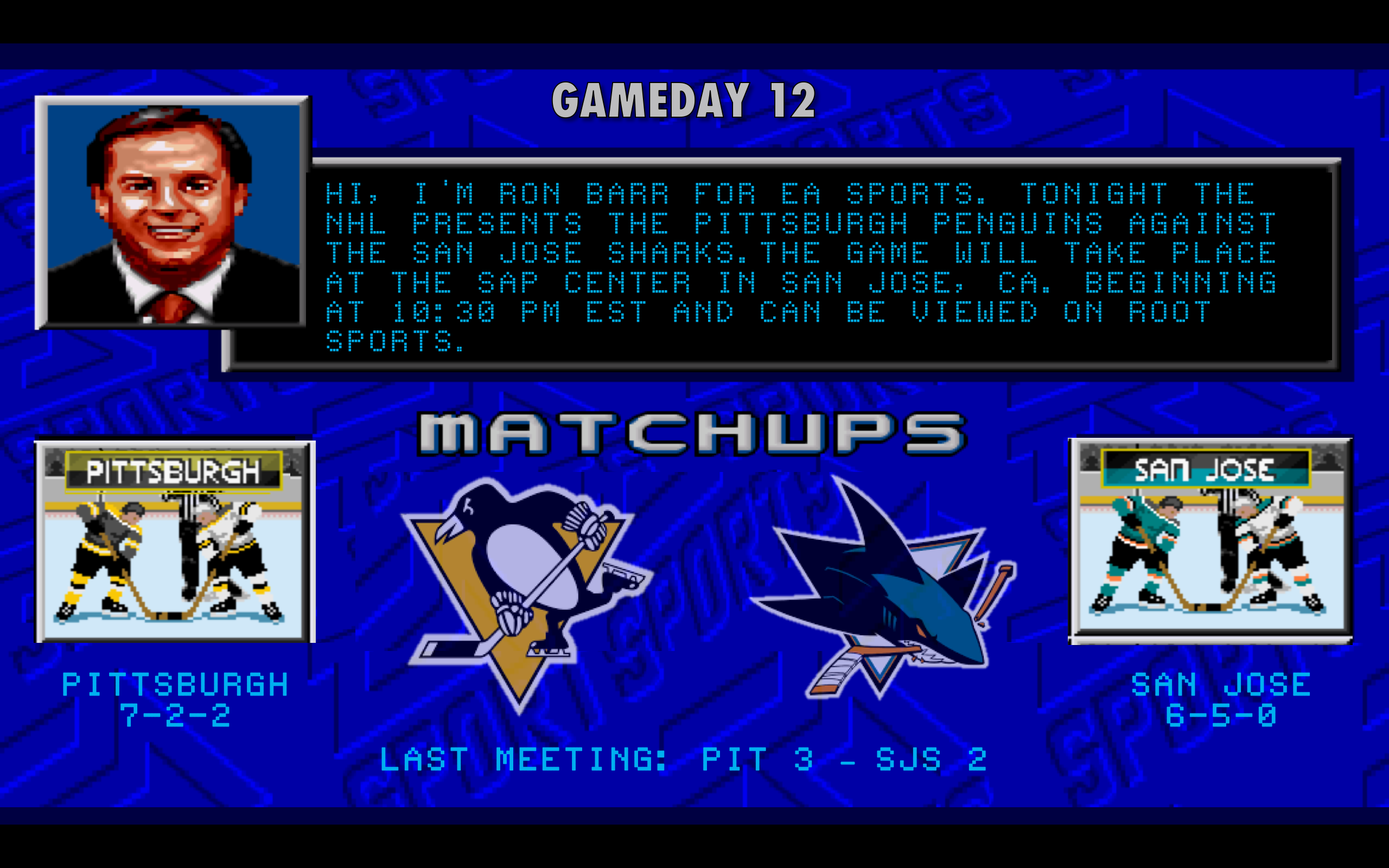 Tonight is part 2 of the Stanley Cup Rematch **ohhhh aweeeee** The Penguins won the first matchup by not showing up until the 3rd period and then making a mockery out of San Jose's 45-minute effort. The Pens roll in to the Shark Tank looking to finish this west coast swing with 5 out of a possible 6 points. The biggest news coming in to this game is that the Columbus Blue Jackets scored 10 goals against the "unbeaten" Montreal Canadians last night. I put unbeaten in quotes, because I hate when people say they are unbeaten in regulation. The Penguins lost their last game in overtime to the Kings. They lost, that means they were beaten. In a league with no ties the phrase unbeaten can't be used. As I step off of my soapbox and back into character, the Sharks are 5-5 in their last 10 games, and have lost their last 2 in a row. They are 4-1 at home however, but I don't recall that helping them the last time the Penguins were in that building:
What in the hell happened to the Pacific division? Edmonton is leading with a 7-3 record, and Calgary is in 3rd with a 5-6-1 record. It's super early in the season to care about this, but the best division in hockey right now is the metrosexual. Currently the Rangers are first at 8-3, Pens 2nd at 7-2-2 and Caps 3rd at 7-2-1. The Rangers have a +20 goal differential, but they've also played 8 out of their 11 at home. I have a sneaky feeling that someone is getting a hattrick tonight for the Pens, I have no justification for this feeling other than Martin Jones sucks. Will it be this guy?
Our blogczar is in San Jose for this game, but he isn't going to the game. There is a 90% chance that he will send a picture of a homeless man that he thought was Brent Burns.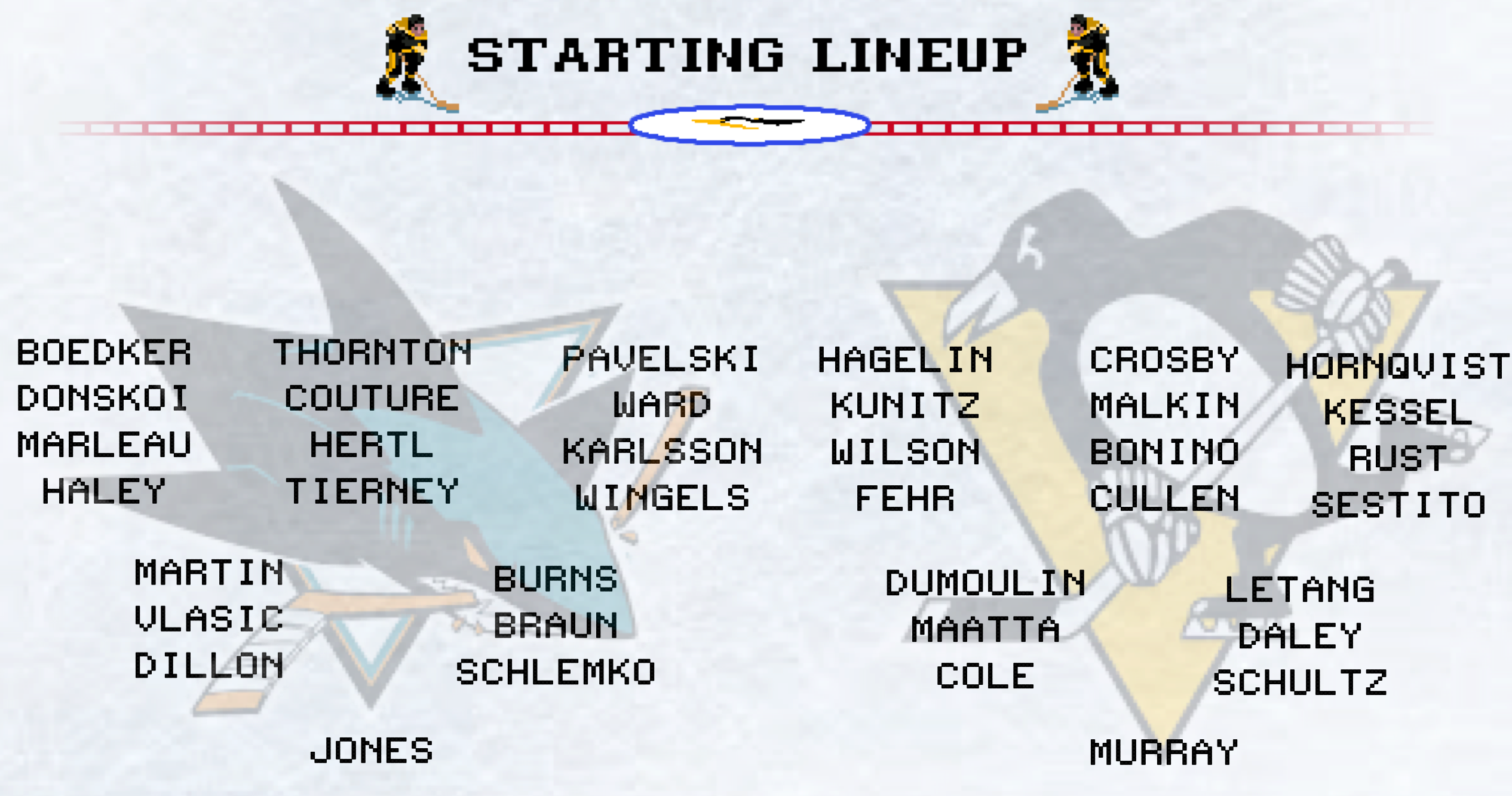 The Penguins have put together some solid hockey on this road trip, and some dude named Crosby is playing alright. They haven't announced the lineups yet but unless he is sick there is no way Murray sits for this one. Sestito has played the last 2 over Kuhnhackl so I don't know what to do with that. Kris Letang is looking to continue his great start, has anyone noticed that since Letang has been back Maatta hasn't been terrible?
Much Like the Ducks and the Kings, the Sharks are struggling to find their game early in the season, and the Penguins are starting to click. The Sharks defense isn't particularly deep so loading up the 2 top lines like Sullivan did last game shouldn't cause too many issues for the bottom 2 lines. This wouldn't matter at all if Bonino would score, but let's be honest here, it was obviously the luck of the Amish beard in the playoffs. The Pens won the last meeting with 15 minutes of play, so if they put together a full 60 minute effort they should have no problems with a struggling Sharks team.
LET'S GO PENS!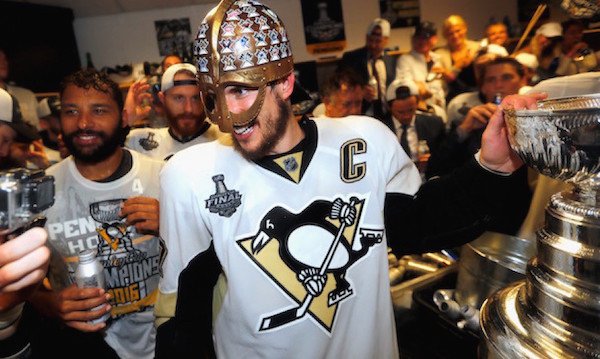 We are excited to announce that the first ten games of the season are over, so that means we get to have our first #hockeyporn showdown. The top ranked hockeyporn line from each of the first 10 games will be up against each other for porniest (holy shit that's a word?) supremacy. At the end of the regular season we will have an 8 "team" bracket style battle between then top ranked lines from each 10 game segment!
HOCKEYPORN SHOWDOWN 1    …  "Bring out the Gimp." -Zed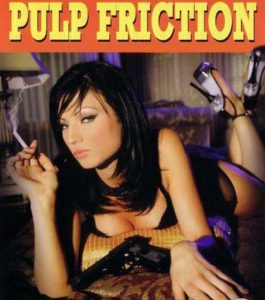 Bang your favorite from the first 11 game winners. You know you want to.
G 4: "Taste it, you just taste it. You don't sit there and guzzle it, you just taste it. Okay?" "I think at the end of the night there will be some guzzling" -Errey (36%, 5 Votes)
G 1: "They got on our D a little bit there" -Barry Trotz (14%, 2 Votes)
G 8: The goalie stiffens and Kessel beats him hard, low, and on the ice -Errey (14%, 2 Votes)
G 6: "He tries to put the Silky Sauce between the legs of Fleury." -Stu Grimson (14%, 2 Votes)
G 5: "Get it in deep and start bangin bodies." -Jay (7%, 1 Votes)
G 2: "And now it squirts out" -Steigy (7%, 1 Votes)
G 10: "They wanna bang you like they bang you." -Errey (7%, 1 Votes)
G 3: "He's gonna hit ya, and he's gonna keep comin' and comin' he hits ya with everything" -Errey (0%, 0 Votes)
G 7: "That's a thing we've all learned and continue to know, that it's all about the morning after." -Dan Potash (0%, 0 Votes)
G 9: "Simmons, assumes his position right on top of Marc Andre Fleury" -Steigy (0%, 0 Votes)
G 11: "You'll see the stick…not here…not here…Bang! Right across the face!" -Jim Fox (0%, 0 Votes)
Total Voters: 14

Loading ...

Awful ROOT Announcing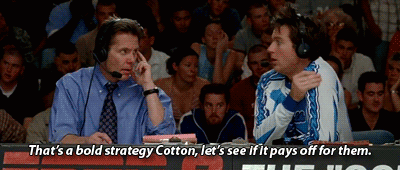 Who is your LEAST favorite ROOToucher?
Paul Steigerwald (77%, 10 Votes)
Colby Armstrong (8%, 1 Votes)
Jay Caufield (8%, 1 Votes)
Stan Savran (8%, 1 Votes)
Robby Incmikoski (wut? who?) (0%, 0 Votes)
Dan Potash (0%, 0 Votes)
Bob Errey (0%, 0 Votes)
Paul Alexander (0%, 0 Votes)
Rob King (0%, 0 Votes)
Mike Rupp (0%, 0 Votes)
Total Voters: 13

Loading ...