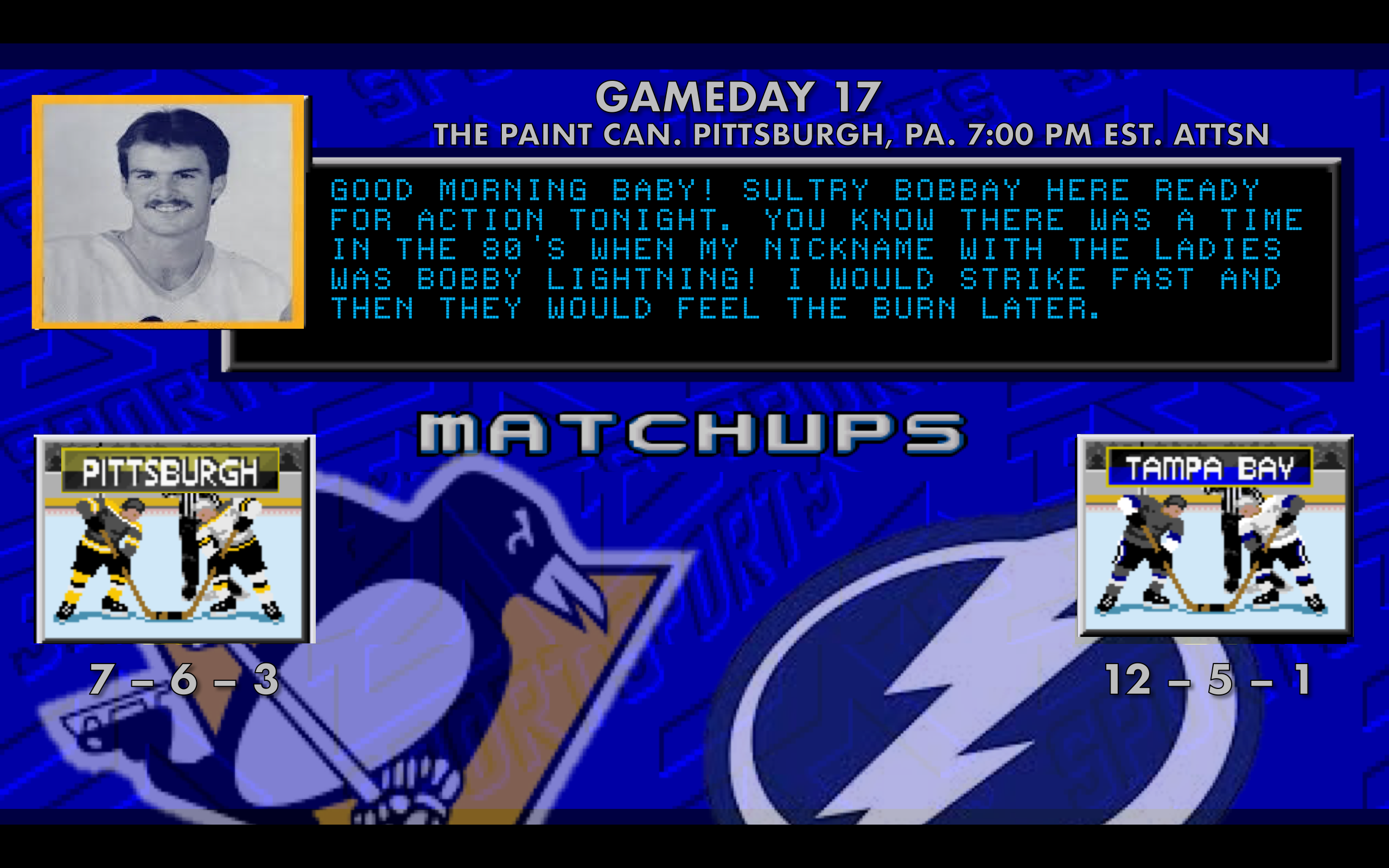 I got two-and-a-half paragraphs through starting this post when the news came out that Pittsburgh Penguins general manager Jim Rutherford had been given a three-year contract extension, which didn't really blow up what I had already written, but shortly after that announcement it was made official that the Penguins had traded Carl Hagelin to the Los Angeles Kings in exchange for Tanner Pearson.  If nothing else, those two very noteworthy items gave me more to write about than what I had in mind. So, I'll address each item in that order.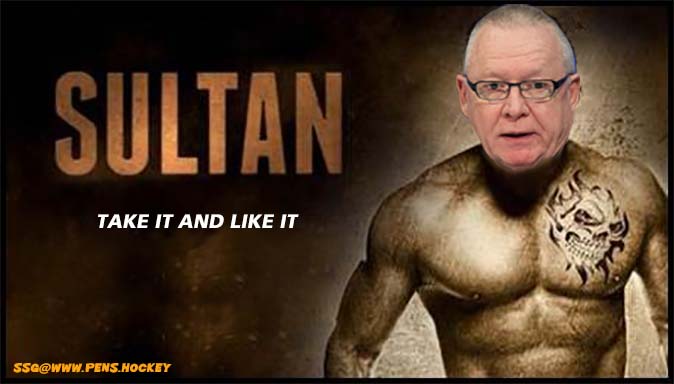 Rutherford getting extended is not a big surprise given the current climate in the Penguins' front office, but I distinctly recall that, prior to the Penguins winning two Cups, Rutherford was making it sound like he would be handing over the reins soon.  Well, not only did the Penguins win two Cups but they also saw the departure of associate general manager Jason Botterill, who is currently working on making the Buffalo Sabres not suck, with some success.  Rutherford was also named general manager of the year for the 2015-16 season, so it's not like Rutherford has had no success in Pittsburgh. Evidently the team's executives are pleased with Rutherford, even if the team has been scuffling a bit in the last season-plus.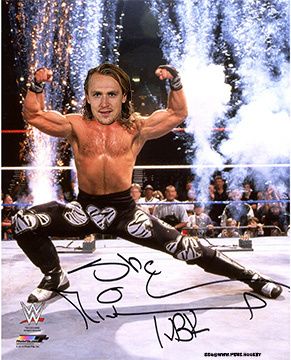 As far as the roster was concerned, something had to give eventually and Rutherford made perhaps the safest and smartest move long-term in swapping Hagelin for Pearson.  Everyone loved Hagelin, to be sure, and his role on at least the 2015-16 team in his tandem with Phil Kessel and Nick Bonino ("the HBK line") will never be forgotten, but he was in the last year of his contract and was going to leave eventually, whether it was now or by the end of February or at the end of the season.  Pearson, fleet-of-foot like Hagelin, is four years younger than Hagelin and has another two years on his contract which, after the Penguins retained $250k of Hagelin's contract, amounts to the same cap hit.  Here are some bar graphs comparing the two players: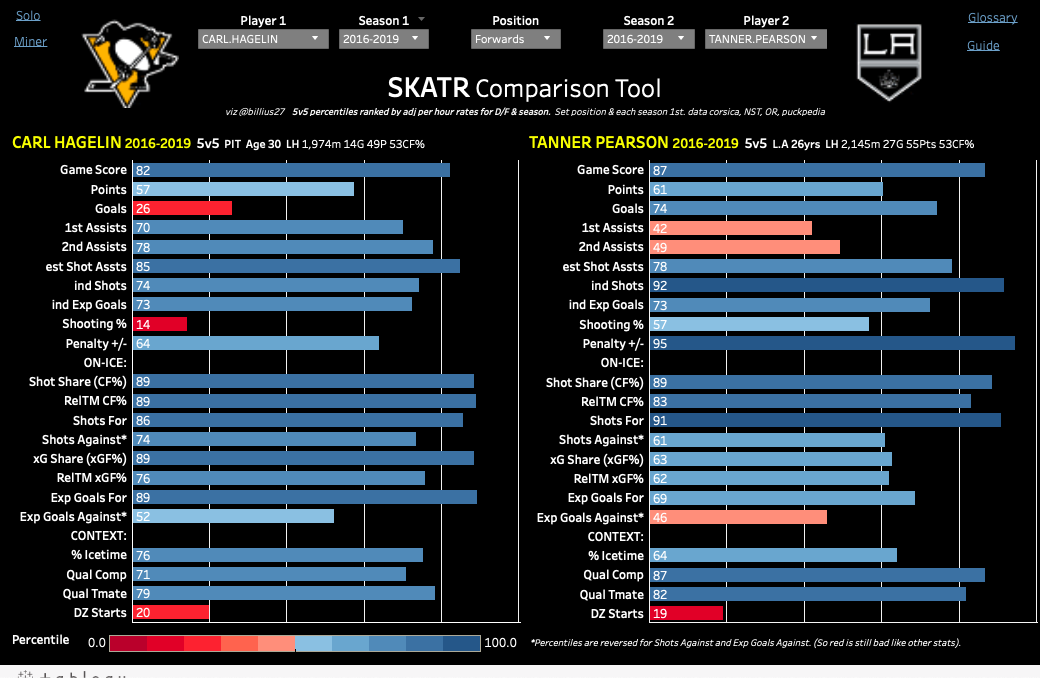 There's a lot to absorb here, but some of the key takeaways:
Pearson is more of a shoot-first player and he is more successful at that than Hagelin.  His expected goals are the same as Hagelin's but Pearson converts much more often than Hagelin. Pearson is known for a throw it on net from anywhere mentality, something many Penguins, and certainly the one he is replacing, lack.
Pearson will draw more penalties than Hagelin; more opportunities for the power play can't hurt!
Shots for and Corsi for are roughly the same.
Defensively, well, it's a downgrade, but then Pearson appears to have been matching up against top-six competition while Hagelin has been more middle-six. Pearson was also a constant presence on the Kings PK over the years which will leave the Pens top 10 penalty kill unit in good standing following the loss of Hags.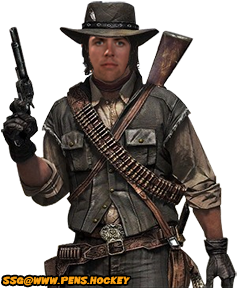 To summarize: given the performance of the Penguins thus far this season, it's clear that the dissatisfaction was going to lead to movement, and Hagelin has been one of the most-discussed veterans on the roster to be traded for two years.  I seriously doubt this will be the last move Rutherford makes, as there are three other UFAs on this roster (including another guy who isn't panning out, Riley Sheahan), but the continuing puzzle is how will head coach Mike Sullivan make use of the roster given to him?  Pearson likely will not be in the top-six in Pittsburgh, and even if he is there is no guarantee that Sullivan will feel more comfortable giving all twelve forwards a reasonable amount of ice time every night. Originally, Pearson was #70 and slotted into the second line giving us a 70,71,72 line and at that point he was a top 6 forward for ever by default. He has since changed his number to 14 while some dude in Franklin Park spit out his Keystone in rage while looking at his Kunitz jersey on the wall. The biggest argument against the trade is Pearsons inability to score this season but that is pretty easy to explain, he has 69 career goals and doesn't want to end the nice just yet.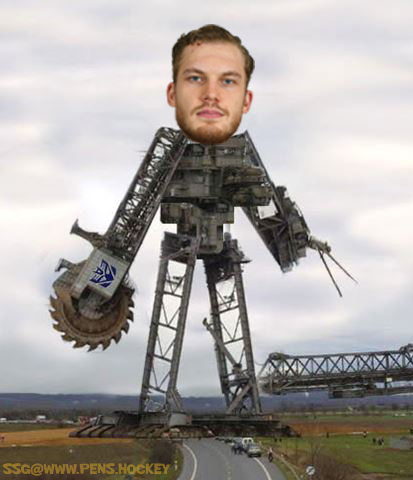 None of this begins to sort out the Penguins' defensive troubles, mind you, and perhaps makes them worse given Hagelin's defensive zone abilities.  However, it's one step in a direction that was inevitable anyway, which is better than maintaining the status quo, and this might suffice to wake the locker room and make the point that no one is safe on this roster (besides Crosby, Malkin, Guentzel, Kessel, Letang, Dumoulin, and Murray). Patric Hornqvist just had his best friend stripped away from him, which on a personal level definitely sucks, but also might result in him falling more into the savage role that earned him his current contract. Throwback PS to Hagelin getting his first shot after 10 games with the team
I don't want to harp on the Penguins' mediocrity thus far given the roster change, but since I already wrote a bunch of this before all the news came out yesterday, and since the departure of one guy for another guy is not too likely to change anything quickly, I'm going to insist.  Because the Penguins have played very average hockey (+2 goal differential, 53.1% points earned), there's the obvious division between fans who see things glass half-full and those who see it half-empty, but I find it hard to believe that the majority is optimistic about this team's long-term situation.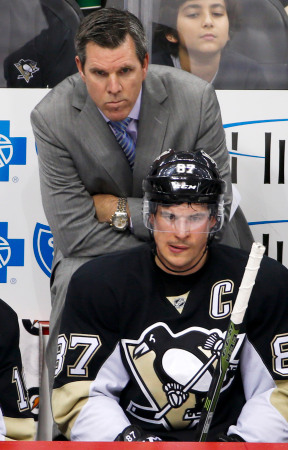 Even if the Penguins break out of this slump, whenever that happens, the best-case scenario is that head coach Mike Sullivan will continue leaning heavily on the same six-to-nine forwards, the defensemen will be hit-and-miss, and the goaltenders will continue being hung out to dry; their success hinges on everything working perfectly, and so far this season only in a few games could it be said that the Penguins did just that.
The optimists in the community continue to point at the calendar and say, "Hey, stupid, it's only the second week of November.  There's PLENTY of time for the Penguins to turn things around and look like a serious Cup contender!" And, sure, including tonight there are Lemieux games left on the schedule.  To their credit, the Penguins still sit just five points behind the division-leading Jack Johnsonless Columbus Blue Jackets, and there is always the possibility that there is nothing to be worried or alarmed about at all.  Nevertheless, we are nearing the one-quarter mark of the regular season, and tonight the Penguins will face a real test in the Atlantic Division and Eastern Conference leaders, the Tampa Bay Lightning, for the first of three meetings between the two teams.
Tampa has the League's best offense and the third-best goal differential, which makes sense for a team that was widely suggested to be a Cup favorite.  What's scary about the Lightning is that while they're playing well and balanced (they have zero guys on their roster averaging less than ten minutes a game, versus the Penguins' three), they don't seem to be playing at full gear.  Their leading scorer is Brayden Point, and he has as many points as Crosby and Kessel (19) but that is only good enough for 25th in the League.
Andrei Vasilevskiy is playing well, but is currently in a second tier of goalies that includes Casey DeSmith but is well behind that of Josh Gibson, Pekka Rinne, or Frederik Andersen.  His backup is Louis Domingue, who is terrible, which means by the time the playoffs come around you can be sure that Vasilevskiy will probably have played over sixty games in the regular season, which usually is too many for a team to have a serious shot at the Cup.  Of course, that will likely preclude the three other guys I mentioned from being serious Cup contenders either, but who knows anymore.
One thing's certain, on paper this is a potential Eastern Conference Final preview, and if there's been anything reliable about these Penguins, it's that they take their toughest opponents the most seriously. So, we'll see what happens!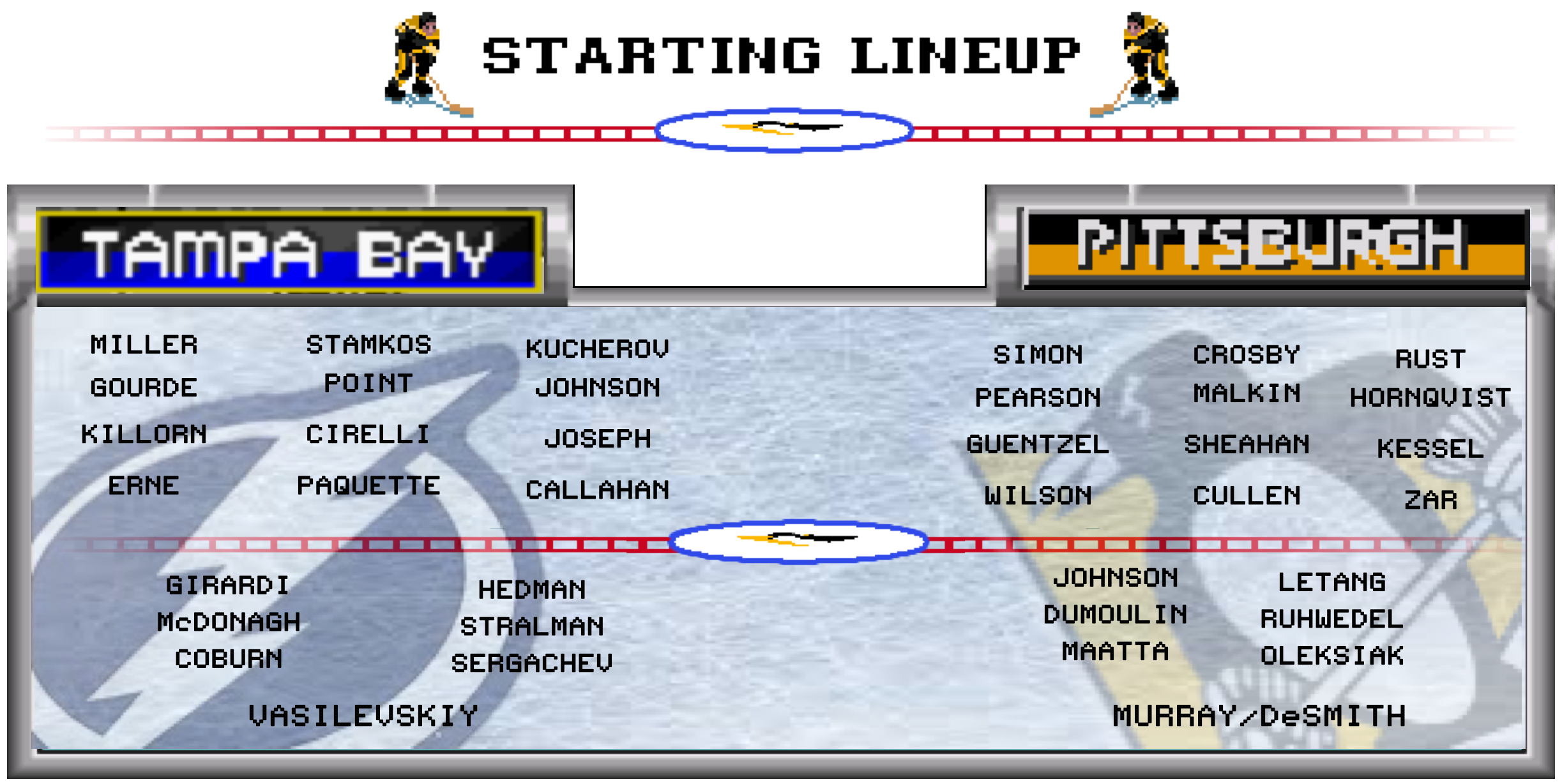 First thing first is the announcement that Crosby was held out of practice yesterday with an upper body injury which was most likely due to him carrying the team. In one of their biggest ruts with him as a captain, coming off a year where he played all 82 games for the first time in his career, my suspicion is Sid is playing tonight since he finished the game in New Jersey. The team didn't mix up the lines at all during practice yesterday which implies they are either expecting Sid back or are going to make Mark Recchi actually do something and lace up where he practiced yesterday. I've slotted Pearson in on the second line because that was the easiest thing to do, no regrets. In practice yesterday Sullivan put ZAR on the second line with Geno and Hornqvist, the ZAR-Geno combination we have seen before, and I wouldn't mind seeing Hornqvist and Rust switched if ZAR does end up on the second line. The fourth line is the same, the team called up Grant (I think?) again in case Crosby can't go even though Sprong is chilling somewhere. I'm not sure why GMJR and Co aren't looking at other AHL players with actual NHL potential during this struggle. Three years ago they went this route by calling up little known players Bryan Rust, Jake Guentzel and Connor Sheary. A movement that busted the Penguins out of a slump and into the playoffs and beyond. Currently they have similar players in Teddy Blueger and Sam Lafferty (both centers, both with 10+ points in 15 GP to lead WBS), as well as some wingers like Adam Johnson or even Anthony Angello, who may not be NHL ready right now but neither was Sheary.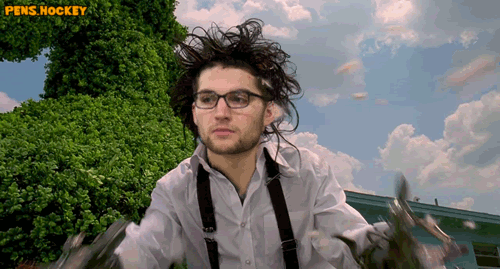 As for the defense that is anyone's guess. I would love to know which coach, Jacques Martin or Sullivan, made the initial suggestion of switching defensive pairs before the third period last game. Our recap hit the pairings pretty heavy so we won't rehash those comments here, but I do have to make a comment I never wanted to make. I've seen an argument going on that "Jack Johnson sucks, is terrible, and is getting paid $3 million to suck." Look, Johnson hasn't been worth is salary at all, but if you're going to bring the money into to, Johnson is the 4th highest paid defender on the active roster (5th once Shultz returns in February) and has the 4th best Corsi at 5v5 and 3rd best all situations. Here are the 5v5 stats from naturalstattrick.com: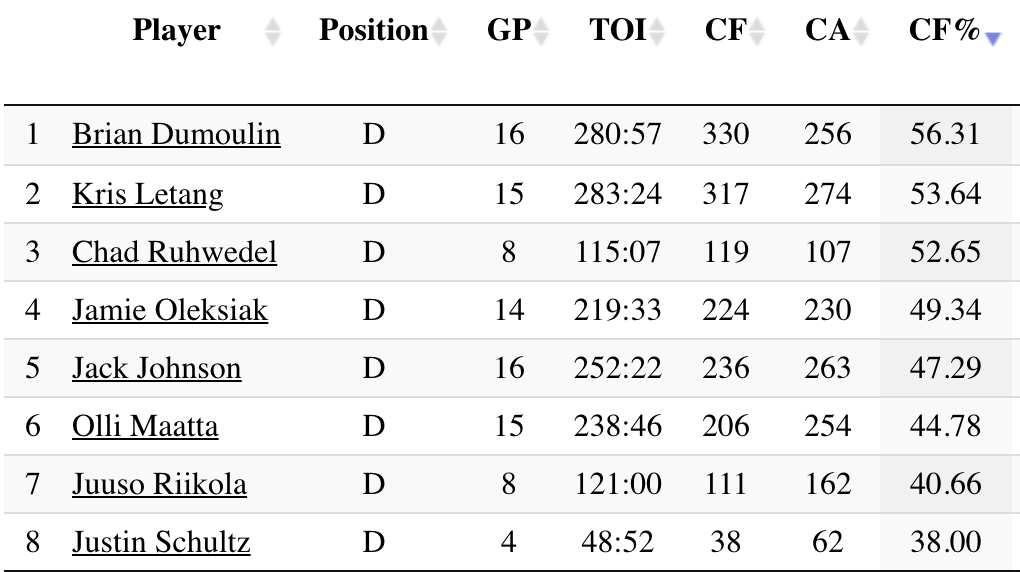 And here are the all situations stats: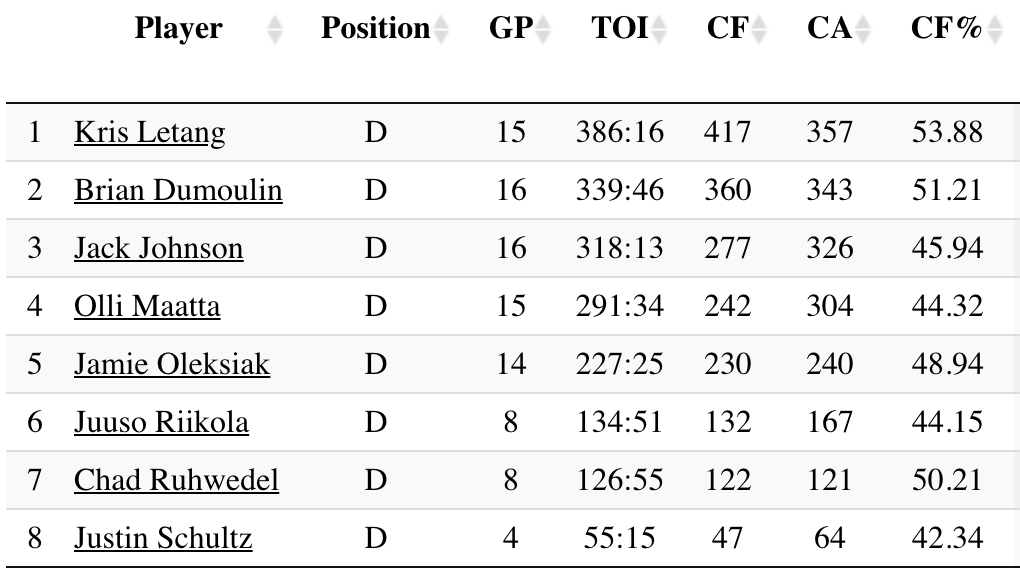 If you want to use salary in determining which defender isn't living up to his paychecks it isn't Johnson you're looking for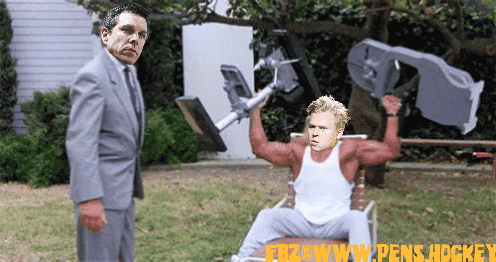 I will never be a fan of the Johnson contract only because I feel GMJR submitted an offer like there was a bidding war going on for Johnson when there wasn't and I think he could've been signed for much less. However, Jack Johnson and the scrutiny that has come with the signing along with the beautiful play of Oleksiak has taken some eyes off of Olli Maatta. A team like Tampa will know exactly how to attack this Penguins defense, and if they get that top line out against Maatta it could be a long night.
Finally, the situation in net is now sticky and not in a good way. On one hand, we saw in New Jersey that it doesn't matter who the Penguins play in net, they aren't going to win when there are a plethora of defensive breakdowns. This will be even more true tonight against the Lightning. Had Matt Murray started that game in New Jersey he would've most likely given up the same goals, which would've made Sullivan appear to be an idiot. Since he started DeSmith it doesn't look as bad. Now the issue is Tampa. He can put Murray in tonight and Tampa could ring up 10 on Pittsburgh, which they will do if the team can't play defense, and once again Sullivan looks bad. He can leave DeSmith in and Tampa could ring up 10 on Pittsburgh, which they will do if the team can't play defense, and now Sullivan looks bad for leaving a two time Cup winner on the bench in back-to-back losses. This is the double-edged sword that comes with playing the hot goaltender, and Mike Sullivan has to make the best decision for his team, not only in this game but for the long haul. If I'm the coach, I'm putting Murray in knowing that he has watched his net get taken away from him, and I expect to see the Matt Murray that put up back-to-back shutouts in the Stanley Cup Finals in that crease tonight against Tampa.  Of course that Matt Murray played behind a team that played defense.
It's always interesting to see which Penguins team shows up against good teams. We saw this happen against Toronto and more recently against Washington. Will the Penguins once again show us that they are actually a cup contender by shutting down Tampa while using their transition game to their advantage? Will the Lightning walk all over the defensive mistakes and score 4 in the first period? Will Recchi step down and GMJR hire Quenneville as an assistant? There's only one place to get the answers, AT&T Sports Net, tonight at 7 PM. SEE YOU THERE.