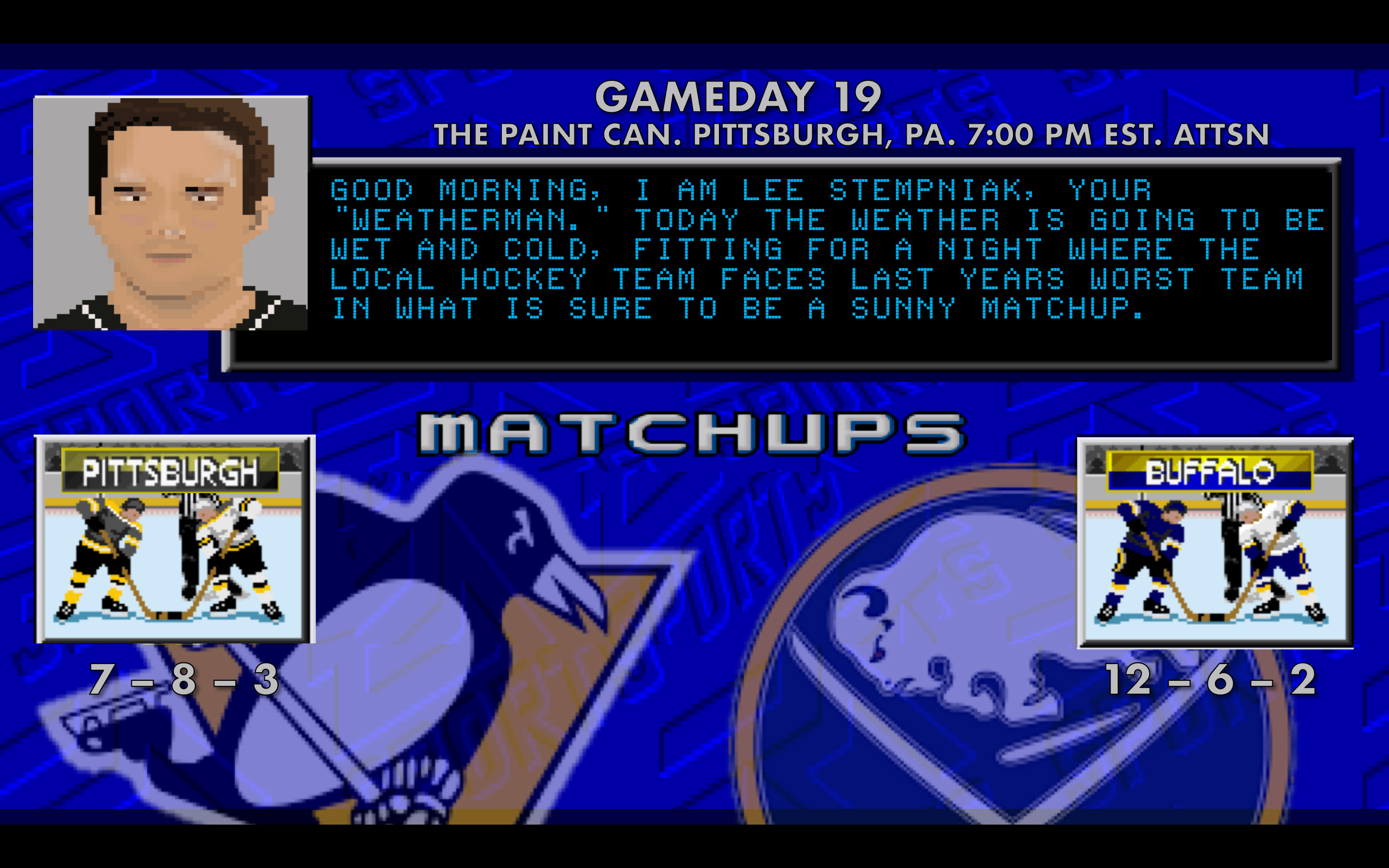 Good morning. Tonight the hockey club of Pittsburgh will face the franchise of Buffalo in a battle of opposite world. The Penguins head into this competition in last place in the Eastern Conference for the first time since Mario Lemieux and Sidney Crosby were on the same line. That was the year Eddie Olcyzk coached the team to a 8-17-6 start to the season despite his fancy new rookie having a 120 point season, just in case you needed a reason to not listen to Mr. Olcyzk next time he gives you advice on the game. Tonight, the hockey club of Pittsburgh is in unfamiliar territory, to say the least. It's like they are living the Canadian version of the Greenday song, where September is switched for November and it is sung by Bryan Adams, and he just keeps talking about the November of '69 for ten minutes.
Fortunately for us fans that want to watch a hockey game there will not be any alternate story lines tonight, what's that? Something about Jason Botterill? Never heard of him, but he should've been a bartender with that name,
Yes, things are not looking good for the club but why is that? Are they that bad? I don't think so but what do I know? In the recap post yesterday we highlighted specific mistakes that resulted in every goal against the team during their "battle" with Ottawa. It was another game, as naturalstattrick.com will illustrate, where the team was getting more chances than their opponents: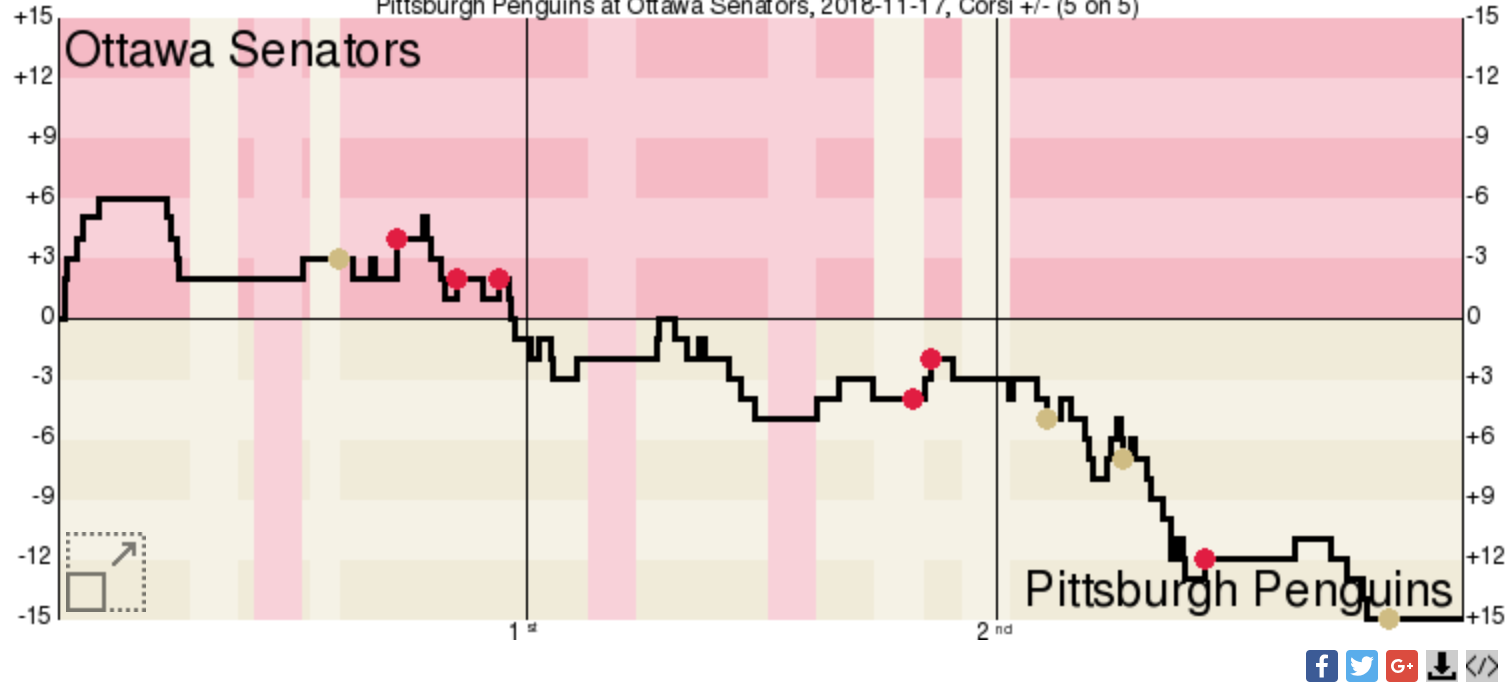 Despite this the team gave up three of the six goals during their "surge." This is a direct result of mental farts. That is the new team nickname, the Pittsburgh Mentalfarts. That is what they are. It is frustrating, no doubt, for us fans to watch as this team loses while giving up seemingly effortless goals. We want to blame the defense, but there isn't data for it. In fact, since Jack Johnson was placed with Kris Letang the defense as turned out decent results in terms of chances for vs chances against, a stat known to some as "Corsi." Here are the current pairings at 5v5 play:
LETANG – JOHNSON /  86:15 TOI / CF% 53.29
DUMOULIN – RUHWEDEL / 57:36 TOI / CF% 57.14
MAATTA – OLEKSIAK / 165:25 TOI / CF% 48.62
Yes it is true, with the new pairings the teams defense is only getting out-chanced against the third pairing which is probably not unique to this team. Even so, the Maatta – Big Rig pairing has 158 chances for and 167 against which surprises me! We also see the original top line isn't much of a change: DUMOULIN – LETANG / 197:27 TOI / CF% 55.69. So instead of a 55.69 at top and two lines under 50 the team is now statistically more solid. The question becomes deployment for Jacques Martin, who now has his best defender (Dumoulin) not on the first line, but that isn't a bad thing if he figures out how to use the rotation properly.
This directs us to the mental farts that are causing the Mentalfarts to fail. The team has became statistically better on defense while giving up more odd-man breaks, woah! Our friend (maybe not, just a phrase) Sean Tierney at this site has a nice new goalie map that shows the distance of goals allowed. Here, for example, is Mr. Anderson of the Senators, the team that has allowed the most goals on the season!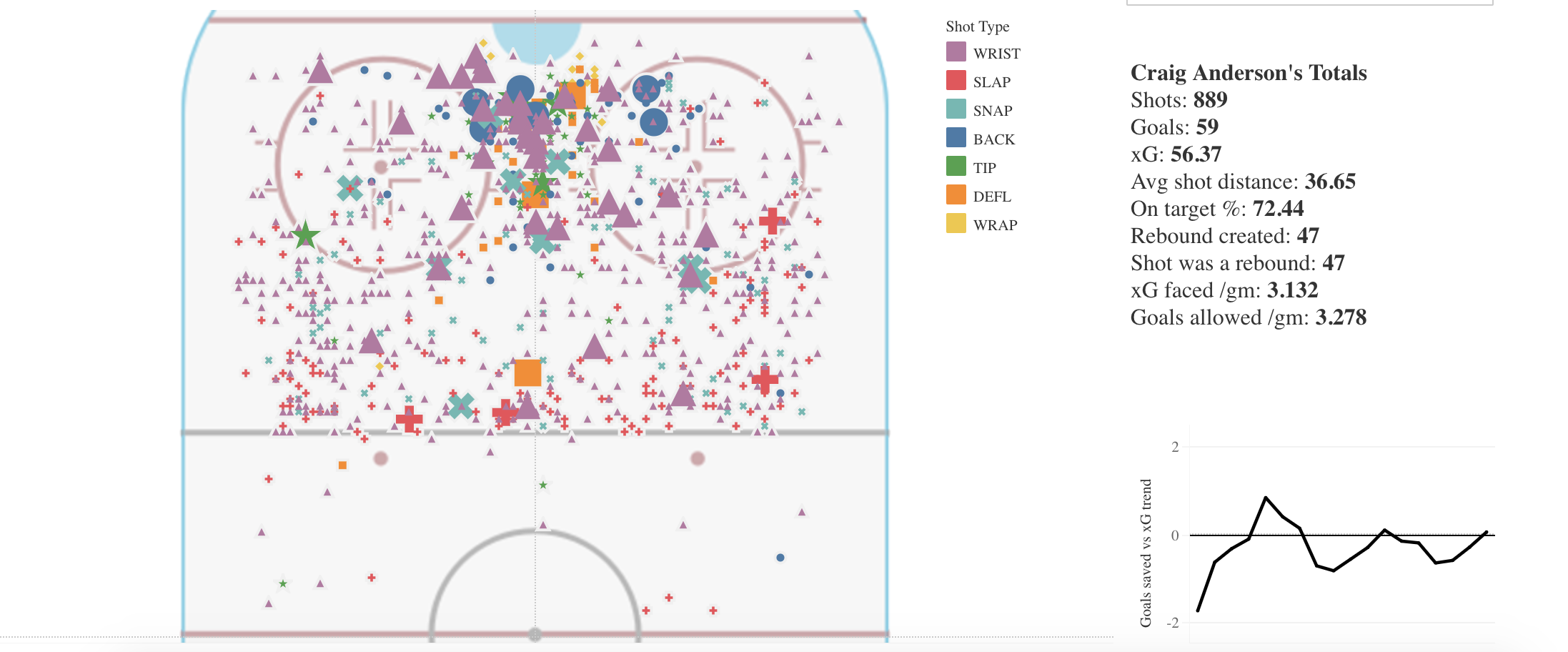 Look at all the shots! And goals (the bigger shapes) are scored from all over the place! My Gosh! Here, now is Matthew Murray's: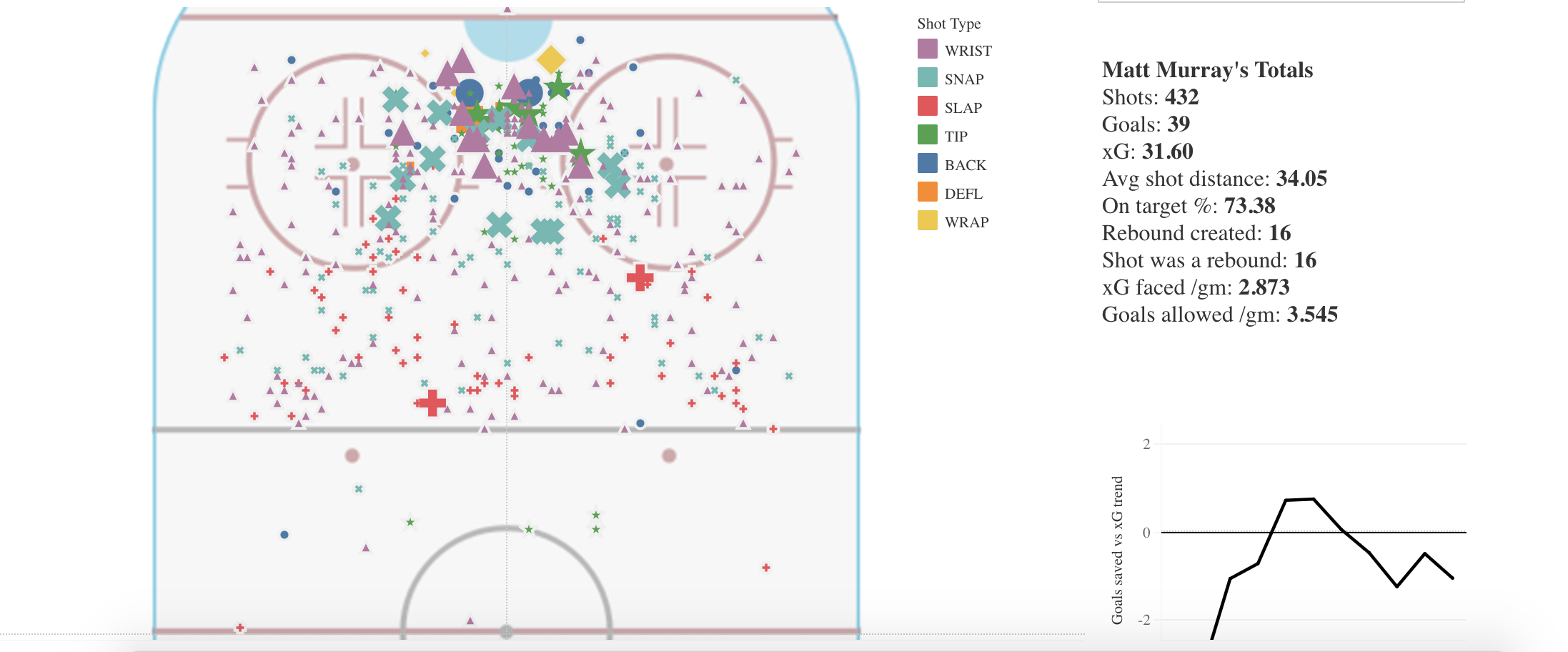 Only two goals have been scored on Murray from behind the dots, with the average shot distance being 34.05 feet. The league average is 49.13 feet. Now, Murray is not doing his part as his expected goals against number explains, but this is a team effort as well. The MentalFarts are letting teams take shots an average of 15 feet closer to their netminders than other teams, a majority of these, no doubt, are from odd-man rushes. Here is Of Smith to complete the charts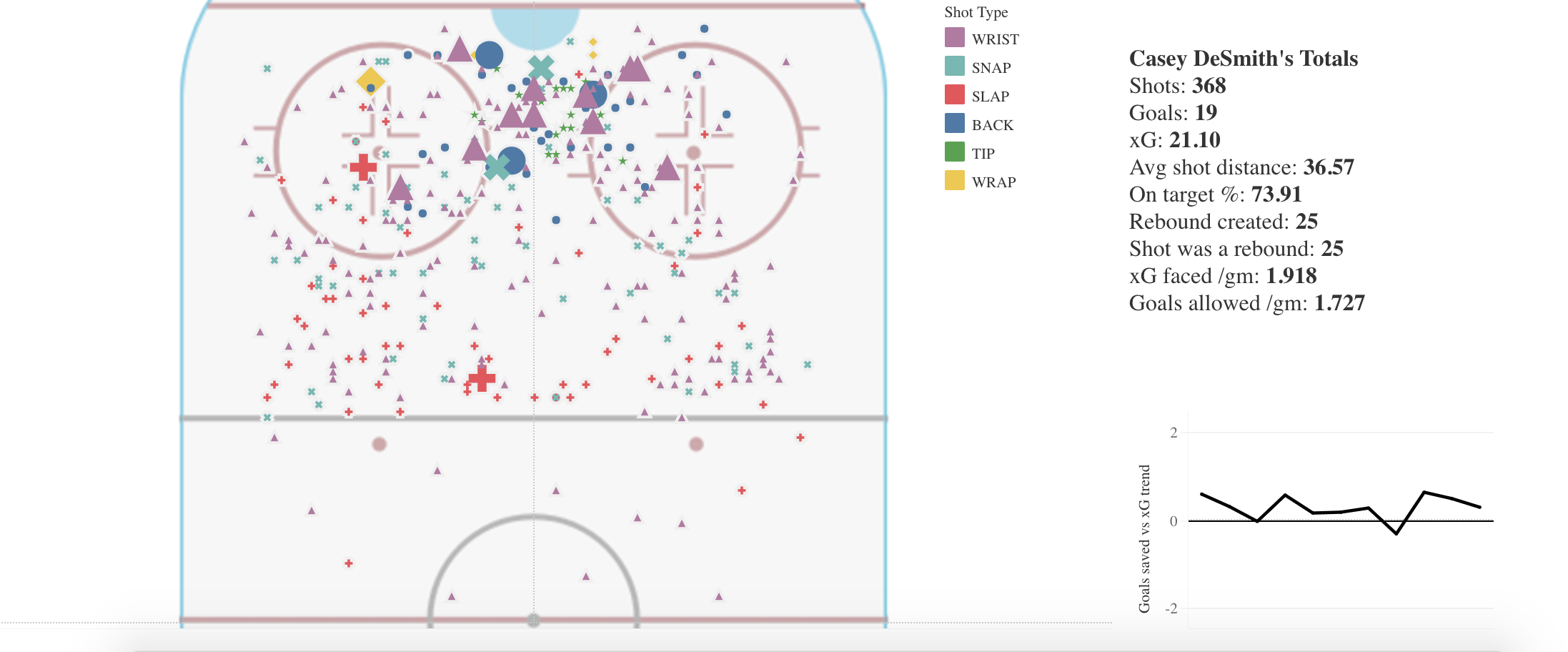 Very similar, interestingly but not surprisingly given his flailing style when things go crazy, DeSmith has created more rebounds on less shots than Murray. Regardless, he has played very well this season and should probably start more.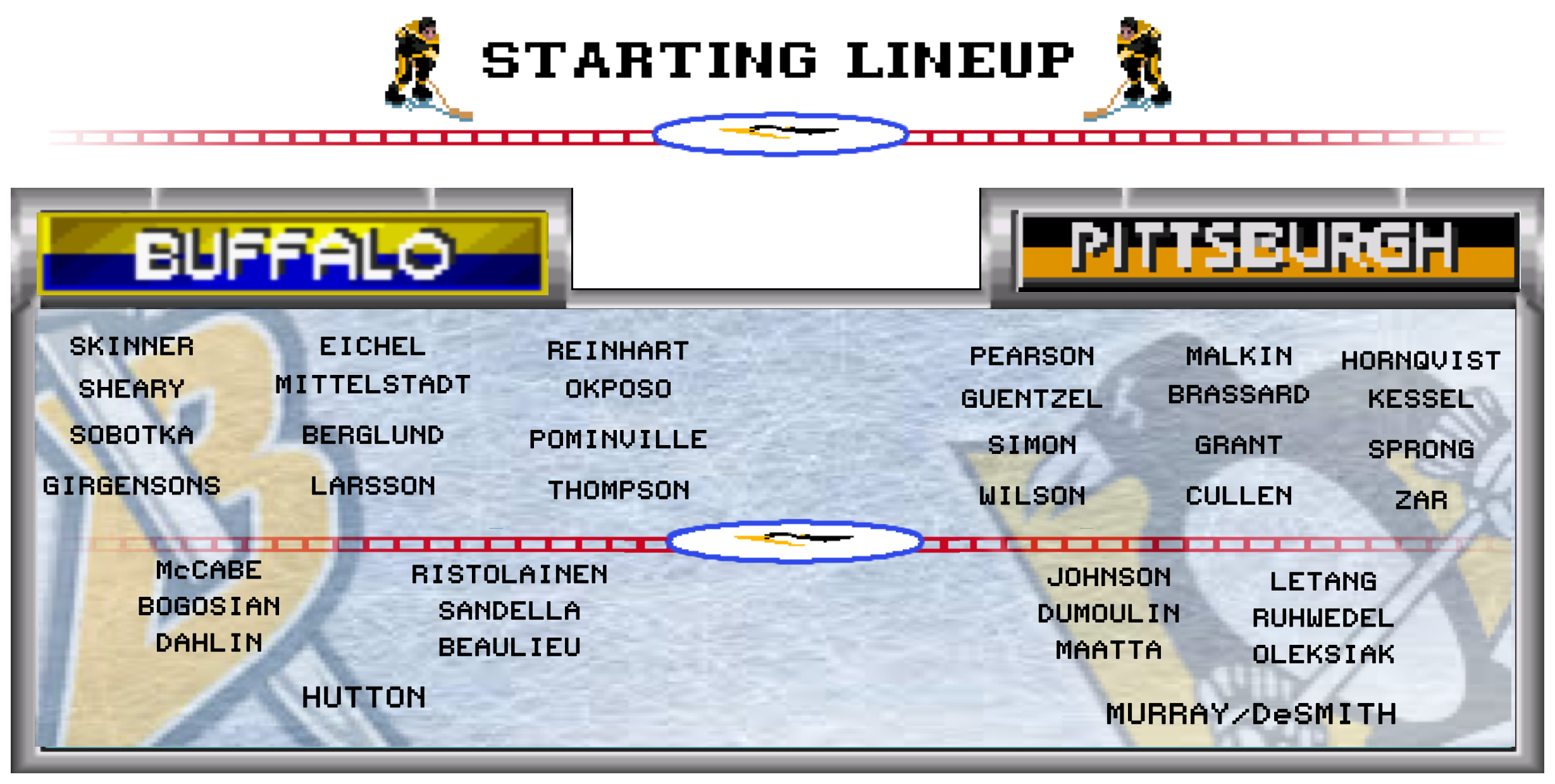 The MentalFarts did not hold practice yesterday, or did they? It is a secret. Due to that there are no updates on lines, Crosby, life. So it looks like our artist just used last games lines, very bold move. Will Riley Sheahan once again be scratched for Cullen? WHO KNOWS!
As for Buffalo, they are winning games without owning the center of the offensive zone: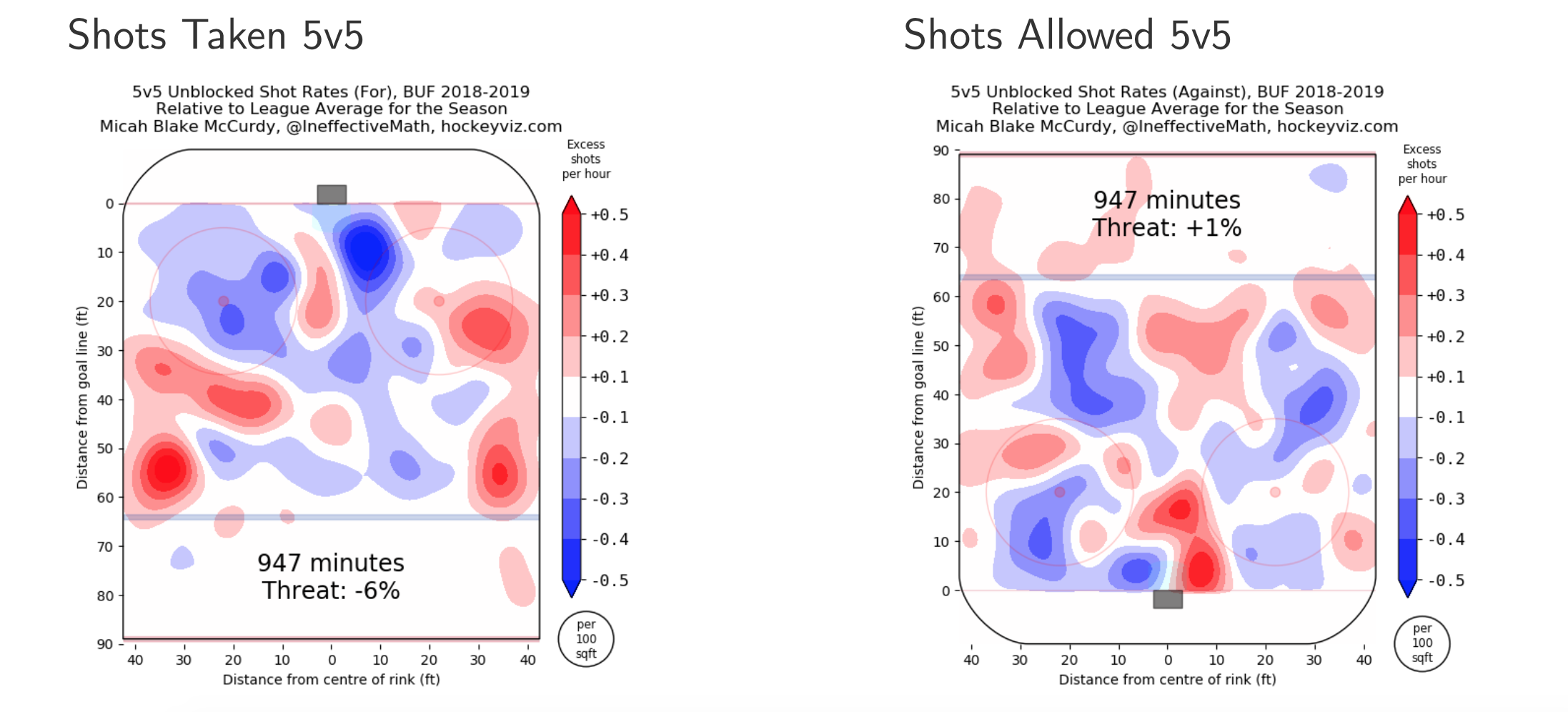 Actually, the Sabres don't take many shots from where the Penguins give up all their shots! This could be a success!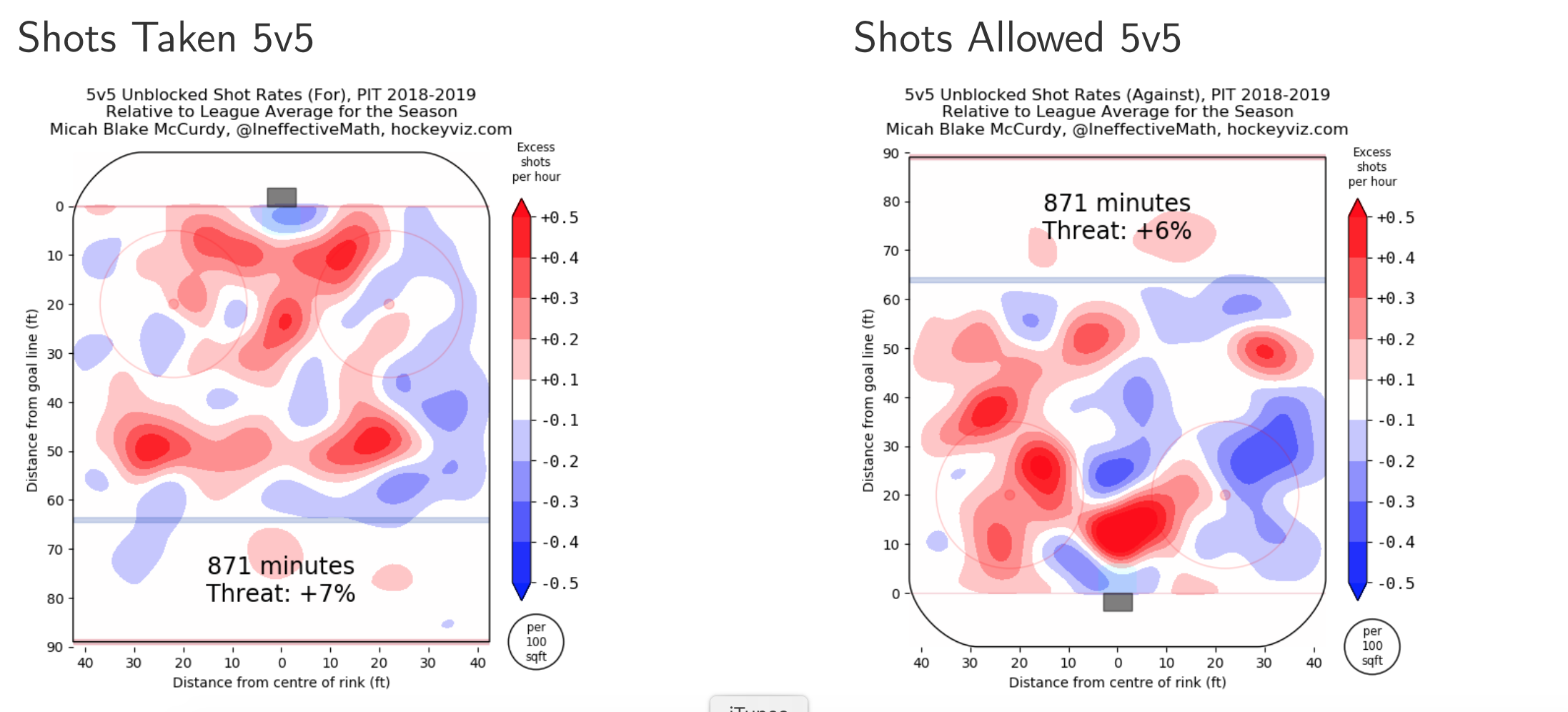 Almost everything on paper, through algorithms, in color-coded fancy charts points to the Penguins MentalFarts being a better team than their current record indicates. It has been frustrating to watch, for sure. It is frustrating for the team too, just look at Malkin taking so many penalties. This is when they need a coach, is that coach Mike Sullivan? Right now, yes. Once the team stops getting beat in transition, and the odd-man breaks cease, we may finally see what this team is. Of course, by the time that leak is stopped the ship may be on the ocean floor serving as a new home for fish. Tonight will be a tough test, these are more like your father's Sabres than yours. Good for Buffalo too, that city is always in the top 5 in NHL viewer ratings, they deserve a reason to cheer. But not tonight. Tonight the MentalFarts of Pittsburgh need a reason to cheer. Go Farts!


Loading ...