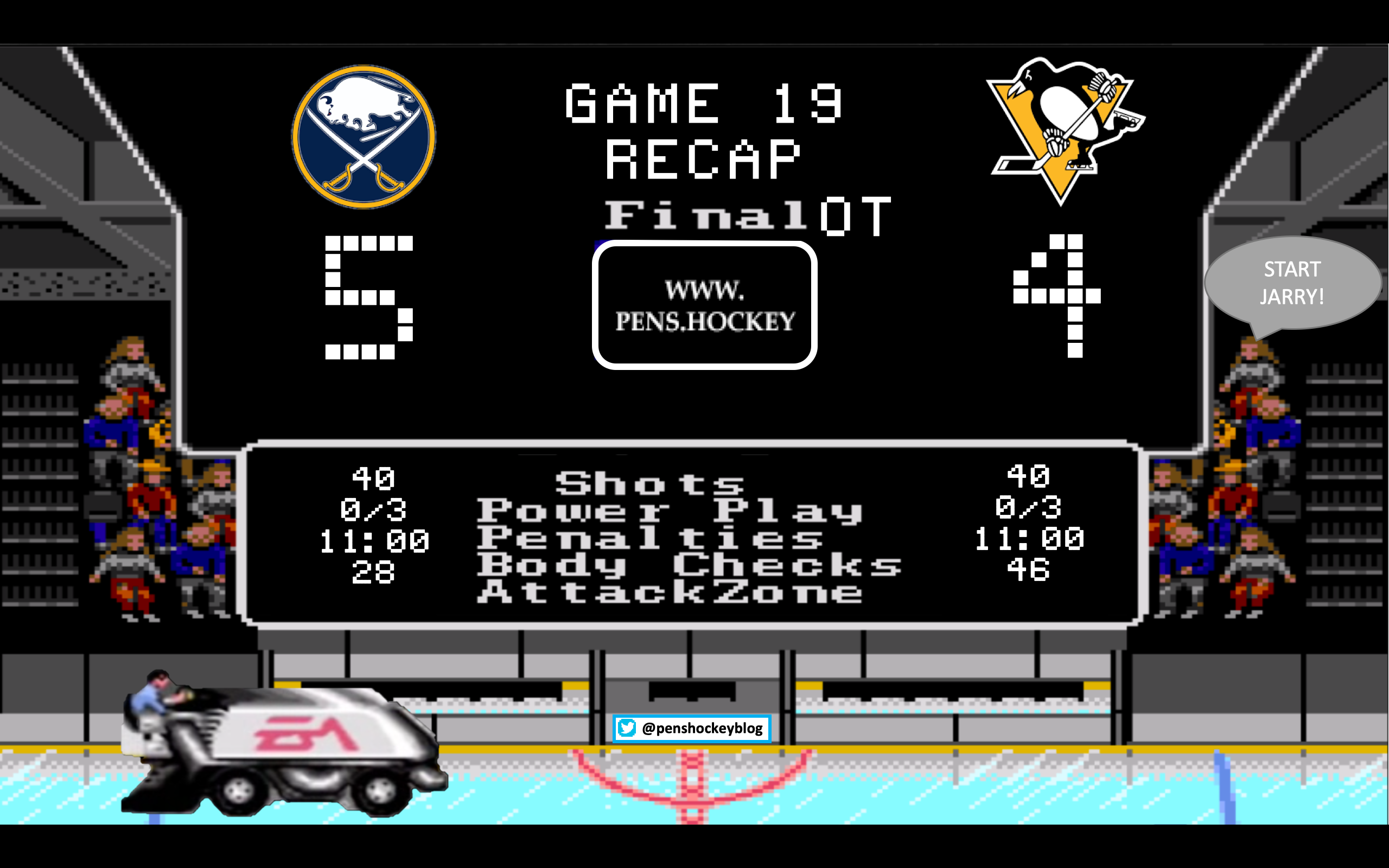 The team of lazy superstars was back at it last night, taking on the Sabres. There was a series of announcements before the game started
Matt Cullen suspiciously will be out with a long term lower body injury despite completing his last game played. The lower body injury in this case might be because his middle leg is now his fastest.
Sidney Crosby halfway participated in practice by playing defense. Said he felt good afterwards… okay
Casey DeSmith would get the start, no surprise
Craig Patrick has been hired as a scout for the organization and has apparently settled any negative feelings with the teams owner
-INSERT LINEUP HERE- OKAY:
Let's play some hockey. pic.twitter.com/KMeucjJApW

— Pittsburgh Penguins (@penguins) November 19, 2018
The team did not use these defensive pairings. They started the game with Johnson-Ruhwedel, Letang-Maatta, Dumoulin-Oleksiak, and they changed every shift.
The Mentalfarts were looking pretty good to start the game, Evgeni Malkin even got a little cheeky
Malkin is feeling it tonight but Hutton is on his game. pic.twitter.com/S6HNuly0Kx

— plymouth rock doesnt even slap (@G_Off817) November 20, 2018
Hutton was indeed on his game sadly.
The Penguins kept trying though, which was nice to see, and finally go a break when Sobotka, which is apparently not a type of vodka, dumped a puck in and went for a change. It seemed like an innocent thing to do, but the Penguins suddenly remembered how to transition and Sobotka didn't really give two shits: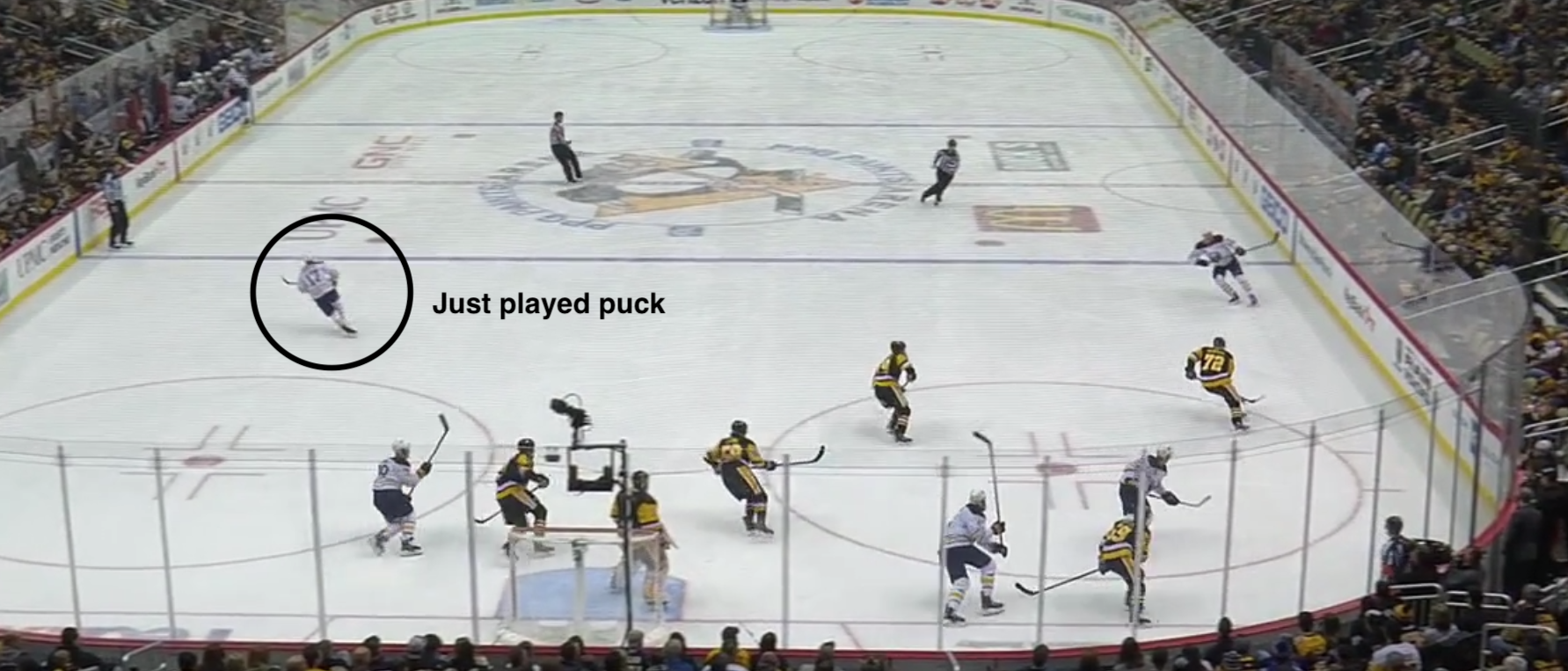 Hornqvist would get the puck to Brassard and he scores a goal that Ryan Reaves and Ian Cole definitely would've scored
DERICK BRASSARD (2) Assisted by HORNQVIST (4) @ 8:46
Through the neutral zone.
Through the defense.
AND IN THE NET! pic.twitter.com/DkMct0EVtx

— Pittsburgh Penguins (@penguins) November 20, 2018
Great to see Brassard finally bury one, you know the dude is in his head after spending his whole time in Pittsburgh on and off the injured list. The goal was created thanks to a mental breakdown by Sobotka that we are very familiar with. No clue how he turns around and skates so slowly for a change and his bench doesn't warn him

In typical Penguins fashion they held the lead for a commercial break before a guy named Tage scored. Sick name, not sure if I'm kidding. Dude definitely drives a GTO. The goal happened when Letang makes a routine clear along the boards to Simon: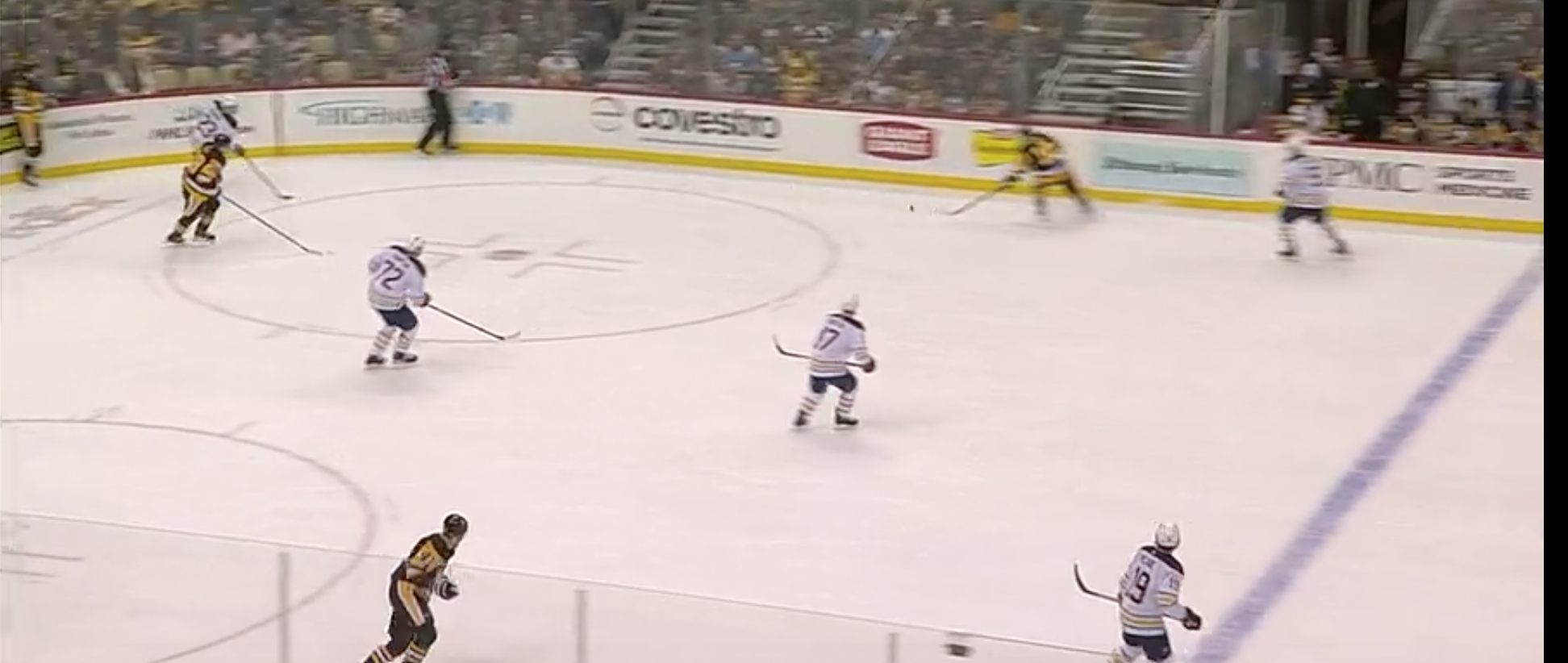 Pretty routine but somehow Simon completely misses it, the Sabres have a quick three on one and the game is tied instantly. Dominik Simon is not playing really well, fortunately for him Cullen and Crosby are out of the lineup. Unfortunately for him there are some Baby Pens making noise recently.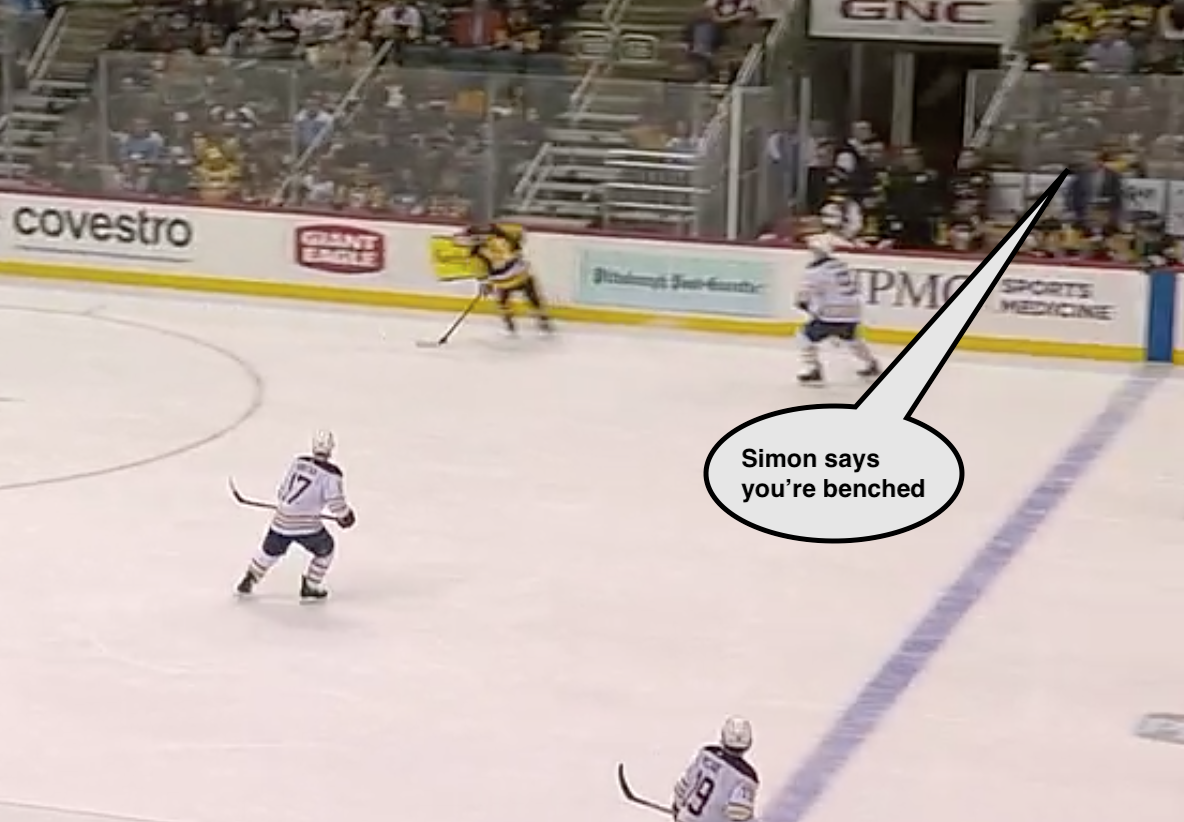 The Penguins were able to shake off Simon's mishap and continued pressuring. The new top line was looking good early on and continued playing strong all period! Phil Kessel got the puck in the defensive zone and Evgeni Malkin said "give me." He stole the puck from Kessel, drove down the ice and handed it off to Pearson, who fed Phil a hotdog with extra mustard
PHIL KESSEL (10) Assisted by PEARSON (2) & MALKIN (19) @ 16:15
Phil Kessel makes his youth coaches proud by going to the net.

That is 81's team-leading 10th goal of the season. pic.twitter.com/jS55mtB4qR

— Pittsburgh Penguins (@penguins) November 20, 2018
Tanner Pearson with a beauty, you can see him looking shot the whole way and then quickly looks at Phil.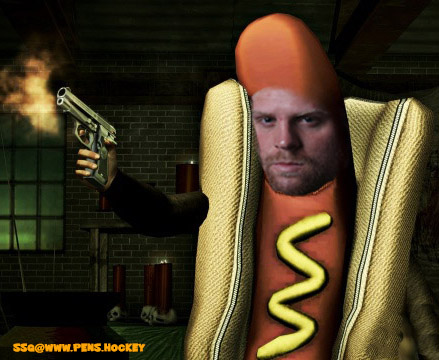 A few seconds later Zach Aston-Reese was murdered but the rumor is his jaw interfered with the boards so it was only a two minute penalty. They would not score and the period would end with a 2-1 Mentalfart lead
Solid start.

Now let's keep it going.#LetsGoPens pic.twitter.com/pcD9tiPVck

— Pittsburgh Penguins (@penguins) November 20, 2018

The second period started out with a beautiful rendition of three blind mice. Initially Brassard was high sticked but there wasn't a call, then Jake Guentzel tripped someone and there wasn't a call (some say this is a makeup but honestly it's because the refs are blind). Guentzel took advantage of his situation and raced down the ice and fired one on goal that was saved, but Hornqvist was there to create problems and Jake benefitted
JAKE GUENTZEL (7) Assisted by HORNQVIST (5) @ 1:24
https://twitter.com/penguins/status/1064688367986769921
Oh, hello shoot first mentality. Jake Guentzel may have the quietest 7 goals on the team, on pace for almost 30? The Sabres would challenge for goaltender interference but they really wanted to challenge the trip. It should've been called, but the same can be said for the high stick. As they say…
The Penguins continued pressuring and it was the top line again getting some cycling going, and Tanner Pearson showed he has no problem going to the front of the net as he finally gets over the nice 69 career goals hump
TANNER PEARSON Assisted by JOHNSON (5) & MALKIN (20) @ 5:00
Tanner Pearson scores his first goal as a Penguin to go with his first assist as a Penguin. Farewell, Carl. pic.twitter.com/6Uq99YWOd5

— plymouth rock doesnt even slap (@G_Off817) November 20, 2018
This play was made by the determination of Malkin to get to a 50-50 puck first, good to see that drive back. Jack Johnson with a good hard low shot on net that hits some bodies and opens up a scoring chance. Pearson looked just like the last player to wear that number on this goal, and that will be nice to get used to.
Following the goal the Pens had a powerplay chance and an opportunity to bury the Sabres but they did not as Hutton played well.
Two minutes after the kill Hornqvist had the puck behind his own net and was knocked off of it by Eichel, it looked like this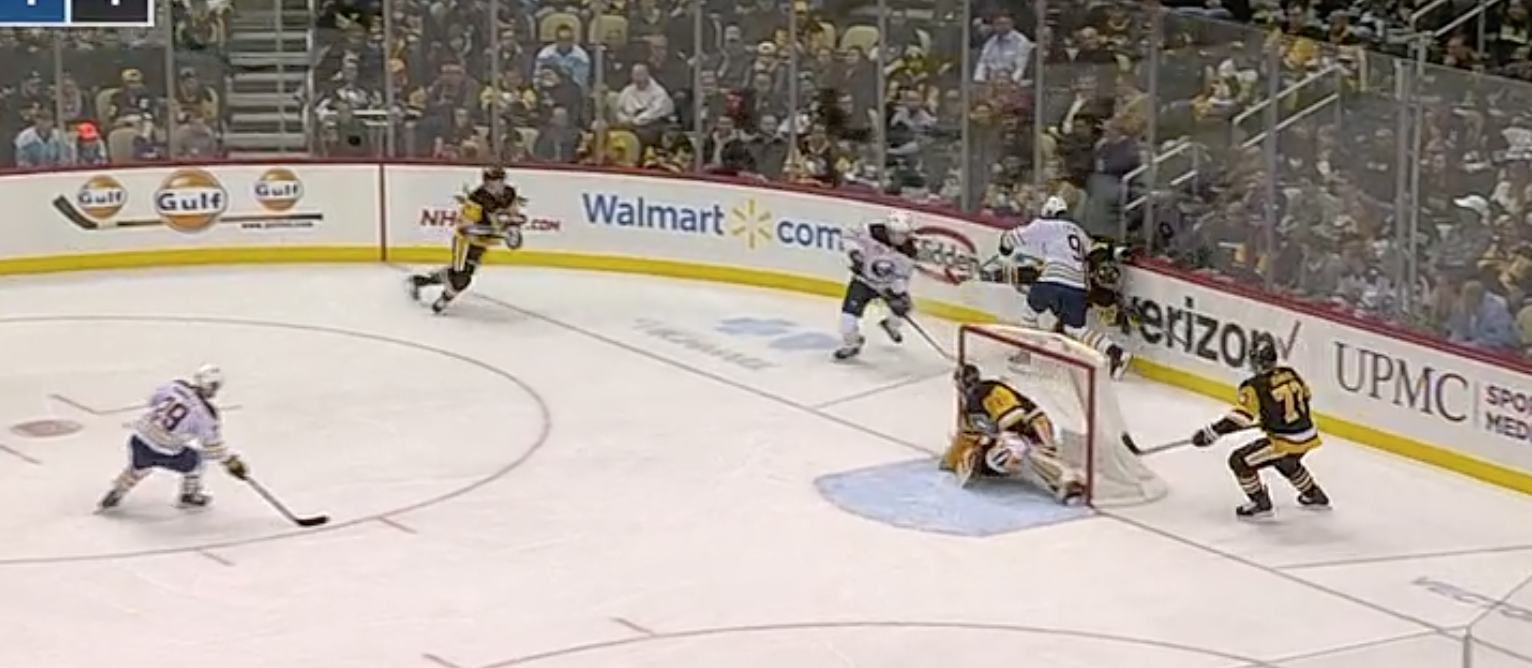 Not the best looking situation. Jack Johnson noticed the man all alone and went to cover him: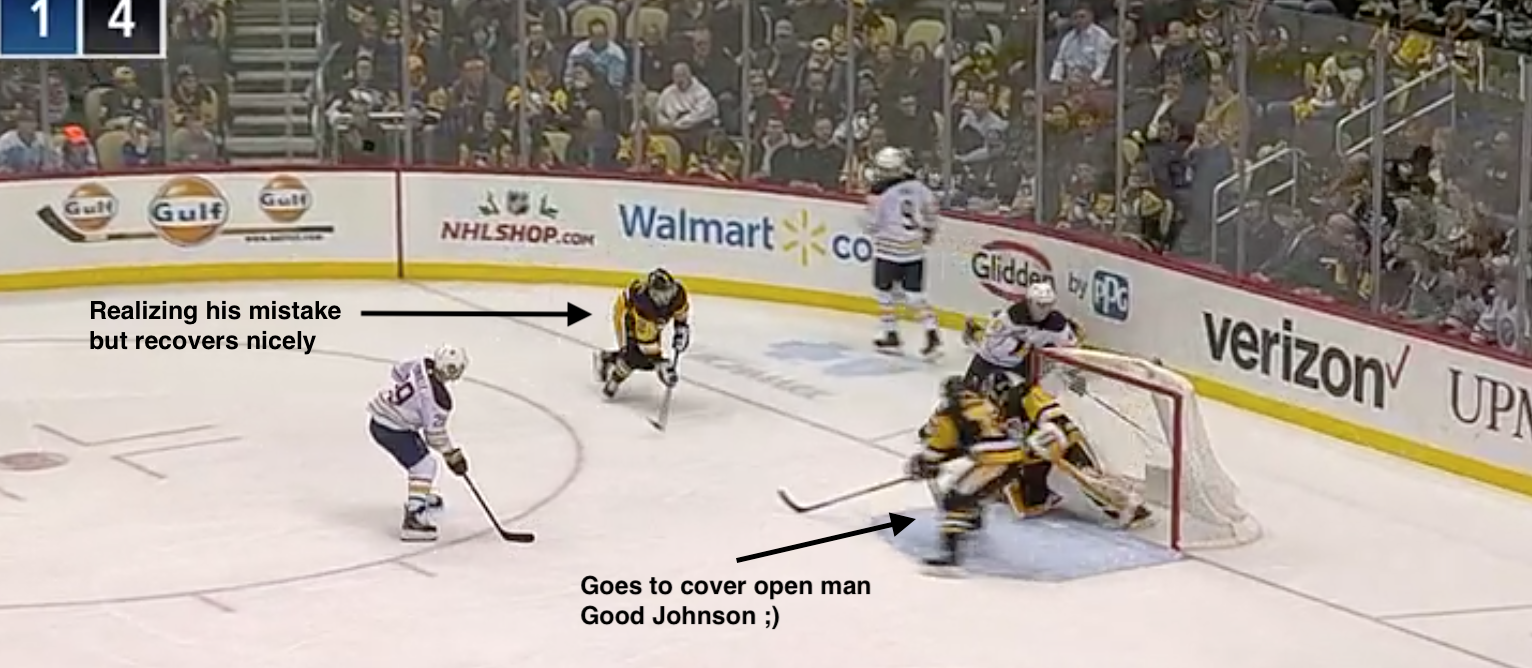 So who scores the eventual goal? A defender. Who is supposed to cover defenders? Forwards. Where was the forward covering the eventual goal scorer?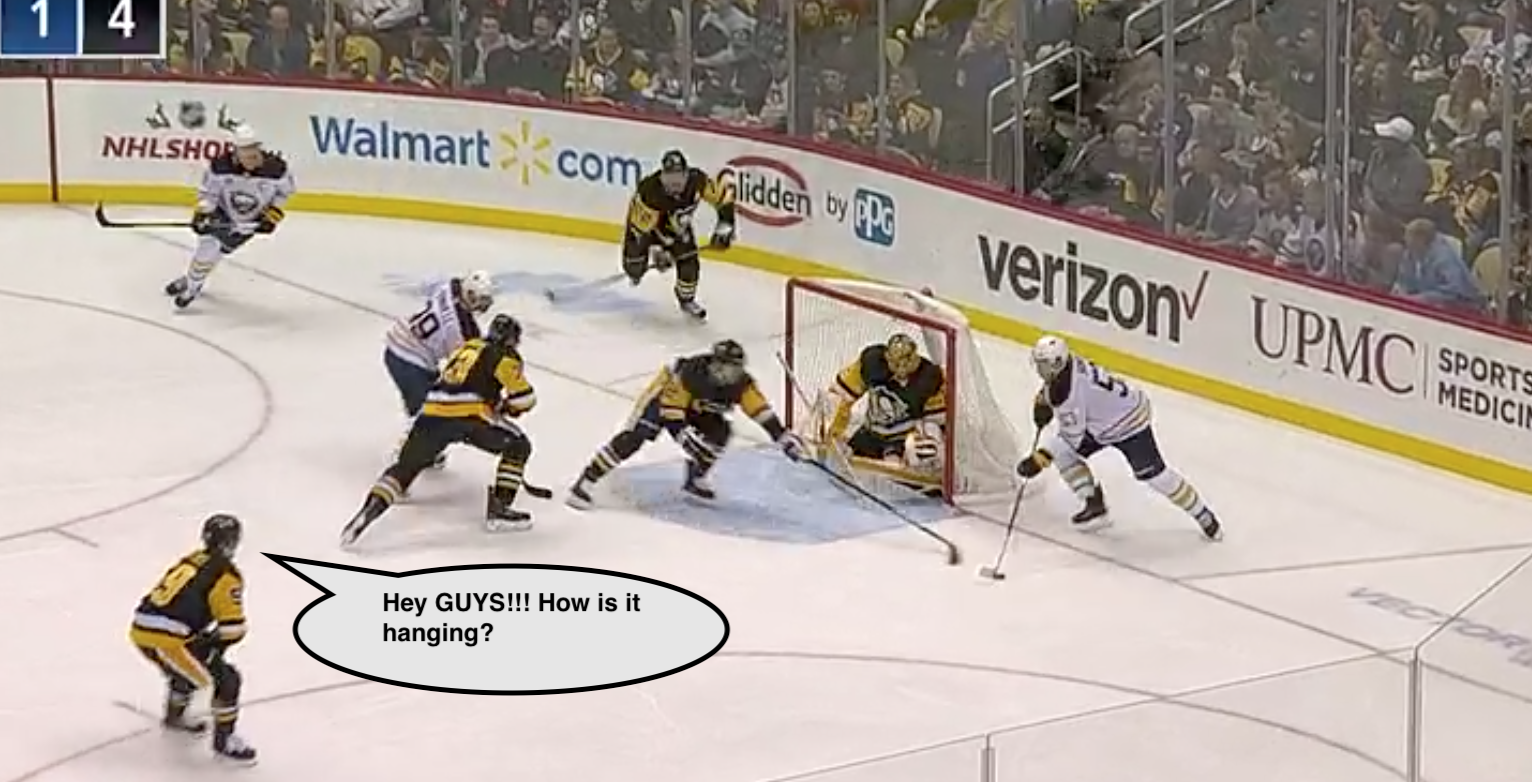 Guentzel decided he would coast in to check things out, the man he vacated buried the puck a quarter of a second later as the Mentalfarts strike again!
The game would settle down a bit after that, as the period came to a close the Sabres turned a little offensive possession into some puck luck as a shot from the point deflected off Jack Johnson and into the net. Tough break as everyone was actually doing their job. 4-3 after 40
A lead heading to the third was rare, and the Penguins fell into trouble early when Brassard took a penalty two minutes in. The Penguins would kill the penalty but did not get any momentum from it, instead they fell into a shell and the Sabres easily eliminated the Pens shots advantage. After a second penalty kill by the Pens the Sabres were determined, and when the Pens couldn't clear a puck Casey Mittlewhatever made them pay
The Comeback Kids are at it again.#Mitts 🚨 pic.twitter.com/8oqTQD7oQK

— Buffalo Sabres (@BuffaloSabres) November 20, 2018
This is a beautiful shot, there is no question about it. Curious as to why DeSmith squatted so low in preparation of the shot though?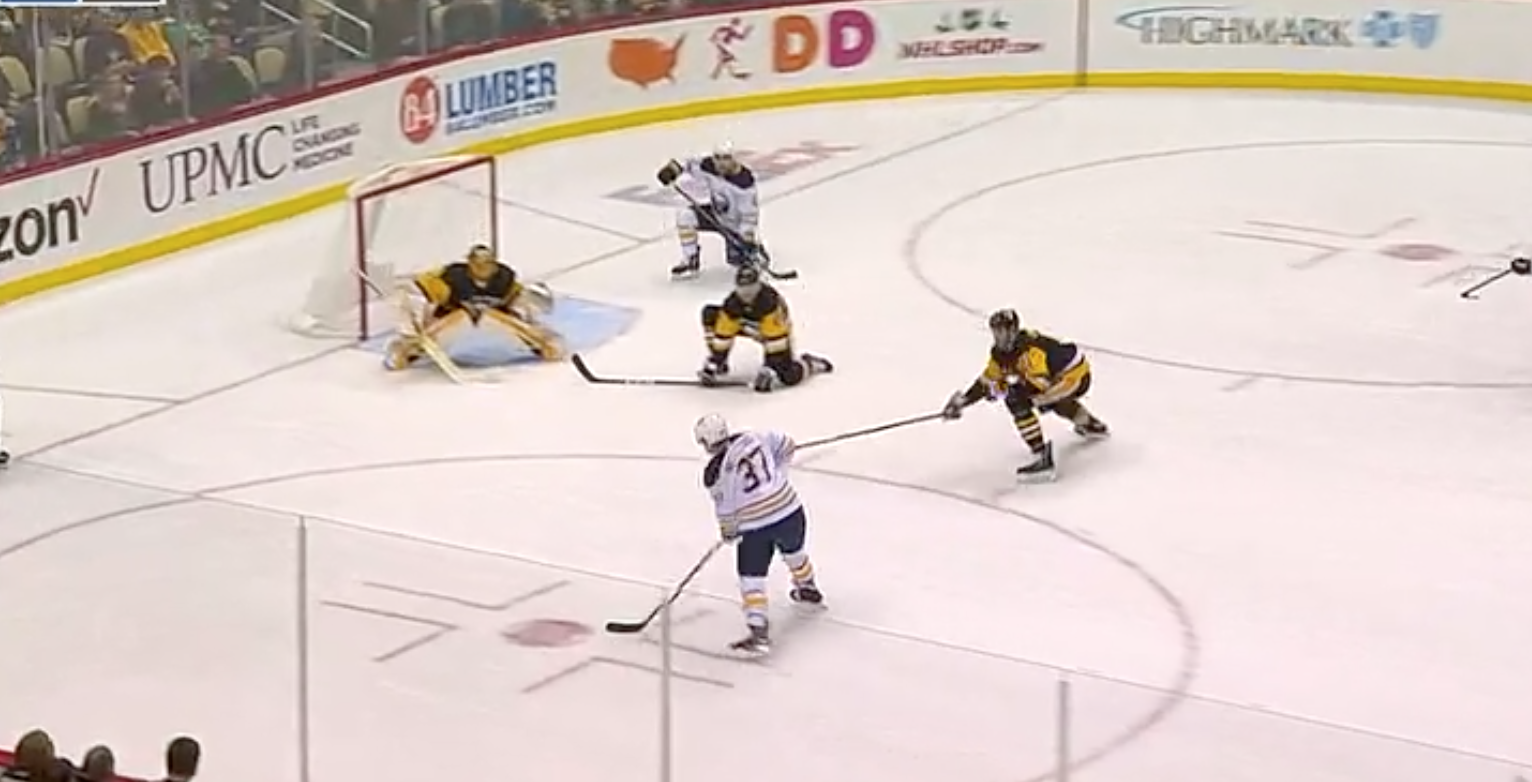 Coming to the top of the circle is perfect, but that low squat opened up almost a foot over DeSmiths shoulder. As Mittelstadt moves in closer DeSmith doubles down, look how low he is before this shot is taken: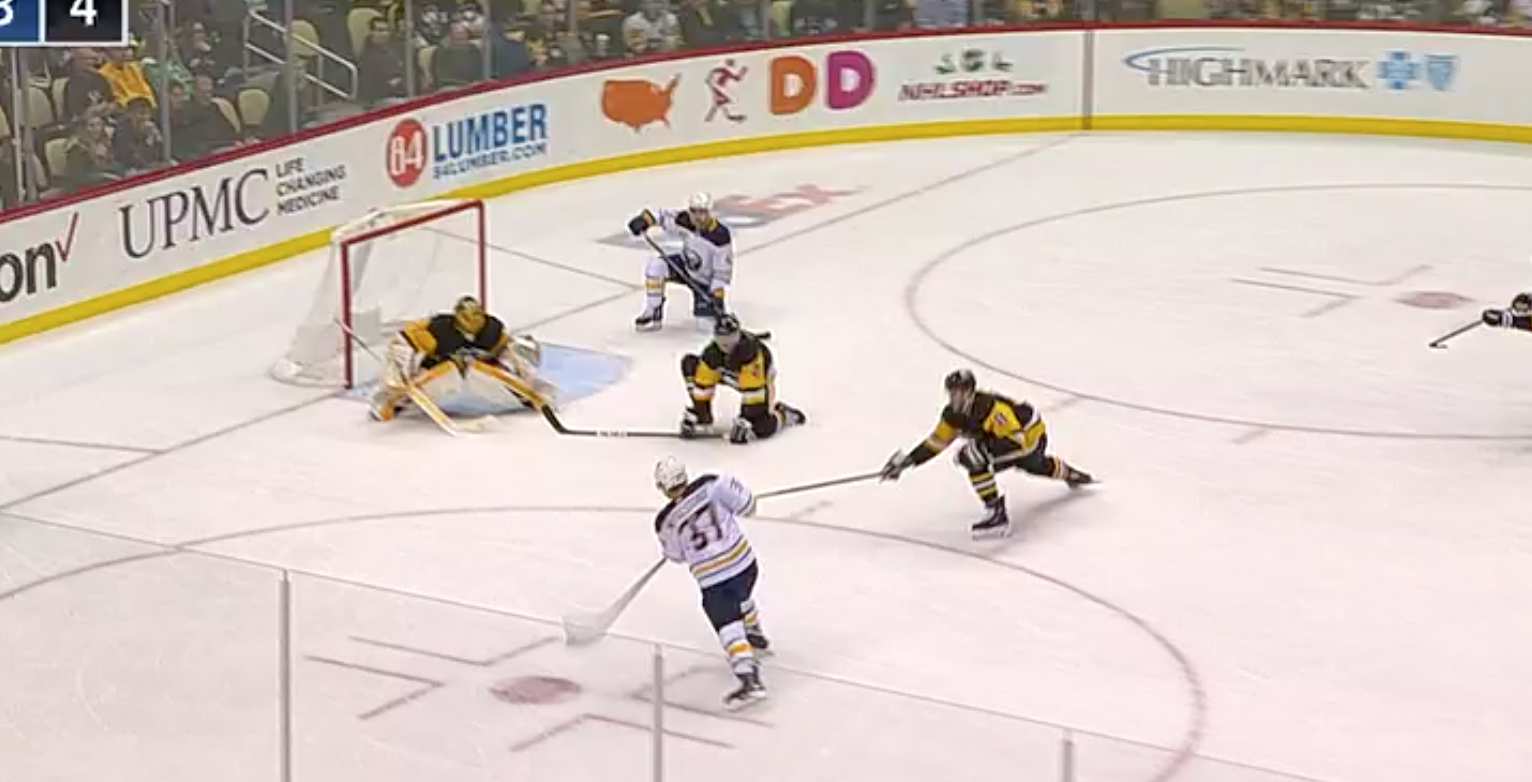 The defense was in great position, the forward only had one option and the goaltender only had one job.
The game would stay tied and head to overtime as the Sabres outshoot the Pens 18-9 in the third and erase a 4-1 deficit to force OT.
This didn't take long. Some players fell down, Buffalo got a two on one, Letang played it perfectly and DeSmith did not… here we see Letang taking away the pass to Sheary giving Eichel one option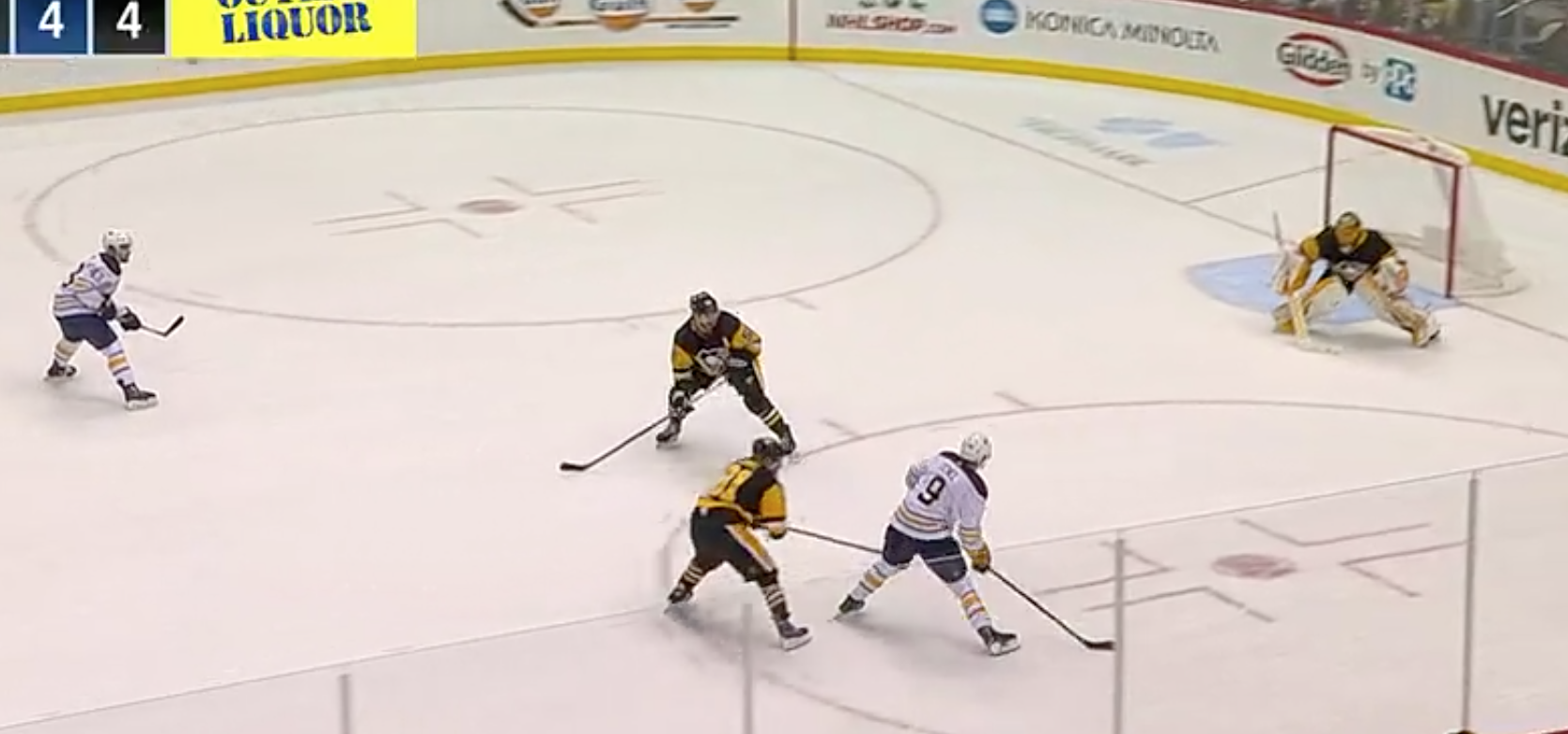 DeSmith needs to make this save, but man, if Murr gives that goal up, this city burns him at the stake in the morning. pic.twitter.com/Zk6U6pddoL

— plymouth rock doesnt even slap (@G_Off817) November 20, 2018
The text in the tweet is spot on. There cannot be a double standard for the goaltenders, if this was Murray people would be crying.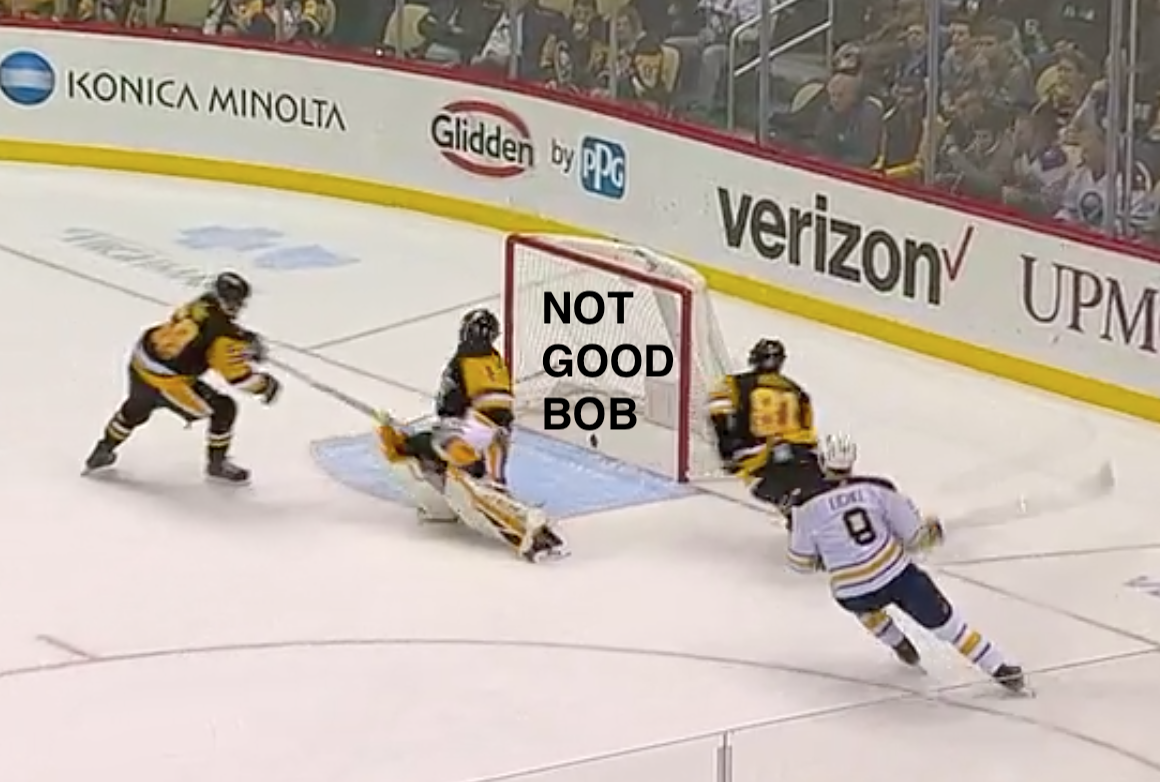 Puck had to be stopped but it wasn't concluding an unimpressive performance by the Penguins once back-up now starter now who knows.
SAD TROMBONE GAME
---
THOUGHTS:
Best game of the year for Derick Brassard. Nice to see him finally play the way we all thought he could
GMJR may seriously start looking for a veteran goaltender as a backup, not sure what that means but this was a winnable game
The Pens played a very good game overall, it came down to one goalie making some huge saves when the game was 4-1 and one goalie not when it was 4-3.
Really like the Pearson-Malkin-Kessel line
Daniel Sprong has been noticeable in a good way, not sure if this boost in playing time is a reward from Sullivan or because he is being scouted
Is it too much to ask for this team to put together 60 minutes of hockey so one of their goalies can have a relatively easy night?
They don't adjust, at all, ever. Not score, &not situation. You don't have to pinch on every ***king play when you're ahead, 4-1. ***k that. ***k that. From the coach to the stickboy, get your heads out of your rectums.

— Mark Madden (@MarkMaddenX) November 20, 2018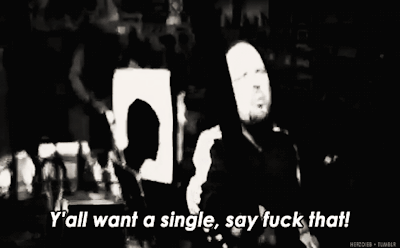 Loading ...