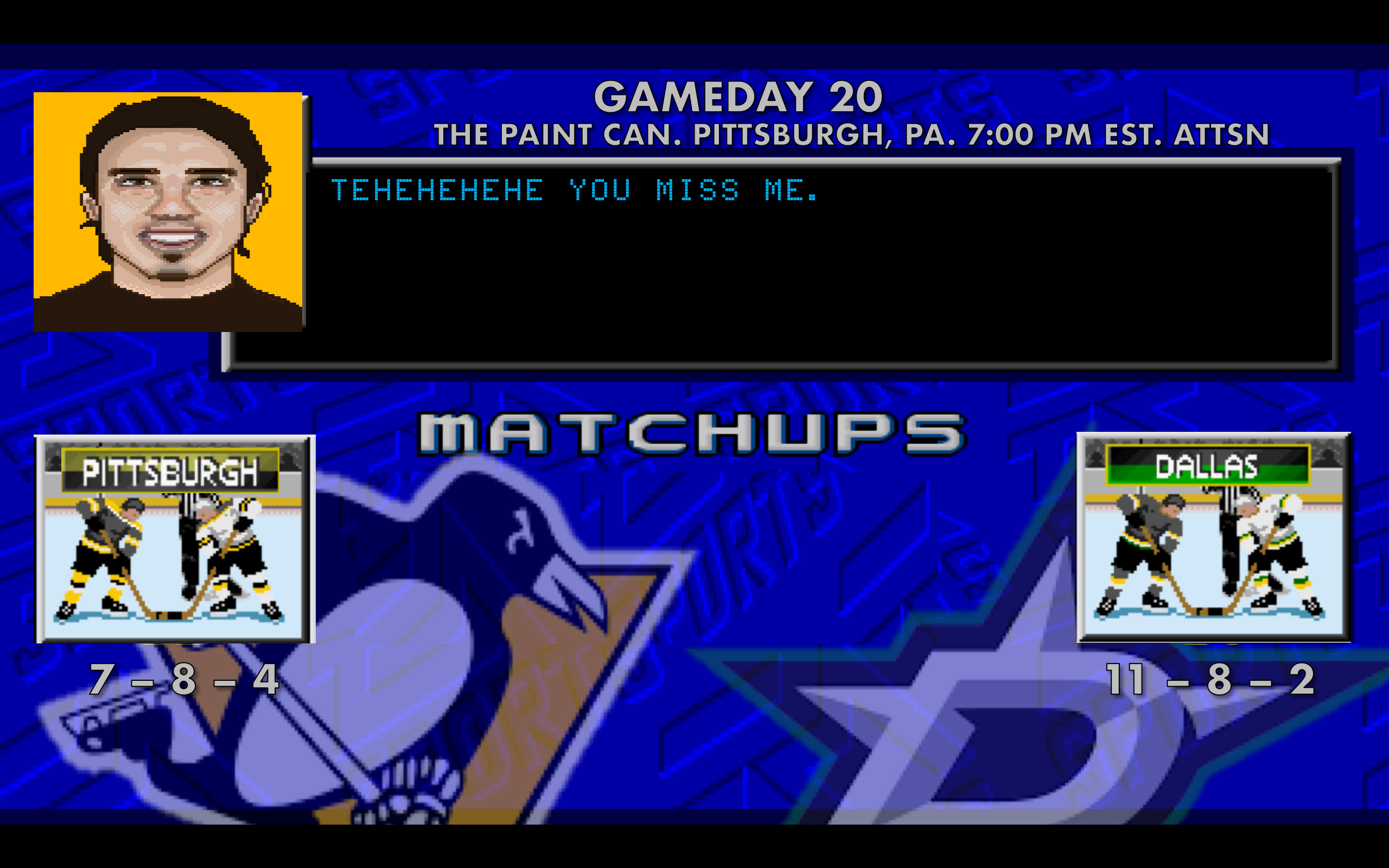 It's Thanksgiving eve and it's a hockey night in Pittsburgh, with the Penguins hosting the Dallas Stars tonight in the first of their two meetings of the season.  It's also the last game of the first quarter of the season, and with a win tonight the Penguins will crack twenty points, get back within six points of the division-leading Columbus Blue Jackets, and escape at least the very bottom of the Metropolitan Division.  The Stars, meanwhile, sit seven points back of the Central Division and Western Conference-leading Nashville Predators.  The Stars are an injury-laden mess right now, with seven guys on their injury report, but I'm sure that isn't going to stop them from playing a sixty minute game against a Penguins team that has shown few instances of being able to do so themselves.
The best news for tonight is the return of Sidney Crosby from needing a braimb break.  With Malkin being his typical self and now Brassard generating offense of late, getting Crosby back will help bring some offensive depth back to the bottom six.  During yesterday's practice, Crosby and old friends Jake Guentzel and Patric Hornqvist were linemates, thus confirming that Mike Sullivan has lost much of his sense of creativity, but the good news that Hornqvist is on a roll and Guentzel loves playing alongside Sid, so that's fine.  It also means the Malkin-Pearson-Kessel line likely stays together after a couple productive games together.
Where that leaves the bottom six is anyone's guess, but here's the full view of what practice looked like:
#Pens lines:
Guentzel–Crosby–Hornqvist
Pearson–Sheahan–Kessel
Aston-Reese–Brassard–Simon
Rust–Grant–Sprong

D:
Dumoulin–Letang
Maatta–Riikola
Johnson–Oleksiak

— Wes Crosby (@OtherNHLCrosby) November 20, 2018
Two left wingers on one line and two right wingers on the other line…hm.  That flies in the face of Mike Sullivan's typical lines, so let's take those lines with a grain of salt, I guess. Here is a look at the Stars lineup as well: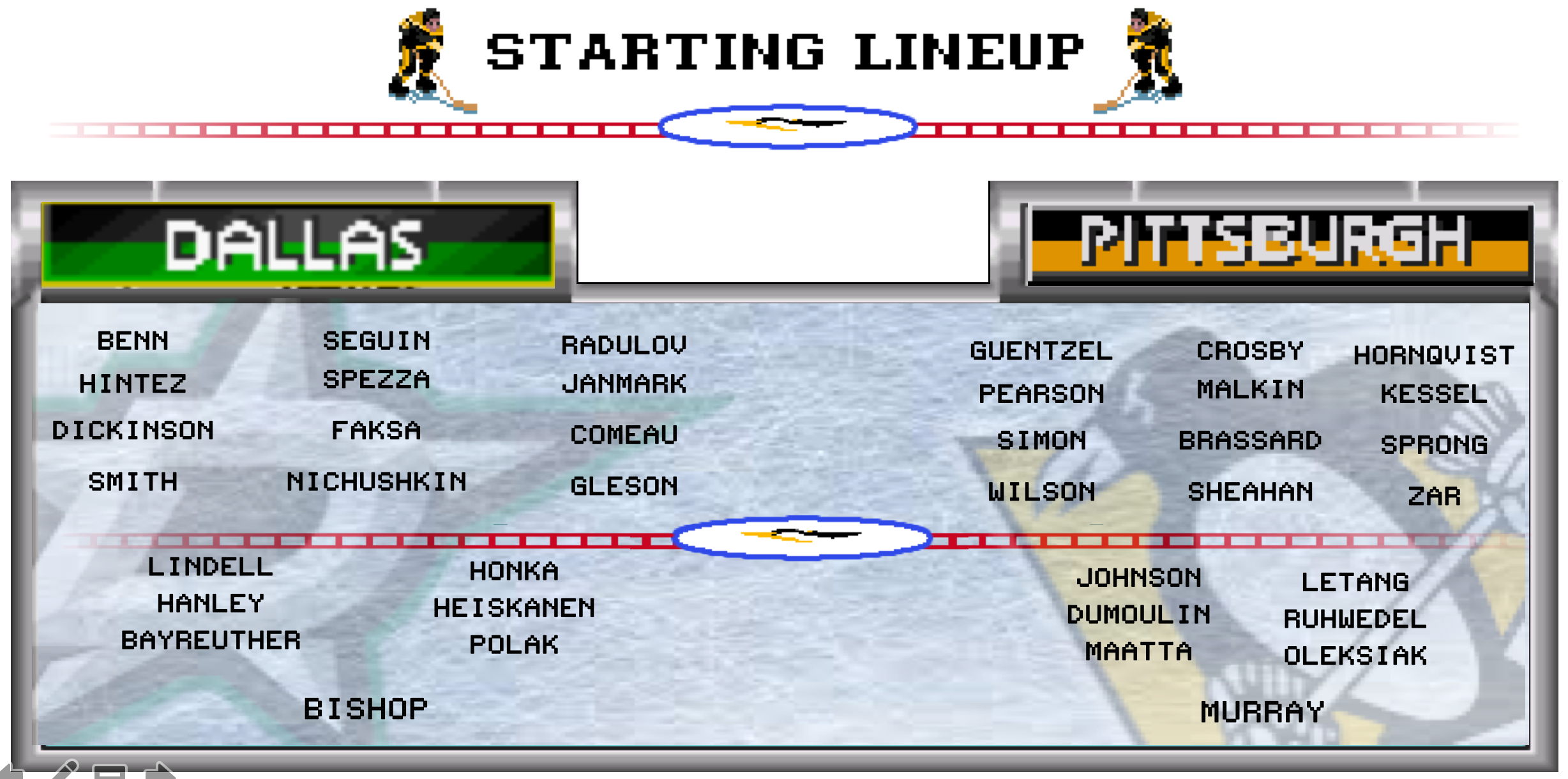 The defensive pairs are also interesting in that they seemed to return to "normal," or at least what we expected to see at the beginning of the season.  Whether they stick for gametime is anyone's guess, but I'm actually a little surprised that Sullivan is thinking of putting everyone back with their typical mates.  Letang showed himself to able to hold Johnson above water; Maatta and Oleksiak were the Penguins' best pairing against Buffalo; and Dumoulin is no slouch either.  Juuso Riikola has not performed nearly up to the expectations he set in the preseason, but Sullivan has been more keen to give him opportunities than someone like Daniel Sprong – apples to oranges, I know – and the pairing of the two Finns, while it sounds like it should work, hasn't been so good thus far.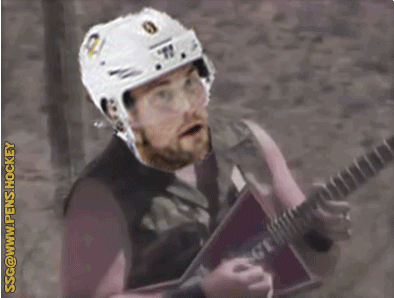 The challenge for the Penguins tonight is to crack the Stars' defense and goaltending.  They have allowed the sixth-fewest goals in the League and they have the seventh-best team save percentage, and their goaltending tandem has been very good: Ben Bishop, who might miss tonight's game with a lower-body injury sustained during Monday's game against the New York Rangers, has a .923 save percentage and a 2.33 goals against average; his "backup" Anton Khudobin has a .925 save percentage and a 2.35 goals against average.  Unlike the Penguins, Dallas can rely on either of their goaltenders to keep them in the game, as demonstrated by allowing four or more goals in just five games this season, compared to the Penguins' goaltenders doing it eleven times.
With all the rumors flying around about how to upgrade the roster, ultimately it's the Penguins' goaltending that needs to get it together.  The ~2% difference in team save percentage between this year's team and the preceding three years is seriously harming their chances of staying in games.  Pittsburgh's shooting percentage is in the top third of the League but the save percentage is in the bottom third.  If either Matt Murray or Casey DeSmith can get on track and string together a few games of allowing two goals or fewer, that's more than enough for this offense to get ahead of; after all, they've scored 3+ goals in twelve of their nineteen games, and they've lost every game that they haven't hit three goals.  Of course, goal prevention is a team effort in some ways, especially keeping guys out of the high danger spots close to goal.  This has been a challenge for Pittsburgh, as seen here:
As you can see, not only is shot suppression a problem but so is location.  That low slot is prime real estate for shooters and the Penguins are not doing their jobs keeping that area clear.  With time, hopefully the Penguins will fix this problem and help keep shot danger relatively low, which will help their goaltenders make saves and get everything moving in the right direction.  If not, the Penguins will continue to bleed goals and lose games.
I have been a major pessimist about this Penguins team for a couple of weeks now.  I've had people in our comments section giving me grief about this and my best and only response to them is this: if they played a sixty minute game every night and still lost, that would be one thing and at least there would be something to be satisfied about with this team.  These kinds of performances have been few and far between thus far this season and as it stands there is little to be pleased with.  This is a veteran team with lots of skill and a pedigree of winning, but there's been little to enjoy about their play since they returned from their road trip to Western Canada.
Perfect example of just how "off" this team has been this season: over the past three seasons they have been a top-five home team; right now there's only one team worse than they are at home and that's the Florida Panthers.  While the division race is still close, they've looked nothing like a team that will contend for the Cup, and that is ultimately the goal when you're in a win-now mentality as the Penguins have been for the last decade.  If they do come back to make the playoffs this year, it will be no small feat; to win the Cup again will be nothing short of incredible.
Still, we are only a year-and-a-half removed from the Penguins being the only team since the lockout to win back-to-back Cups.  Regardless of how things go from here, I am grateful and thankful for the job the Penguins have done over the past three seasons.  Once these golden years are over, it could be another twenty-five years before the Penguins are battling for the Cup again like it was last time.  It could be longer! So let's all cheer for the Penguins and express our gratitude for the greatness we've been privileged to enjoy.