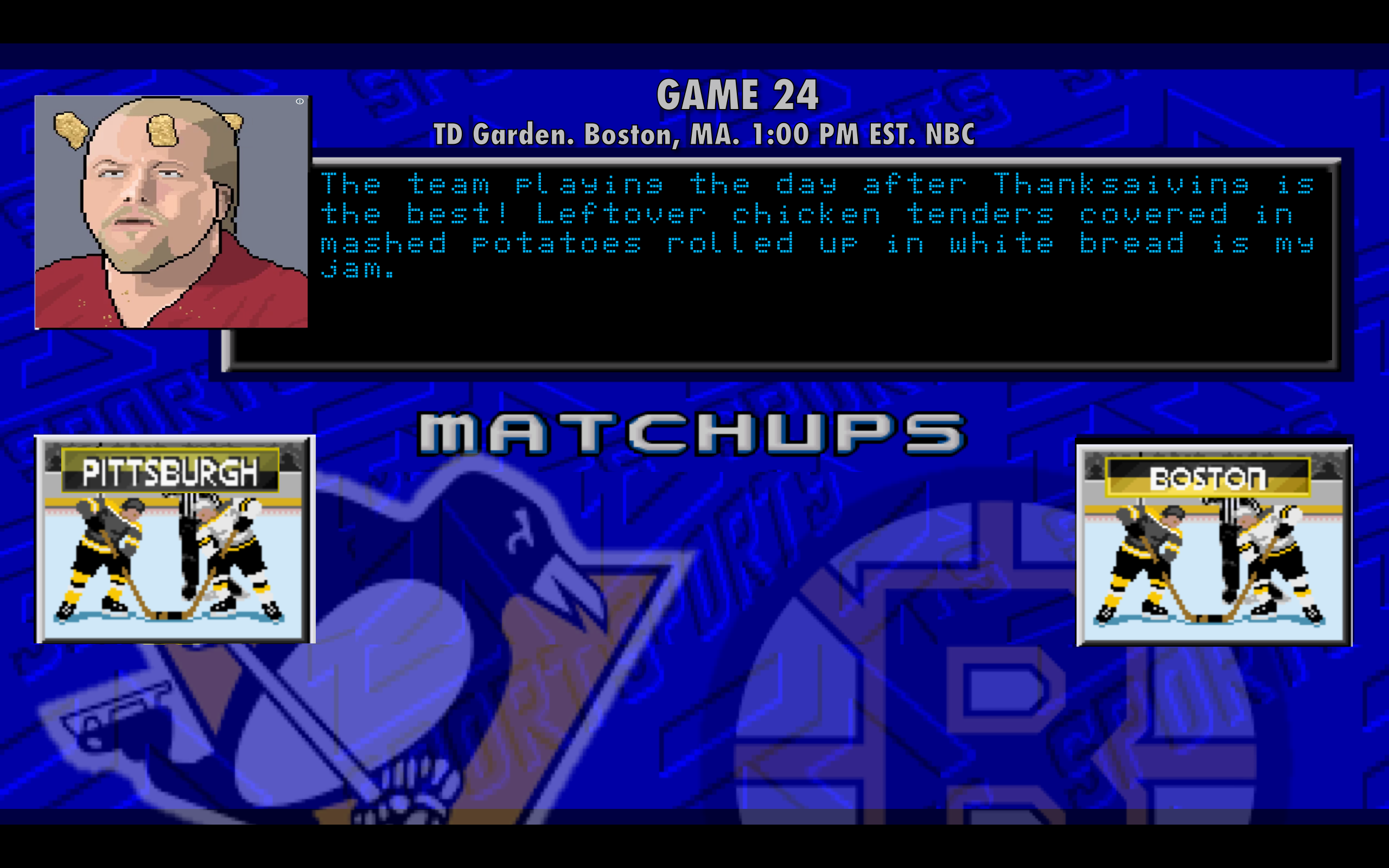 The Penguins technically weren't allowed to play yesterday because of the CBA agreement not allowing teams to play on holidays, so the next best way the schedule makers could screw the team was by making them play at 1:00 today. They also figured the team that has been on the road for 86% of their season should have to travel following the holiday too, only to return tomorrow. The Penguins are playing the Lightning again tomorrow night and after losing a rare two in a row at home under Sullivan the team is looking to rebound today before things potentially get ugly.
The Bruins have done Bruin things so far this season, and to the surprise of no one they find themselves sitting 9-7-4 on the year on top of a laundry list of injuries. One highlight for Boston so far is their penalty kill, which is clicking at 84.85%, good enough for 4th in the league (San Jose has an 89.7% kill rate, Jesus).
Boston has been one of the oddest teams in the league ever since winning the cup in 2011. They went back to the cup final two years later and all signs pointed towards them being on the right track, but they have since followed that up with a second round exit and two missed playoffs before making the playoffs again last year. The Bruins were handled in the first round by Ottawa in 6 games, and are currently playing at a rate similar to last year, where any hope of getting in will result in a late season push in a shit division. The team is currently missing the services of David Backes, Torey Krug, Anders Bjork, Adam McQuaid, and Brad Marchand while getting subpar goaltending from Tuuka Rask which has resulted in Anton Khudobin getting more play time.
I am very sad that Brad Marchand isn't playing today, so we can not be told 17 times that him and Crosby were on the same line in the world cup.

The Bruins have some of the craziest last names in the league, and even when a last name is something as simple as "Miller" it gets hockeyed-up by having the first name of Kevan. There isn't much to go into here, you recognized all the names on the injury list which means you don't recognize most of the guys on the starting roster. Grzelcyk would be a 27 point Scrabble play (or Words with Friends for those under 20).
The Penguins held an early Thanksgiving day practice yesterday and these are the lines they went with. I am assuming since Guentzel didn't take any reps at center during the session that Rowney is ready to return and these will be the lines. Tough to have any complaints with the line combinations when you disagree with some of the people on them, but the Hagelin-Rowney-Rust line might be a fun combination to watch. Flanking Sheahan with Guentzel and Kessel will also be interesting to watch, not sure you can do anything if Sheahan looks better centering better players, but it will be interesting nonetheless.
Murray played Wednesday against Vancouver, and the Penguins play tomorrow against Tampa. If it was my choice I'm rolling with Tristan Jarry in this game all day long for 3 reasons: 1. neither team will have a lot of hop early so the Penguins will look like they played a back-to-back, 2. the Bruins are missing a full line of forwards 3. Since this is a 1:00 game the team has more than 24 hours before playing Tampa, and it would be nice to see a healthy lineup (Malkin pending) against Tampa to get a good measuring stick out post-Thanksgiving.
WHO TO WATCH
For Pittsburgh:     Jim Rutherford
It's that time of the year when Rutherford has had 20+ games to evaluate his team and decide which direction he wants to go. The Ryan Reaves experiment has by all accounts failed but it will take the man that made that deal to admit it first. It's no secret the team is searching for another center, so this is the time when JR will be looking at which assets he can move, names like Conor Sheary, Carl Hagelin and Bryan Rust are probably the top of the list right now.
For Boston:      David Pastrnak
Since his first season with the team I've waited every offseason for the Bruins to fuck this one up. The team wisely signed him to a contract extension this offseason, but that doesn't mean they won't still mess it up. Pastrnak is currently leading the team with 10 goals and 8 assists in 20 games and is almost too good to be in Boston.
---
Final Word:
It's the day after Thanksgiving, it's a 1:00 PM game. Grab yourself some leftovers, watch the game, and fall asleep before it is over and you probably won't be missing much.