Ahh Thanksgiving, when we get around a bunch of people we see once a year and try to refrain from the touchy subjects that spark controversy such as foreign policy, taxes, the penguins penalty kill, immigration, when are you finally going to get a significant other, the Penguins lack of offense, and so on.
The Penguins did not look good the last time these two teams met, but they had the excuse of that game being the final game of a 5 games in 8 day road-trip. Fortunately for the Penguins they came into this came well rested, unfortunately they still did not look good early.
Three minutes into the game the team showed all of us that they didn't learn enough from the previous meeting and still have no intentions of covering Brock Boeser
Another game…. another Boeser goal.

Nice pass, even better shot – #Canucks up 1-0 early pic.twitter.com/Pwgzzgj5CP

— Ryan Biech (@ryanbiech) November 23, 2017
Brian Dumoulin with a rare failure to keep the puck in the zone on the boards resulted in Boeser getting the puck, and he was double-teamed efficiently at the wall, or so it seemed…
Here is Dumo right after missing the puck, 2 Penguins and 2 Canucks.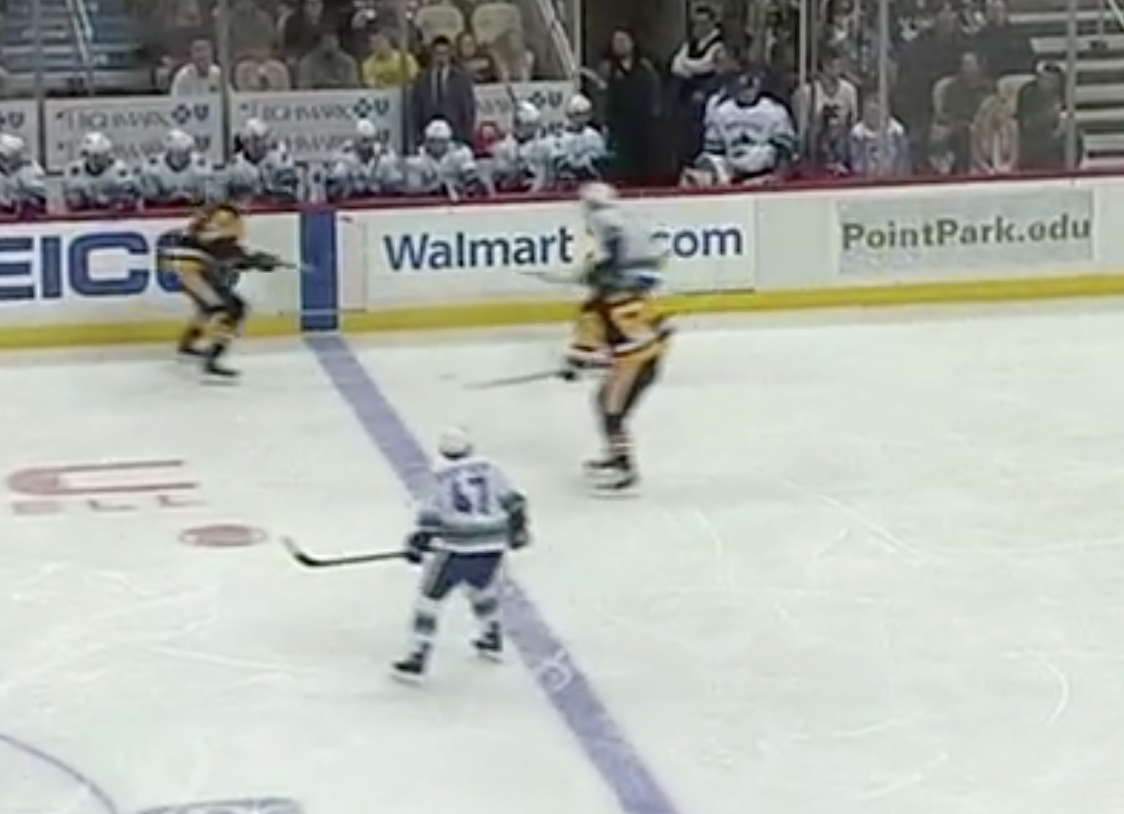 A few seconds later it's Brian Dumoulin busting his ass trying to recover while the much faster Carl Hagelin (red circle at red line) is putting in as much effort as thepensblog in 2015 while Josh Archibald (second red circle) makes a good bid for the pressbox:

As the play progresses it is Brian Dumoulin still busting his ass, while Carl Hagelin is covering the ref: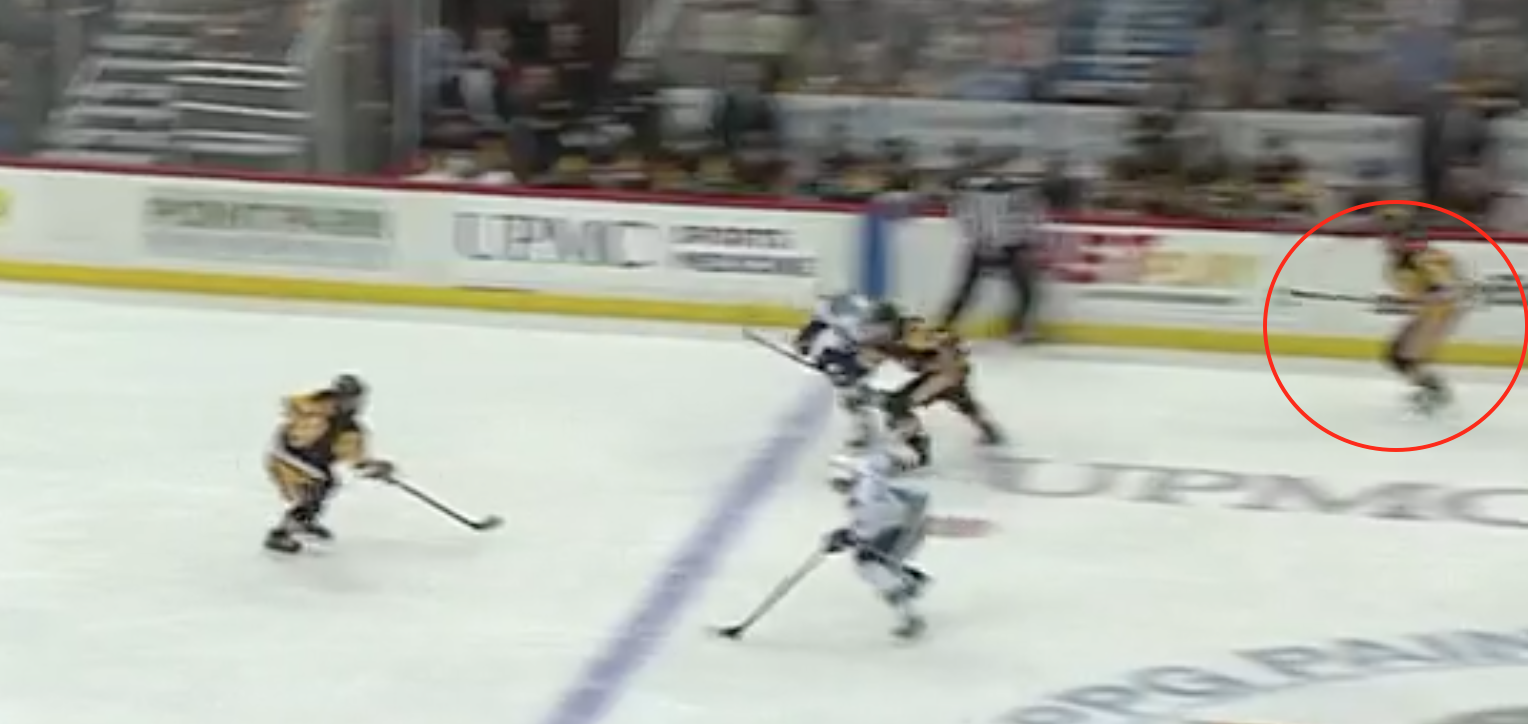 By the end of the play Hagelin, the fastest man on the ice and the only Penguin that could've prevented all of this with effort on the backcheck isn't even in the screen. This is what we've been talking about when we say the Penguins forwards are leaving the defenders out to dry: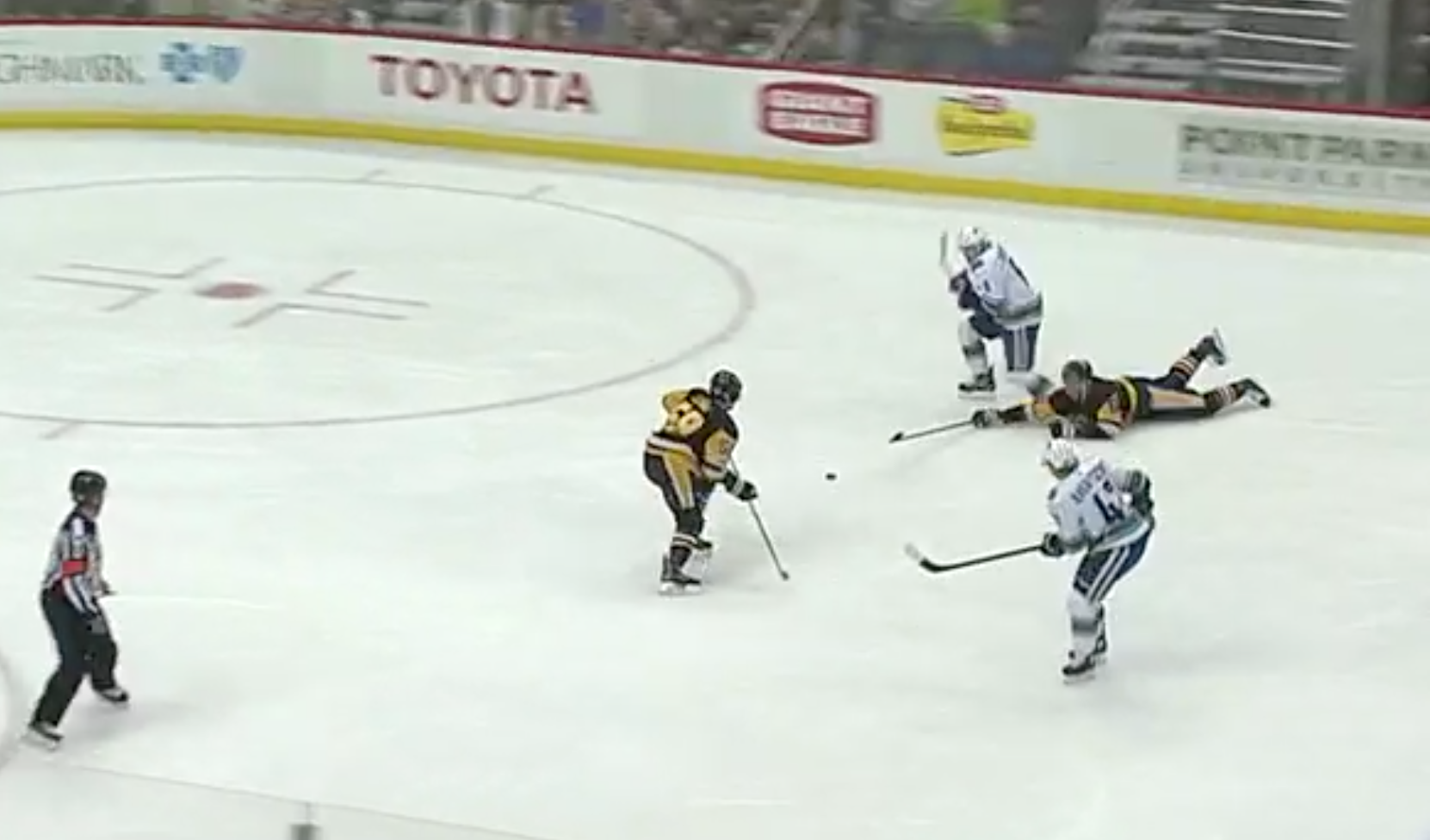 Three minutes later the Penguins were given a powerplay and the man filling in the big shoes left by Evgeni Malkins absence stepped up:
JAKE GUENTZEL (7) Assisted by KESSEL (17) & LETANG (15)  @ 6:28 PPG
Guentzel has three goals in his last five games and goals in both games vs. Vancouver this season. Not bad! pic.twitter.com/YYl8m96rso

— Pittsburgh Penguins (@penguins) November 23, 2017
Great second effort by Guentzel, but as usual the gif cuts off the most important part of the play…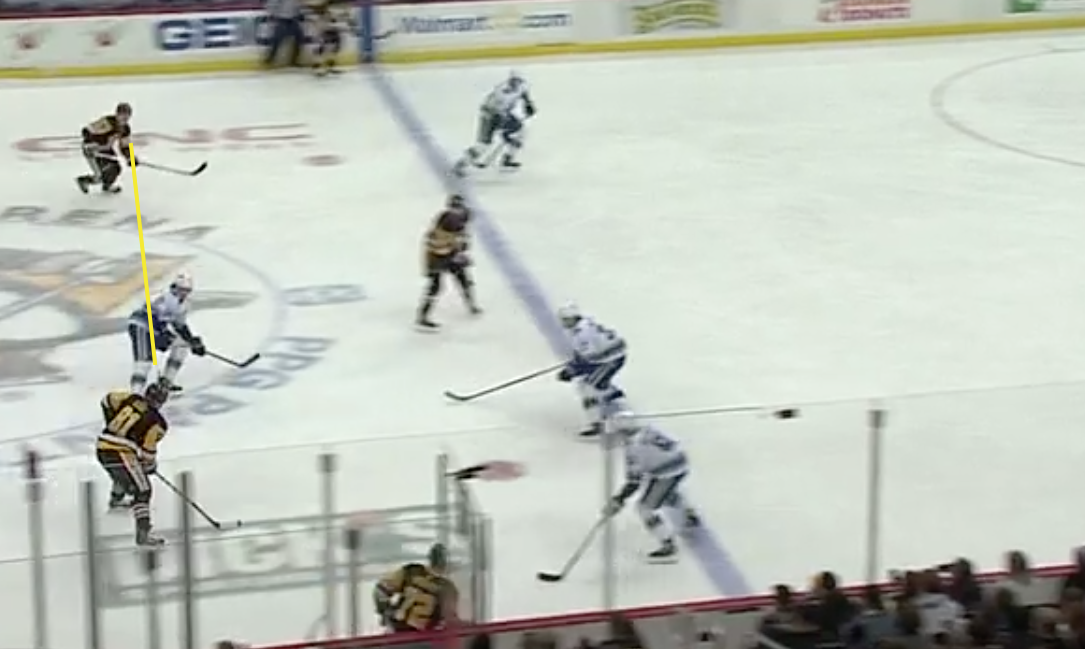 Entering the zone Phil Kessel takes a quick look at Guentzel (represented by the yellow line), and times a perfect pass (red line below)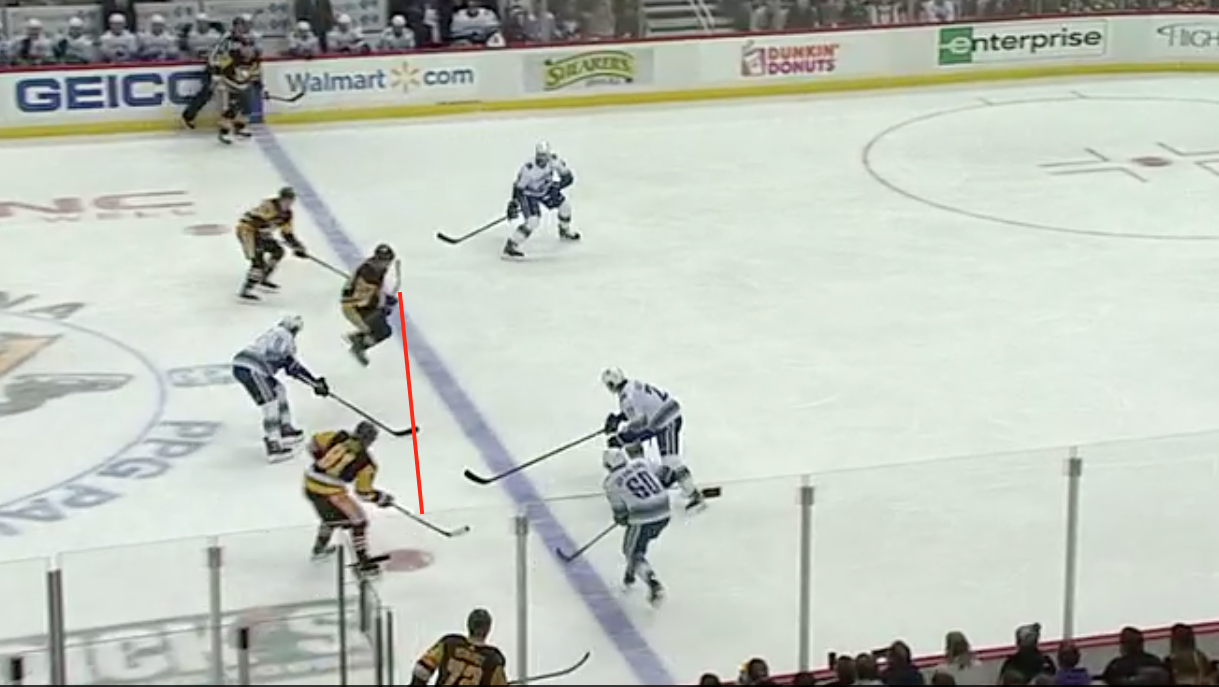 The pass springs Guentzel through a wall of three defenders once again representing the vision and ability of Kessel to execute. Had the pass not gone through all 5 Penguins were at the blue line and it would've been a long breakaway for the Canucks but whatever.
We just can't have nice things however and since I picked on him in the Gameday post Loui Eriksson decided to make me eat my words two minutes after the Jake goal. Phil Kessel was skating backwards with the puck through the defensive zone unaware of a broken stick on the ice, he inadvertently skated into the stick which knocked the puck off of his stick and right to Vanek who still plays in the league.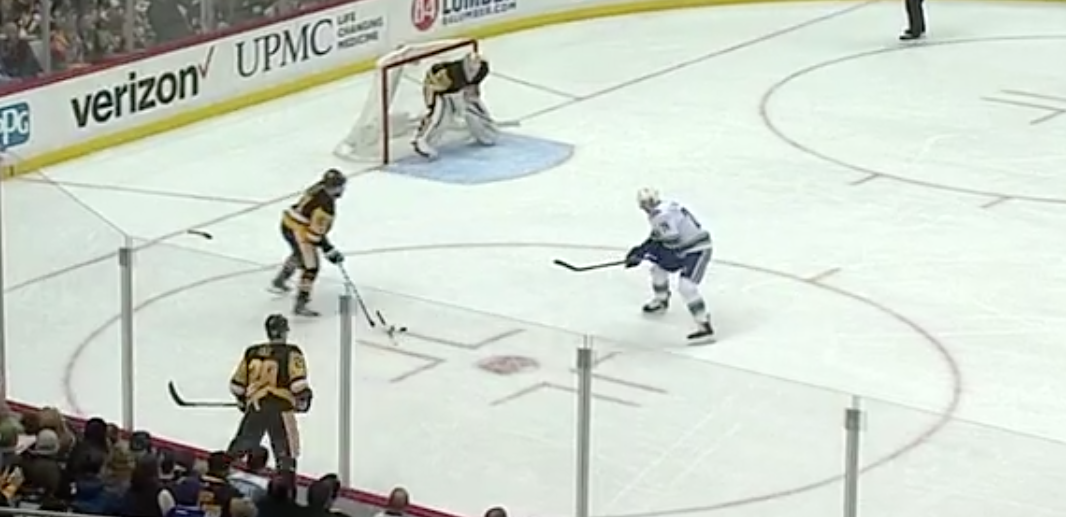 Just an unfortunate bounce, Vanek took it to Murray but the King said "no," and Loui Eriksson took advantage of a bad situation and scored on an empty cage, similar to how he took advantage of a bad Canucks team and scored on a big contract.
Nothing else in the first.
Here's a look at your #VANvsPIT stats after the 1st period. pic.twitter.com/ZZ42WkIp0x

— Pittsburgh Penguins (@penguins) November 23, 2017

The second period was all Penguins in every column except for luck. The Penguins decided to give Derrick Pouliot a tribute video, which is possibly the most bizarre tribute video decision ever (recall James Neal did not receive one, and it took Jagr 15 years to get one, but sure DP gets one). Following his video Pouliot did something we all knew was going to happen eventually….
Derrick Pouliot has his first goal with the #Canucks, haunting his former team in the process. pic.twitter.com/07Yh3hV6kz

— Sportsnet (@Sportsnet) November 23, 2017
Pouliots first goal since 2015, was going wide but unfortunately bounced off of Dumoulins leg and in. If you're keeping track at home that's 1 good goal, 1 off a flukey stick, 1 off a leg. Rough start to the game to say the least. The Pouliot goal came on the powerplay following an Ian Cole penalty, and since the Penguins PK is awesome Carl Hagelin continued his strong game by taking another penalty two minutes later. Brock Boeser wasted no time ripping an absolute rocket:
What. A. Shot.

Boeser scores again – an absolute rocket to the top corner. pic.twitter.com/sIh3NVR1vY

— Ryan Biech (@ryanbiech) November 23, 2017
There isn't anything Murray can do here, it's an absolute rocket from Brock, or a Brocket if you're a dad in Vancouver. Just another two goals allowed by the penalty killers, a unit that has now allowed 22 goals against (league average 15) and sees their kill percentage fall to 75.82%, a solid 5% below the league average of 80.3%. Keep worrying about whatever aspect of the Penguins you want, but the lack of penalty killing is possibly the biggest issue.
Stats through the 2nd. #VANvsPIT pic.twitter.com/qF0xrqShq5

— Pittsburgh Penguins (@penguins) November 23, 2017
30 shots and 1 goal, seems about right for this team right now.
The Penguins get a gift in the third when Micheal Del Zotto proved that once a Flyer always a dumbass by taking a penalty in the first minute of the third. New powerplay specialist Jake Guentzel was there again:
JAKE GUENTZEL (8) Assisted by KESSEL (18) & CROSBY (11) @ 1:24 PPG
Power-play goal, part two.

Brought to you by: @jakenbake20 pic.twitter.com/EMZTqy4EDW

— Pittsburgh Penguins (@penguins) November 23, 2017
Phil Kessel out here dishing biscuits like it's Thanksgiving, just a great pass.
It was the start the team needed but it wasn't enough to turn their fate, and even though they would pepper Nilsson with 15 third period shots it just wasn't meant to be.
With Murray pulled Brandong Sutter would make his mark against his former team and score his 2nd goal of the season, capping the game off.
game : (
---
Thoughts:
Hit on it above, but penalty killing is literally killing this team.
In his first go at center Guentzel finished with 6 shots (2nd to only Hornqvist's 7), 16:06 TOI, 3/7 faceoffs, and a team leading 6 hits.
Josh Archibald got 10:47 of ice-time and that's all I have to say about that. He finished with 5 hits with zeroes in every other stat category except for a -1.
The usage of the 4th line will continue to boggle my mind: Kuhnhackl (11:35)-McKegg (8:33)-Reaves (6:22).  Kuhnhackl received 2:21 of penalty kill time and is the only player on that line Sullivan seems comfortable playing
I know that everyone wants to burn it all down right now, but check this out: After 23 games the team is 11-9-3, at this point last season they were 13-7-3, a difference of 4 points. 4 points less in the standings this year compared to last year still gets you into the playoffs, and we all know we haven't seen the best of these Penguins yet, hang tight my friends.
HAPPY THANKSGIVING from all of us here at the blog, our well wishes to all of you and your families, and don't forget the Penguins play again tomorrow at 1:00 PM.

Bourque's Gobblerito
"You pour the gravy down the middle there. It just works. Try it. It's special." - Bourque (42%, 10 Votes)
"Right in the chest. That's the way you do it" - Errey (21%, 5 Votes)
"Pulls that into his body like it's the biggest golden nugget he's ever seen. Just gimmie that thing." - Lange (21%, 5 Votes)
"The big body of Nilsson just gobbles it up" - Bourque (8%, 2 Votes)
"Letang pumps one down low" - Mears (4%, 1 Votes)
"Oh boy! That thing's supposed to be frozen... that rubber." - Errey (4%, 1 Votes)
"You play them together, the young with the old. It is a nice mix..." -Errey (0%, 0 Votes)
"I do love the stuffing. It just compliments everything" - Bourque (0%, 0 Votes)
"A little more hits bangin on their D, that's what I'd like to see." -Jay (0%, 0 Votes)
He doesn't go down easy" - Bibs (0%, 0 Votes)
"Make sure we get that second stick in the area" - HCMS (0%, 0 Votes)
Total Voters: 24

Loading ...