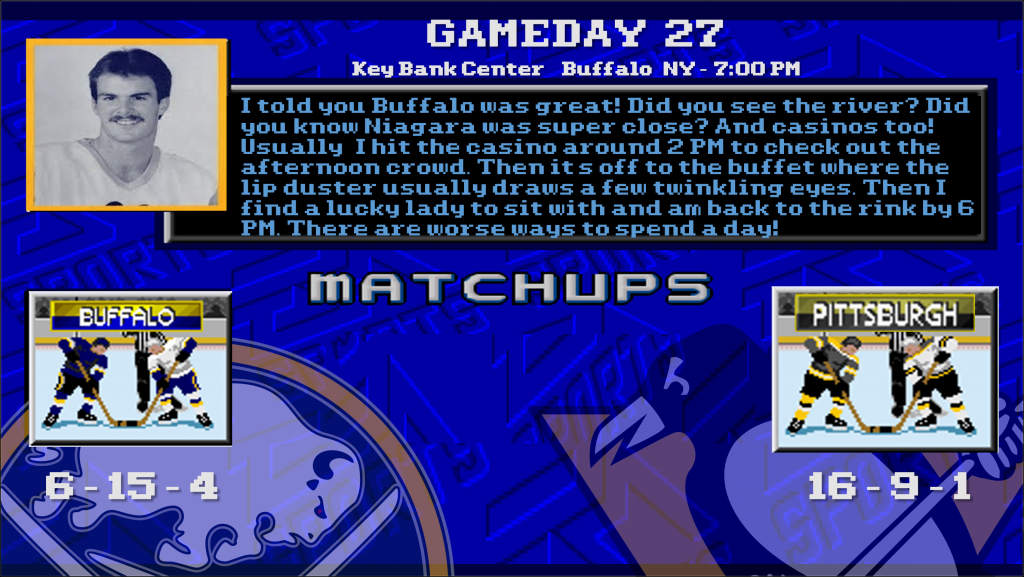 Hello again everyone, I'm TimQvist and I'm not that great at this. Your resident WBS Penguins fanboy here, making strides to actually sound like I know what I'm talking about.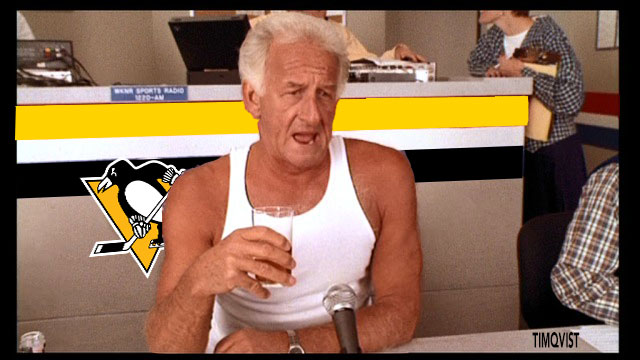 Pens are on a tear as of late, got through their tough schedule and put a nice bow on a W Thursday evening. We're back at it again though.
Sadly, it's a Saturday game, thank f-ing god it's not an afternoon game. We all know how great this team plays on weekends before 7.

The Penguins really are starting to look like the team that we know they should look like and are finally meeting some of our expectations, as lofty as they may be.
Remember when we wanted Geno to do things? Well… he's doing them. In general this gets my man parts all excited. The game is more fun to watch when Geno's skating around like he's on PCP and doing work.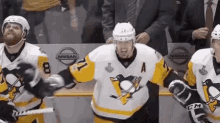 8 pts in the last 5 games. He also seems to be generating a new love affair with his linemate and my new favorite Canadian import, Double K. (You're still #3 Molson Canadian, right behind Ryan Reynolds. He's so dreamy.)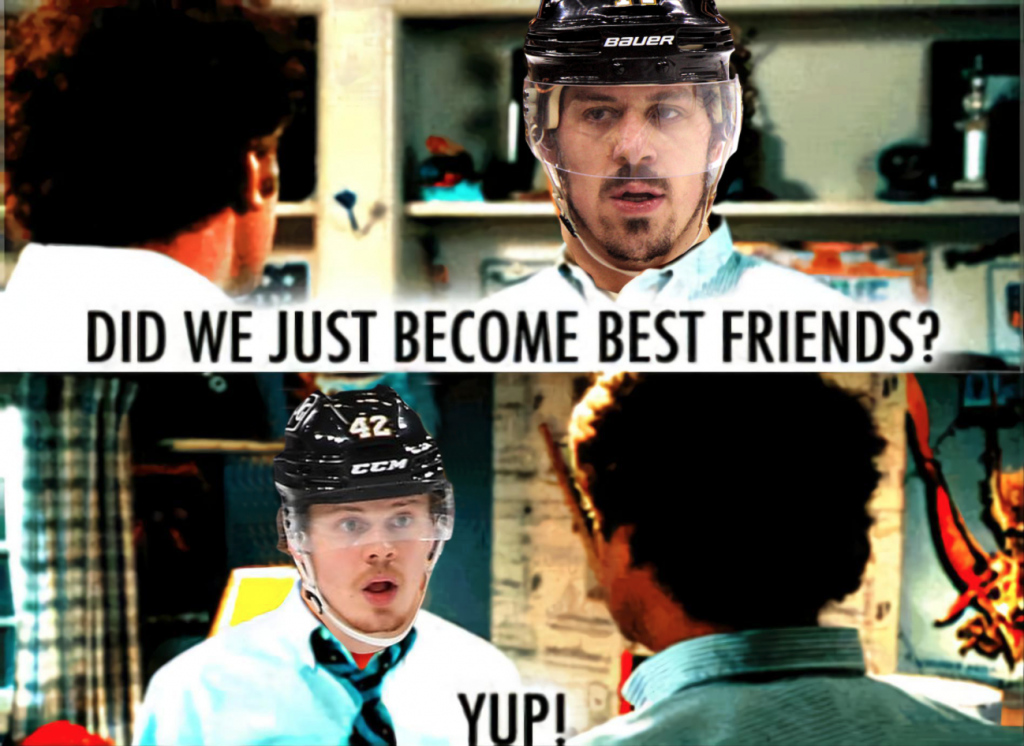 Nothing I need to say about Kap at this point. The dude is in the zone. Big time.
Someone asked me last game in the thread what I expect from a 4th line and I said "Be noticeable in a positive way." (checks box) They're humming and spent some good quality time on the ice allowing Sully to roll all 4 lines. Really pro level goal from Angello. Easy to get rock hard hands and lose your patience in your first NHL game.
It's nice to see Dump back on the ice and with time he'll get even better. I'm not as nervous every time the puck ends up in our end of the ice. There's most likely a few reasons for that but knowing we have a top pairing / semi stay at home puck moving D man makes me all warm and fuzzy inside.

Jarry… nuff said. We were looking for him to solidify his #1 status. Dude has stood on his head and made some momentum changing saves in big situations in the last few games.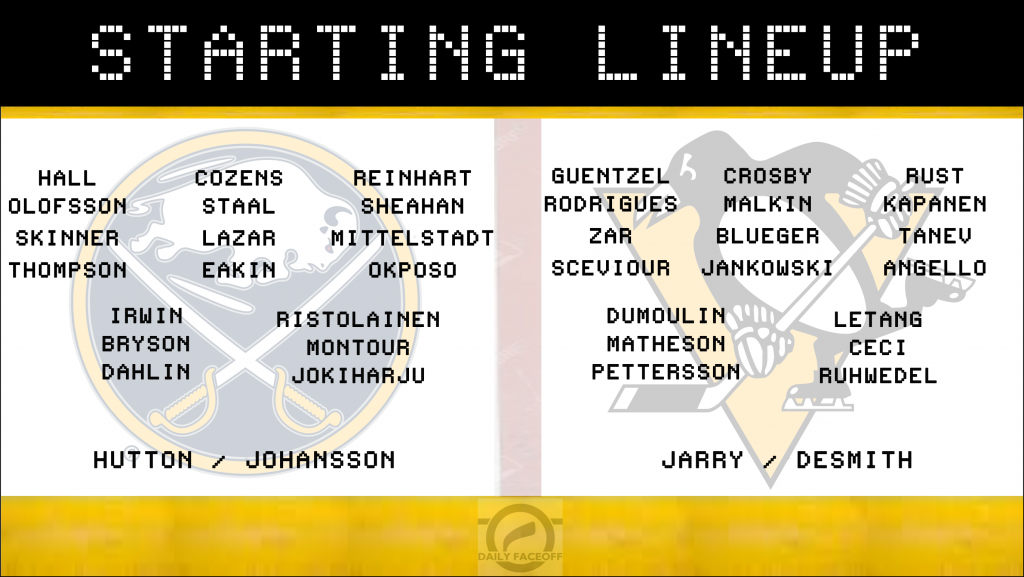 On the Sabres' side, their D is giving up around 3.25 GPG and still seeing side effects from the loss of their alternate captain Jake McCabe (this story sounds eerily familiar). If they can keep the goals down this team has every chance they need to give the Penguins another run for their money.

I don't think we're lucky enough for them to hit another 4 or 5 posts.

Missing Eichel on the front end is tough for a team who relies on him for their big numbers but they showed us last game they can put pucks in the net. Keep an eye on Mittelstadt to keep performing well.
We're fencing against a Sabres team who has a dull blade. These are games we can win.
It was refreshing to watch this team walk into another team's barn, put their foot on the gas and bring home a W. Let's see if they can capitalize again. We're coming for the Caps and the Islanders aren't that far off either.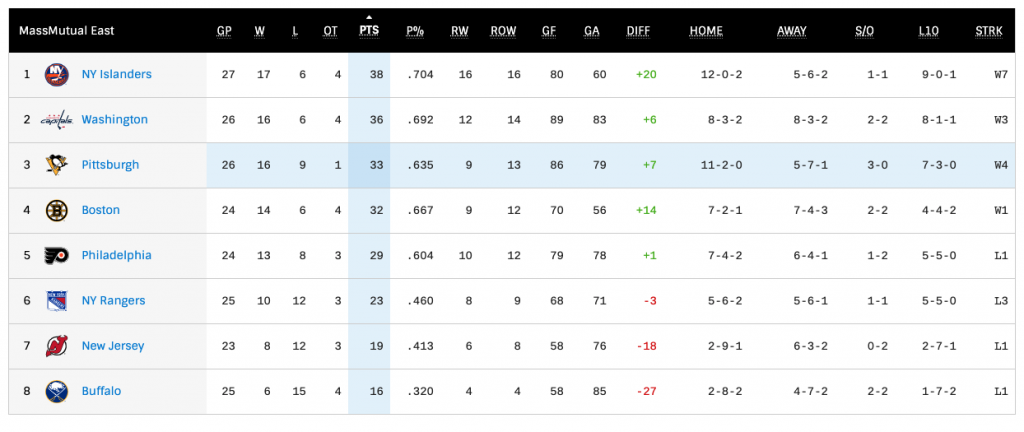 This team is at the bottom of the table and the Pens need to pad their points where they can this season after a 200 grit sandpaper level start. This Sabres team, 0-5-1 in their last 6 don't look that bad. Let's not make them look any better.

Do the things. Crush the brah. Someone get PPYM a date with Sully.


Loading ...