So unless you've been living under a rock you are probably aware that the Penguins have let up more goals in the first two games of the season than they did for the entire Stanley Cup Finals against Nashville. The good news with that stat is tonight they take on a Nashville team that would love nothing more than to put up 8 against the Pens. The Penguins recalled Chad Ruhwedel and Tristan Jarry yesterday, and also cancelled their practice opting instead for a video session. The only thing that could be worse than an intense skate after a loss is having a coach with the rash character of Mike Sullivan watch video with you following a 9 goal loss.
Tonight marks the return of Nick Bonino to Pittsburgh, which makes it that last time we get to use this gif, which will unfortunately officially be retired: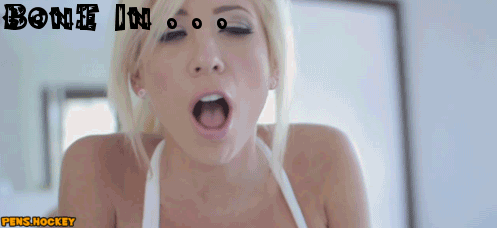 The Predators experienced a few losses over the off season, mainly exposing James Neal for Vegas and losing captain Mike Fisher to retirement. They held onto their defense which is one of the best top 4's in the league. Regardless of their roster we will always associate the Predators with country music and catfish eating hillies.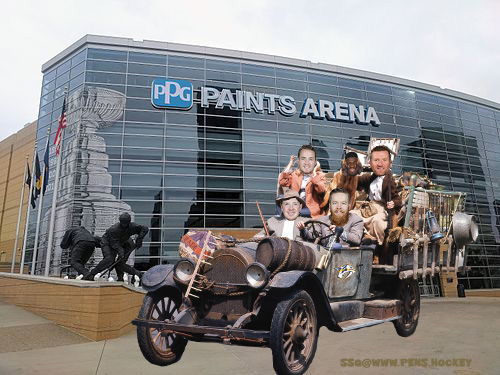 Penguins Twitter is at an all new level of meltdown. The Penguins tweeted out their Gameday tweet, these were some of the responses: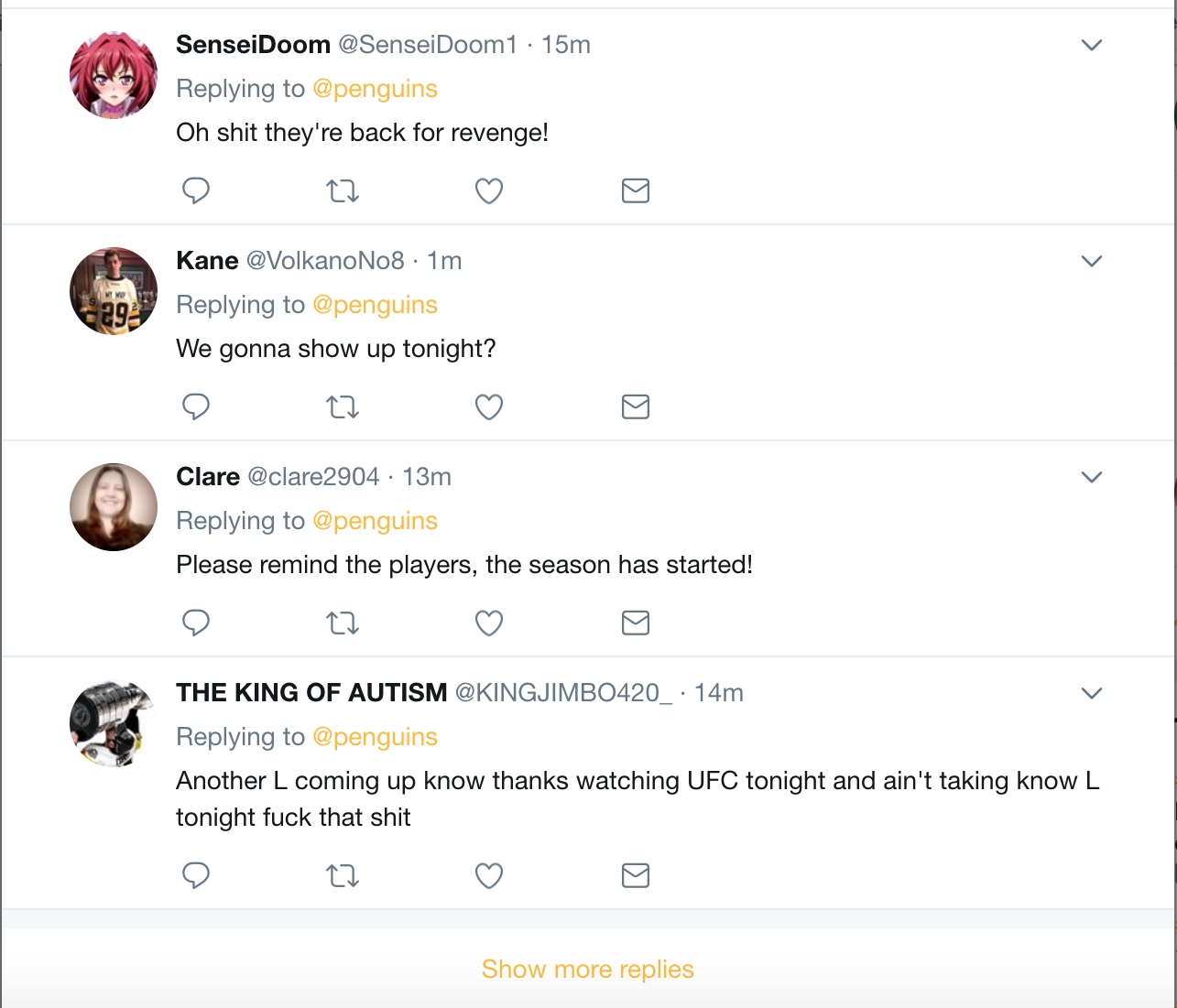 The King of KNOW.  Someone also made the obligatory comment that Marc-Andre Fleury won last night and Murray and Niemi haven't. What a fanbase.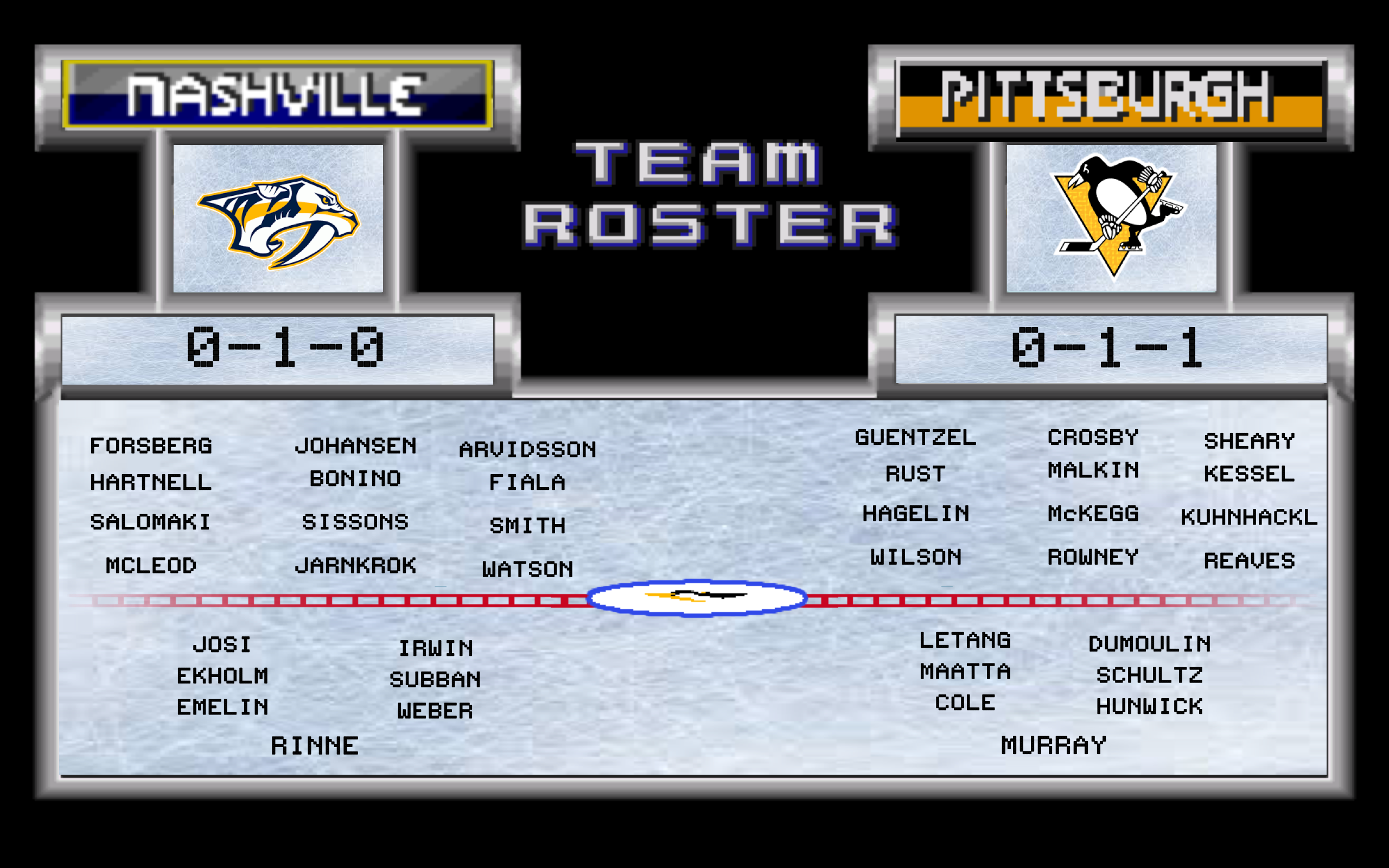 I know they called up Ruhwedel but I don't know who he plays for except maybe Hunwick. My hesitation is that all of the defensemen received even distribution of minutes, and generally Sullivan will cut a players minutes if he isn't thrilled with their play. The team still hasn't released any updates on Patric Hornqvist, but from everything I can find it doesn't look like he has been practicing at full contact yet, of course a practice yesterday would've helped. Inserting Hornqvist into the lineup most likely bumps Kuhnhackl out, but that leaves a PK opening since Kuhnhackl has been in the top 4 in PK minutes out of the forwards. Also, I am on the Connor McKegger bandwagon: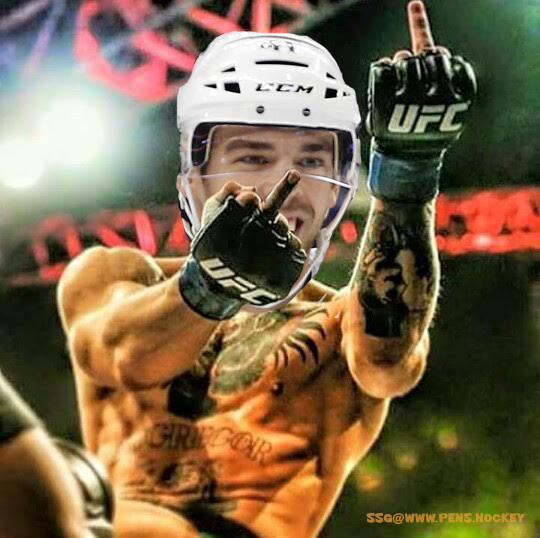 No clue what to expect tonight, but I can assure you that unless the Pens go 0-4-1 with 50 goals given up it isn't time to panic and most importantly not time to a make a desperate trade. Jim Rutherford has negative leverage to land a game-changing center, that's just the way it is. I am personally enjoying the yinzer Twitter meltdown after the second game of the season. Someone actually said the Pens are 0-1-1 due to karma for accepting a White House invitation. 2 losses suck, sure, but these people are more upset about starting the season 0-1-1 than I am about starting a playoff series 0-2.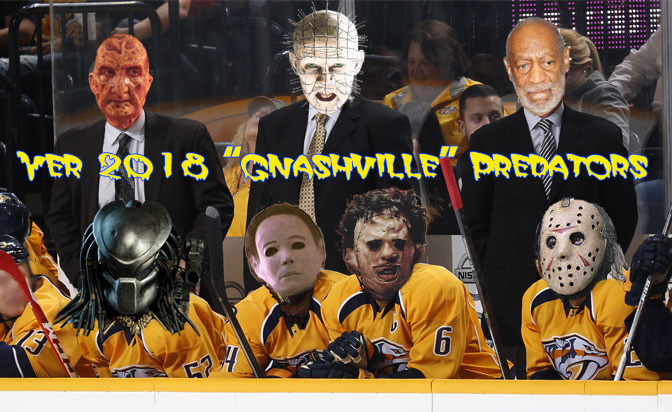 ---
Last night before the anthem the Dallas Stars skated from their blue line to stand on the same line with the Vegas Golden Knights in a "we all stand with Vegas" visual to support the victims of the Vegas attack. Pretty special moment:
https://twitter.com/PeteBlackburn/status/916476035130150912