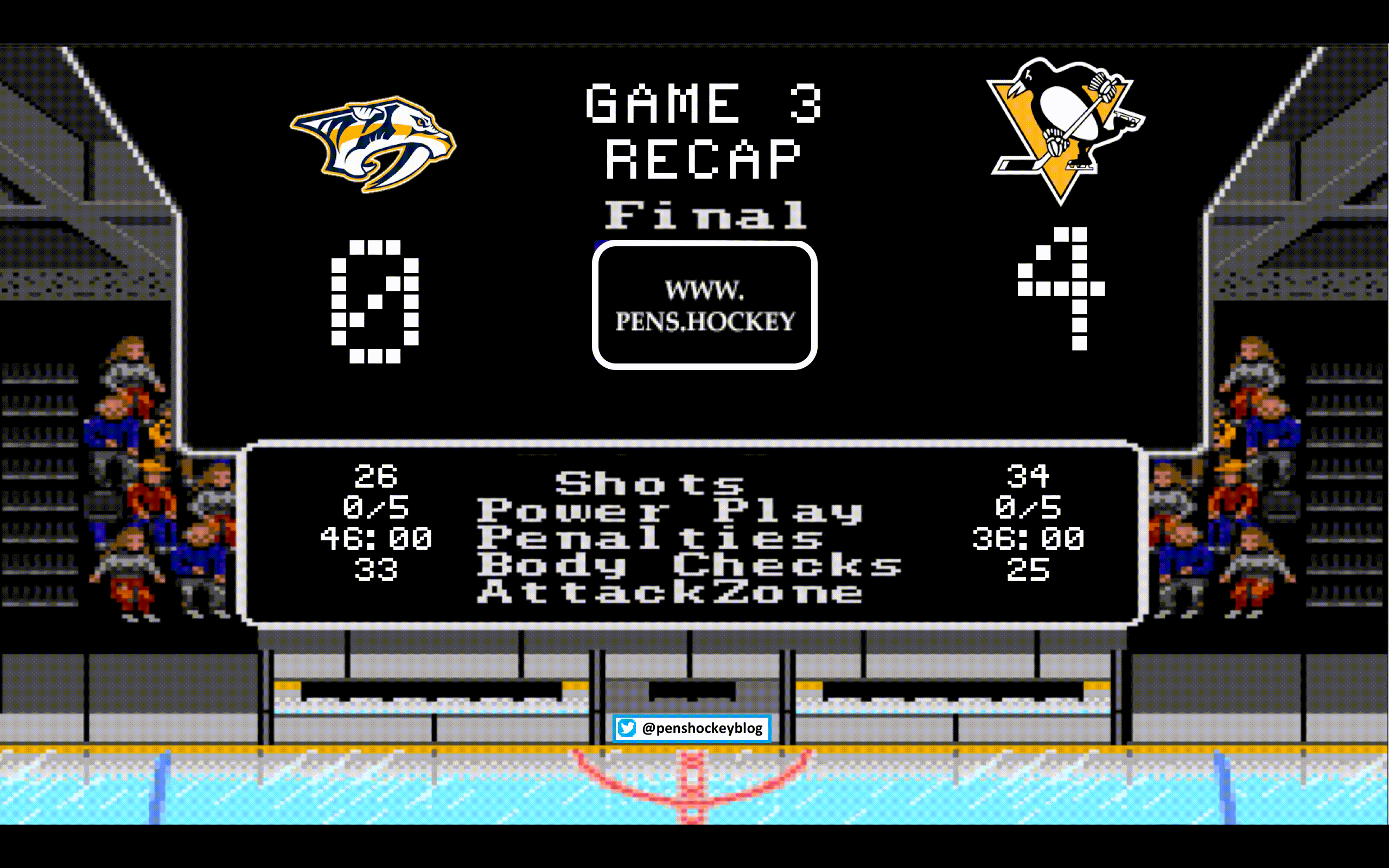 Following the teams first 2 lack of performances Mike Sullivan opted for a 90 minute video session on Friday instead of a practice. 90 minutes of Mike Sullivan telling you to your face everything that you did wrong individually and then as a team. Sullivan then showed why he is a great coach by starting the exact same roster in the teams third game, proving his belief to the players and the system. The result looked like Sullivan-era Penguins hockey, so for those of you that jumped ship on Thursday welcome back. Shoutout to Twitter user @ChillKessel for the title idea.
Though he started the same players Sullivan tweaked his lines a bit, notably dropping Conor Sheary to the third line, moving Bryan Rust to the top, and putting Carl Hagelin with Malkin. That final switch paid immediate dividends and gave the Penguins the exact start they needed:
EVGENI MALKIN Assisted by KESSEL & HAGELIN @ 1:06
https://twitter.com/penguins/status/916804295948980225
The play started with Malkin going all out on a backcheck and lifting the stick of Forsberg just as he went to shoot. From there Malkin would block a shot and the speed of Hagelin turned it the other way to Kessel. This line looked really good throughout and could be a way to get Hagelin some even strength numbers. Also, what a blast from Geno.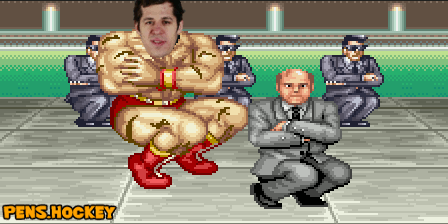 The Penguins would continue bringing it and you could just tell that Mike Sullivan hit all of the right notes on Friday. Following another display of ferocious back-checking the Penguins put their transition game to work and The Jackal was the garbageman:
JAKE GUENTZEL Assisted by RUST (3) & CROSBY (3) @ 10:57
https://twitter.com/penguins/status/916847924440719360
It's never a good thing if you can pause a replay and count all 5 players on the defensive team within 5 feet from the crease. Great effort by Crosby to somehow get the puck to the net, same for Rust, and of course Jake finishes it off.
Scary moment when Ian Cole made this block with his face, which on the slow-motion you can see teeth (plural) fly out.
https://twitter.com/spittinchiclets/status/916813330353926144
Cole took the liberties of tweeting us an update this morning:
https://twitter.com/ICole28/status/916996833217572864
"AND SOME JAW"?????????????????????

By the time the second was rolling Ryan Reaves was getting into his groove. Already off for one fight after he decided enough was enough of Dr. Watson
https://twitter.com/EngellandsEye/status/916818747628933120
That little kids life was just made, pure joy on his face. Reaves then decided to cash in for a goal too.
RYAN REAVES Assisted by MAATTA & ROWNEY @ 12:52
https://twitter.com/penguins/status/916825421714477056
Pens Twitter with a solid nickname, well done. In his post game interview Reaves stated that "the team traded for this prolific goal scorer who through 2 games hadn't scored so I had to do something."
https://twitter.com/PensInsideScoop/status/916844714392981504
The physicality would escalate but the score remained the same, and the Penguins were 20 minutes away from their first win of this lost season.

For three summers Olli Maatta has had to cut his hockey training short do to recovering from thyroid cancer, shoulder surgery, and Finnish military service. Although it was short Maatta was able to focus on hockey only this summer and it showed immediately with a solid preseason and continues to show in the regular season. Less than a minute into the third, he gets his second of the year.
OLLI MAATTA (2) Assisted by CROSBY (4) & RUST (4) @ 0:33
https://twitter.com/penguins/status/916848295586254849
I hate where this gif begins because it doesn't truly capture the mastery of this pass by Crosby. He started this off at the goal line, took a look over his shoulder to scan the area and knew where he was going all before he touched the puck. Then he casually scoops it up and throws a TAPE TO FUCKING TAPE 55 foot spinning pass to Maatta. Maatta with a hesitation "pump" fake froze Sarros in the 90's, Saros not Saros (s/o to @randy for that).
The rest of the third got chippy as hell, with Ryan Reaves getting into another fight, Sidney Crosby almost losing his jaw thanks to the intentional butt-end of a stick, and then a high stick from Hartnell.
https://twitter.com/Allie874/status/916839704472977408
Everyone decided to take this as a chance to say "but I thought having Reaves meant Sid wouldn't get hit," in which case, congratulations you're 12. The point is Sidney Crosby wanted Ryan Reaves or someone similar. He's admitted to feeling a foot taller with Tom Sestito on the ice, so Rutherford went and got a Sestito that can actually hockey. The team lost Oscar Sundqvist and a late first round pick. The last 8 30th overall picks: Simon Despres (09), Brock Nelson, Rickard Rickell, Tanner Pearson, Ryan Hartman, John Quenneville, Nick Merkley, Sam Steel (15). Sure some of these players are decent, but if they were drafted already would a Sundqvist+player for Reaves be okay if it's what Crosby wants?
Sundqvist was given opportunities under Sullivan both in the AHL and NHL and failed to impress the coach, and Sullivan isn't going anywhere anytime soon. Any preconceived thoughts about Ryan Reaves in the offseason when the trade was made should be dropped at the beginning of the season, otherwise you are just pushing a preconceived agenda without being willing to adapt. I personally hated the trade and thought it was stupid, but I have seen nothing in the first 3 games to prove my point and a good amount to say I was wrong. This isn't because he fought in this game, it's because of something that happened AFTER he fought.
https://twitter.com/penguins/status/916836990447964160
No not that, but that is funny and a bit of character that makes the Penguins more interesting. What I am talking about is the way the team reacted when Reaves got out of the penalty box after the 2nd fight. Every player went over and gave him a fist bump, and then he started joking with Kessel on the bench. He brings character to the team which is exactly what they need after losing locker room presence like Fleury and Cullen.
https://twitter.com/PeteBlackburn/status/916838077724872705
---
THOUGHTS:
The Pens are 1-1-1 in 3 games in 4 nights against Chicago, St. Louis, and Nashville. I will take that at any point in the season.
Matt Murray looked like himself, and it helps that he had a solid defensive effort in front of him. 6th career shutout for Murray.
Crosby and Rust have quietly put up 4 points in 3 games
The Penguins penalty kill improved to 14/15 for the season
https://twitter.com/Allie874/status/916834734839422976
He's 5'11" but still, baby be thic.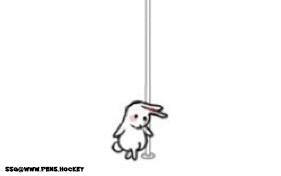 BREND-ANNE MADE ME DO THIS ...TAKE IT UP WITH HIM : /
"Horny wearing the white do not touch me jersey... hopefully we see him soon in the please touch me jersey" " - Potash (39%, 14 Votes)
"That's a long, sour taste in your mouth." – Errey (17%, 6 Votes)
"Kessel down low trying to find the stick of Malkin" – Mears (11%, 4 Votes)
"The official pulled it right outta the backside of Malkin: - Errey (11%, 4 Votes)
"I'm comin' boys" - Errey (8%, 3 Votes)
"We're getting into people's bodies" - Sully (6%, 2 Votes)
"There's Letang, there's Reaves, they both touch it. They're gonna have to fight over that one." – Errey (3%, 1 Votes)
"Reaves banging again." Errey (3%, 1 Votes)
"I saw LeTang's stick" - Errey (3%, 1 Votes)
"Ya havt'a roll it over." - Errey (0%, 0 Votes)
Total Voters: 36

Loading ...