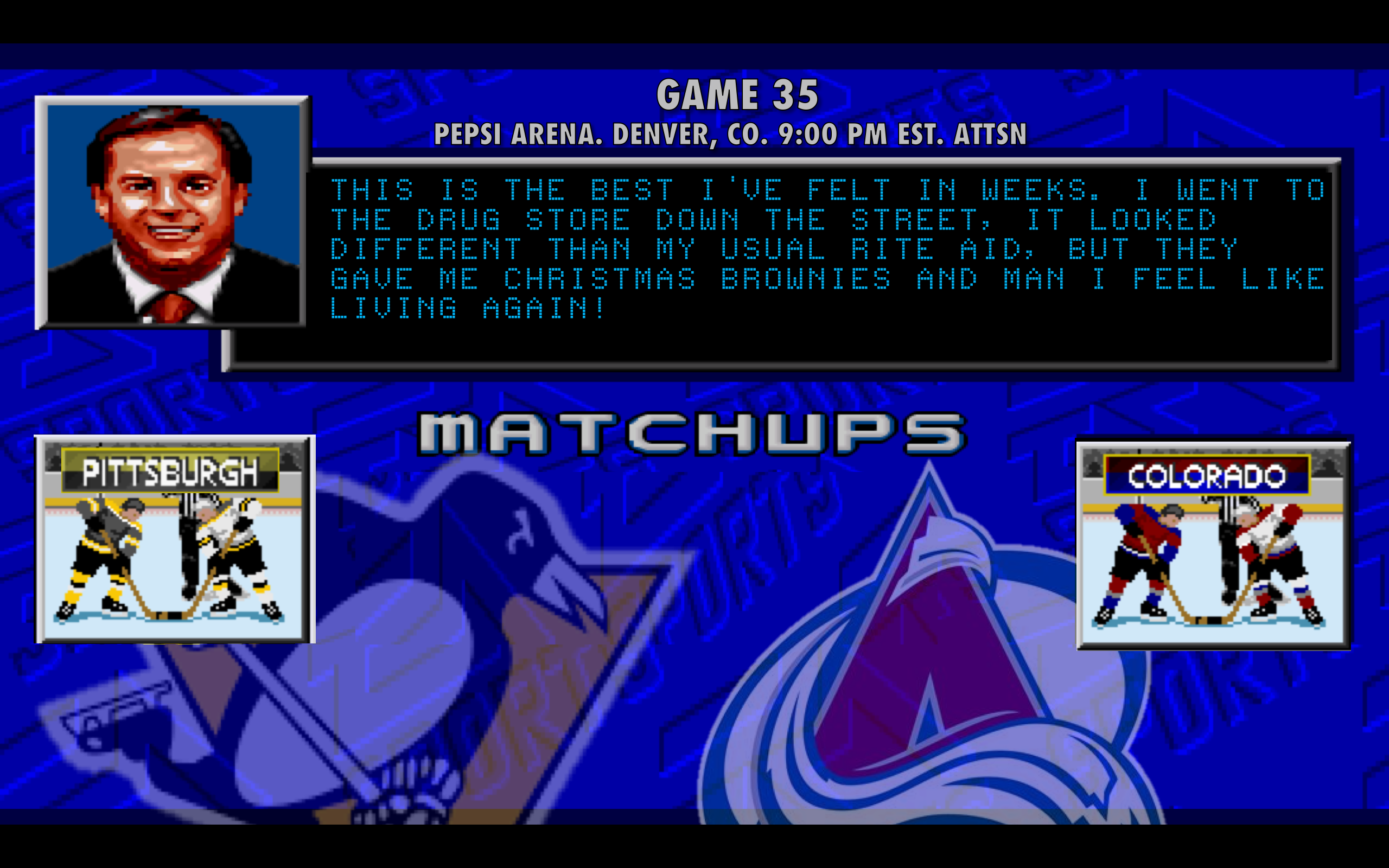 The Penguins continue their swing through forgotten Western Conference teams tonight when they visit the mile high city. The Penguins and the Avalanche played exactly one week ago, a 2-1 thriller that saw the Penguins on the losing end of yet another 1 goal game. Since that game the Penguins have lost to Vegas and barely squeezed out a victory over Arizona thanks to a late game goal by Olli Maatta, all of this basically says the Pens aren't too hot right now. If you're the optimistic type you are probably telling yourself that the team coming together to earn a late game win is some kind of turning point that this group needs. If you're the pessimistic type, you probably complained about the Pens being in last in the Metro on Saturday. There are a few ways to look at the team right now, and none of them have happy endings. The good news is that is looking at the team right now. The team that eventually competes in the playoffs won't be the team that competes tonight, and the longer the team continues to waste their fourth line minutes because Ryan Reaves is on it struggle you have to think Jim Rutherford is making daily calls throughout the league.
The good news for Rutherford is the Penguins aren't the only team underperforming right now, but they are the only one that has the whole we just won back-to-back Stanley Cups excuse. This makes a team that is sitting outside of the playoffs that should be in (Edmonton, Montreal, Minnesota) very desperate trade partners, because players with two Cups on their resume are shiny toys for other GMs. Obviously the team is still in need of a third line center, but I'm going to say it right now, it doesn't matter if they do go out and get Ryan Nugent-Hopkins the team still won't win if the 4th line can only play 6 minutes a night because they are handicapped by the Reaves experiment. Rolling 4 lines is Sullivan's bread and butter, it isn't a coincidence that he hasn't been able to do that this year and the Penguins haven't looked like Sullivan's Penguins. I'm not going to speculate on any trade deals because I don't have sources, if I wanted to make up fake sources and report fake rumors I would work for other Penguins sites.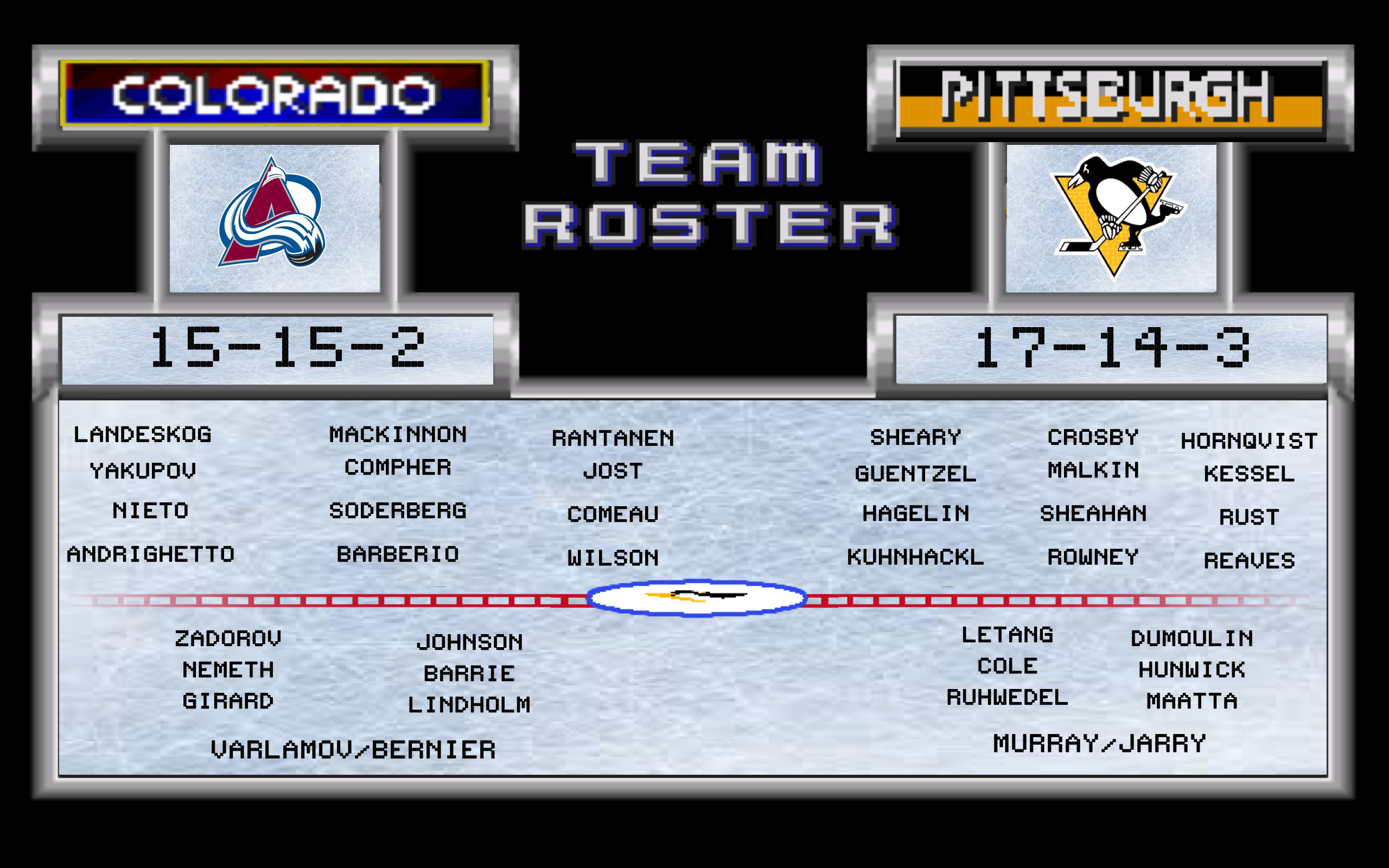 Sullivan has been mixing lines like a bartender so take the image above with a grain of salt. Tom Kuhnhackl has been scratched the last three games, and if he is scratched again it will be Simon filling in. Simon has played well in this stint in the NHL, I think the coaching staff is still expecting a bit more from him if he wants to make this a permanent vacation. The Avalanche went with Bernier last week agains the Penguins and of course he made like 46 or so saves. The Penguins are still struggling in the absence of Justin Schultz, and it wouldn't hurt my feelings at all to see Matt Hunwick as a healthy scratch for one of the younger defenders.
WHO TO WATCH
FOR PITTSBURGH:     DEFENSIVE MINUTES
As mentioned above the Penguins defense is struggling without Schultz. Instead of distributing the time lost evenly Jacques Martin is relying heavily on Kris Letang and Brian Dumoulin as I pointed out in the last recap. In fact, Letang played 27 minutes last game against Arizona, while Hunwick, Cole and Ruhwedel failed to break 15. This type of disparity is concerning for a team that is trying to build up the stamina for the remaining 47 games of the season. Ideally Letang would play 23ish minutes, with Maatta and the second pair around 20 and the third pairing getting the rest. This isn't happening right now, and I fear that it may result in an extremely tired Kris Letang in March, something the Penguins do not need.
FOR COLORADO:     NATHAN MACKINNON
Nathan MacKinnon walking through the Tampa Bay Lightning to tie the game…ridiculous pic.twitter.com/QuidRx85D0

— Brady Trettenero (@BradyTrett) December 17, 2017
Mackinnon is from Nova Scotia.
---
FINAL WORD
The Penguins let the first meeting against the Avalanche slip through their fingers. They've played in 52 one goal games this season. Tonight would be a damn goof time to start beating the living piss out of opponents again. I'm here for it, so let's fucking go.
---
Word to the fans: Sorry we've been a little off the ball lately, 66thDF is finishing up his finals while caring for his newborn and I am currently on a 6am-6pm schedule. Fortunately I have a two week break starting Friday and then only two weeks left of this schedule. Thanks for hanging in there, we will get better right around the time the Pens do.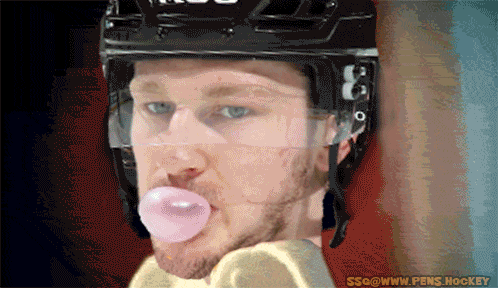 Doggystyle
"Squeezin' that sawdust out of the stick." – Tyson Nash (43%, 3 Votes)
"We dont want to beat ourselves" - Rowney (29%, 2 Votes)
"Make it hard, make em take ya down" - Tyson Nash (14%, 1 Votes)
"If you get it deep, work their D" - Jay (14%, 1 Votes)
Tobias Rieder drops for Stepan" - Matt McConnel (0%, 0 Votes)
"You got to get dirty, you have got to pay a price." – Tyson Nash (0%, 0 Votes)
"This one is gonna hurt" - Errey (0%, 0 Votes)
Total Voters: 7

Loading ...