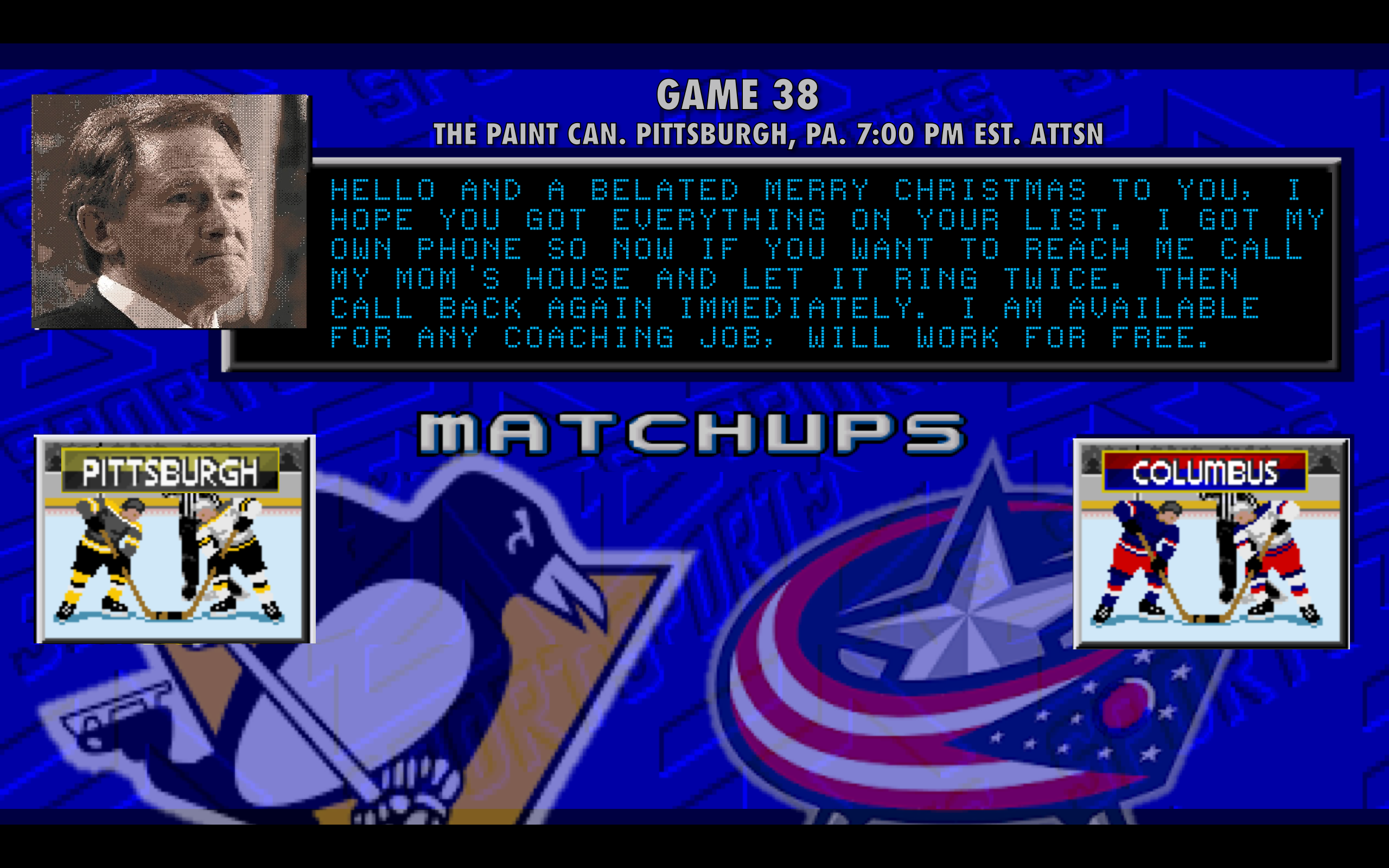 The Penguins are back at it tonight following the brief holiday break, we are still waiting to see if Kris Letang got his game back for Christmas. The Penguins play before Christmas was a hodgepodge of not good and bad, I illustrated it here if you missed it, yet somehow they are still within striking distance of first in the division as they find themselves just 8 points back from the top seeded Devils. A great place to start in building up second half momentum is on the table tonight as the Pens welcome the Blue Jackets back to tahn for the second time in one week. The Jackets are currently 7 points ahead of the Penguins in the standings but were apparently not on Santa's good list as they were hit with two injury reports yesterday listing Cam Atkinson (broken foot) and Alexander Wennberg (back) both out of the lineup for 4 to 6 weeks. These two join an injured reserve that already supports Brandon Dubinsky, Ryan Murray and Zack Werenski, leaving Johnnie Torts with a depleted group heading into January. Fortunately for the Blue Jags their January schedule only features 10 games, and only 4 are against playoff contenders, 2 of those 4 are against the Stars. The Jackets recalled forwards Tyler Motte, Jordan Schroeder, and Sunny Milano as well as defenseman Dean Kukan. Regardless of the ease of schedule tonight is a golden opportunity for the Pens to start the post-Christmas schedule by taking advantage of a team with as many call-ups as the Penguins usually have in March.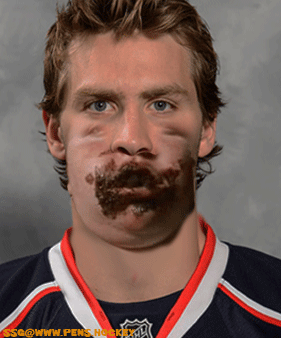 The biggest news heading into and now coming out of Christmas is the big rumor that the Pens were ready to pull the trigger on another trade before the roster freeze took hold. It is important to remember that during the roster freeze general managers are still allowed to communicate and make "unofficial" agreements to terms of a trade. With that in mind the rumor winds picked up heavily yesterday saying the team might make a trade as soon as the freeze is thawed on Thursday. What are the current rumors? Keep in mind they are just rumors but so far we've heard Cole and Sheary with some picks to Ottawa for center Jean-Gabriel Pageau and some picks. Another rumor that is pretty crazy but for some reason blowing up the skirts of the media is Kris Letang to Edmonton for Ryan Nugent-Hopkins. This second trade only strikes my fancy because some of the media members with the best sources have said the pending trade is significant, and no offense to them but I don't see losing Sheary and Cole as "significant." That being said I have a hard time believing that the Pens staff who went and named Kris Letang an Alternate Captain this offseason would move him in the middle of the season. These rumors could all be fluff to get followers and the Penguins are getting ready to acquire Justin Case for a 5th round pick.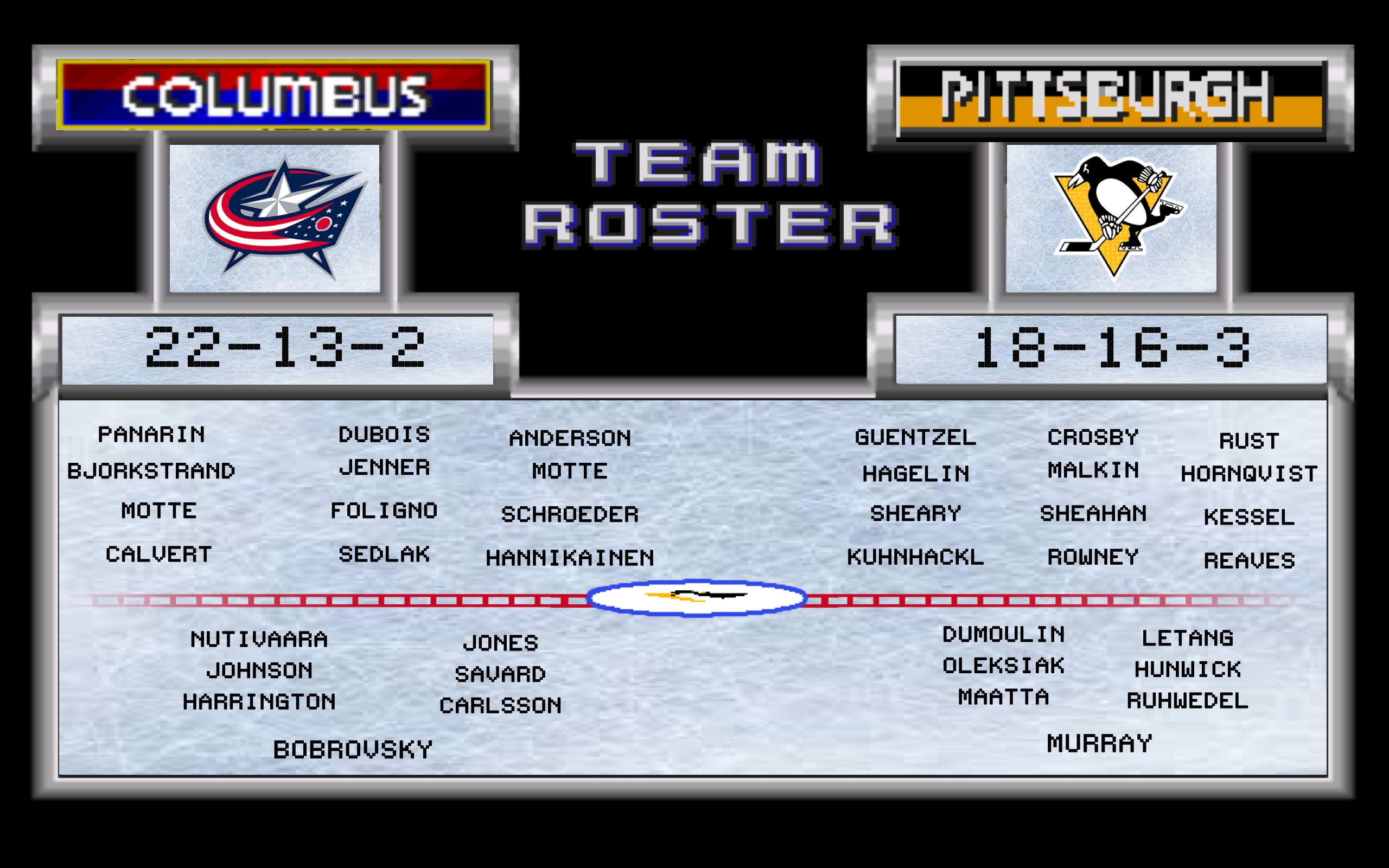 Man that Penguins record is tough to look at. I put Motte in twice, one of which is a placeholder for one of the call-ups, this will most likely be Milano but I don't care enough about the Jackets to look.. I also went with the forward lines the Pens used in their horrendous game against the Ducks, I don't expect to see these combinations again but who knows at this point. I absolutely hate seeing Phil! on a line with Sheary and Sheahan but I guess Sullivan is attempting every combination possible that doesn't involve changing the fourth line.
WHO TO WATCH
FOR PITTSBURGH:     CONOR SHEARY
If the rumors are true then there is a pretty decent chance that this could be Sheary's last game with a Penguin on his chest. Sheary won two cups with the Penguins so I guess he will get a tribute video and probably have his number retired. On a team that is suddenly deep with wingers Sheary is the most likely option to be dangled in front of other General Managers, and he is one of those players that I don't care if he stays or goes, no I don't have to let you know, he can stay or he can go. If this is his last game, cherish the good times he brought us as you watch him enter the zone along the boards at full speed, pull up to a stop, and pass the puck to a Blue Jacket in the slot.
FOR COLUMBUS:     ARTEMI PANARIN
As the injuries add up for Columbus more and more responsibility (see: hope) is put on Panarin's shoulders. He was the most noticeable player in the previous meeting between these two teams for the Jackets, and will once again be the one the team looks to tonight. Last season I never thought to myself, "Rad, don't forget to mention Saad and how the Pens need to cover him," because alone Brandon Saad is not much of a threat. Panarin on the other hand is a dynamic player who can quickly change the flow of a game. He is better than Saad, Chicago is stupid.
---
The Penguins looked like complete trash against Anaheim on the 23rd. They have had three full days off with friends and family to completely forget about the first half of the season. Tonight is game 38, there are still more games remaining than games that have been played. Regardless of a pending trade the Penguins need to start getting to the style of play that we've become familiar with, and honestly there isn't anything better than a division rival after a break to get you there. Of course, we all felt that following the win over Columbus that a spark was lit, but then the Ducks took that hope away. Tonight the Penguins need to get to their game, grind these bitches down, and start playing with the type of grit that got your ass to work yesterday despite the hangover.
---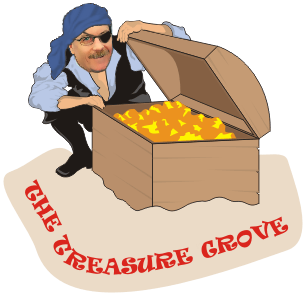 Legendary Penguins historian Bob Grove has agreed to do a question and answer session with us, so I felt a poll would be the best way to choose which questions we ask.
You can select 5. The top 5 will be asked and maybe we can sneak the 2 runner-ups in as well.
Favorite Mike Lange memory (12%, 19 Votes)
If you could go back in time, which trade would you stop the Pens from making and why? (12%, 19 Votes)
Best advice you've ever received (8%, 13 Votes)
All Gms will accept any trade you make, who is the winger for Sid? (8%, 13 Votes)
Which players would you like to see the team honor by retiring their numbers? (8%, 13 Votes)
Which rule do you wish the league would change and why (6%, 10 Votes)
Most underrated and overrated Penguin in history (6%, 10 Votes)
Favorite player to grab a drink with? (5%, 8 Votes)
Why is Evgeni Malkin continually forgotten (4%, 7 Votes)
Strictly statistically speaking, worst trade the Pens made (4%, 7 Votes)
What is your favorite food in Pittsburgh? (4%, 6 Votes)
Would you rather have a team with 12 Rico Fata's or 12 Eric Tangradi's? (3%, 5 Votes)
Best Christmas gift you've ever received and given? (3%, 4 Votes)
Who is your favorite current forward to watch not named Crosby, Malkin or Kessel (3%, 4 Votes)
Favorite arena/city to visit and why (3%, 4 Votes)
Favorite book, movie and song? (3%, 4 Votes)
Who do you think wins gold at the Olympics without NHL players (3%, 4 Votes)
What are your favorite hobbies outside of hockey (2%, 3 Votes)
Is a hotdog a sandwich (2%, 3 Votes)
Chicken Wings or Chicken tenders? (1%, 2 Votes)
Total Voters: 32

Loading ...