Hours before puck drop the Penguins sent everyone to their respective ends of the spectrum when it comes to Kris Letang as news broke that he was not at morning skate. It was rather curious but there was no middle ground, people either listed reasons for why he should be traded or why he shouldn't be, nobody considered the man that has missed 175 games due to injury could be injured again. Turns out Letang has a lower body injury that many believe is related to a shot he blocked in Saturday's game, despite finishing that game. The good news on the injury front was the presence of Justin Schultz on the ice once again as he has finally progressed to skating in his course of rehabilitation.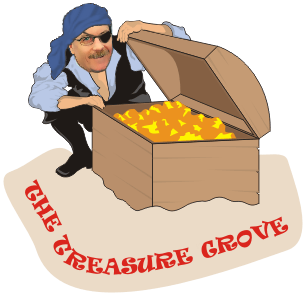 https://twitter.com/bobgrove91/status/946153721913778176
Well that's something
https://twitter.com/bobgrove91/status/946155734151991296
I was pretty surprised to see Hornqvist on this list, but then I remembered he hasn't played consistently on the top two lines so maybe all the line bouncing has helped him. As a fan base we've been bashing the third line because Nick Bonino is no longer centering it, but I feel we have also been ignoring the job that they are doing in not allowing goals. With HBK the third line was scoring which certainly helped, but knowing the opposing team won't get a mismatch advantage against your third line is pretty comforting as well.
https://twitter.com/bobgrove91/status/946157999722237954
Each of the "big three" has missed 2 full seasons of games…
https://twitter.com/bobgrove91/status/946158251485298694
21.7% is more than 1 out of every 5 games. I understand what a guy like Letang does for a team, but I also understand why paying a man who has missed 1 out of 5 games on average during his prime 7 million dollars for 5 more years could quickly become detrimental.
https://twitter.com/bobgrove91/status/946154727699398656
Then let's get to it Grover.
Remember your energy effort in high school the first day after Christmas break? That was the energy level from both teams to start this game. Bob Errey offered some ridiculous breakdown on travel and fatigue during the holidays and practically pleaded for the players families to let them sleep on gamedays. The Penguins were busy looking like a group of beer leaguers playing on the same team for the first time while recent call up Sonny Milano caught everyone sleeping:
https://twitter.com/BlueJacketsNHL/status/946182168593788928
Murray aggressively challenges the shot by Jones, a great decision if he makes a save and freezes the puck, a bad decision if Jones misses ten feet wide. Murray fails to track the puck behind the net as he wrongfully picks which side the puck will bounce to, and Oleksiak…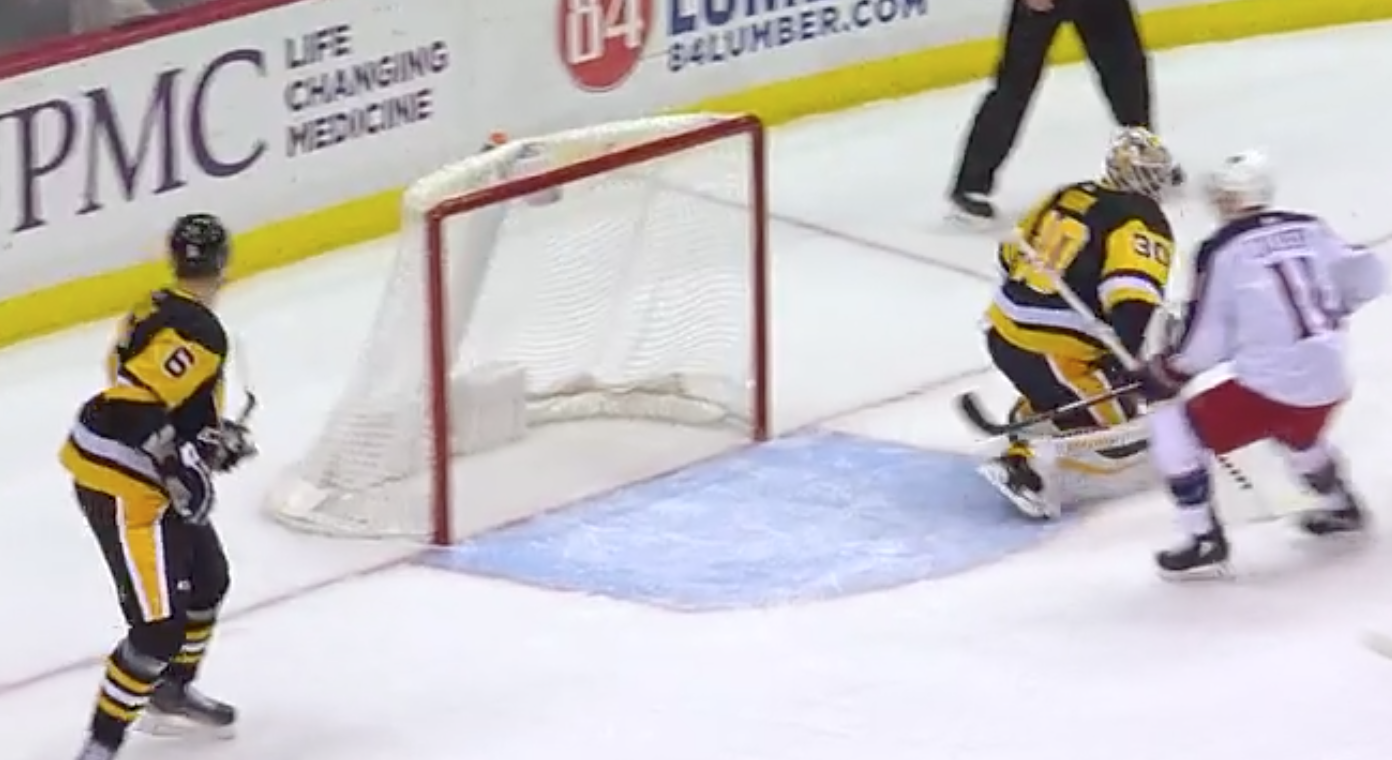 Perfectly tracks the puck here, watching it ricochet off the boards and come his way, two hands on the stick held close to his body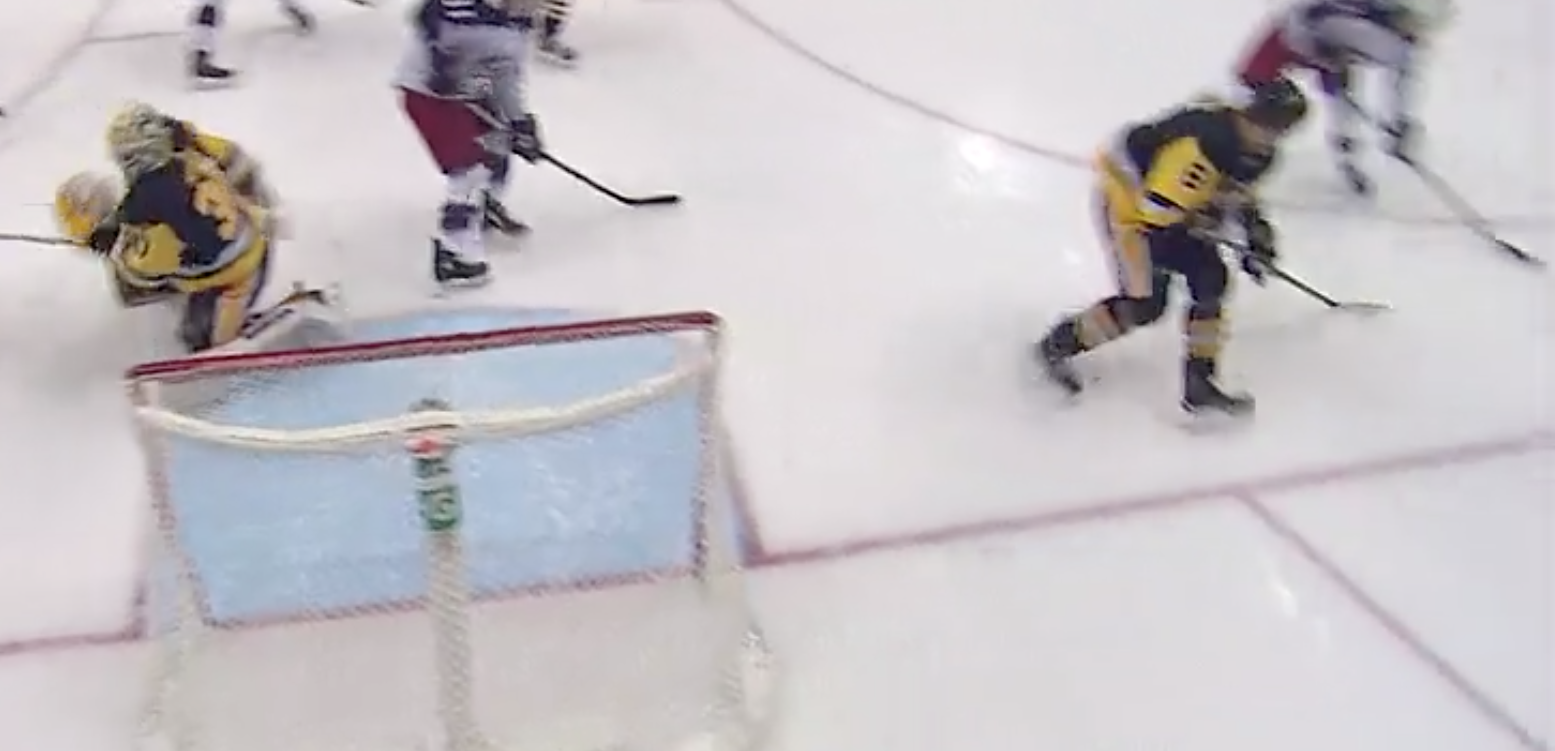 Continues to watch the puck cross his path, keeping both hands on his stick instead of reaching out to even attempt to stop the puck. Even if Murray didn't overcommit Milano would've had a decent look on net. You hate getting burned by your own boards, perhaps Oleksiak is not used to the Paint Cans boards yet.
The Penguins responded to the goal by looking more out of place than ever. Bryan Rust was noticeable for making some plays and Evgeni Malkin looked like he was feeling good following the break, 2 out of 12 forwards showing up is not a good thing. Not to be outdone by the lackluster effort by the forwards the defense also decided they would take it easy despite being down their top two defenders, and then finally Murray decided he too would take a break:
https://twitter.com/Buccigross/status/946178403241218050
Due to Malkin's lackadaisical backcheck this is essentially a 4 on 2, which Oleksiak turns into a 2 on 0: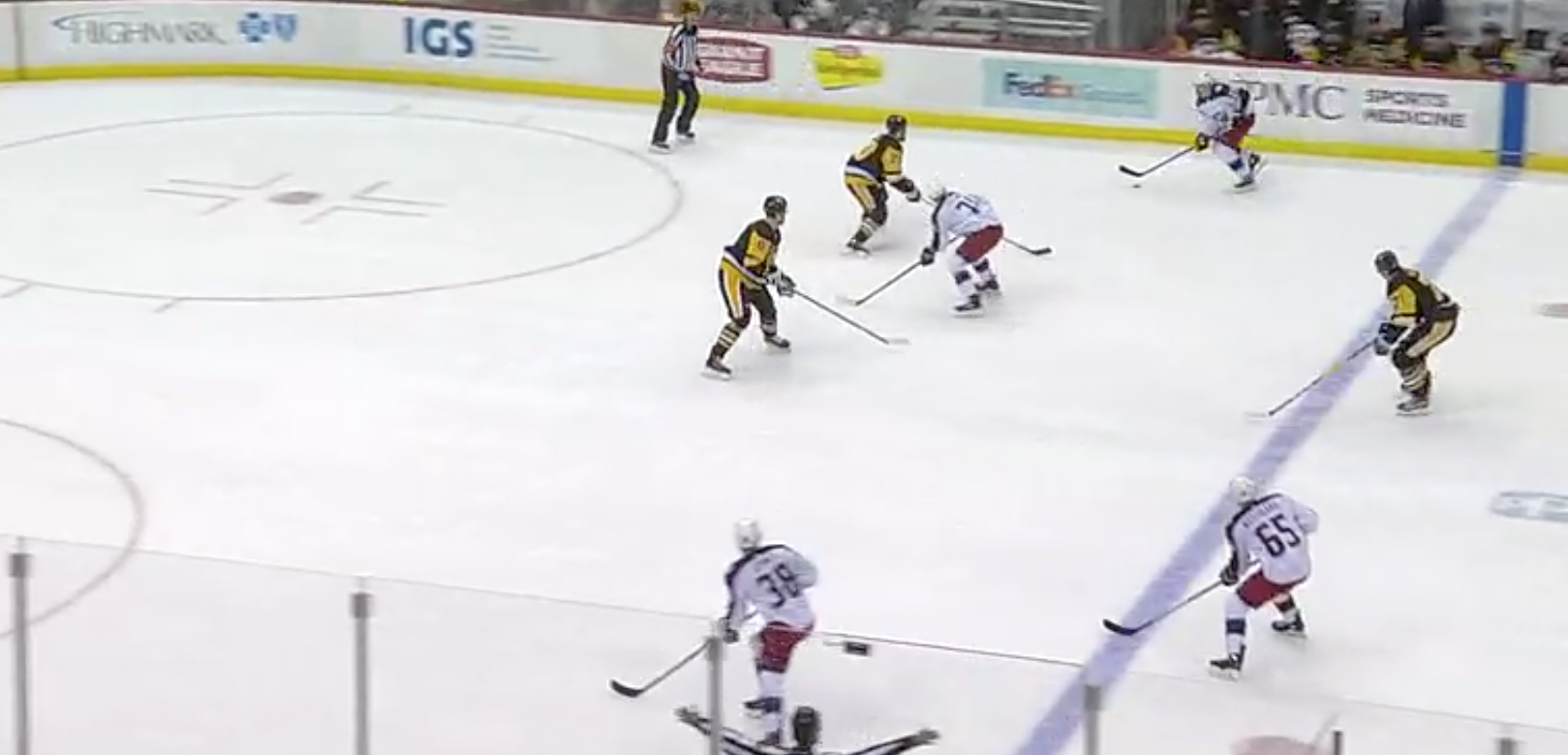 Ian Cole is in good position, and no it isn't ideal but Oleksiak has to trust that Cole will handle that side of the ice. Instead Oleksiak commits to Foligno, a player that would require an incredible pass to get it to him at this point, and leaves Jenner and Nutivaara both wide open. If you've never held a hockey stick in your life you could've completed this pass. Poor backcheck by a forward, poor defensive decision making, basically no goaltender effort… the 2017/18 Penguins summed up in one play.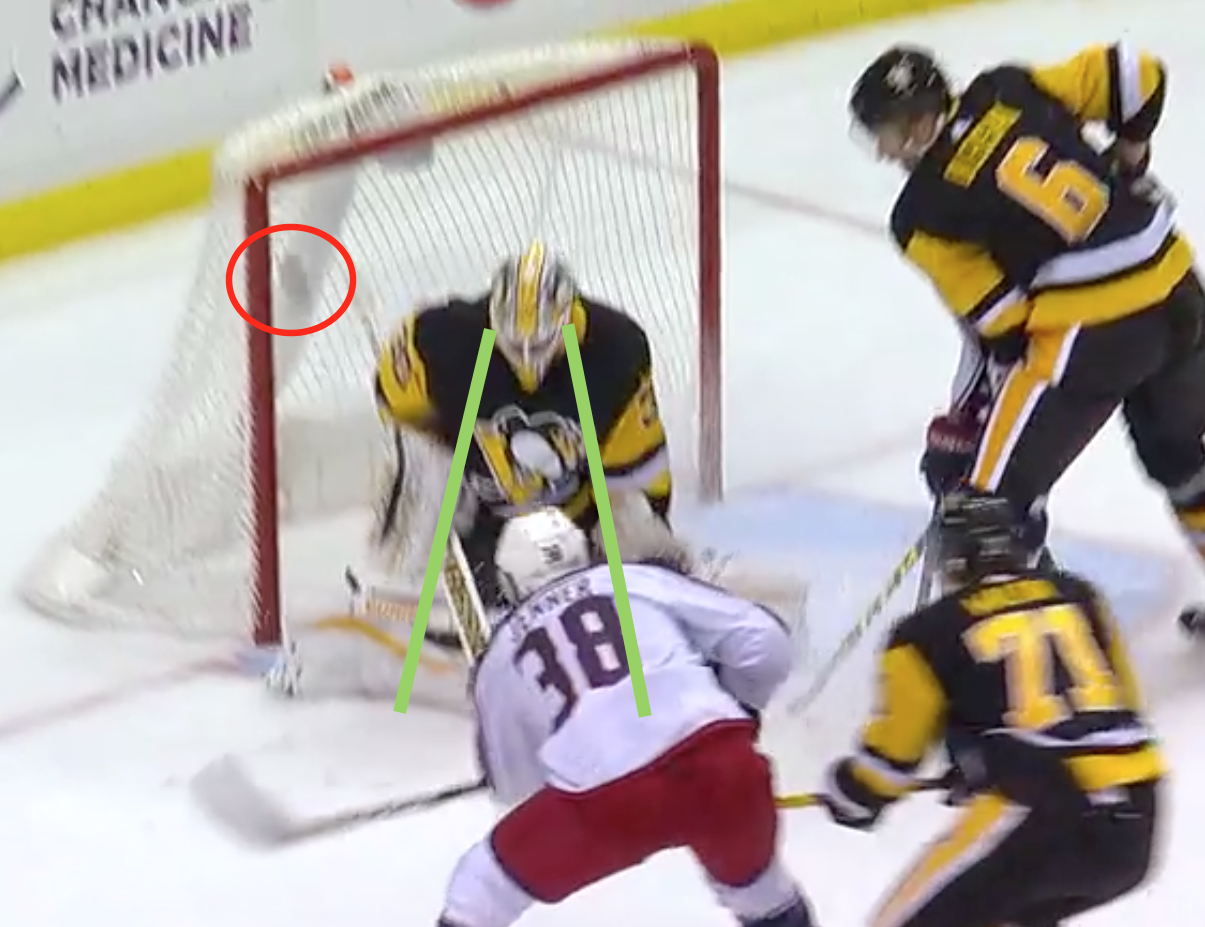 Murray completely clamps down. If you showed me this image I would assume the puck was either in his chest or between the pads. It was a good shot by Jenner, but this puck has to be saved, especially when the team is playing like pig shit in front of you. Had Murray challenged this shot the way he challenged the initial shot on the opening goal there would've been no room for Jenner, instead he is caught deep int he crease and Jenner has a lot of space to work with.
The Penguins finally started to get some pressure in the last three minutes, and even possessed the puck for about 45 seconds as time ticked down. This all resulted in 4 attempted shots (3 blocked, 1 wide, naturally) and then Columbus getting an odd-man break that Murray was actually able to stop with 5 seconds left.
https://twitter.com/penguins/status/946181269146259463
https://twitter.com/bobgrove91/status/946182274638368769
Yeah that will get the job done.

The second period was going to be telling of the rest of the game and perhaps in some way the second half of the season as a whole. Would the Penguins give their balls a tug and play hockey or would they continue to look like the school of the blind? Apparently Sullivan hit the right buttons in the room, because the team that came out in the second period looked nothing like the team that had played the last 4 periods. 5 minutes in Conor Sheary wanted to make sure he left his mark if this was in fact his swan song:
CONOR SHEARY (10) Assisted by RUST (14) & SHEAHAN (8) @ 5:57
https://twitter.com/penguins/status/946188716149805056
The play started in the defensive zone when Riley Sheahan shut down the halfboards and got the puck to Rust. Rust then made a nice chip pass to space in the direction of Sheary. This was a great example of a Sullivan-era transition, using two board passes and empty space. Now you may ask why Seth Jones, a really good defender, gave Sheary so much space…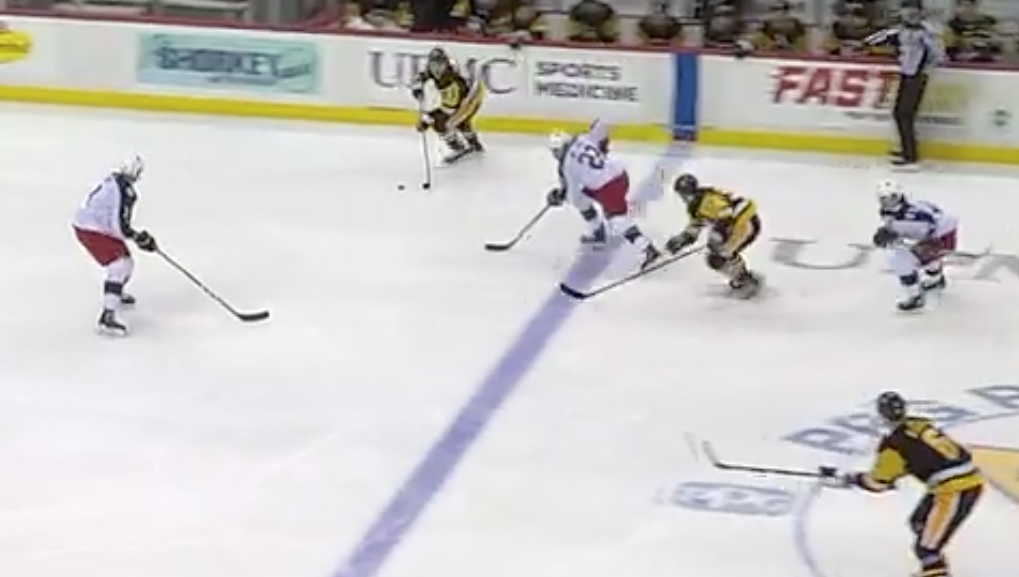 Jones is getting help by the backcheck of Sonny Milano and starts the play in perfect defensive positioning. Notice Bryan Rust above, and Bryan Rust below: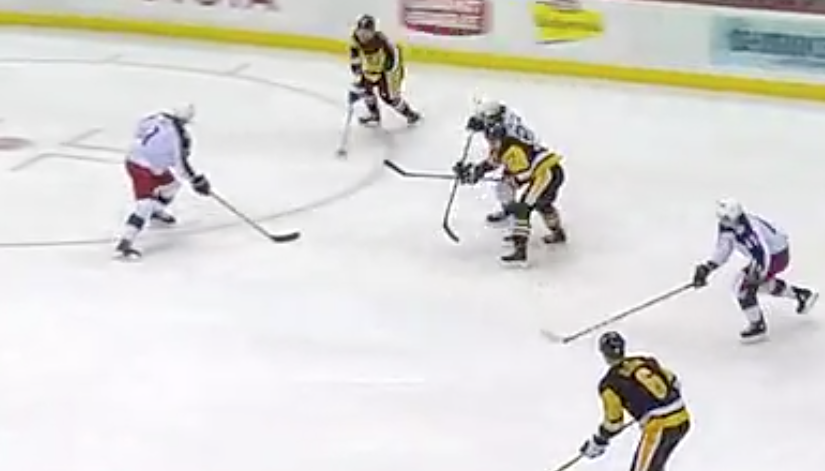 The effort of Rust to catch up to Milano leaves Jones with no choice but to make a lateral move to cover Sheary, and Sheary uses the split second that Jones takes to reposition himself to shoot the puck. Just a beautiful amount of effort by Bryan Rust to take the back checker out of the play instead of breaking wide to the goal.
The Penguins used the goal to build momentum and absolutely dominated the rest of the period. It was fun to watch, the team looked like a team. Multiple times they held the Jackets in their own zone as they cycled and fired away, but nothing would come from it. The Blue Jackets instead would catch a break during a line change when Artemi Panarin was left alone at center ice:
https://twitter.com/BlueJacketsNHL/status/946196168781987841
Bryan Rust caught doing the fly by, but to be fair not many players make this pull up move look as simple as Panarin does. Just a filthy wrist shot too, the only goal I don't fault Murray on, but an absolute back breaker for the Penguins after dominating the 16 previous minutes.
https://twitter.com/penguins/status/946194907340967937
Penguins outshoot Columbus 16-7 in the period and take a total of 24 attempted shots in the frame. That third goal was crippling and almost all of us were deflated. Chad Ruhwedel left the game after throwing a man down with an apparent injury and would not return, leaving the Letang and Schultzless D down to 5 men.
What do you say to your team that has been so unlucky so far this season they are off the charts following a period they dominated just to find themselves still down by two? I don't know, I'm not a coach, but I have a feeling it had something to do with trust your game or some other hallmark quip. The Penguins would get an early powerplay chance, and by gawd that is Phil Kessel's music:
PHIL KESSEL (16) Assisted by HORNQVIST (11) & MALKIN (21) @ 3:34 PPG
https://twitter.com/penguins/status/946201147601248262
I love the view of this gif because it really shows The Phil Kessel shuffle: Phil takes a few short steps after which he bears down and Bobrovsky bets his soul to the devil Phil is firing it, then he pulls up and takes a few more steps while letting the puck fall back naturally into his shooting position without showing it and fires without bearing down, completely leaving Bobrov guessing. Phil's eyes less than half a second before he shoots are just as deadly as his hands: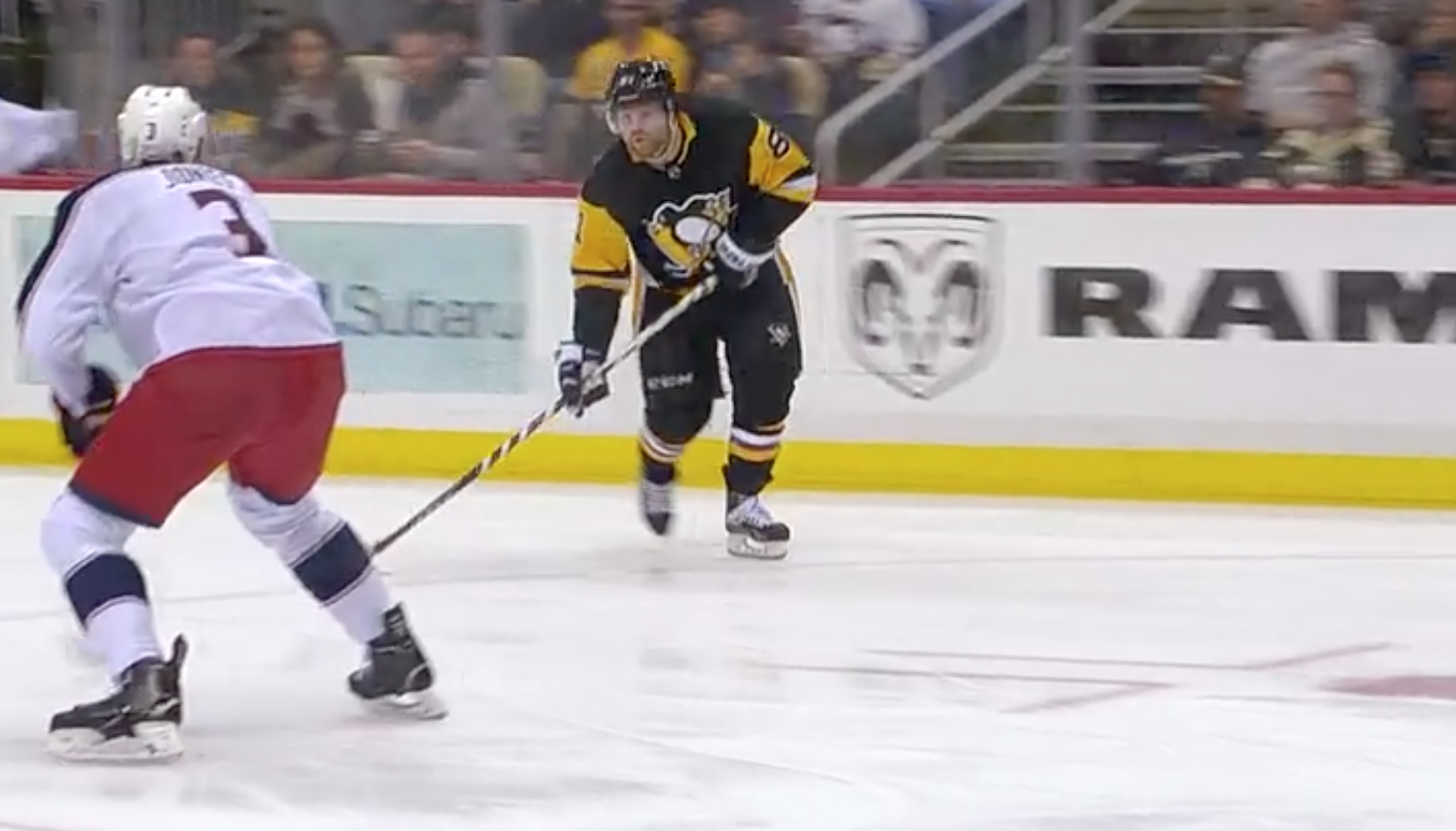 Nothing about this screenshot says shot. He's on one leg, no flex on the stick, eyes not on goal, and the dirty bastard knew exactly what he was doing. All hail Phil.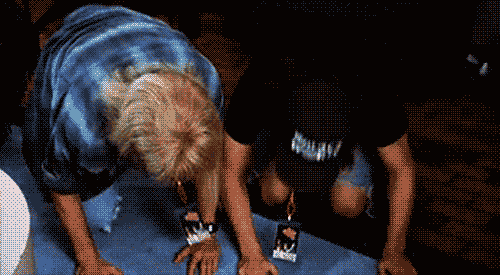 This play was all made possible thanks to an unreal backcheck by Malkin.
The team tried desperately to tie things up, and after some sustained pressure a little puck luck once again went against the Pens because when it rains…
https://twitter.com/BlueJacketsNHL/status/946203966601400320
I loathe people that say "yas." Matt Murray, no excuses here, this puck has to be smothered, especially given the circumstances of the game. How did Columbus get on the 2 on 1? Anderson chipped the puck to himself to get around Hunwick, but the puck actually hit the referee who was sitting on the boards to avoid getting hit by the puck. Had the ref not been there the puck would've gone into the bench. I was up all night and it took more effort than I wanted, but after contacting Nicolas Cage we were able to track down the often forgotten NHL Rulebook:

Regardless, huge goal for Columbus and a horrible play by Murray.
Once again down by 2 the Penguins were facing falling behind Columbus by 9 points in the standings with just 10 minutes left in the game. The Pens would get another powerplay opportunity, and can you smell what Geno's mom is cooking?
EVGENI MALKIN (13) Assisted by KESSEL (25) & CROSBY (21) @ 14:24 PPG
https://twitter.com/penguins/status/946206546236727298
Color me surprised Bobrovsky didn't try to sell interference here. And… did Geno hit that puck TWICE?!?!
https://twitter.com/EvgeniMaIkinEgo/status/946205751730753536
No. He hit it three fucking times while falling. Forehand to backhand on the ice, elevate the puck and then forehand out of the air!?
The goal literally set the Pens on fire and everyone knew that this game wasn't over. Shift after shift they poured it on, and as time ticked down Mike Sullivan made the ballsy move to not pull Murray. With less than two minutes left and the goalie still in the net, Malkin and Hornqvist continued their strong games, and Jake welcomed the Jackets to Guentzelvania.
JAKE GUENTZEL (13) Assisted by HORNQVIST (12) & MALKIN (22) @ 18:20
https://twitter.com/penguins/status/946208715283357697
The 200th assist in Patric Hornqvist's career and it is a beauty.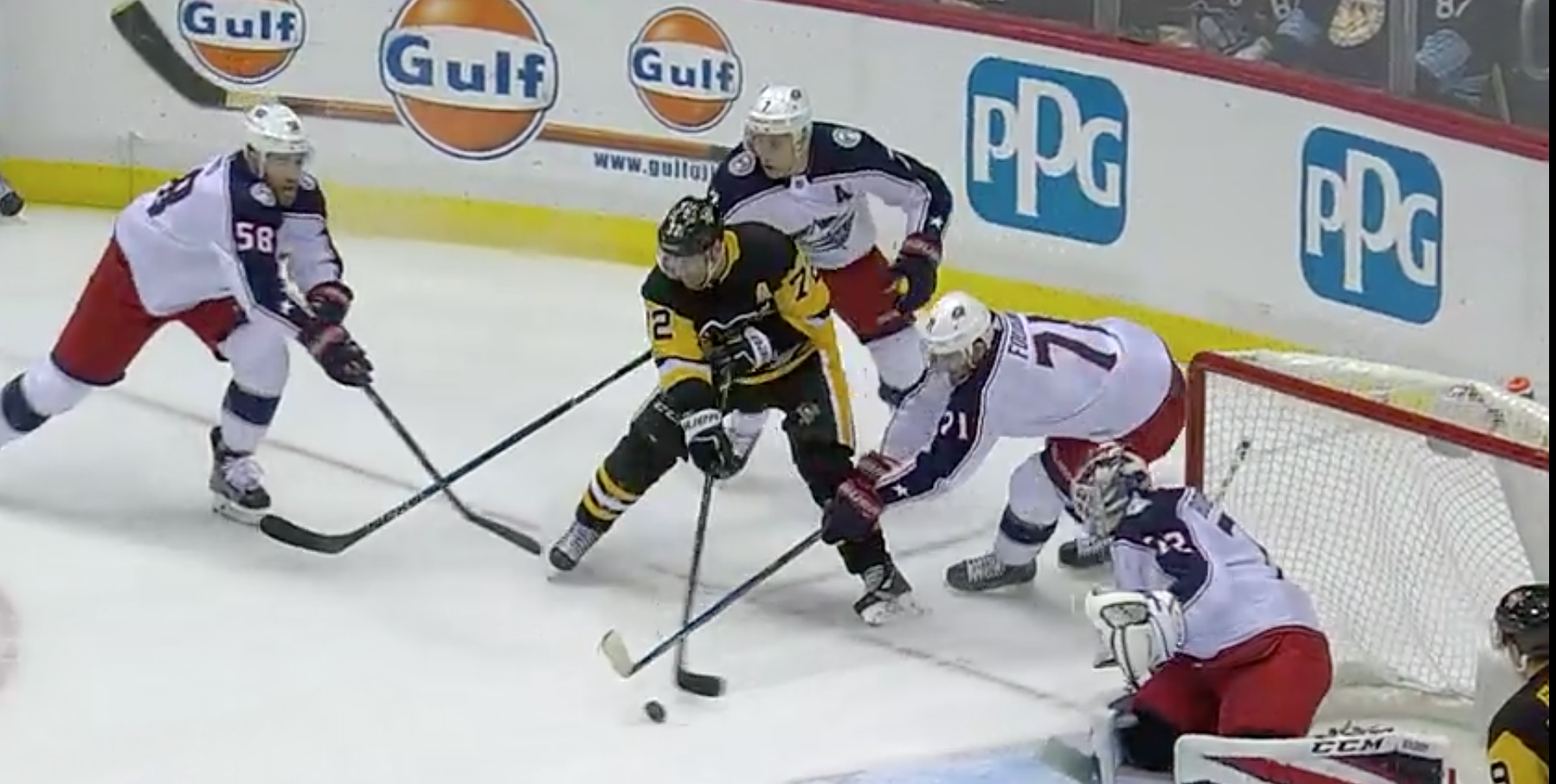 Three Columbus players defending one Penguin on the goal line is the definition of overcommitment, meanwhile Jake is just chilling. Major props for Hornqvist to be able to get this puck away, it really shows you how strong he is on the puck.
Neither team would bring some last minute heroics and for the second consecutive meeting these two teams were going to overtime. Bryan Rust left the game around the 5 minute mark of this period and would not be heard from the rest of the game. Injury reports on both him and Ruhwedel are pending.
Early in OT Brian Dumoulin races to the net and is stopped by Bobrovsky. While standing in the paint Dumo keeps fighting and the puck comes to a wide open Sidney Crosby who buries it. The arena erupts. The players are going nuts. Toronto calls in.
https://twitter.com/Buccigross/status/946209733655928833
The play was overturned due to goalie interference. Contact was made, and had Dumoulin scored then I would be more willing to agree with the decision. Regardless the play was overturned and then Torts cried for a goalie interference penalty. That didn't happen but because the Penguins apparently struck a deal with the hockey Gods for their Cup last year Jake Guentzel would take a bizarre high sticking penalty.
4 on 3 powerplay for Columbus and the penalty killers
shut.
them.
down.
https://twitter.com/bobgrove91/status/946214687162748928
Tom Kuhnhackl with huge blocks during the kill, and him along with Rowney, Sheahan and Cole did a fantastic job. Once 4 on 4 resumed Crosby and Malkin almost teamed up and Geno got away with a misconduct:
https://twitter.com/EvgeniMaIkinEgo/status/946212328596533248
Neither team would score and we were heading to a shootout.

For the second straight time the Penguins opt to shoot first and send out Secret Agent 101:
https://twitter.com/penguins/status/946213863648841730
You usually have to pay good money to get legs that open.
The Jackets went with Dubois and he was stopped by Murray after mishandling the deke. The next Penguin up was Crosby, and he was going for Geno's sloppy seconds
https://twitter.com/penguins/status/946214648248000512
The Jackets turn to Panarin, but Matt Murray wasn't having it.
GAME
---
Thoughts:
Minus the first period this was one of the best efforts we've seen from the team, and certainly a positive step in the right direction for the second half
Matt Murray has reportedly been battling flu-like symptoms, not sure why playing him against Anaheim was thought to be a good idea then. He has been struggling in the last two games
Ryan Reaves gets a touch over 7 minutes as he fills in some shifts for the injured Rust
Unbelievable effort by the Pens defense after Ruhwedel went down as every player clocked in well above their season averages: Dumoulin (24:12), Hunwick (22:31), Maatta (21:57), Cole (21:04), and Oleksiak (20:43)
Matt Hunwick was given the challenge of marking Artemi Panarin and he did a really good job containing him. Panarin made his mark on the game but not in one on one situations involving Hunwick. Also, Panarin is so much better than Brandon Saad it is ridiculous.
Every Metro team won last night except for Washington (lost to the Rangers), so it shows you how important earning the extra point was for the Pens.
Another metro battle tomorrow night as the Pens head to Carolina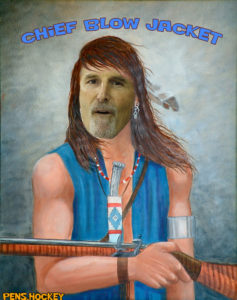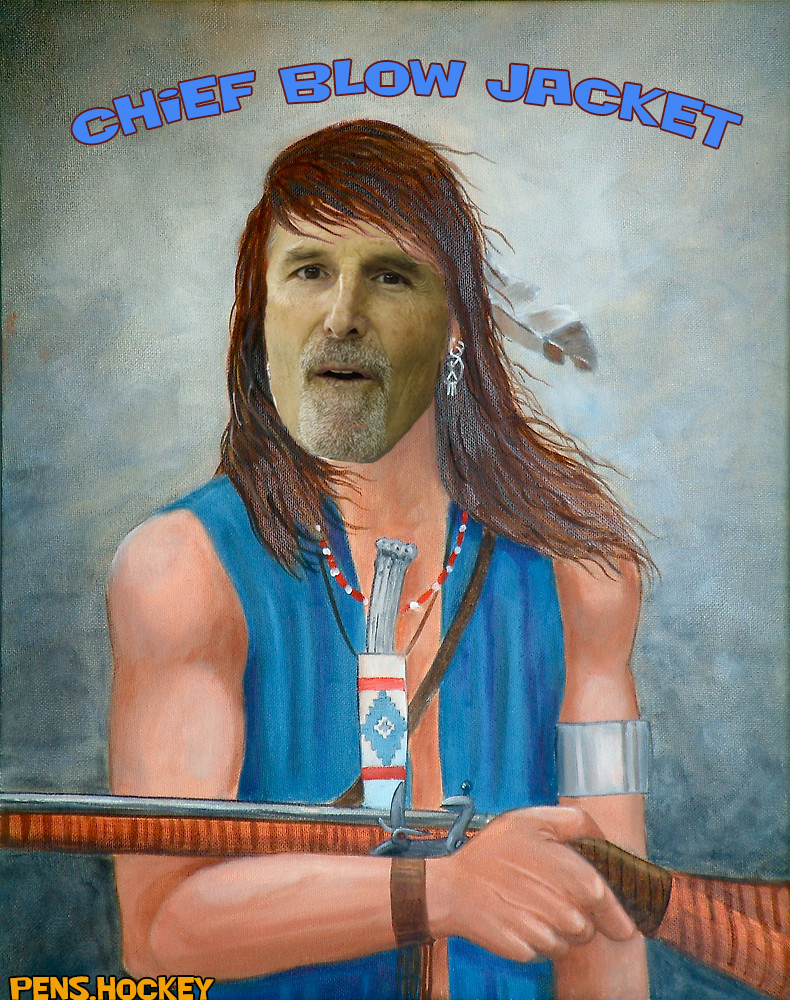 Duck Luck
"Trying to pickle stab that in behind" - Errey (100%, 12 Votes)
Total Voters: 12

Loading ...
Take off your coat and blue jacket
"The Penguins thought they were violated down low" - Errey (35%, 9 Votes)
"the stick between the legs, that's what forced him to go down" Errey (23%, 6 Votes)
"he likes tandems" Errey (15%, 4 Votes)
"It really could be huge." - Errey (15%, 4 Votes)
"when you find your legs you're generally going to find your scoring opportunities" - Guy who isnt Rob King or Stan Savarn (8%, 2 Votes)
"That powerplay is potent. And John Tortarella has seen this before." -Errey (4%, 1 Votes)
"LeTang and Schultz can carry the mail from the backside" - Errey (0%, 0 Votes)
Total Voters: 26

Loading ...