GAMEDAY 41
PITTSBURGH PENGUINS
@ PHILADELPHIA FLYERS
TUESDAY, JANUARY 2, 2018
7:00 PM EDT – WELLS FARGO CENTER

It's a good thing the Pittsburgh Penguins won the Cup in 2017 (and 2016), because we'd probably be hanging our heads a little lower today, knowing that the first half of the 2017-18 season is ending and the Penguins are one point away from being in last place in the Metropolitan Division.  It's still not great that they're in second-to-last, and could be in last place after tonight, but winning two straight Cups is a blessing few teams have had in the last thirty years.  Just putting things in perspective here.
Looking forward to the second half of the 2018 season is going to be difficult  for the first time in several years.  Not only do the Penguins have nowhere to go but up, but a slew of injuries to key players has things feeling like the old (read: five years ago) days.  Kris Letang, Justin Schultz, Bryan Rust and Chad Ruhwedel  were all out for the Penguins leading up to the new year, although it appears Schultz and Letang at the very least will be returning tonight.  Still, the Penguins have a lot of work to do to get back into the kind of groove that would get them back into the playoff picture.  Next week is the Penguins' "bye week", and it can't be hard to imagine that GM Jim Rutherford will be looking to make some moves soon.
Pittsburgh's opponent tonight is their interstate rivals, the Philadelphia Flyers, and if the Penguins are going to end the first half on the right note, a win on the road against their foes, and one that will keep the Flyers behind the Penguins in the standings, would do just the thing.  The rivalry looks a bit different since the Penguins have as many Cups in the last two years as the Flyers have all time, and since the Flyers took the second overall pick in last year's draft (their reward for their worst season ever), but rest assured that the Flyers and their god-awful fans will make it sound like they've been keeping up with the Penguins all this time, just like Kim Jong-Un.
For now, a win tonight would be a step in the right direction.  (A Daniel Sprong hat trick wouldn't be the worst thing either.)
LET'S GO PENS!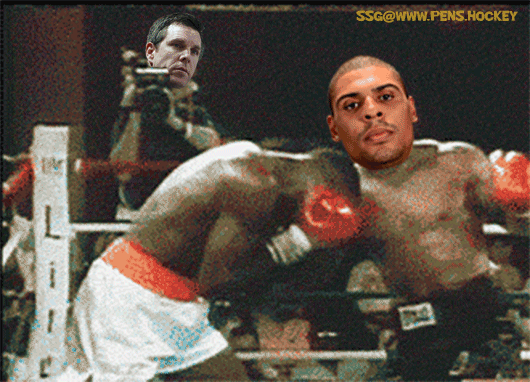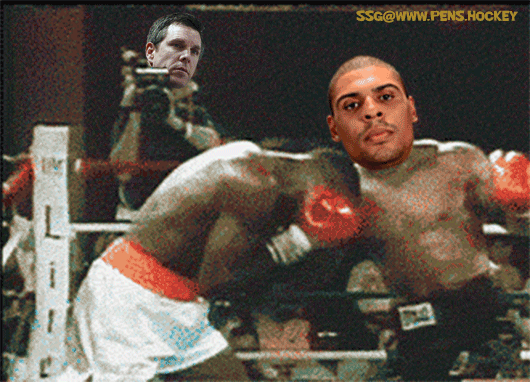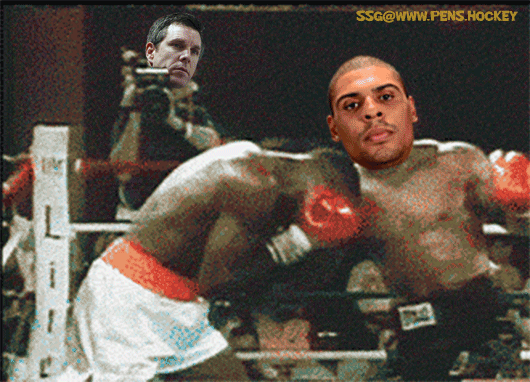 HOCKEYPORN POLL SHOWDOWN - ROUND 4 - 31-40 / 1.2
"You put your stick up, you put it right down his throat." – Mickey Redmond (39%, 9 Votes)
"It's coming, Mearsy... Here it comes," - Errey. "Ah, there it is!" - Mears (30%, 7 Votes)
"What do you mean 'pull it out?'" – Errey (17%, 4 Votes)
"You can see Malkin a little fatigued, bent over Kessel." – Craig Simpson (9%, 2 Votes)
"The Penguins thought they were violated down low" - Errey (4%, 1 Votes)
"Squeezin' that sawdust out of the stick." – Tyson Nash (0%, 0 Votes)
"C'mon baby get it goin'!" - Errey "Let's do it!" - Mears (0%, 0 Votes)
"Trying to pickle stab that in behind" - Errey (0%, 0 Votes)
"Aho must be the hottest cane right now" - Errey (0%, 0 Votes)
"I set a standard, people I talk to score, so get one." -- Errey "Get a little rub on this thing, there we go." – Reaves (0%, 0 Votes)
Total Voters: 23

Loading ...