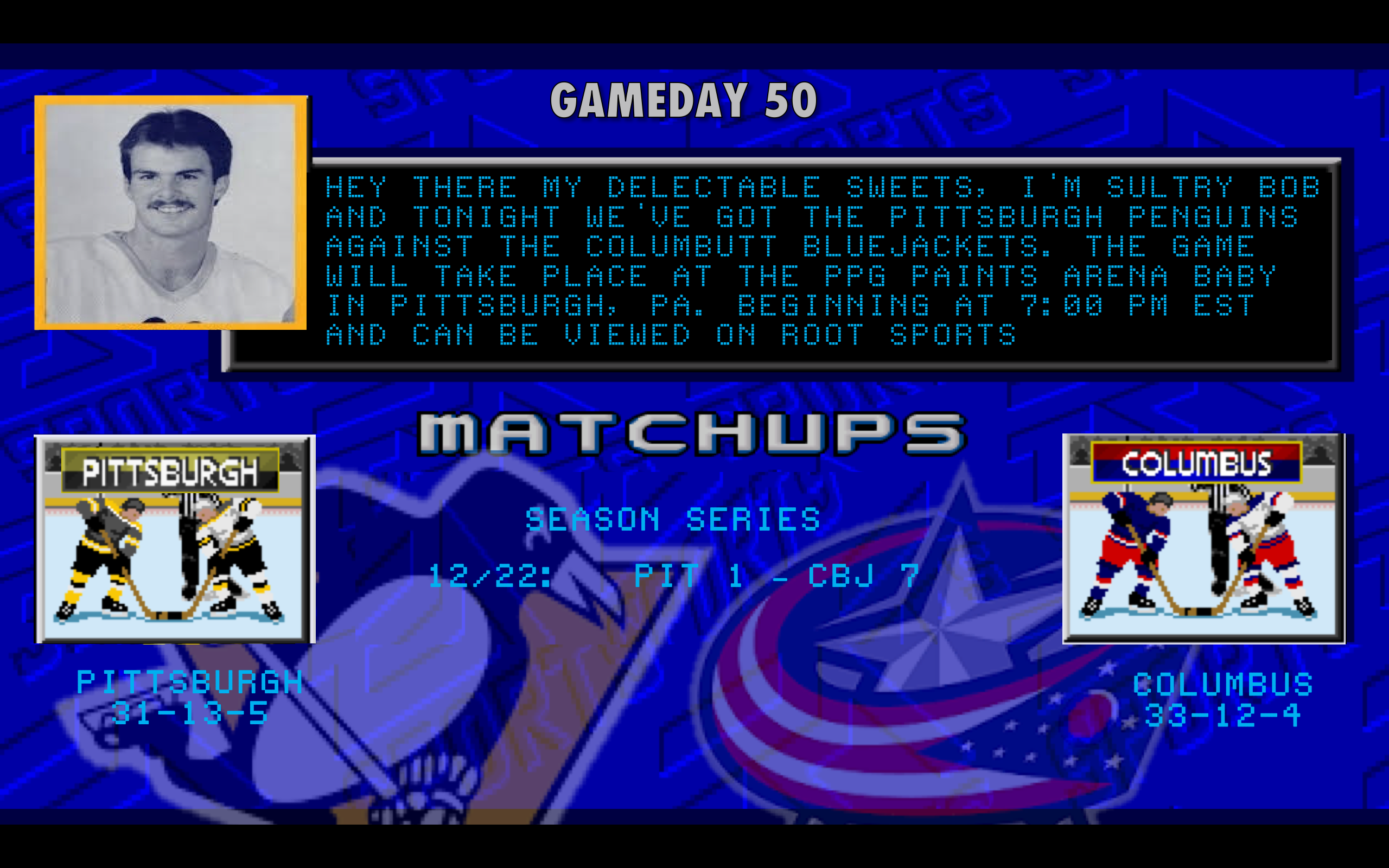 Tonight the Penguins welcome the most surprising team in the league to Pittsburgh in a showdown with the Columbus Blue Jackets. The Blue Jackets are having a phenomenal season by their standards and it has resulted in people from Ohio thinking they are a relevant state, but it is all about perspective. Columbus has made the playoffs twice in their first 15 years of existence and have consistently finished in 13th place in the division. So now they're "hot" and up and coming, eh? Much like Columbus fans thinking they were comparable to the 2006-07 Pens after getting to the playoffs and eliminated in one round in 2013-14, they were wrong then and they are wrong now.
We hate Columbus, but not because of a rivalry; there isn't a rivalry between these two teams, it is more like having a younger sibling that you beat up constantly and every now and then he gets a good shot in. We hate Columbus because they get so cocky with nothing. They're like the fat guy that finally loses enough weight to see his dick again, but still has to use the stranger every night because he's a douche to women. We don't hate Columbus because they are good, they aren't good.
If regular seasons mattered the Penguins would be joint custody slaves to Philadelphia and Washington. If the playoffs started today it would be the Penguins and the Blue Jackets, and the Blue Jackets will continue their dynasty with no playoff series wins. It may be the best possible thing to happen.
When the spoiled freshman becomes a little too cocky around the hallways in high school the upper class-men will be there to smack them down. IF the Blue Jackets make the playoffs, which isn't guaranteed with them because, well Columbus, they will get smacked down by any other Metro team.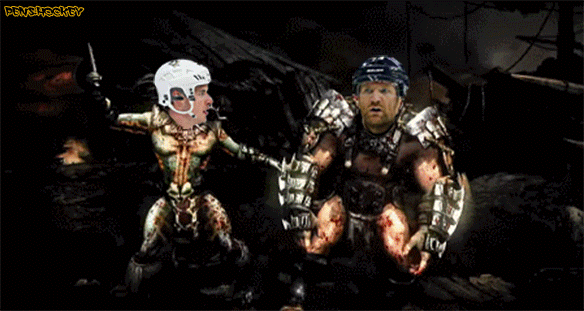 So what are the Blue Jackets in my opinion you ask? They are nothing more than last year's Florida Panthers. A good regular season supported by unsustainable stats (11.4 shooting percentage) that will not hold up in a 7 game series. It's cute, people think Tortarello is a good coach again, people think Cam Atkinson is a franchise player, it's cute how quickly people forget the past.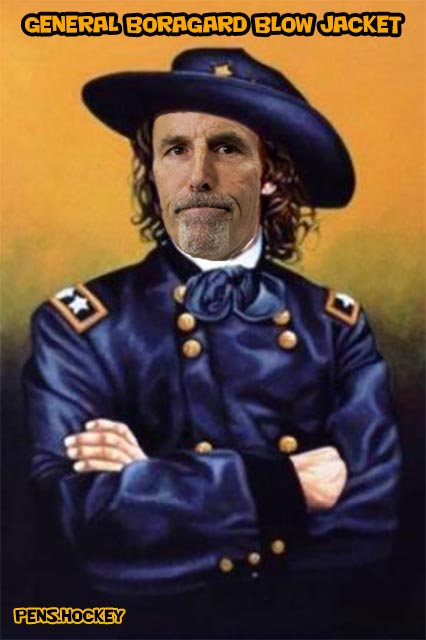 We don't forget the past. We don't care about your regular season. Meet us in the playoffs at any time, in any arena, and listen to your cannon play your swan song.

This one was pretty easy. We all hate him. He is a decent hockey player and all, but he isn't worth this… Brandon Dubinsky is under contract for 5.85 million dollars for the next 5 years. He will be 35 when this contract expires, and he has never played a 5.85 million dollar season. With only 2 20 goal seasons with the Rangers, the Jackets are paying him nearly 6 million dollars (aka Phil Kessel money) to be a grinder. Dubinsky currently has 5 goals on the season, and 47 PIMS in 47 games. Over his career: 667 GP, 134 G, 387 P, 792 PIMS. If that says 6 million per year to you, then we have some ocean front property in Nebraska for sale, hit us up.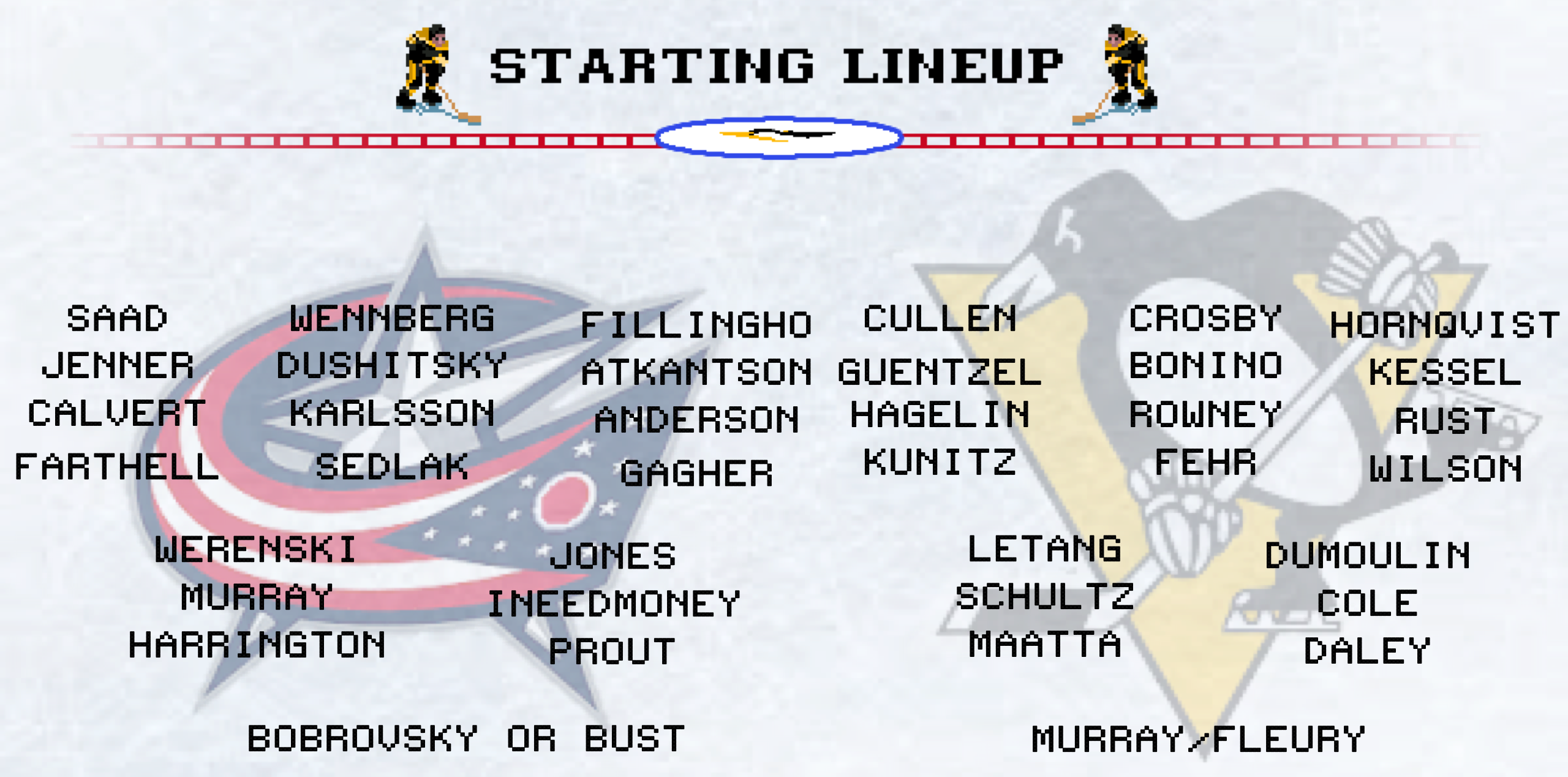 These are the lines that the Penguins used in practice yesterday, and unless there is an unexpected change to Malkin's status I would expect them to stay similar to this. Miraculously, Matt Cullen is all of a sudden ready to go once Conor Sheary mysteriously gets injured. Not trying to project any conspiracy theories on you, just an interesting thing. This is the first of a back to back situation for the Pens as they play the Blues tomorrow, so the starting goalie is anyone's guess.
As for the Blue Jackets it looks like Scott Harrington has cracked the lineup. Harrington for many years was a highly regarded prospect in the Penguins defensive system before being packaged in the trade that brought Kessel to the 'Burgh. Good to see Harrington finally making the NHL, too bad he had to go to Columbus for it.
So what is in store tonight? The Blue Jackets will try to impose their will after the first meeting ended with a 7-1 whomping of the Penguins. The Penguins will try to play hockey. An idiot asked Sullivan if tonight's game was the most important game of the season and he replied that it was, until the next game. For some reason the Pittsburgh media doesn't understand that the Penguins don't care about losing regular season games, the Penguins care about the process.
Asking if a game in February is the most important game of the season is the exact reason why there are like 2 hockey reporters left in Pittsburgh that aren't behind a paywall. Unreal. Tonight I would look for a response from the Penguins, but also I expect some sloppiness, Cullen is on the first line for crying out loud. A win tonight by the Penguins could potentially be the most satisfying win of the month, but not because it is the most important game, because they did it with a makeshift lineup against a makeshift team.
LET'S GO PENS