Is this the real life? Is this just fantasy? I'm going to stop you right there Freddie, it's still real life, the Blue Jackets are still the Blue Jackets, and the Penguins are still the better hockey team. The Penguins and the Blue Jackets went toe-to-toe last night in a tilt that should have every Penguins fan hoping they draw Columbus in the playoffs. I mean come on, how fun would it be to piss on their season. I know, I know, the game had to go to overtime to be settled, but let's be real here, the Jackets aren't beating anyone in 7 games. This game was the 50th game of the season, the freaking 50th! Here is a look at the Penguins season in chunks of 10:
Games 01-10: 7-2-1 15/20 points (75%)

Games 11-20: 5-3-2 12/20 points (60%)

Games 21-30: 8-2-0 16/20 points (80%)

Games 31-40: 6-2-2 14/20 points (70%)

Games 41-50: 6-4-0 12/20 points (60%)
Overall: 32-13-5  69 (giggity)/100 points (69%)
If the Penguins finish the regular season grabbing 69% of the remaining points they will add on 44 more, giving them around 113 for the season. But enough of that talk, we have a game against the greatest team in the universe to discuss!
This game started out the same way that all of the Penguins games have since the 3 game losing streak. By now this is more than just a coincidence, and I truly believe Sullivan has pulled the team back a bit at the beginning of games so that he and the coaching staff can gauge match ups and ease the team into the flow of the game. Finally after 13 minutes of play during a stretch of over a full minute of offensive zone pressure, the man of the hour steps up:
PHIL KESSEL (16) Assisted by DUMOULIN (8) & DALEY (13) @ 13:37
The wrister of all wristers. pic.twitter.com/Ghs34ya5Jf

— Pittsburgh Penguins (@penguins) February 4, 2017
Man, that shot is what dreams are made of. A few minutes later the true Pittsburgh Dad would make sure everyone was aware he was back, and also that he is faster than most of those half his age.
PATRIC HORNQVIST (15) Assisted by CULLEN (10) & LETANG (20) @ 18:28
What a play by Matt Cullen to set up that Hornqvist goal. He's back on the ice and not holding anything back! pic.twitter.com/tDLFGLdNzb

— Pittsburgh Penguins (@penguins) February 4, 2017
Bobrov wanted a goaltender interference call or something, but the refs were like "come on, bro" and the goal obviously stood. Unreal hustle by Matt Cullen, who Bob Grove accused of lying on his birth certificate as the only explanation to his speed. The period would end with the Pens up 2-0.

During the second frame it became apparent that the refs weren't going to make any calls. In fact, this game could've been officiated by one ref from the penalty box just for icings and offsides, because those were the only whistles. The inability of the Penguins defense to clear the crease was quickly highlighted by the Blue Jackets first line, and 15 minutes into the period Brandon Doucheshit scored. The Penguins didn't care however, and once again showed their resiliency as the Blue Jackets attempted to scum it up. 3 minutes after the Jackets goal the Guentzel-Bonino-Kessel line got to work:
NICK BONINO (8) Assisted by GUENTZEL (4) & KESSEL (33) @ 18:23
That's your guy, @HkyNightPunjabi!

BONINO! BONINO! BONINO! NICK BONINOOOOOO! pic.twitter.com/6nWgH8MplS

— Pittsburgh Penguins (@penguins) February 4, 2017
Okay hold the freaking phone on this play, because I have to point out 3 things:
That is an ELITE pass by Jake Guentzel, you probably thought it was Kessel didn't you, didn't you???
Bonino had to stop this puck AND elevate it, unreal hands right there
You know what time it is: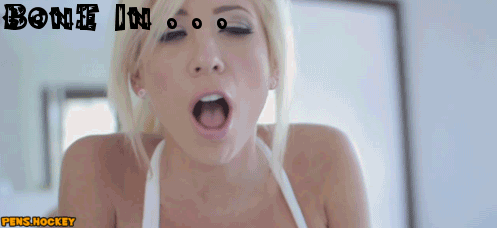 The period would end a few minutes later, Pens up 3-1.
The Penguins have won a bunch of games in a row when leading after the second period. Maybe this got into their heads a little bit, because they put up a horrible effort in the third period. 29 seconds into the period the Jackets get a goal by a guy that sounds like a Civil War vet, Alexander Wennberg. Then the Penguins decided since it was a 1 goal game that there wasn't really a point in tightening up and the Jackets cashed in again at the 11 minute mark, with Cam Atkinson continuing his improbable year. Jesse Marshall summed up my feelings about the officiating in this period:
I like how the concept of "just let them play, boys" allows you to experience 2 types of hockey games with different rules in 1 hockey game

— Jesse Marshall (@jmarshfof) February 4, 2017
The NHL is the only sport that plays with a different set of rules in the final period of play.

— Jesse Marshall (@jmarshfof) February 4, 2017
The period would end, and we be heading to overtime.
As usual 3 on 3 was nuts as fuck. Then everyone's wildest scenario almost comes true. Dubinsky gets stripped of the puck in the offensive zone by Crosby, who takes it 100 feet the other way on a break-away. Crosby is hooked on the arm by Atkinson as he goes for the death cunt punch and fails to bring the roof down. The refs finally call a penalty, because they really couldn't ignore this one, but they decide Crosby wasn't deserving of a penalty shot because gvihcbwflenwipvnwwv.
The Penguins would go on a 4-3 powerplay with Crosby, Kessel, Letang and Schultz. Pawtucket Phil had his moment two days ago, Pittsburgh Phil had his last night:
PHIL KESSEL (17) Assisted by LETANG (21) & SCHULTZ (28) @ 3:15 PPG
Radio Sync'd Highlight: Kessel's OT game winner vs. CBJ w/ Mike Lange's radio call. [02/03/17] #RadioSyncd pic.twitter.com/ngl65EbPH4

— Benstonium (@Benstonium) February 4, 2017
And how everyone felt at that moment:
Couldn't resist haha…#HappyPensGinger #MomentLikeThis pic.twitter.com/fepwj2ZB7x

— Benstonium (@Benstonium) February 4, 2017
The official Columbus twitter feed tweeted that it is important to remember the game was 3-1 going into the third, our thoughts: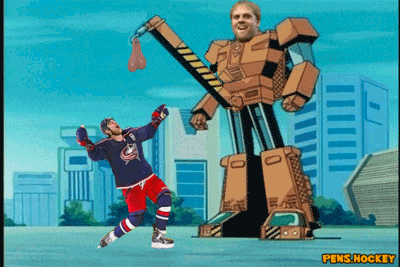 GAME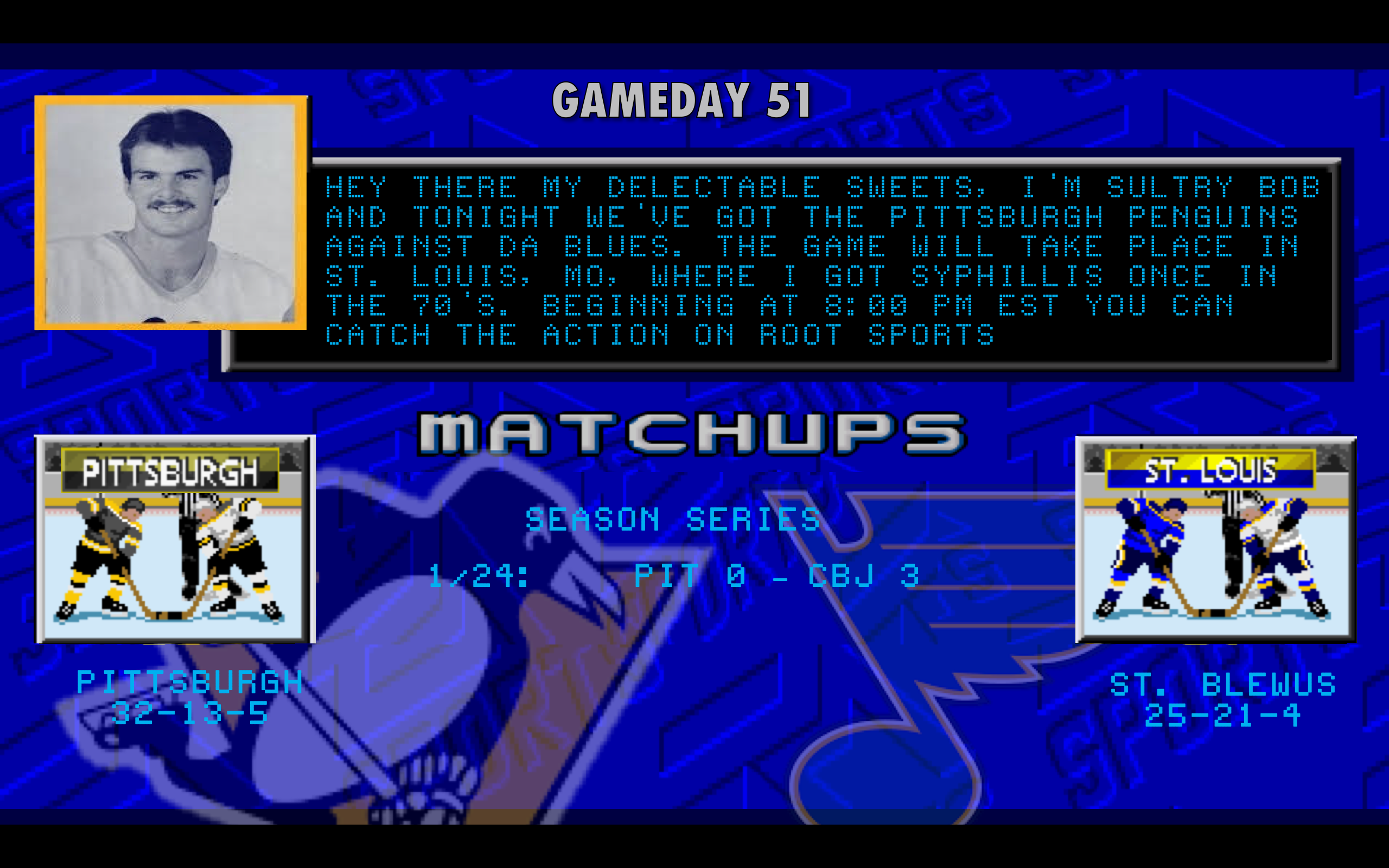 Following the game the Penguins hopped on a plane and flew to Missouri for a match up in St. Louis tonight. These two met a week or so ago with the Blues blanking the Pens behind a solid effort from their back-up goalie Hutton. St. Louis also played last night, earning a win over the Maple Leafs. Since the last time these two met (literally 11 days ago) the Blues have fired their tenured coach, Ken Hitchcock, and replaced him with former penguins powerplay specialist Mike Yeo. Yeo was with Minnesota previously, and here is a look at his career as a head coach:

Does anyone hate the Chicago Blackhawks more than Mike Yeo? So the Blues do the smart thing and hire a man that can't beat the Blackhawks in the playoffs to lead their team that also can't beat the Blackhawks in the playoffs. Fantastic.

This was a questionable signing the day it happened, as St. Louis was eagerly looking for that player that would finally give them the edge in the Central division.

In his last 3 years with the Blues, making 7 million per year, Stastny has lit the league up with 16, 10, and 14 goals respectively.  He might crack 20 goals this year.  Nick Backstrom money for Tyler Bozak production. Not the upper hand in the Central the Blues thought they were getting, but that's why you do your research on free agency day.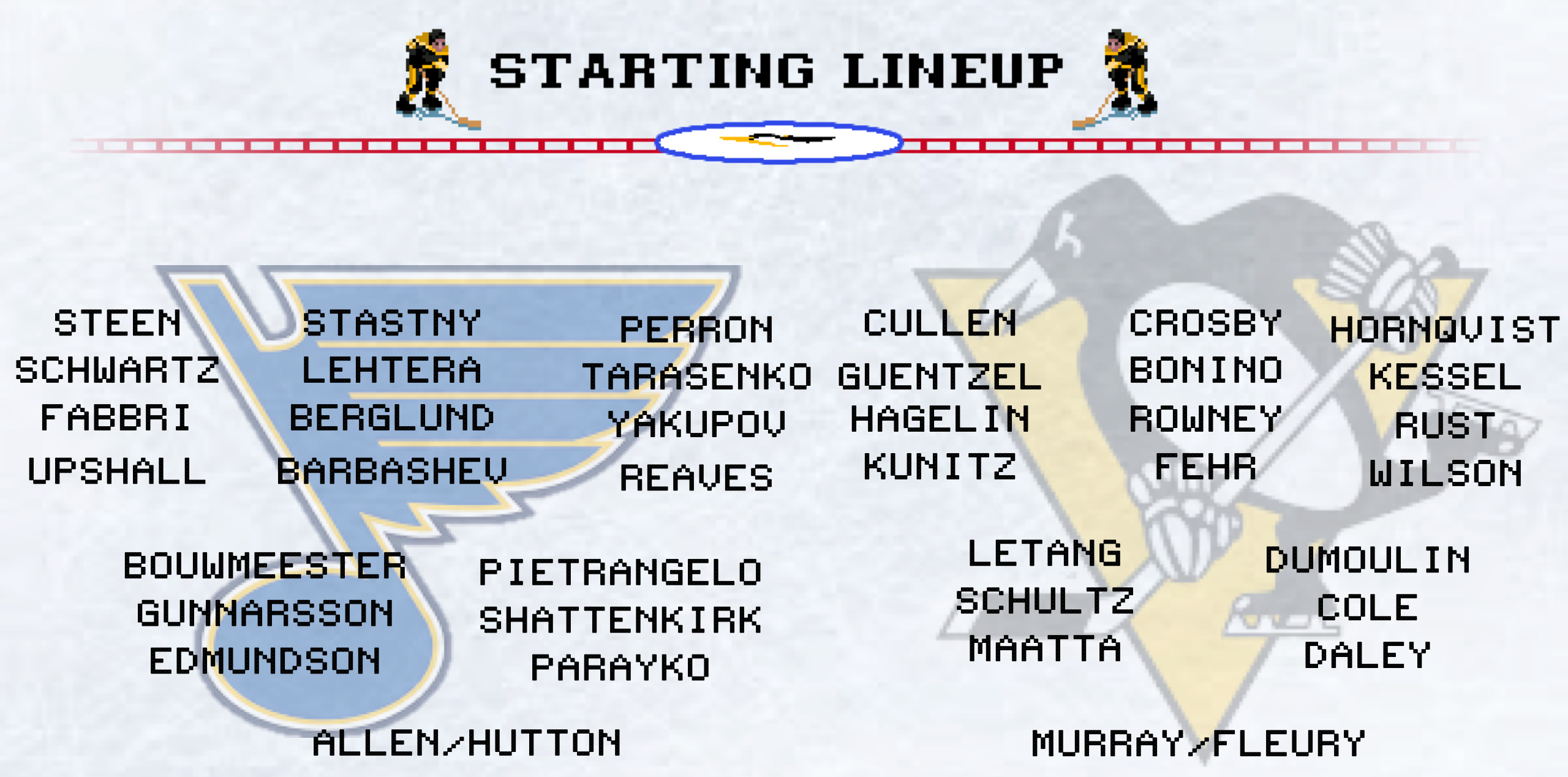 I don't know if I would expect many changes to the Penguins lineup except Fleury will most likely start in net. As far as I know the Penguins still have Tom Kuhnhackl in the press box, but he may also be dead. Why do the Blues only have defenders with long last names? Also, Yakupov…LOL.
Both of these teams played last night, which could result in a pretty boring 1st and 3rd period. The Blues are currently in the Wild Card hunt so they will probably have a little more step tonight, especially with a new head coach and all. The Blues with a little more step is still not something that scares me, and if the Penguins play their game even without Malkin it should be a close contest. It will come down to the goalies. Fleury hasn't started a game in 3 weeks, and Jake Allen had to take PTO to evaluate his mental status and life choices recently. This game could easily be 10-9 by the time it is done, but most likely Fleury gets a shutout and the Pittsburgh media gets jammed up.
LET'S GO PENS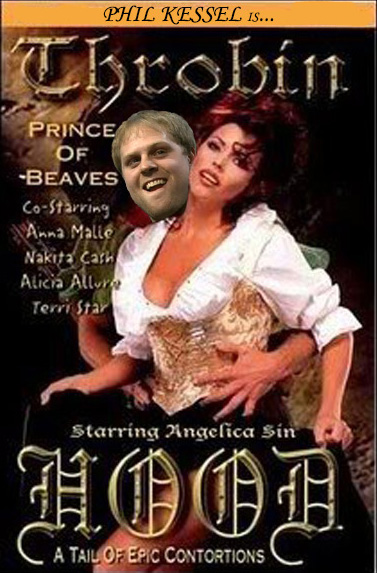 Throbbin and his 'Horny' men steal from dem Tally-Ho's...Pik-a-Porn
1) "You got Matt Cullen coming hard." -- Caufield (20%, 4 Votes)
3) "The team just jams it down your throats all night long." -- Armstrong (20%, 4 Votes)
7) "We saw him in his civies, just in his…uh, you know… jeans and shirt, and he's not a big man. He's not. He's not thick." -- Errey (20%, 4 Votes)
13) "If I gave it to somebody, I gave it to them in a good position." -- Larry Murphy (20%, 4 Votes)
15) "Crosby goes down on that sword." -- Errey (10%, 2 Votes)
5) "He's got strong, strong hands...big forearms." -- Errey (5%, 1 Votes)
10) "You get in on the PP." -- Larry Murphy (5%, 1 Votes)
14) "Crosby got hammered by Dubinsky in the high slot area." -- Errey (0%, 0 Votes)
12) "They're very good at grinding it out." -- Steigy (0%, 0 Votes)
11) "Hagelin got an opportunity on the Crosby unit." -- Errey (0%, 0 Votes)
9) "Off the shaft of Bobrovsky." -- Steigy (0%, 0 Votes)
8) "Swings low..he's available with the D." -- Errey (0%, 0 Votes)
6) "Crosby works his own zone." -- Steigy (0%, 0 Votes)
4) "The Penguins took advantage of Dubinsky." -- Steggy (0%, 0 Votes)
2) "Boone Jenner again finishing him off." -- Steigy (0%, 0 Votes)
Total Voters: 20

Loading ...