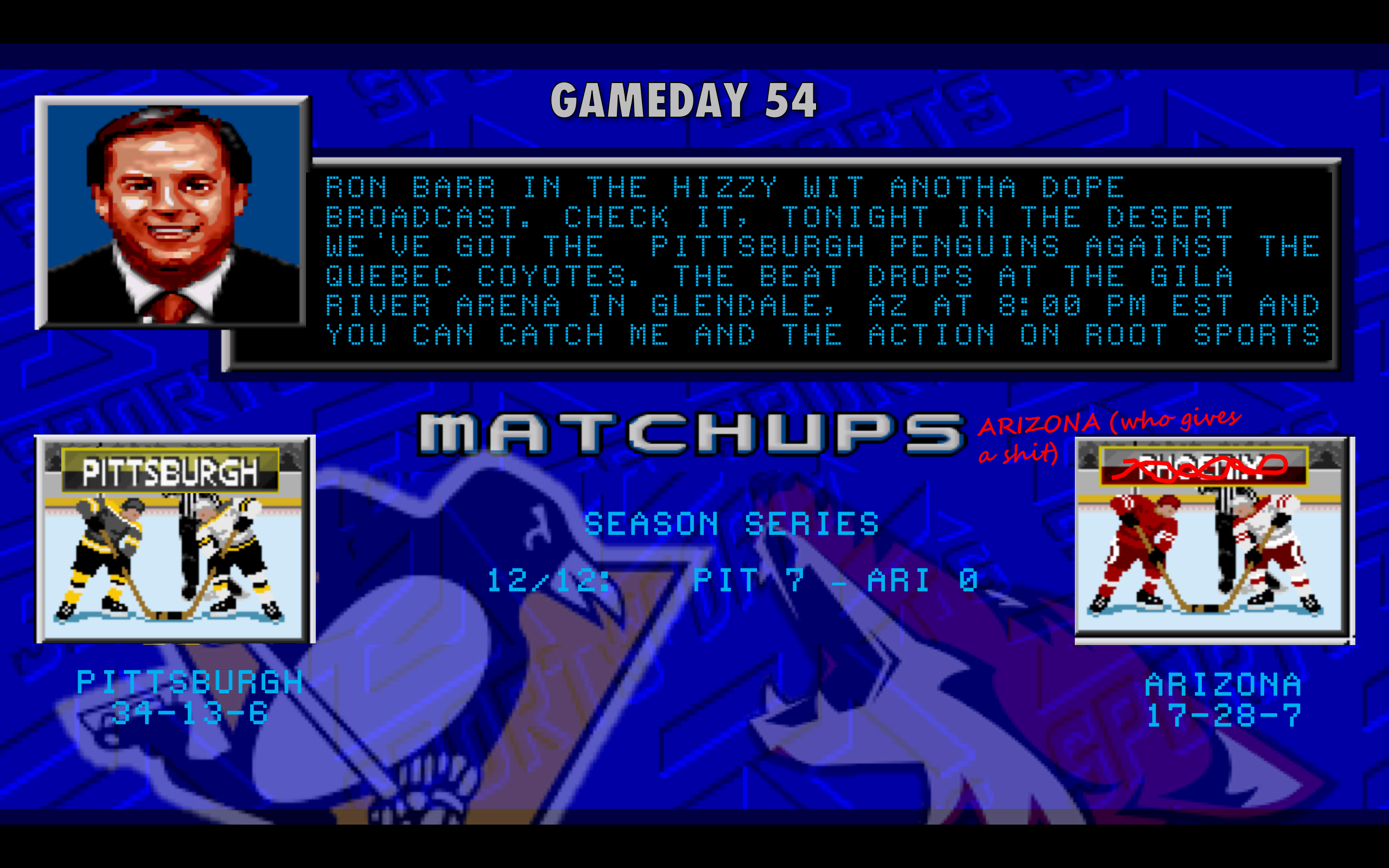 I've played in the desert on a team with no game
It felt good to be put in a trade
In the desert you can't remember your name
'Cause there ain't no money to give you your pay
La, la, la la la la, la la la, la la…
La, la, la la la la, la la la, la la…
The Penguins enter the Gila River Arena in their second straight bottom of the league match-up. When did their arena become the Gila River Arena? I swear, they change the name of this arena every 4 months. The Penguins are 4-0-1 in their last 5 games while missing at least 2 of their top 9 players in each of those contests. As for Arizona, the most exciting thing you're going to see from them today is this: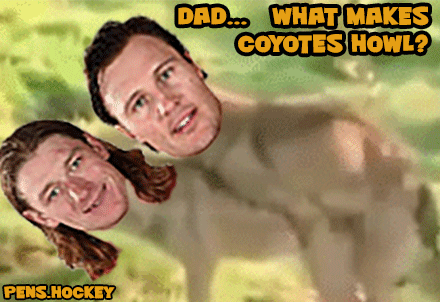 Yeah, Shane Doan still plays and Letang is in the lineup, I wouldn't be upset if Sullivan scratches Letang. Then again, I also wouldn't mind this scenario playing out:
Is there a bigger piece of shit that is so inappropriately highly regarded as Shane Doan? I'm honestly surprised he didn't make the NHL's 100 greatest list just because of the amount of times the league sucks his junk every year. There is a list in Penguins fans minds of players they can't stand, and Shane Doan is near the top on everyone's list.

Honestly, just go here and have a good laugh. This entire team wins the Gomez Gallery award. Have you ever witnessed such a clusterfuck of signings that weren't wearing a Flyers logo. Zbynek Michalek is buried in the minors making 2.25 million. Mike Smith is signed until he is 36 at 5.66 million (2 more years). Alex Goligoski is signed for 4 more years at 5.4 million, he will be 35 at the end of that deal. It would honestly be a disservice to Canada to move this team as is to Quebec.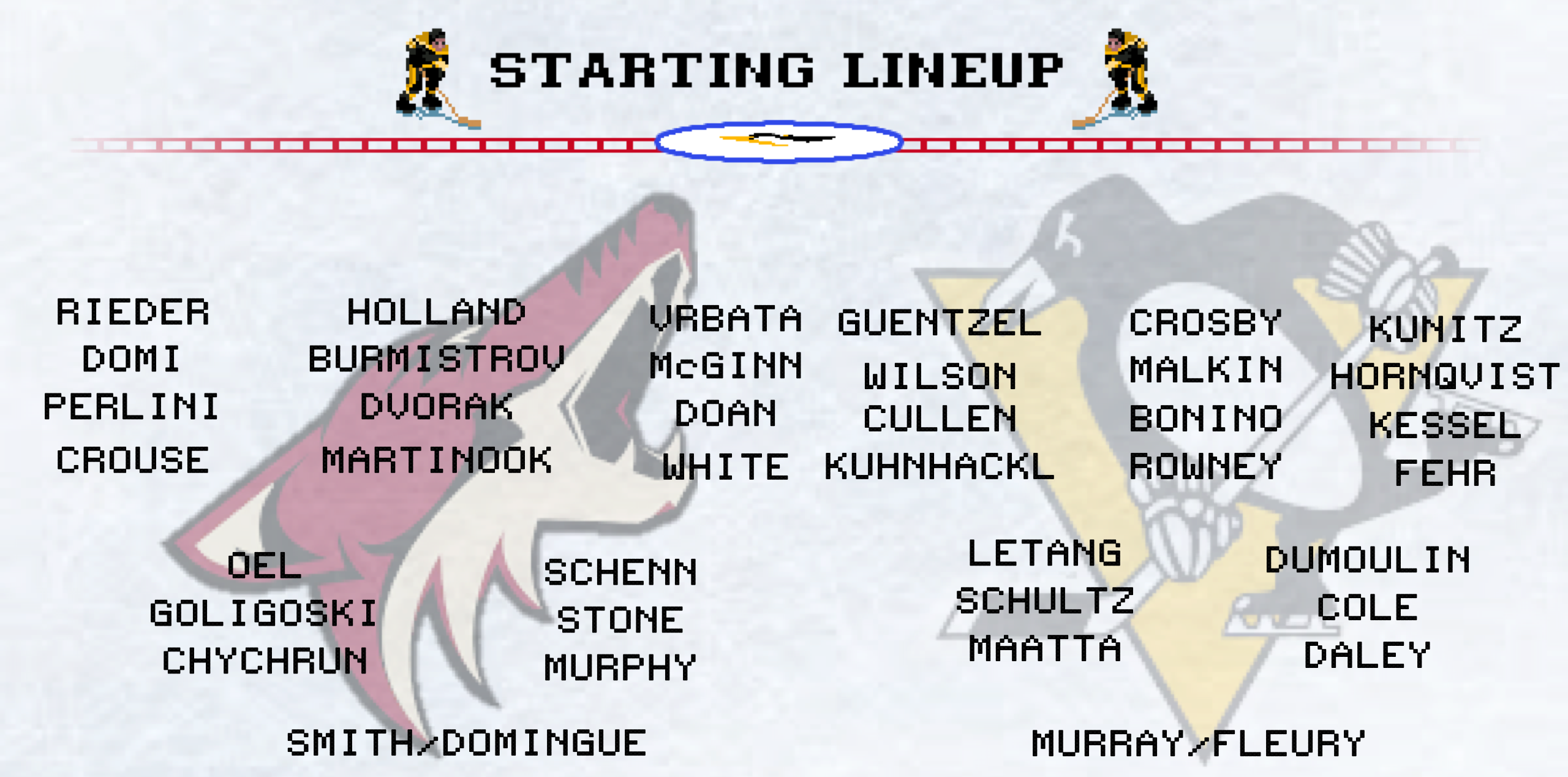 Look who's back in black baby:
So these are the lines that the Penguins used in practice yesterday, so I ran with them. The Penguins also called up speedy winger Josh Archibald yesterday, and with the lines used in practice yesterday along with Sullivan's habits,  I can see Archibald starting over Kuhnhackl. Archibald played in his first NHL game last season, he only played one game in his stint but nobody remembers him so he wasn't horrible. As for the goalies, it is the dad's trip this weekend so the Pens may opt for Fleury in net, may.
Low key solid move by the Penguins organization to make this trip the dad's trip knowing that the guys would want to play well in front of their fathers. Otherwise it would be really tough for the Pens to get geared up to face the Avalanche and then the Coyotes in February. The last time these two met it was a blow out for the Penguins, and with the return of Agent 101 tonight could easily go the same way. It's an 8:00 PM EST time start for this game folks, which is a little odd for a game in Arizona, so don't mess up your DVR's. If the Penguins jump out to an early lead like they did against Colorado you have my permission to go to sleep because the game will be over.
LET'S GO PENS