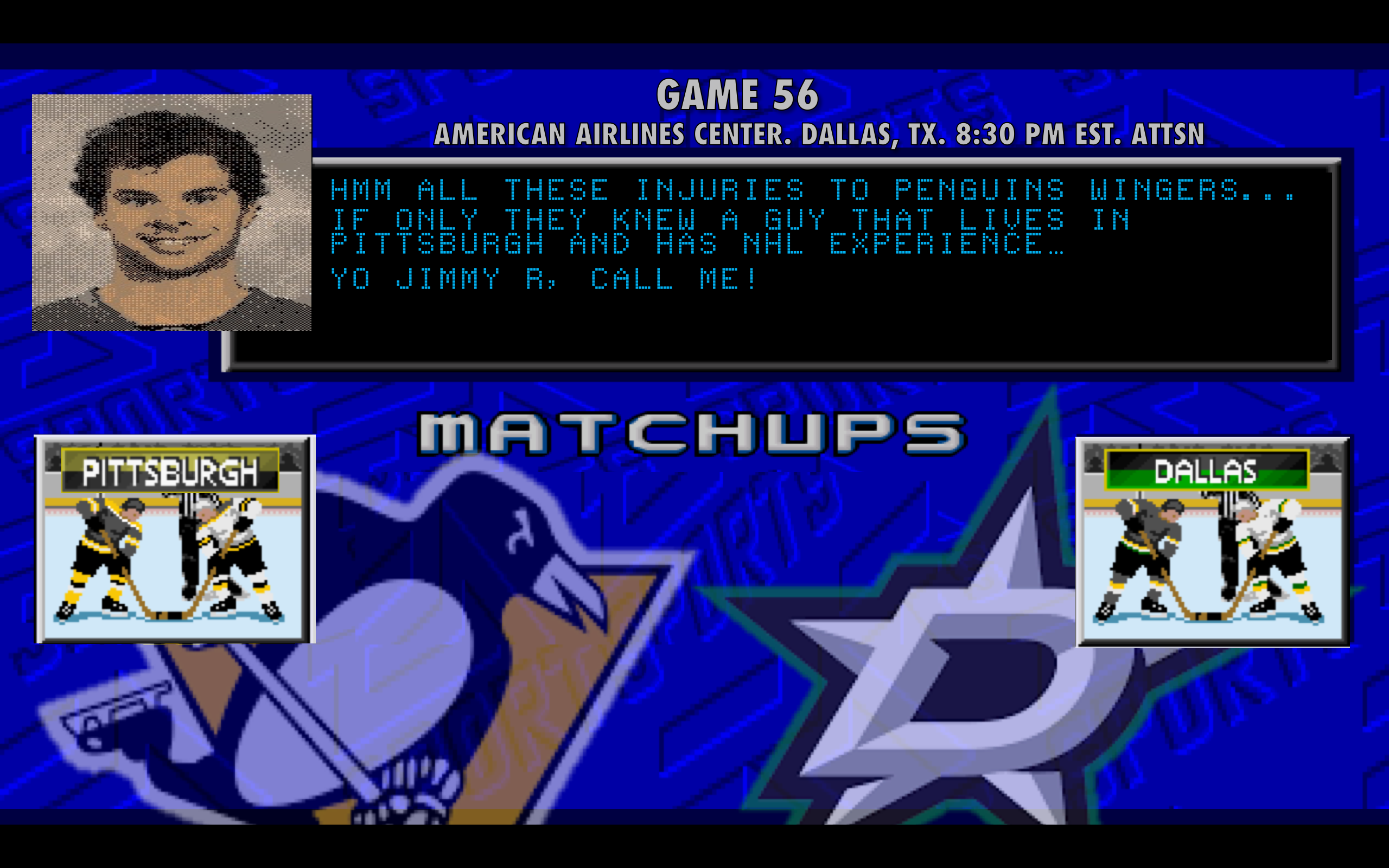 The Penguins head to the great state of Texas tonight to take on one of the most confusing teams in the league. Are they good, are they bad, are they fun? They look like they should be fun but they're also coached by Ken Hitchcock. The Stars are currently on a 4 game winning streak which has propelled them safely into the 1st Wild Card spot in the West and since we don't get to cover the Western Conference race as much here is a look at the standings:
Cup favorites Chicago and Edmonton are sitting at 56 and 50 points, respectively. As you can see Dallas has a +29 goal differential which they've managed to do with a 9.5 shooting percentage (league average shooting percentage is 9.1%). The Stars scoring differential is due to their goals for being above league average and their goals against well below; they currently have 164 goals for and just 138 goals against (league average is 156 for both). The Stars also possess the 10th best penalty kill in the NHL with a kill rate of 82.0%, the Penguins are still 7th in the league with an 82.5% though recent injuries to Rowney and Kuhnhackl will challenge that unit. Luckily for the Pens the Stars have a middle of the pack powerplay that converts at a 20.5% rate which should allow for Sullivan to play around with new penalty killing personnel. Speaking of Penguins injuries…
Starting to look like Penguins hockey! To balance the injuries the Penguins have called up Teddy Blueger, a 6 foot 195 pound Latvian center. Blueger had a very impressive training camp that has carried on throughout the Baby Pens season, Blueger has 12G and 14A in 45 games with WBS this season and overall has 19 goals and 38 assists in his 109 game AHL career. A natural center you have to think Sullivan will plug Blueger in for Rowney on the 4th line. Many fans were surprised that Daniel Sprong was once again not called up and to that concern I advise we all just trust the organization. Fans see a flashy winger with a good shot that scored a few times and have built him up to the level of a God; Sullivan doesn't see that in Sprong at the moment and considering none of those fans knew Bryan Rust, Conor Sheary or Jake Guentzel before Sullivan moved them up I suggest we support Sullivan's vision on this.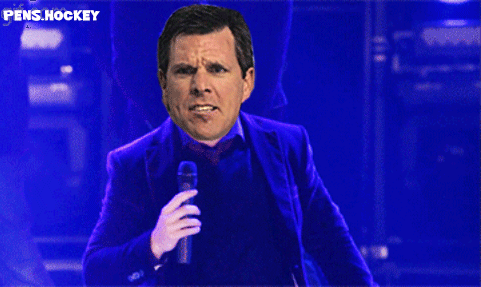 One last thing about Dallas before I get to the lineups, they are really good at keeping shots away from their net as Micah at hockeyviz illustrates here: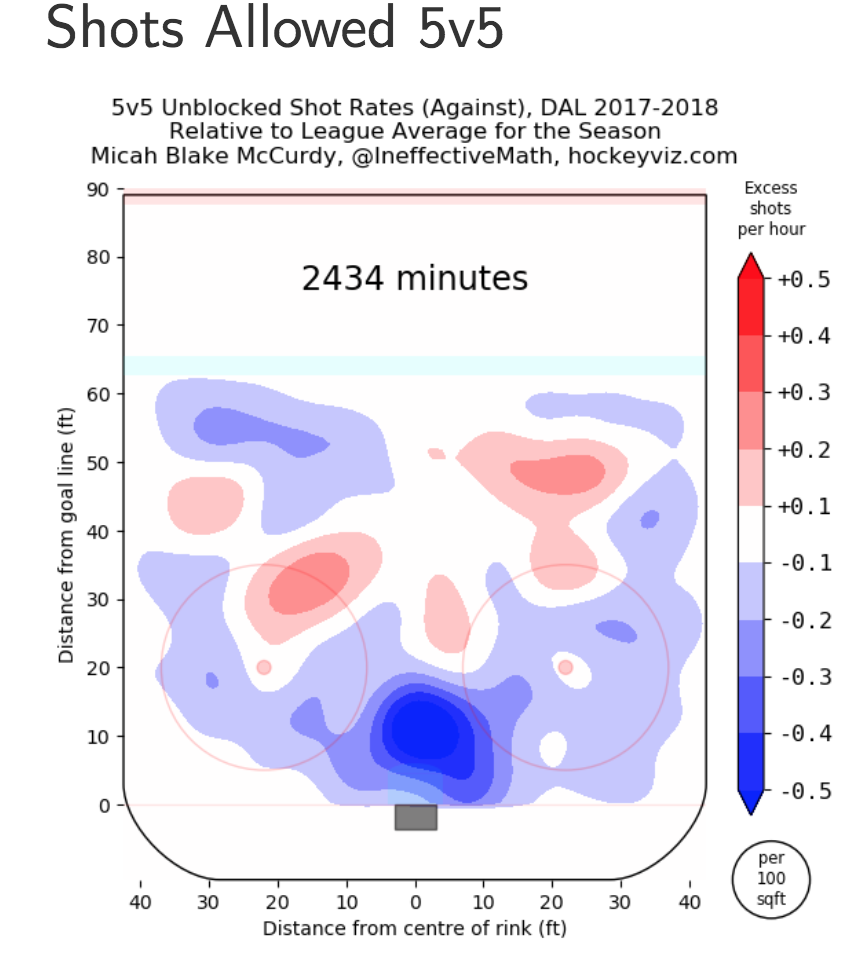 Talk about clamping down below the dots, damn. The Penguins will be most successful with their transition play because it can help spread out the Dallas defense and get them away from their protection zone. When it comes to offensive pressure the Pens will most likely benefit by working their offensive units from behind the net to try to make the Dallas defense get out of position while chasing.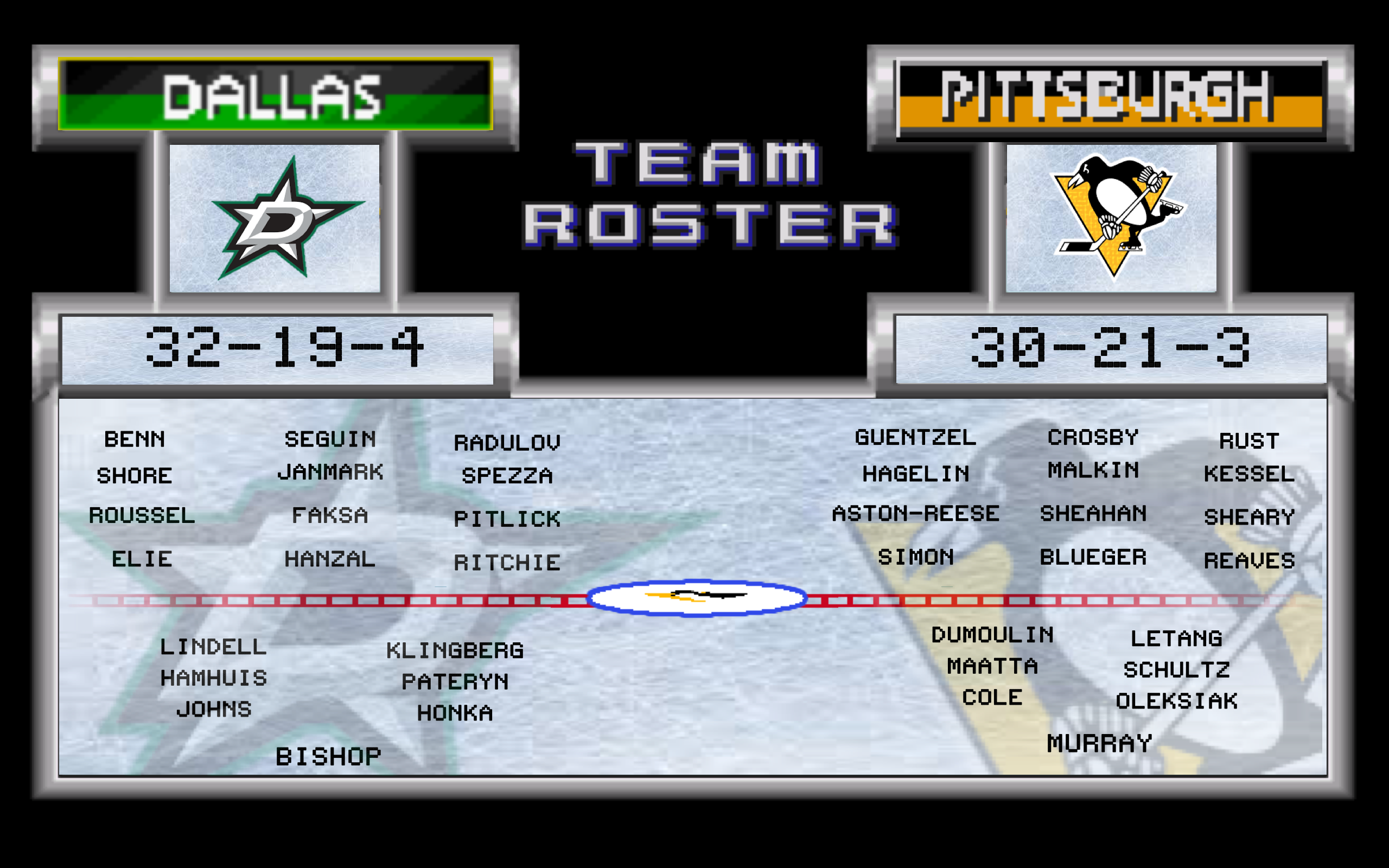 The Penguins used assistant coach Mark Recchi at center on the fourth line in practice yesterday so I will assume that will be Blueger's spot considering we haven't heard anything about The Wrecking Ball coming out of retirement. Following his slipping play in the last few games Dominik Simon has predictively found himself in the dog house as Sullivan reunites Guentzel with Crosby and Kessel with Malkin. This bumped Aston-Reese to the third line which isn't surprising  considering we've seen this move time and time again with call-ups under Sullivan, get a few games on the 4th line then move up. Conor Sheary practiced yesterday, initially starting with a no contact jersey and progressing to full contact. The lack of additional call-ups suggests he starts tonight, so ummm… woo?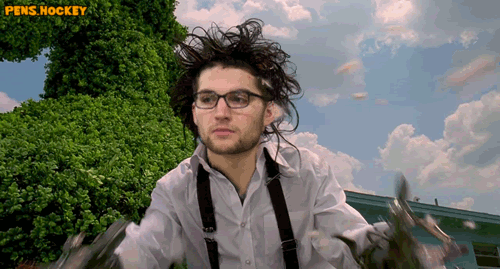 The Stars recent playoff position has been propelled by the play of their top line with Sequin (28), Benn (21) and Radulov (21) sitting 1 through 3 on the team in goals. The next closest is second line center Janmark's 15 goals. The Dallas top line is their biggest threat and they are on the ice for over 20 minutes a game which means every Penguins defensive pairing will be seeing them, they are a talented trio that has developed great chemistry and are easily the biggest threat to the Pens defense. Personally I am still laughing over the name "Pitlick." I wanted to include a cartoon gif but for future reference, "armpit lick gif" is a NSFW google image search…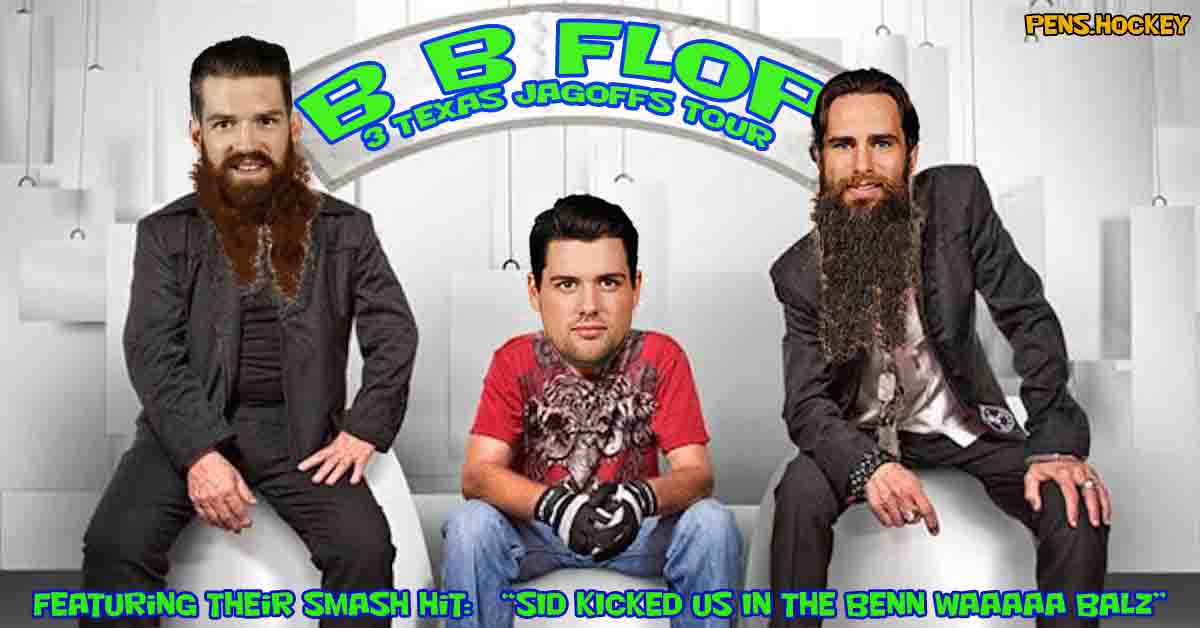 With the new arrangements on the third line I have a sneaky feeling we may see a Zach Aston-Reese goal tonight. The third line of ZAR-Sheahan-Sheary has a perfect combination of size, skill and speed that will catch a lot of teams off guard. The way Riley Sheahan has been playing lately should propel that line in the Penguins favor regardless of removing Kessel from his wing. A key for the Pens is to get any of their top three lines out against the Stars third pairing of Johns and Honka Honka. Honka gets under 12 minutes a night on defense which doesn't bode well for any team against the aggressive forechecking of the Penguins. If Dallas wants to protect the young defender at the cost of making the others play extended shifts this game will not end well for the Stars as they will tire out before the third is over. When that happens the Pens big boys will take this bull by the horns.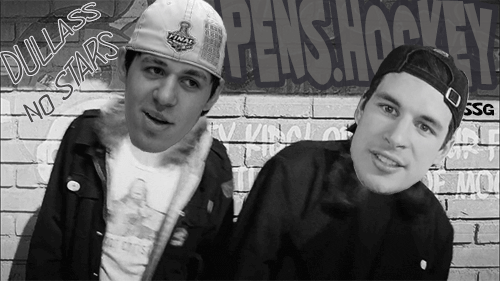 Overall both of these teams are playing some solid hockey and this should be a good matchup. The injury list for the Penguins looks a lot worse than it is in terms of offensive production and thanks to the franchise commitment of playing the same way there shouldn't be an issue with catching Blueger up to speed. The biggest area for the Pens to focus on is the PK now that they've lost 2 of their top killers in Kuhnhackl and Rowney. As is always the case with good teams, someone will find a way to step up and I assume we will see that again. It's a gameday in Dallas, brother. It's another chance at a W, brother. Let's go get that deuce, brother!