The Penguins kicked off their annual dads trip in Dallas last night. There is nothing else to say here…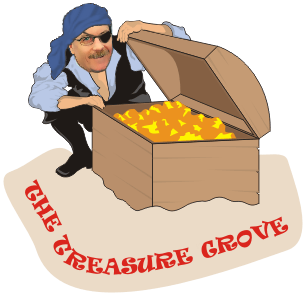 Blueger becomes the 22nd Latvian to play in the NHL and third Penguin (Victor Ignatjev, 1998-99; Petr Skudra, 1997-00). All were born in Riga.

— Bob Grove (@bobgrove91) February 10, 2018
I was going to ask about this in the gameday but I knew Bobby G would have our back. Blueger ended up not playing fwiw.
Over his 20 GP with Pens, Oleksiak leads them in hits with 69. He had 51 hits in 41 GP with Stars last season.

— Bob Grove (@bobgrove91) February 10, 2018
nice
In their first 26 GP, Pens killed penalties at a 76.7% clip. In their last 29 GP, it's 89.5%. They've improved 12.8% and moved from 26th to 7th, which is nuts.

— Bob Grove (@bobgrove91) February 10, 2018
Hey Pens PK, are you a fat girl? Cause you killing some PPs
Cole scored the 13,000th goal in Pens history Tuesday night. Only the Original 6 teams, who had at least a 40-year head start, have scored more.

— Bob Grove (@bobgrove91) February 10, 2018
These franchise based stats will never get old
After his first 23 games this season, Malkin was tied for 90th in the league in goals (7). He's now second, having scored 23 goals in his last 28 games.

— Bob Grove (@bobgrove91) February 10, 2018
He will retire as the most underrated center of his generation
The last 53 regular season GP in which Geno has scored a goal, Pens are 40-11-2.

— Bob Grove (@bobgrove91) February 10, 2018
SO IF GENO SCORES IN EVERY GAME THEN THEY WILL BE LIKE ALMOST UNDEFEATED!
Leading up to the game Conor Sheary and Carter Rowney were both labeled as questionable while Hornqvist and Kuhnhackl were put on IR. By the time the game started both Rowney and Sheary were in leaving Teddy Blueger in the pressbox for his first NHL game
Let's play some hockey. pic.twitter.com/ReX8gCVksV

— Pittsburgh Penguins (@penguins) February 10, 2018
Really no surprises here if you read the gameday minus the addition of Rowney, in retrospect Rowney was clearly not 100% so I feel Blueger may have been a better choice.
From the opening faceoff these teams were flying. 46 seconds in Crosby gets a stick to the face followed by Radulov trying to center Sid up at center ice. The Penguins powerplay had some great puck movement but just couldn't convert and they finished the powerplay by taking a penalty of their own. The penalty kill was successful with ZAR filling in quite nicely for Kuhnhackl. A little after the penalty expired Aston-Reese gets the puck along the boards and instead of dumping it in he makes a smooth chip pass to Sheahan and Riley took it to the house:
RILEY SHEAHAN (5) Assisted by ASTON-REESE & COLE (9) @ 9:07
FIVE-HOLE! 🙌 pic.twitter.com/GEu8OgrS5H

— Pittsburgh Penguins (@penguins) February 10, 2018
First career point for Zach Aston-Reese and what a smart play it was. Not to be outdone this is a really strong move by Sheahan and it really shows his confidence level right now, it takes one confident son of a bitch to make that power move instead of pass it to Evgeni Malkin.
Riley Sheahan shoulder dipped Lehtonen into limbo. Seriously. Look at him give that little shoulder dip right before he cuts across the crease. Freezes Lehtonen solid. Sneaky stuff. pic.twitter.com/3wAMMKrmD6

— Jesse Marshall (@jmarshfof) February 10, 2018
Following the goal the Stars continued their physical play specifically targeting Malkin. Malkin and Roussel would get tangled up in a love tap match and both would go off followed 30 seconds later by Dumoulin getting called for high sticking on Seguin. The 4 on 3 penalty kill had some highlight moments, kicked off by a smart play by Ian Cole.
Later in the penalty the Stars would try a shot from the point that was blocked by Hagelin, most players would just dump this puck in and get a change but Carl Hagelin ain't most players
CARL HAGELIN (6) @ 10:54 SH
It's a bird. It's a plane. No, it's CARL HAGELIN AT LIGHTNING SPEED! pic.twitter.com/TBml1kQ31U

— Pittsburgh Penguins (@penguins) February 10, 2018
There isn't much you can say here except "wow," talk about turning on the jets.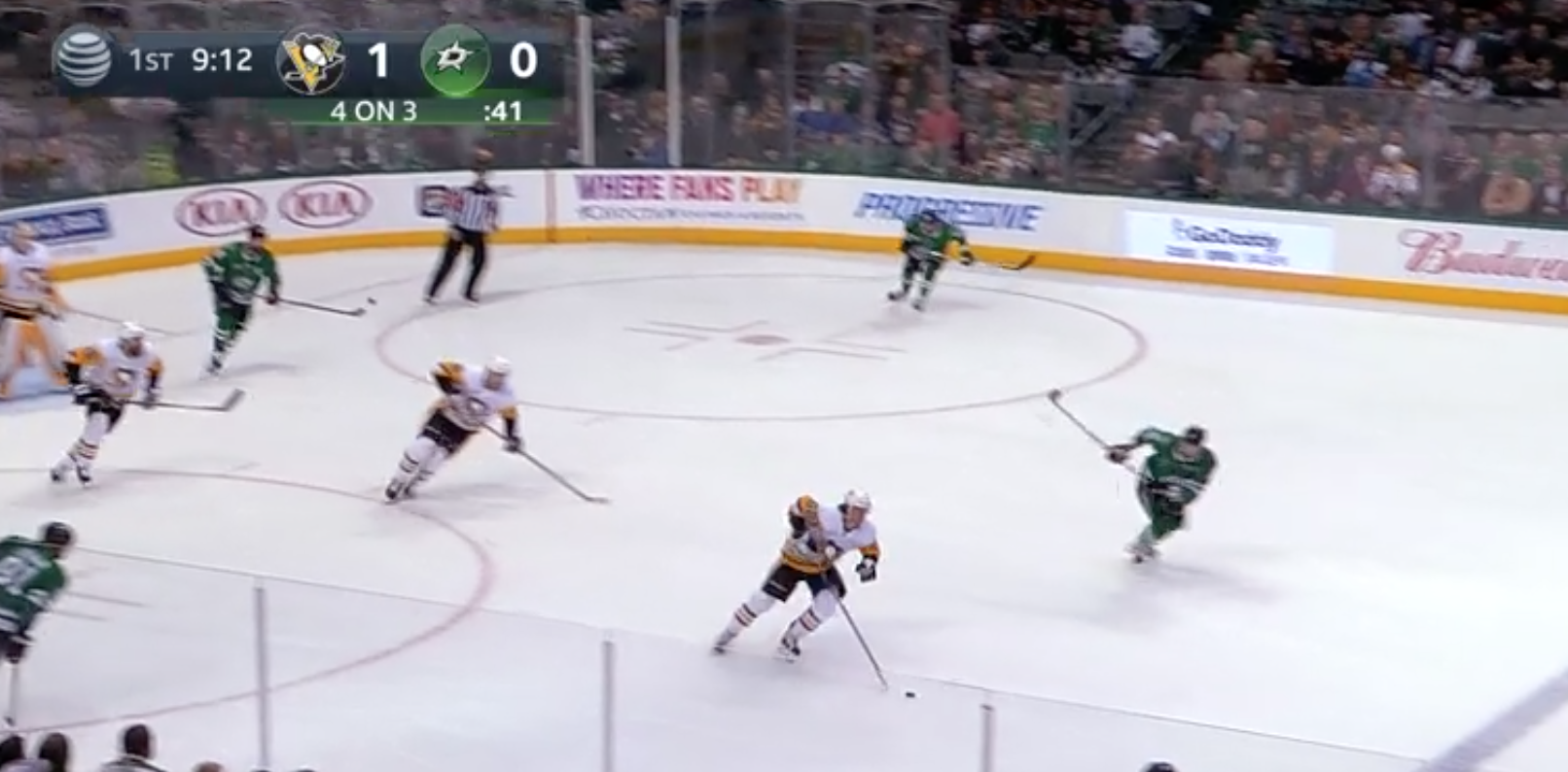 After the block Hagelin has decided he is going to go for it, the time on the clock is 9:12.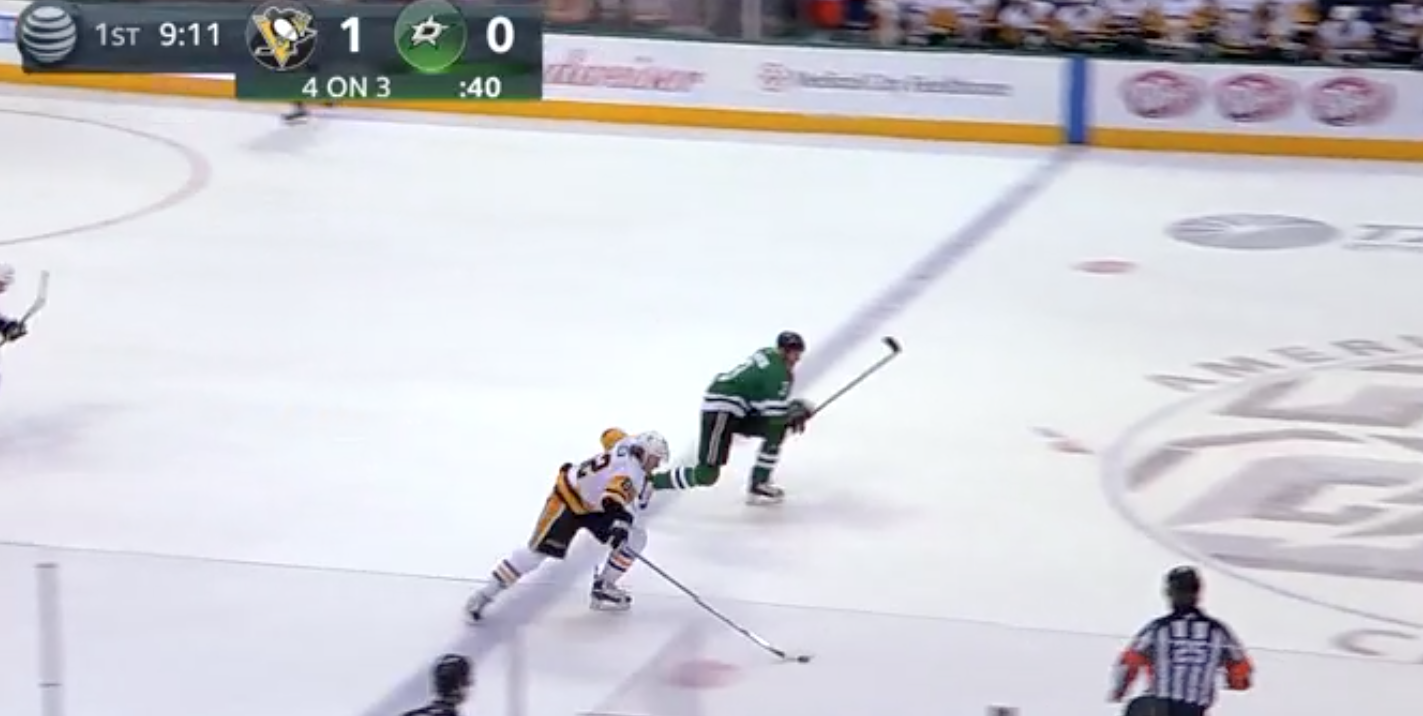 I added this frame so you can see when he is at the blue line.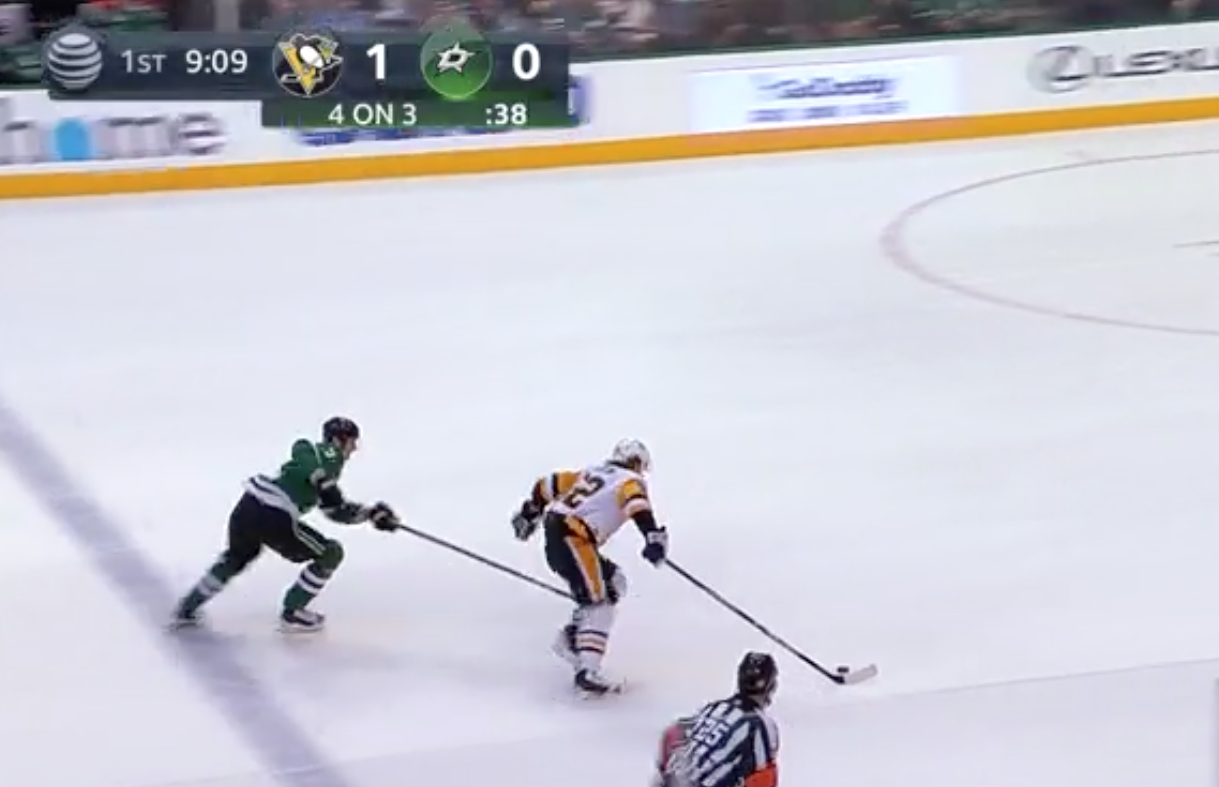 It takes Hagelin less than 2 seconds to skate the 50 feet that separates the bluelines, and at this time he has traveled approximately 70 feet in 3 seconds from a dead stop.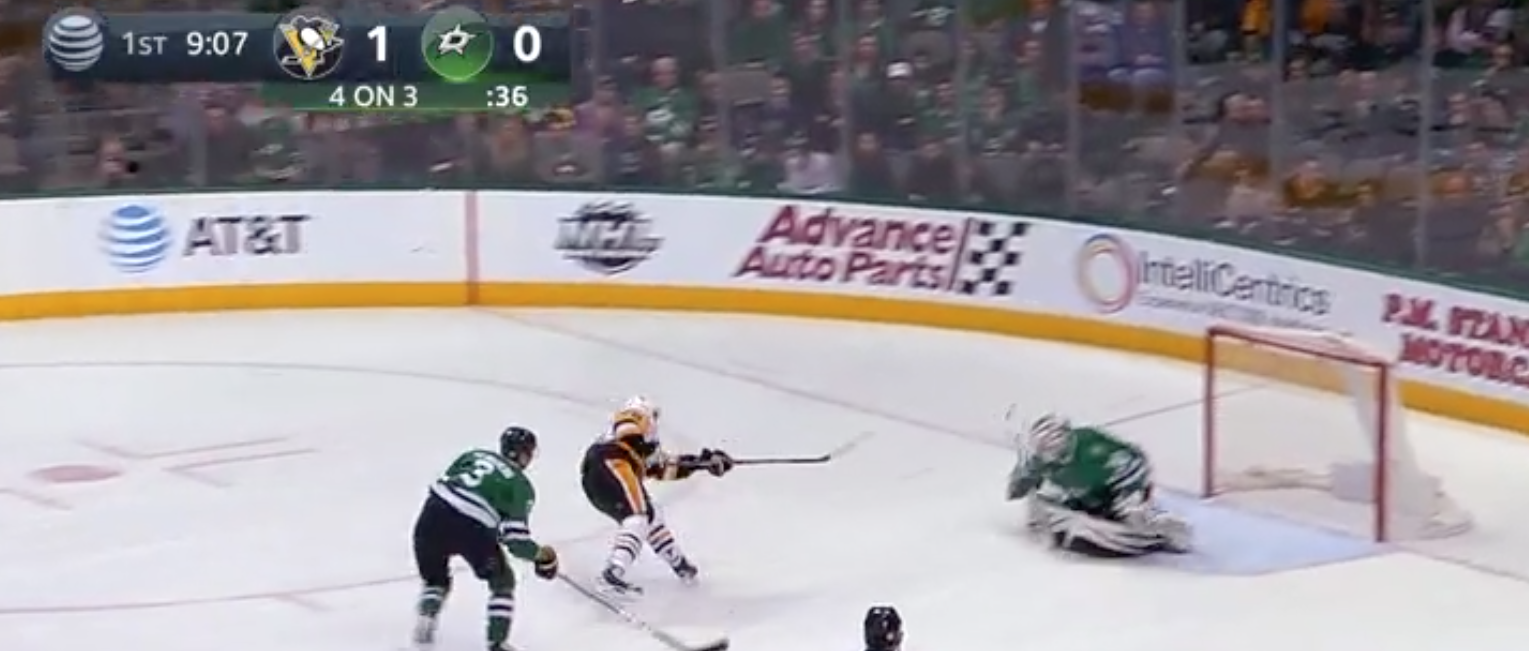 By the time the shot is released the puck was on Hagelin's stick for 5 seconds which is about the same amount of time you need to release your shot. Unreal speed by Hags.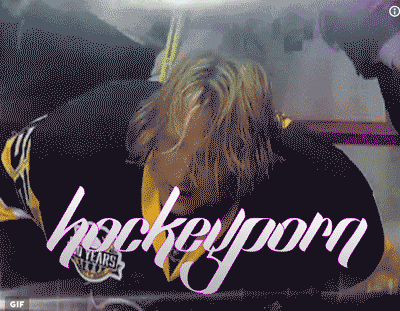 The Pens preceded to kill off the rest of the penalty and then went on a powerplay of their own. With the chance to bust the game wide open at 3-0 the powerplay once again came up with nothing and five on five play would resume. With less than 3 minutes remaining the Stars would get on the board when Seguin received a nice pass from behind the net.
https://twitter.com/FOXSportsSW/status/962147492828762113
Sorry, that is all you get for a highlight.
The final two plus minutes would end without any other goals being scored.
Not a bad start. Not bad at all. pic.twitter.com/QBcWfrbz0i

— Pittsburgh Penguins (@penguins) February 10, 2018
Really odd first period with 5 powerplays total plus the one set of matching minors, less than half of the period was played at even strength.

The second period started with the same intensity the first had with the Stars going after the Penguins top players every chance they got. At one point Crosby put on an absolute show in the offensive zone but once again just couldn't score after undressing Lehtonen. Eventually these chances are going to start falling for Sid and he may walk away with the scoring title.
As the period approached the halfway mark Justin Schultz went awkwardly into the boards and left the game, other than that it was back and forth hockey and you had to wonder when the Stars would start feeling the fatigue of playing the night before. As the period ticked away we could see Evgeni Malkin getting tired of constantly getting hit by Dallas players to the point where he was playing cautiously just to avoid the hits. Not really a big deal in a February game against a Western Conference team but I figured I would mention it.
Overall both teams had some good looks in the period but it was Matt Murray's strong play in net that allowed the team to enter the locker room with the 2-1 lead.
Here's a look at your #PITvsDAL stats after the 2nd period of play. pic.twitter.com/UceBgW7lXf

— Pittsburgh Penguins (@penguins) February 10, 2018
Remember the graphic from the gameday post that showed how few shots the Stars allow from the center of the ice? 18 blocks through 2 periods has a lot to do with how they generate that cold zone. Justin Schultz returned after missing a few shifts btw. Through 2 periods Dominik Simon with just 6:23 TOI in case you were wondering how serious Sullivan is about sending a message to the younger guys when they mess up, Reaves had the second fewest at this point with 6:40.
The third started off with more back and forth hockey with Aston-Reese turning in an impressive shift. Following that was Simon trying to dance his way to goal, it resulted in a save and a counter attack. The Stars take the puck behind the goal and send it back to the front, right to Klingberg's stick and he just doesn't miss this year. Klingberg leads all defenders with 52 points so far this season.
4 minutes later the Stars would get more pressure in the offensive zone and the puck would again end up in the net to give them their first lead of the game. Murray's stick was accidentally knocked out of his hands by Maatta and the Stars wisely shot stick side, though it should've been a typical blocker save Errey convinced us that things just feel different without the stick there. Carter Rowney was about a centimeter away from blocking both of the Stars early goals which could've screened Murray's view but the goaltender most likely wants one of the two back.
It became evident that the Stars simply weren't going to run out of gas in this game which is amazing considering they played the night before and didn't get back to Dallas until 3 in the morning. They carried out every hit and pursued every puck just like they did in the first period and the Penguins had to find a way to answer. Eventually 8 minutes ticked down to 2 and we got that feeling that this wold be another 1 goal loss. With 2 minutes left Sullivan pulled the goaltender and let the big dogs take control of the game. The game just about ended right there when the Stars almost got a goal from their most dangerous weapon:
Just an absolute brain dead move by Letang here who had no reason with his speed not to skate this puck straight up the ice, there was nobody in front of him. Luckily for all of us Schultz was there to save the goal, and then get in really good position to fire away.
JUSTIN SCHULTZ (3) Assisted by MALKIN (33) & LETANG (28) @ 18:47
Clutchhhhh. pic.twitter.com/2jahRIf5YU

— Pittsburgh Penguins (@penguins) February 10, 2018
What a feed from Evgeni Malkin and a perfect finish by Schultz. I mentioned in the game 50 gameday that the Pens needed 46 points in their remaining 32 games and that if they were going to lose some games it would be nice to at least lose them in overtime. This was a huge goal and a gutsy performance to pull off on the road.
These two teams were nuts in overtime but somehow neither scored thus ending Crosby's point streak.

The Stars went first and they used Radulov, Seguin, and Spezza. The Penguins answered with Malkin, Crosby, and Kessel. Seguin was the only Star to beat Murray and no Penguin got by Lehtonen to give the Stars the extra point.
GAME
---
Thoughts:
Giving up two early goals in the third will never sit well with a coach, but not completely imploding and gritting it out to tie things up showed a lot of character
The Penguins fall to 10-15-3 on the road
Dominik Simon and Ryan Reaves each received less than a minute of icetime in the third as Simon finished with a team low 7:17
I felt that ZAR had a solid game and looked more comfortable in this game than others. Conor Sheary was the drag of the third line as the little guy fell down or was just outmatched the whole game against the bigger Stars
Murray would want one of the two third period goals back but the netminder made many huge saves in the second and in the third, finishing the game with a .917 save percentage
Pens powerplay now 0/7 with Hornqvist out of the lineup
Pens travel to St. Louis to take on the Blues at noon on Sunday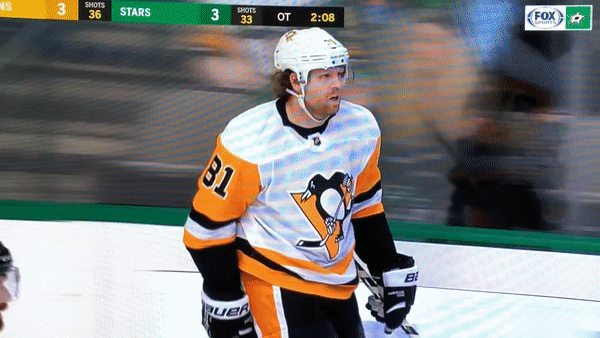 Loading ...