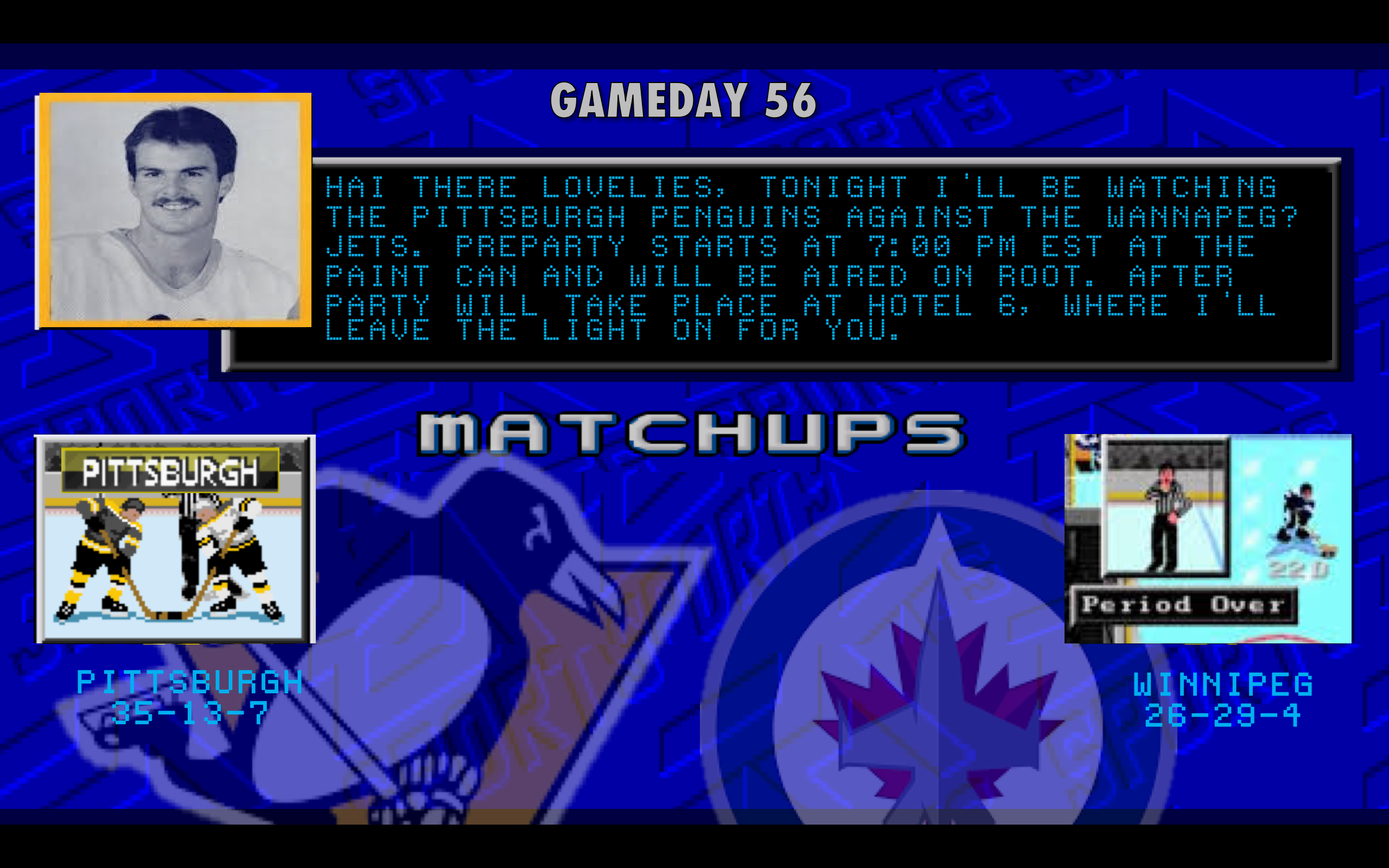 "Period over" sums up the Winnipeg franchise perfectly; they had an original franchise that played in Winnipeg for a while until that period was over, they played in Atlanta for a while until that period was over, now they are back in Winnipeg and each player loves hearing the siren telling them that the third period is over. The Jets are a weird conglomeration of talent, uselessness, lack of talent, and what the fuck. Every year they are praised and we are told they will make the playoffs, every February they are below .500, they are essentially Canada's Flyers.
So what is the problem with the Jets? Well for one, they have 3 back up goaltenders. Next time you hear someone complaining about the Murray/Fleury tandem, remind them that Winnipeg has to choose between Hutchinson, Pavelec, and Hellebuyck… choosing one of them is equivalent to playing Russian roulette with all 6 chambers full.
Remember when everyone thought the Pens were going to trade Maatta for Trouba? That didn't happen obviously, but you know who the Winnipeg Jets could really benefit from next season? His name rhymes with Marc-Andrea Fleury, dammit I ruined the punchline. The Penguins wouldn't have much leverage if they wait until the offseason to get the deal done, but if he waived his NMC for Winnipeg I can definitely see the Jets being interested. Of course, after all he has done for the Pens I'm not sure the organization would send him to die in Winnipeg, but business is business.
Winnipeg is 5 points out of the final Wild Card spot and they need to start making up ground soon if they are going to make a push for the dance. They have the cap space to be aggressive at the deadline, but do they have enough to give up without losing any of their structure? I wish I knew the answers to these questions, but I don't recognize over half of their roster.

At first glance the Jets are in a good spot, all of their draft picks for the next three years and 5.6 million in cap space. Then it came time this offseason to deal with Andrew Ladd and Dustin Buttfuklin. So they let Ladd walk, and gave Big Buff a 2.4 million dollar raise. He inked a deal to the tune of 7.6 million dollars per year for 5 years, which will carry him through is 36th birthday.
Is Buff worth 7.6 million? Yeah you can make an argument for it. Will he be worth that after he is 34, probably not. It's part of the nature of the business though, these defenders have an expiring contract between age 28-30, and they cash in time and time again even though time and time again we witness decreased production and worth. I remember one of our famous commenters wanted to add Buff this offseason, because 15 million between Letang and Dustin wouldn't be a disaster.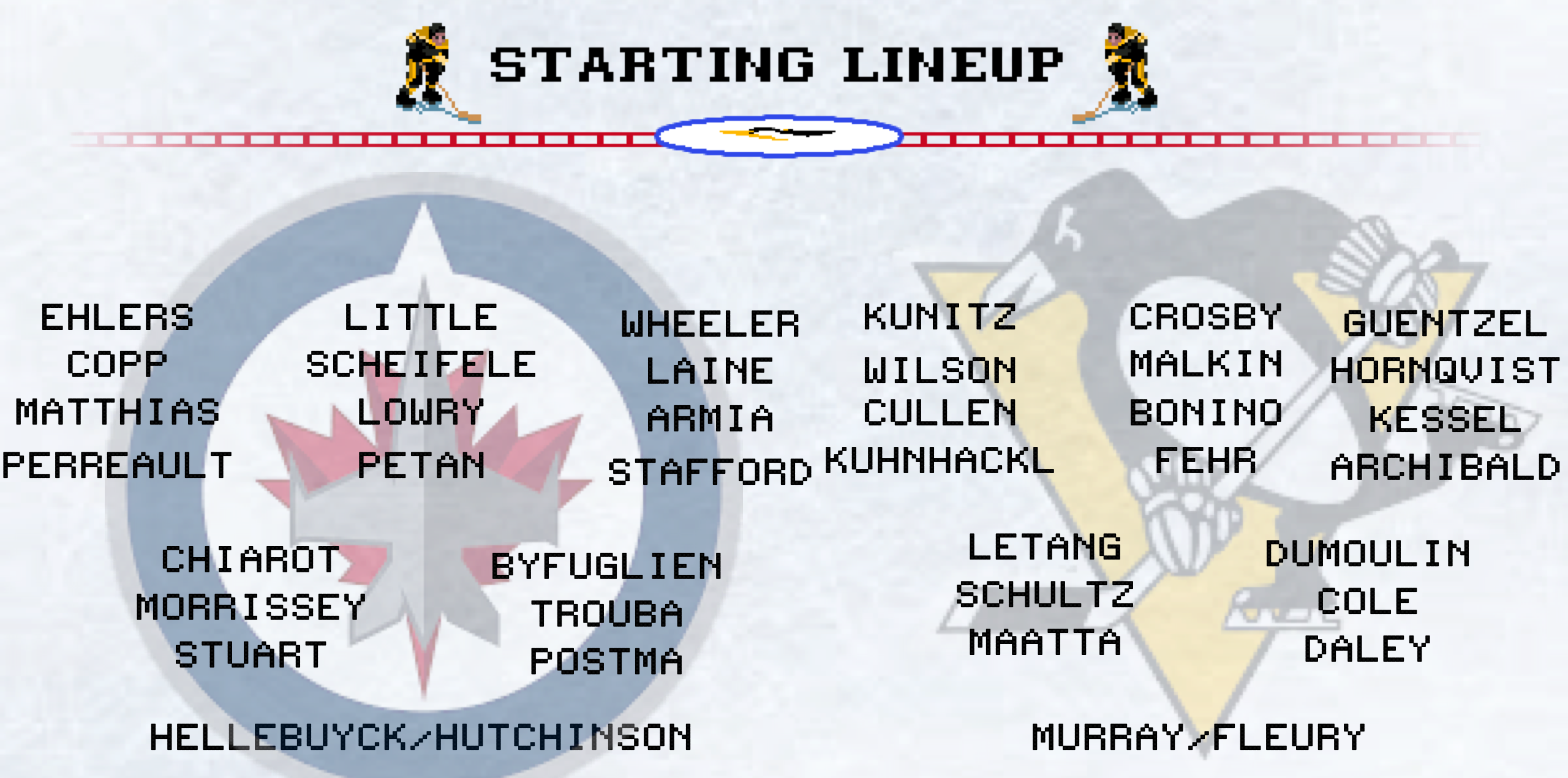 I'm expecting the same lineup for the Pens tonight that they used against Vancouver except for the addition of Fehr. If they are thinking about dealing Fehr at the deadline to free up some cap space then it wouldn't surprise me to see them start Rowney of Fehr again. The rest of the forwards should be relatively set. The Guentzel-Crosby pairing is working, as Sid has ditched Sheary for a blonde. Scott Wilson actually got an assist last game, which was the first time we we're reminded of his existence since December. As for the Jets……………………………..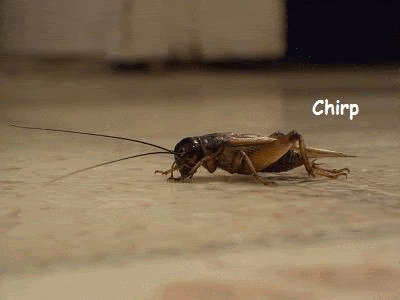 We get our first look at Patrik Laine, so that is exciting. From the highlights I've seen the kid has an absolute wicked shot. Other than that I could care less about the majority of the Jets players. Word is Claude Giroux has asked the Flyers to make a trade for Andrew Copp, saying he feels he would be a great asset to his line, he really grasps what's going on with the game. I expect Murray in net for the Pens and someone with a last name that starts with "H" for the Jets.
New T-Shirt Design: (Seriously considering starting this production, as well as some other designs that our artists have created)
For some reason when these two teams meet they completely forget how to defense and the scoreboard lights up a ton. Will this happen again tonight? Possibly. Though within the last few weeks Sullivan has been readying the defense for the playoff push and we've seen a much tighter unit than we witnessed in December. That doesn't mean all hell can't break lose tonight, and if we have Malkin, Crosby, Kessel and Laine going full throttle, look out.