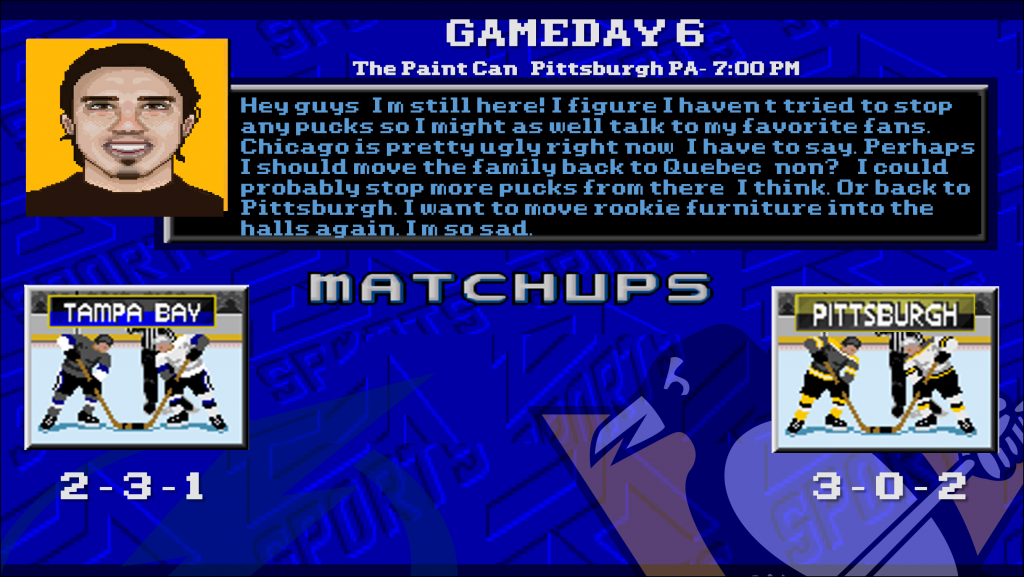 Hi everybody, The66thDopefish here! I had a great time writing up the Gameday for the game against the Flames, not realizing that the next game is tonight against the Tampa Bay Lightning. Whoops! So this Gameday will be hastily whipped together while the Calgary one is awesome.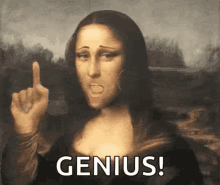 It's been an interesting start to the season for the Lightning, to say the least. So far, the Cup defense is not going so smoothly, particularly at home where they have yet to win a game. Starting off on opening night with a 6-2 loss against the Penguins (who were less short-staffed then than they are now), they won two straight overtime games on the road, 7-6 against Detroit and 2-1 against Washington, before coming back home and losing 4-1 to the Panthers and a 4-3 shootout loss against Colorado before going to Buffalo and looking miserable in a 5-1 loss. At 2-3-1 they sit tied with the Toronto Maple Leafs for fifth in the Atlantic Division, which is even sadder than it sounds because these two teams are heavy favorites for the Cup and they are currently behind Buffalo and Detroit in the standings among others.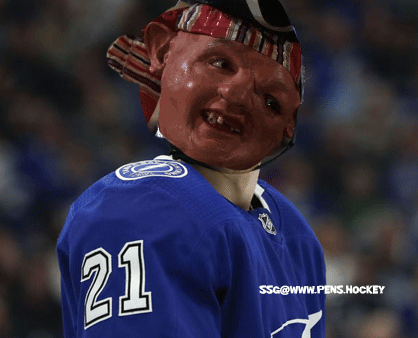 If you believe in such things, karma may have played a role in things looking poorly upon the Bolts, as they lost Mr. Long-Term Injury Reserve himself, Nikita Kucherov, to a lower-body injury against the Capitals in that third game of the season. As you may remember, the Lightning quite infamously kept Kucherov on LTIR all of last season, which allowed them to exploit the salary benefits of such a decision, and when the Lightning made the playoffs Kucherov was certainly rehabilitated enough to lead Tampa Bay in scoring and, if not for Andrei Vasilevskiy, he probably would have won the Conn Smythe as playoff MVP. The difference here being that last season it was an open secret that the Lightning were planning on holding Kucherov out for the entire season, so at least they were prepared for it then. Now though, it's pretty jarring to lose a key player such as him when the task of three-peating is looming large over your team.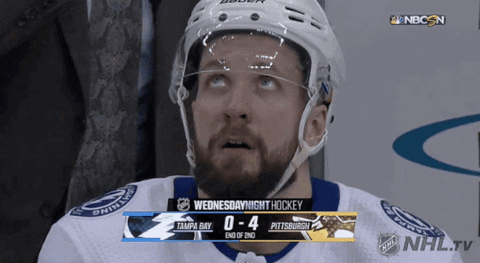 You can perhaps see the parallels of last year's Tampa team and how they performed in the absence of Kucherov, and that of this year's Penguins in the absence of…well, everybody, but in particular Evgeni Malkin. Head coach Mike Sullivan has definitely made it clear to everyone that they cannot give anything but 100% on any shift because you never know when you may be called into a more important role. Well, as we've seen, the team's been without Malkin, and Sidney Crosby, Jake Guentzel, Bryan Rust, Kris Letang, Mike Matheson, and Jeff Carter with considerable overlap. After years of dealing with man-games lost, they haven't just performed well, they have played well above expectations.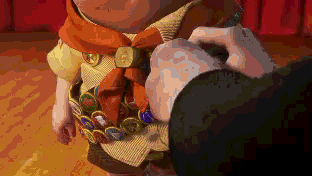 The Lightning enter tonight after being embarrassed by the Sabres just last night, and at risk of their first four-game losing streak since the end of the 2019-20 season which followed an eleven-game winning streak and the fore-knowledge of a playoff berth that would lead to the first of two consecutive Stanley Cups. I wouldn't expect them to go down without a fight, but at least these Penguins seem to have what it takes to keep up with anyone right now.