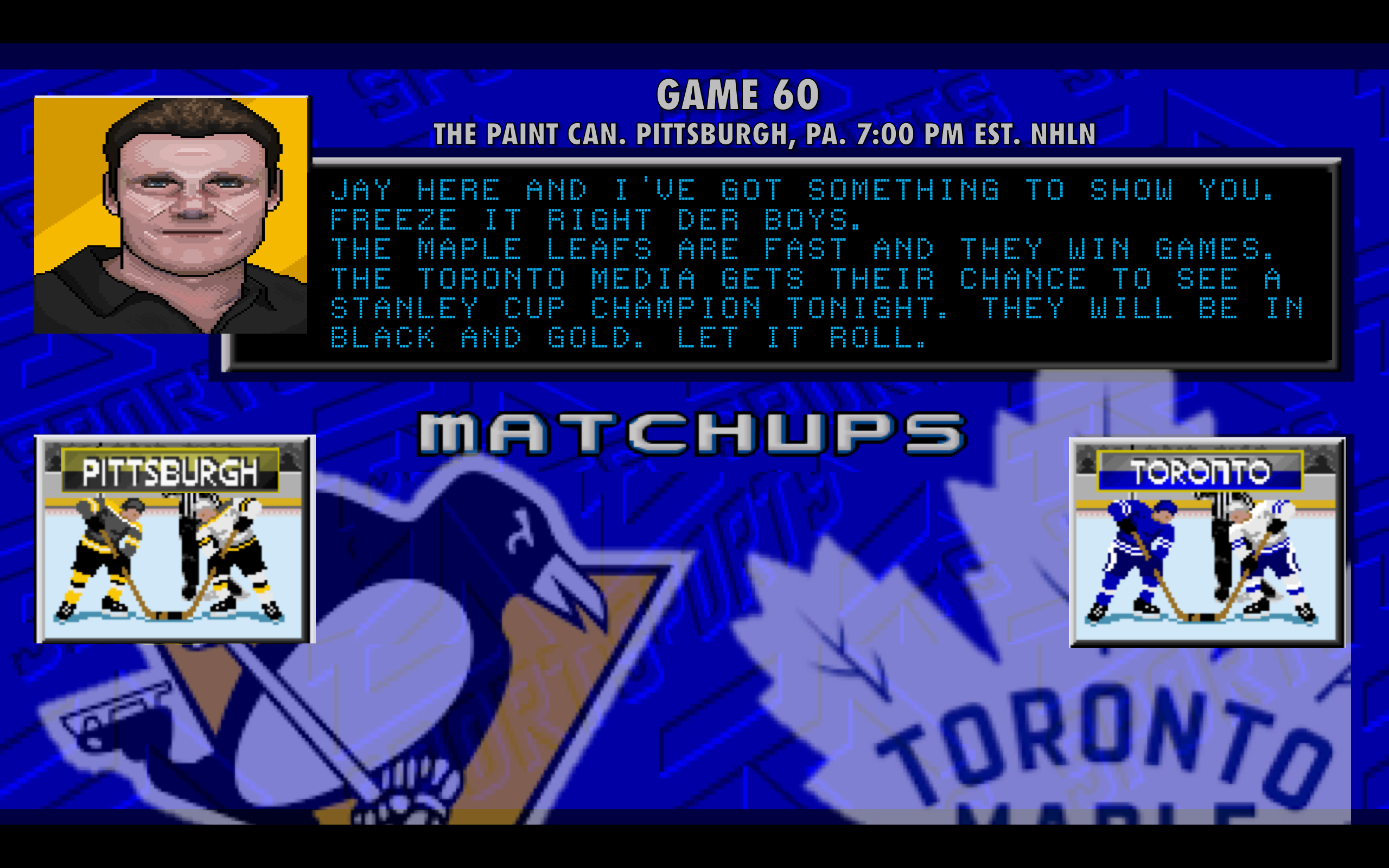 The Penguins welcome the October Stanley Cup Champions into The Paint Can tonight for a Prime Time matchup on NHL-Network. This game has been marked on my mental schedule for a few weeks due to both of these teams playing their best hockey heading into it, the Leafs are 9-1-0 in their last 10 while the Pens are 8-1-1.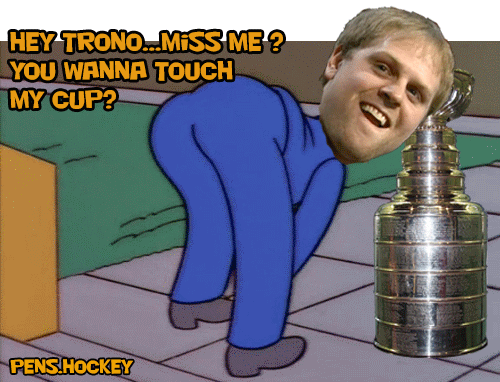 We've seen the Penguins handle the heavier hitting Central division teams recently as well as skate away from the physical Pacific division teams; now we get to see how this Penguins team hangs with a Toronto team that plays an even faster game than the Pens. Toronto plays a fun style of hockey offensively but it comes at the expense of exposing their defense and goalie often throughout the night, something that without the addition of another good defender at the deadline might prevent them from taking that next step come April. The Leafs aren't a fluke though as you can see below they are better than league average in just about everything:
For the sake of completion here are the Penguins stats:

Toronto is currently in third place in the Atlantic division with 75 points, 6 points behind the Lightning in first and get this, 19 points ahead of the fourth place Florida Panthers. NINETEEN. As a matter of fact the Atlantic division is so weak that every Metro team is ahead of the 4th place Panthers: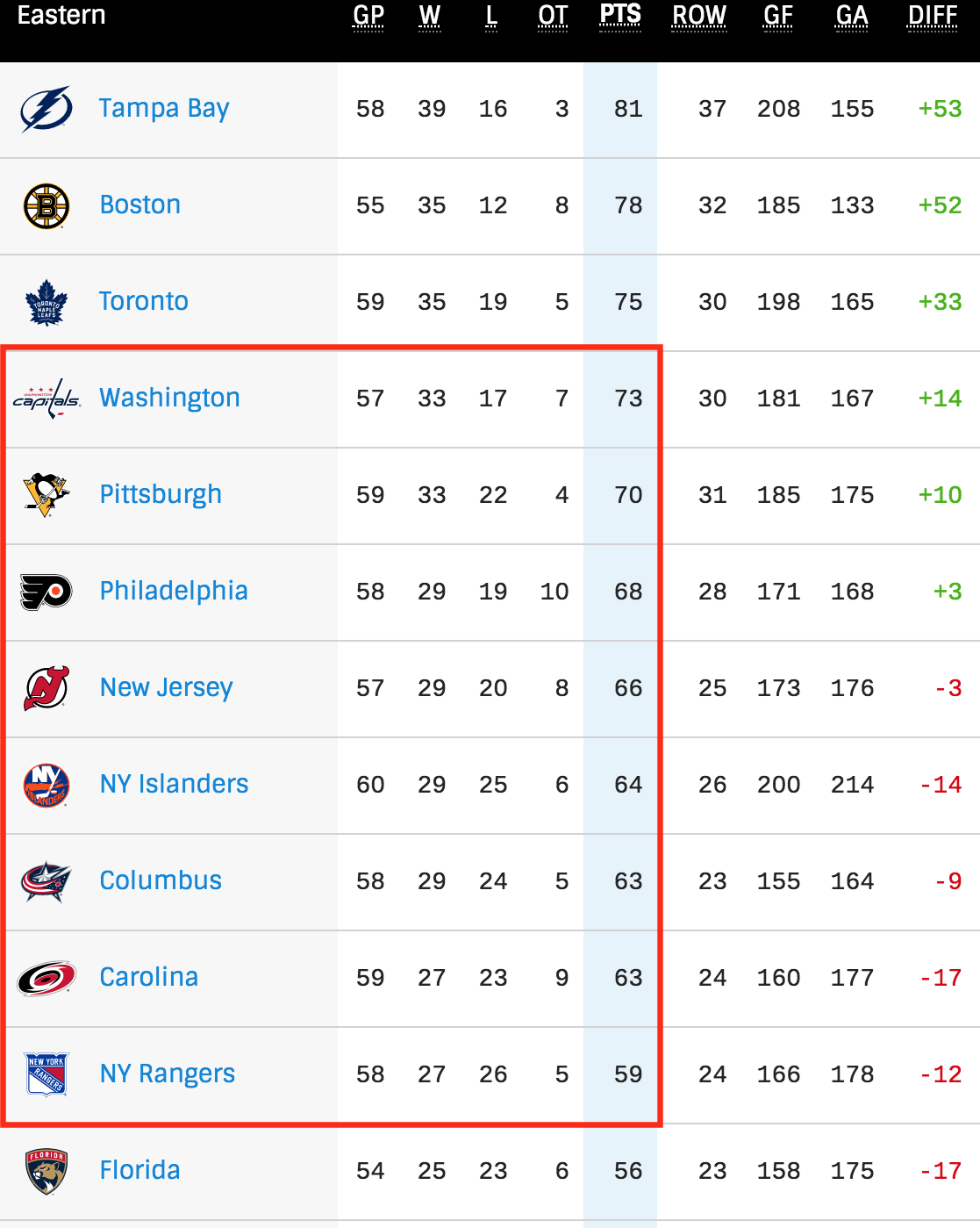 When an entire division is better than 5 of the 8 teams in another division it makes you wonder if the top 3 teams in that division are as good as their records say, or if they are benefitting from their 4 interdivisional games against each of these 5 teams, a total of 20 games against non-playoff bound teams just in your division.
The Babcock Effect is working in Toronto regardless of the strength of division argument and they are a legitimate team that should make same noise in the playoffs. One of the biggest surprises involving Toronto is their 6th best penalty kill unit which is killing at a rate of 83.2%. After giving up a powerplay goal last game to the Kings the Penguins PK has fallen to 8th in the league at 82.5%. Surprisingly the Toronto powerplay isn't as dominant coming in at 16th in the league with a 20.1 success rate. When it comes to 5 on 5 play the statistics align nicely with the eye test, like I said above the Maple Leafs love to generate offense at the expense of exposing their defense and goalie to high grade scoring chances and the heat map demonstrates that: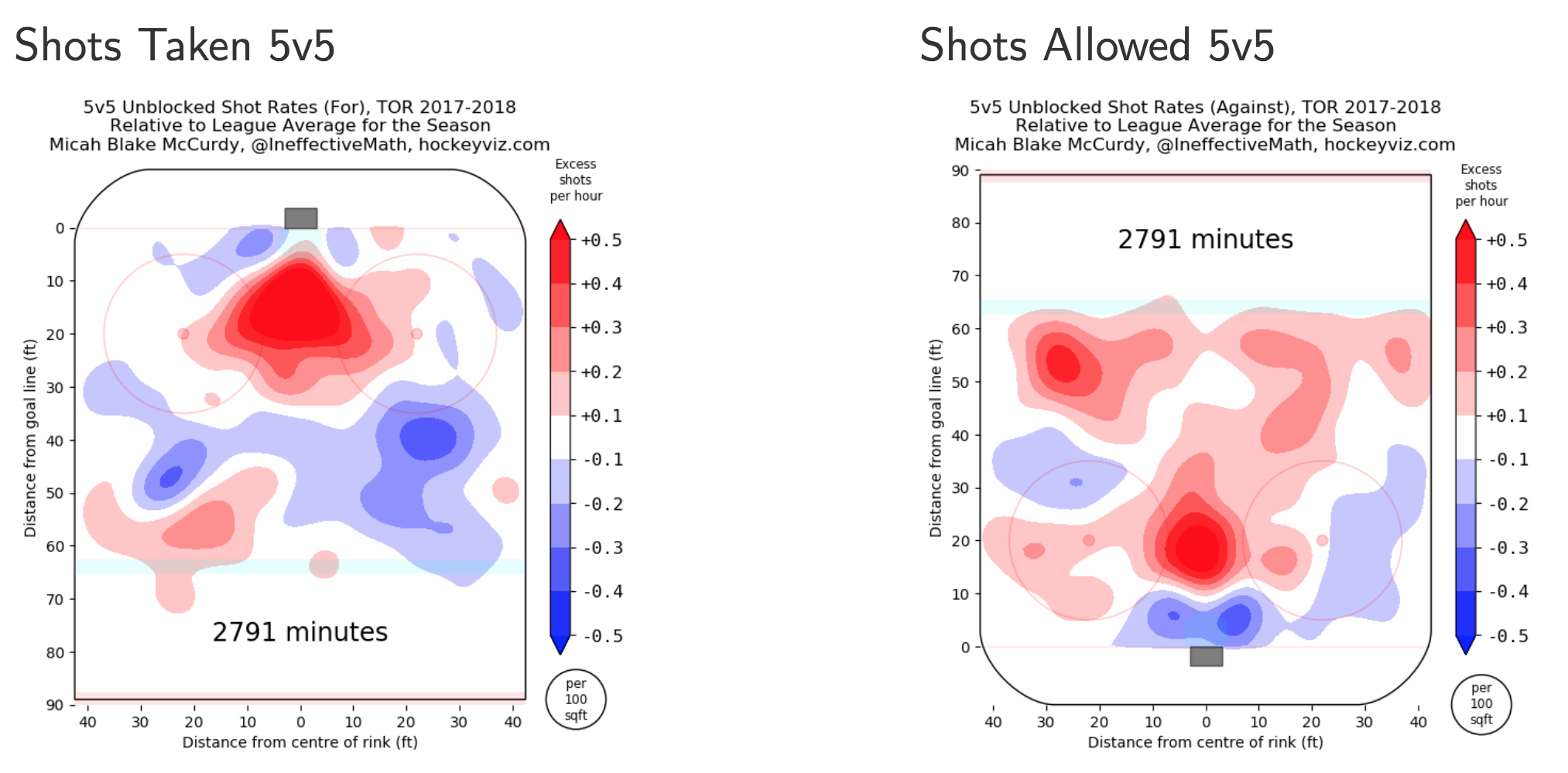 The Leafs love playing what I call an EA Sports style of offense where you rush down with 2 players and try to set up that sexy one-timer and it is something the Penguins defense will have to watch out for tonight. It's been awhile since this Penguins team has been tested against a team with equal speed and it will be nice to see how they adjust.
The biggest highlight heading into this game is Phil Kessel. The obvious spotlight of attention yesterday before battling his former team, Kessel was asked a few questions by The Athletics Josh Yohe that he delivered perfect answers to:
When asked about competing against Sid and Geno for the scoring title
"Definitely not. We're all good buddies here. We don't really care about that. We're here to win."
But wouldn't an Art Ross Trophy look nice on your mantle, Phil?
"I got two Cups. It doesn't really matter."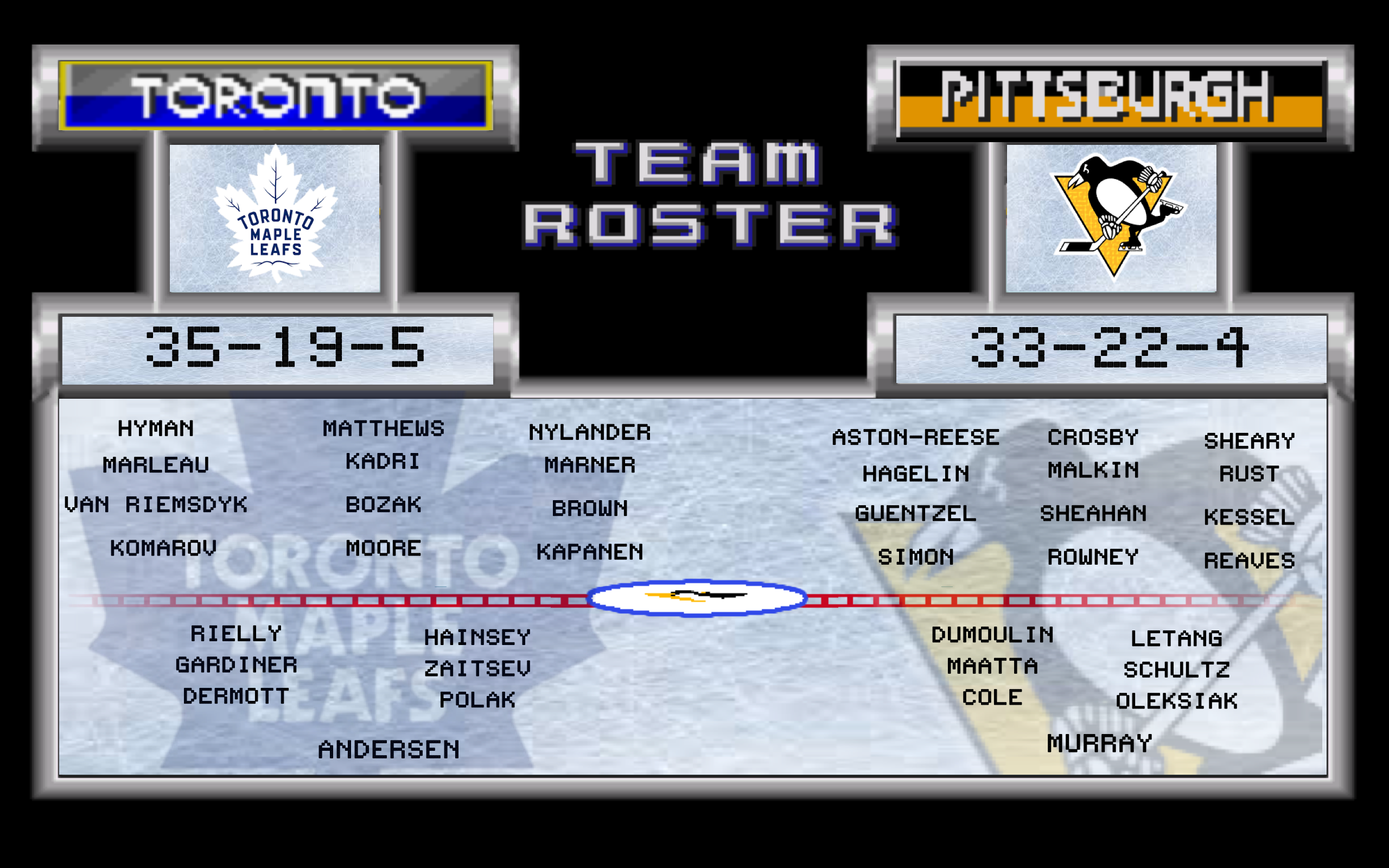 I wouldn't expect too many changes to the Penguins lineup other than Sullivan switching out Sheary with Simon throughout as Sully is basically having open auditions for Sids left wing. Once Hornqvist returns you have to think he goes to Sids right leaving the left wing open, I'm not sure ZAR gets it because his style is so similar to Hornqvist. I would like to think ZAR and Guentzel switch places when Hornqvist returns with Sheary falling off the team bus somewhere in Wexford but we shall see. I've said it above and will repeat it here, the defense is in for a treat tonight as they attempt to stick with Toronto, be prepared to see a good amount of odd-man rushes for both teams. You can glance at Toronto's defensive pairings and understand why they struggle against speedy teams, Stanley Cup Champion Ron Hainsey is on their top line. Dominic Moore is still in the NHL and on Toronto's 4th line, he is almost a guaranteed goal scorer tonight. With both of these teams featuring wicked offensive upside lets compare the goalies:
Andersen: 29-15-4. 2.66 GAA. .922 Sv%
Andersen is currently enjoying his best save percentage since his rookie year where he played in 28 games, went 20-5-0 with a .923 in 2013-14. His 2.66 GAA is one tick better than his 2.67 he turned in last year with Toronto, prior to coming to Toronto his GAA was below 2.40 in 3 seasons with Anaheim as we see the direct effect of putting your defense in vulnerable positions.
Murray: 21-12-2. 2.85 GAA. .908 Sv%
Murray's season stat line is a little misleading due to both his and the teams subpar play through December. Since he has returned following the passing of his father Murray has been lights out. If we were to only show his stats in 2018 they look like:
10 GP (8 games stared), 7-1-1, 2.75 GAA, 0.924 Sv%
Both of these goalies are saving a lot of shots while also allowing almost 3 goals per game. Both of these teams love to shoot the puck and score 5+ goals per game. All of this adds up to a 0-0 tie.
Both teams are playing their best hockey, Matt Murray is playing his best hockey, Evgeni Malkin is blowing up, grab some popcorn and cancel your plans. Turn on the NHL-Network because we've got ourselves a Saturday Night Special, brother.