The general preface of this game was that two of the hottest and fastest teams in the league were ready to square off, and boy did it not disappoint. Under the direction of Mike Babcock the Leafs have actually started resembling a hockey team and that excitement brought a large amount of Toronto fans to Pittsburgh last night.
Justin Schultz wasn't feeling too hot so he was replaced by Hunwick, everyone else was where we expected them to be.
Here's a look at tonight's #TORvsPIT lineup.

Hunwick replaces Schultz on defense. pic.twitter.com/Kq5TXhVDTJ

— Pittsburgh Penguins (@penguins) February 17, 2018
As predicted the Maple Leafs tried to get off to a quick start but Sullivan had a trick up his sleeve, instead of rushing 1 forward on the forecheck Sullivan had the Pens rushing 2. This pushed the Maple Leafs back and completely threw Toronto off through the first 6 minutes. That isn't to say they didn't get their opportunities however, and it looked like the Leafs would score first but Murray thought otherwise:
Glovely save, @mattmurray_30! pic.twitter.com/kVPxMGoRm8

— Pittsburgh Penguins (@penguins) February 18, 2018
Here is the above view of the beauty
.@mattmurray_30's got this. pic.twitter.com/vNjL6yBKkK

— NHL GIFs (@NHLGIFs) February 18, 2018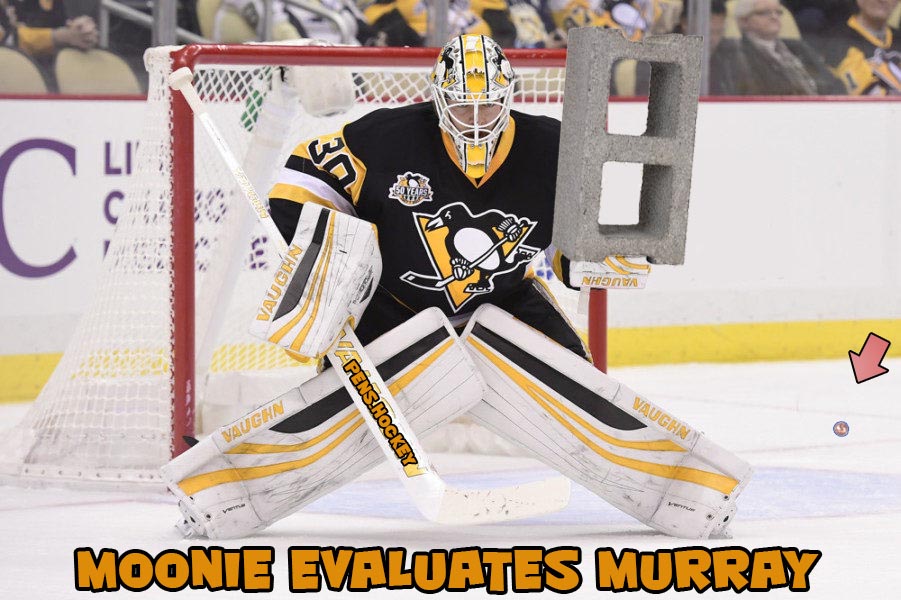 With great glove saves come great momentum swings, and 22 seconds after the save the Pens were rushing in 3 on 2 and Rust made a sweet pass the The Flow…
CARL HAGELIN (7) Assisted by RUST (20) & MALKIN (35) @ 3:23
Seven points (3G-4A) in his last seven home games for @CarlHagelin! pic.twitter.com/OgbaHIkVqg

— Pittsburgh Penguins (@penguins) February 18, 2018
Just a perfect feed from Rust right to the tape as this line continues to look stronger and stronger the more they play together.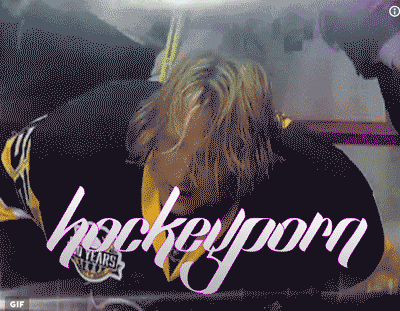 We all knew the Leafs wouldn't go away after just one goal since they are used to giving up about 46 per game. Three minutes after the Hagelin goal the Leafs would take advantage of Maatta's broken stick and feed Connor Brown in front of the goal to tie things up.
.@JVReemer21 feeds it back to @Breeze2Greeze for the finish. #TMLtalk pic.twitter.com/qF6I9lBY7Z

— Toronto Maple Leafs (@MapleLeafs) February 18, 2018
With the game tied up it started to open up a bit and following a Penguins turnover the Leafs transitioned beautifully, Murray made the initial save from the point but the rebound took an odd hop that he didn't anticipate and it was a slam-dunk for Tyler Bozak.
.@Bozie42 on the backhand. #TMLtalk pic.twitter.com/p1vCEoNJ0a

— Toronto Maple Leafs (@MapleLeafs) February 18, 2018
The Leaf fans in the building were going crazy and in their premature moment of blithe they forgot that the Penguins have been here before, and one minute later Evgeni Malkin was reminding them that it will take more than 2.
EVGENI MALKIN (33) Assisted by RUST (21) & HAGELIN (14) @ 11:51
Malkin joins Lemieux, Crosby, and Jagr as the only players in Penguins history to record 900 points with the team.

He is also just the sixth Russian-born player to record 900 points. pic.twitter.com/Sdin71ptZE

— Pittsburgh Penguins (@penguins) February 18, 2018
The goal was the 361st of Geno's career, and thanks to his assist on the first goal this mark became his 900th career point in his 762nd career game. When your name is on a list with Lemieux, Jagr and Crosby you are doing something right. The play all starts with Malkin using great hand eye coordination to reach up and grab this puck down, and then just a relentless amount of wanting it to get to the crease first.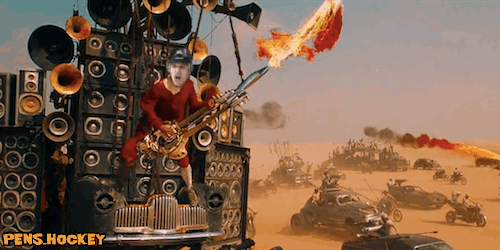 Following the tying goal the game just opened up with some of the most entertaining hockey we have seen. A playoff series between these two teams would result in at least 3 heart-attacks per game. Both teams got odd man rushes and offensive zone times but both goaltenders stood strong. Neither team would take a penalty, neither team would score as we had ourselves a 2-2 game after the first.
25 total shots (13 TOR, 12 PIT), 4 giveaways per team, 1 takeaway for the Pens and 0 for Toronto, I'm not sure you can get any more even. The Penguins top 9 were all over 5 minutes and under 6 minutes in the first as Sullivan tried to keep the team fresh with short shifts. The 4th line of Reaves-Rowney-Simon had 3:34-3:46 minutes.

The second period actually started a bit slower than the play we saw in the first until the Malkin line got on and sped things up. Geno is just on another level right now and damn what a treat it is to watch him. About four minutes into the period the Pens got a great look at goal and appeared to score but the goal was overturned as Sid kicked the puck in. Immediately following the goal the fourth line got a shift and Carter Rowney had a chance with an open net and hit Russia with his shot. Fortunately for the Pens Sullivan put the top line out again, they got to the net again, and Zach Aston-Reese was right where he needed to be, again.
ZACH ASTON-REESE (3) Assisted by COLE (10) & LETANG (30) @ 5:21
Net front presence. Back-of-net success. pic.twitter.com/UCoic0UNan

— Pittsburgh Penguins (@penguins) February 18, 2018
This is exactly what the Penguins were looking for when they signed Aston-Reese, his frame and play promised a goal front presence and he is filling that role perfectly. A power forward with some hands? yes, please. Great job to patiently wait for Andersen to fully stretch out before shooting, not something you typically see out of an undrafted rookie.
At this point in the period the shots were 9-0 Penguins so Jake Guentzel being the Hockey is for Everything believer that he is took a penalty to let Toronto get a chance to play. The Pens would kill off the penalty while not allowing a shot and it would take Toronto until the eleventh minute of the period to register their first shot on Murray. The Penguins forecheck continued to be a pain in Toronto's ass as they made turnover after turnover in their own zone, by the 13th minute of the period shots were 12-2 Pittsburgh. Following the 15 minute mark TV timeout the Penguins would take another penalty and put the Leafs back on the powerplay. This time the Leafs would get a shot on goal and it would go in off of Rowney's leg.
Patrick Marleau gets Goal #20. #TMLtalk pic.twitter.com/cHmHzXYj2w

— Toronto Maple Leafs (@MapleLeafs) February 18, 2018
Another powerplay goal coming off of the stick of Rowney's man, something we rarely saw before his injury. The Leafs stormed the gates after the powerplay goal but Murray and co held down the fort until the Geno line could get back to work and redistribute the playing field. It was only a matter of time before the Penguins would get a powerplay considering the softness of the two Penguins penalties, and it came with 1:49 left in the period as Nikita Zaitsev interfered with ZAR. The Penguins had some great looks on the powerplay but couldn't get it by Andersen and we were once again tied at the end of the period.
Here's a look at your #TORvsPIT stats through the 2nd period. pic.twitter.com/QzZ9cvIIXR

— Pittsburgh Penguins (@penguins) February 18, 2018
The Leafs ended the period with 11 shots after getting 9 in the final 7 minutes of the period. The Penguins had 16 shots on the period as they made Andersen make save after save, something the goaltender is used to. Kris Letang was already over the 15 minute mark with Hunwick back in the lineup as Maatta was handicapped by Hunwick and both were under 11 minutes after two periods.
The third period started out with this awkward we want to go balls to the wall but it might hurt style of hockey. Both teams still pushed their agenda but a little more cautiously as neither wanted to make that big mistake. The tempo was still upbeat and within like 2 minutes the first five minutes were gone. The Penguins got a 2 on 1 with Sheary and Sid, Sheary had the puck and was immediately muscled off. The next time we saw Sheary he was on the fourth line winning a board battle to Ryan Reaves who made a heads up play to turn around and send the puck back to the point.
OLLI MAATTA (4) Assisted by  HUNWICK (3) & REAVES (4) @ 7:56 
GOAL-I MAATTA!

Ref cam style. pic.twitter.com/ulIGfhpJUY

— Pittsburgh Penguins (@penguins) February 18, 2018
This view curtesy of the ref cam which Hockey Night in Canada uses the perfect amount. Just a heads up play by Reaves to take a look up and reverse his direction to get the puck to the point. This view shows the play by Reaves much better:
Olli Maatta scores to put the Penguins up 4-3 pic.twitter.com/TZD7LVFm6N

— Jeff Veillette (@JeffVeillette) February 18, 2018
The fourth line had a really good shift a few minutes earlier so it was nice to see them get a cookie for their hard work. Following the goal there was a delayed icing call that resulted in Olli Maatta getting tangled up with Hyman and potentially killing him. Such a stupid rule as Bob Grove pointed out in our interview.
The pace remained breakneck as Toronto tried time and time again to tie the thing up but Murray, and at one point a diving Hunwick, were there to stop them. With about 5 minutes left the Penguins really stepped on the gas, first it was a Kessel semi-breakaway, then it was a Crosby odd man rush. You could physically see the Maple Leafs panic as they aren't used to having a team turn up the speed on them in minute 55 of a game, the Maple Leafs pride themselves on copying the Penguins game and they should feel lucky to get taught a one on one lesson in person by their masters. The Penguins didn't stop, the Maple Leafs couldn't breathe because of a Rusty tea bag in their face.
BRYAN RUST (9) Assisted by MALKIN (36) & LETANG (31) @ 16:36
Three points tonight and 11 points in his last nine games. @rustyyy_92 is on fire 🔥 pic.twitter.com/GgtHl1v4oH

— Pittsburgh Penguins (@penguins) February 18, 2018
What a freaking play by Evgeni Malkin who continues to elevate his game.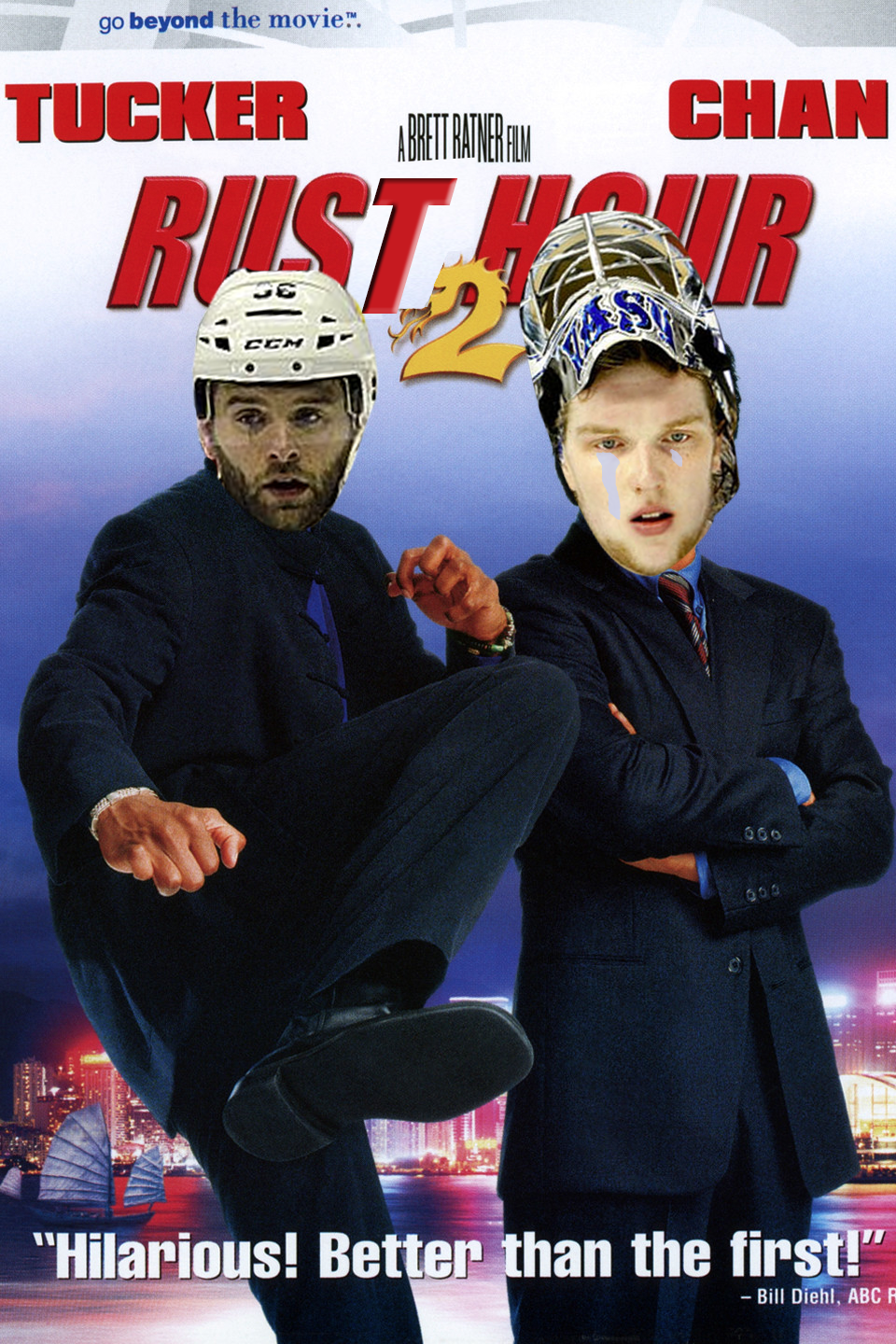 Babcock would pull his goalie and the Penguins were desperately trying to get Geno the goal to the point where Sid wasn't shooting. Pittsburgh took about 37 icings in the final 30 seconds, Malkin had a look at the empty cage but missed. Time would tick down and 6,000 Toronto fans had to walk out of The Paint Can with their tail between their legs because for the eleventh straight time at home the Pens
GOT THE DEUCE
---
THOUGHTS:
– There haven't been many (if any) teams capable of hanging with the Leafs for a full 60. Now there hasn't been anyon team capable of hanging on to the Penguins, and the rest of the league is getting scared
– Matt Murray came up huge when the team needed to. In typical Murray fashion he allows 3 goals but turns in an above .900 save percentage
– The fourth line with Simon on it looked really good
– The second line needs to stay together, those three are insane
---
GAMEDAY 61

The Penguins get little rest following last nights game as they head to Columbus for a 6:00 pm game against the Blue Jackets. The last time we saw the Jackets was December 21st and the 27th, two shootout wins in Pittsburgh for the Penguins making tonight the third of four matchups this season. I hope you are getting ready for some Metro Division hate, the Pens have 21 games remaining and 12 of them are against the Metro (CBJ 2, NJ 3, NYI 2, NYR 2, WSH, CAR & PHI 1 each). The Jackets had the night off last night following a 2-1 OT loss on Friday night to Philly, and overall are 3-5-2 in their last ten as they hit their usual end of season skid. The biggest difference between last year and this year is Columbus wasn't able to pad their stats with a 16 game winning streak, but at least that streak got Tortarello an extension.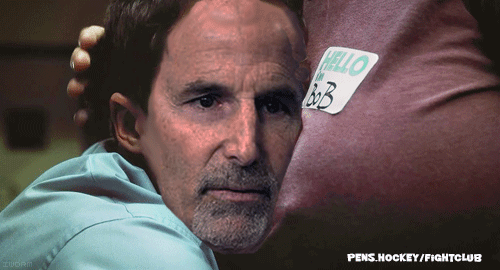 The Jackets have still managed to hang around the Wild Card race and are currently only 1 point back with 2 games in hand. I know I am on a bit of a kick with the hockeyviz.com heat maps in gamedays but I feel like they are a great visual representation that help explain what to expect. For example, does this look like a threatening powerplay?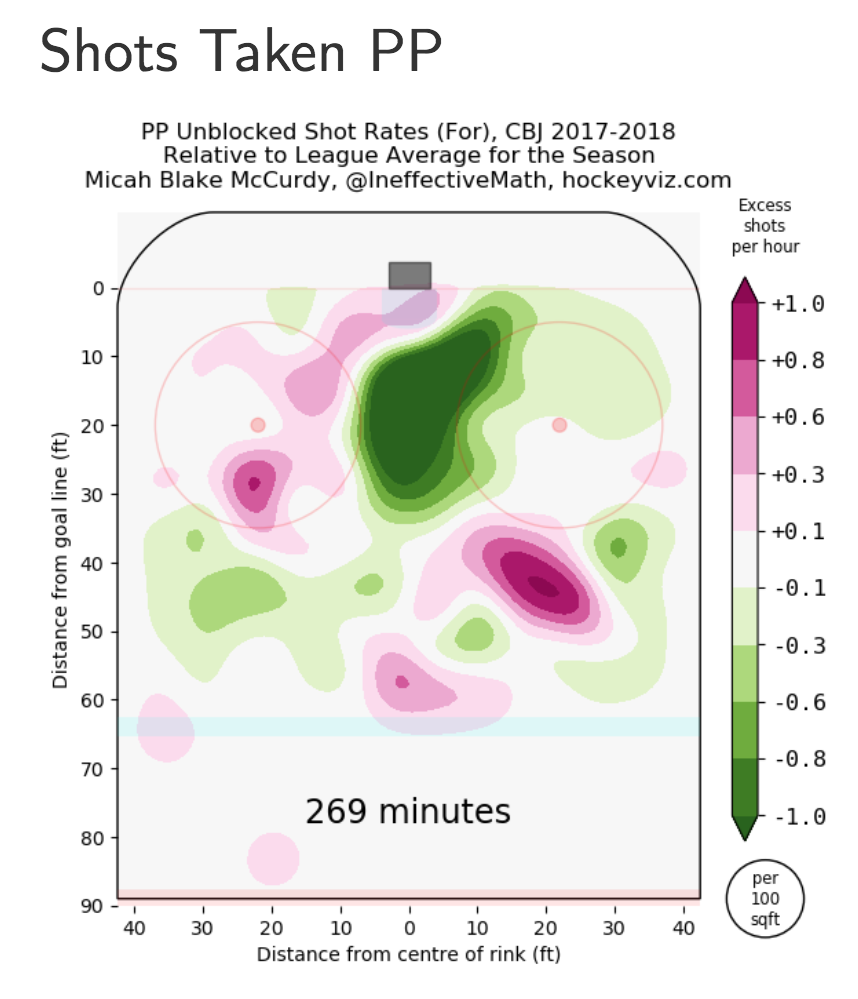 They have one hotspot a good distance from the net. As you might have guessed by looking at this the Jackets are not good on the powerplay; they are currently tied for dead last in the league converting at just 14.7% and you probably won't believe who they are tied with. The Jackets PK isn't much better coming in at 27th in the league with a kill rate of just 75.8%. Needless to say the special teams battle favors the Penguins in a yuge way in this game and could be a way the Pens can get a step on the Jackets despite having the game last night.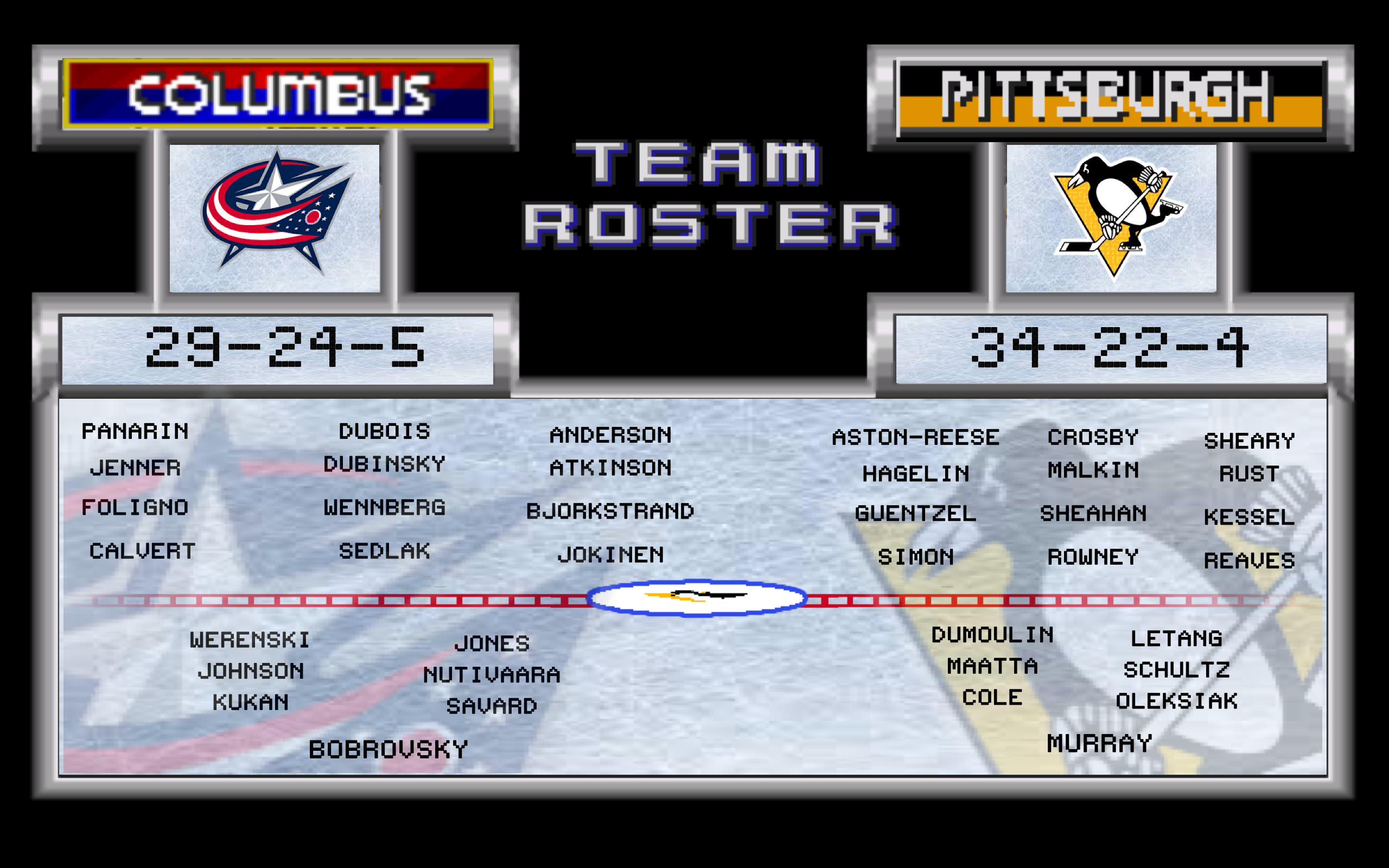 It has been a minute since Sullivan used two different goalies in back-to-back situations but I wouldn't be surprised if he opts for Jarry in this one. Other than that I can't imagine any real changes coming to the Pens, no word yet on if Schultz will be back for the team. The Jackets are currently paced by their top line, especially Panarin who leads the team in points. yes, that is Jussi Jokinen on the fourth line. In the last few years the Blue Jackets have attempted to turn themselves into the Flyers and games against Columbus are always chippy and flat out annoying. They are that lingering cough that sticks around three weeks after your sickness leaves. Back-to-backs suck, the Blue Jackets suck, it's a perfect night to give the balls a tug and get a divisional deuce, brother!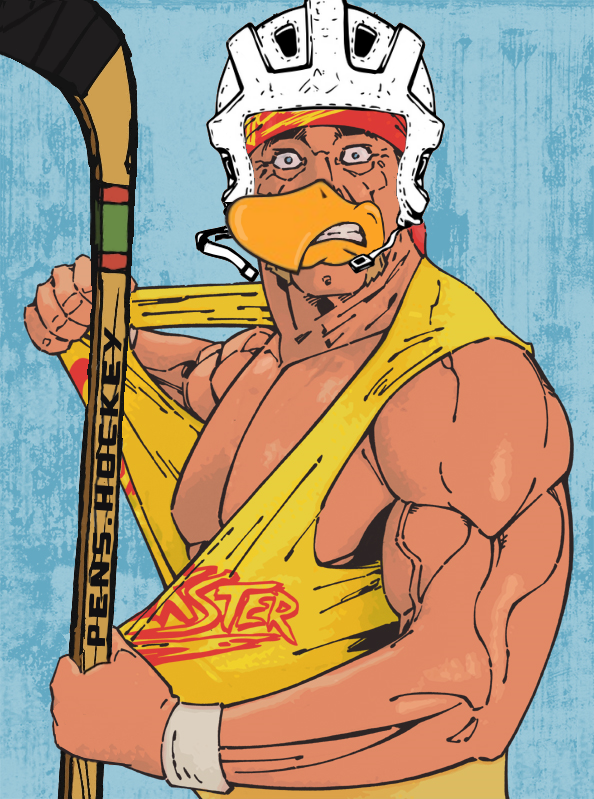 Loading ...