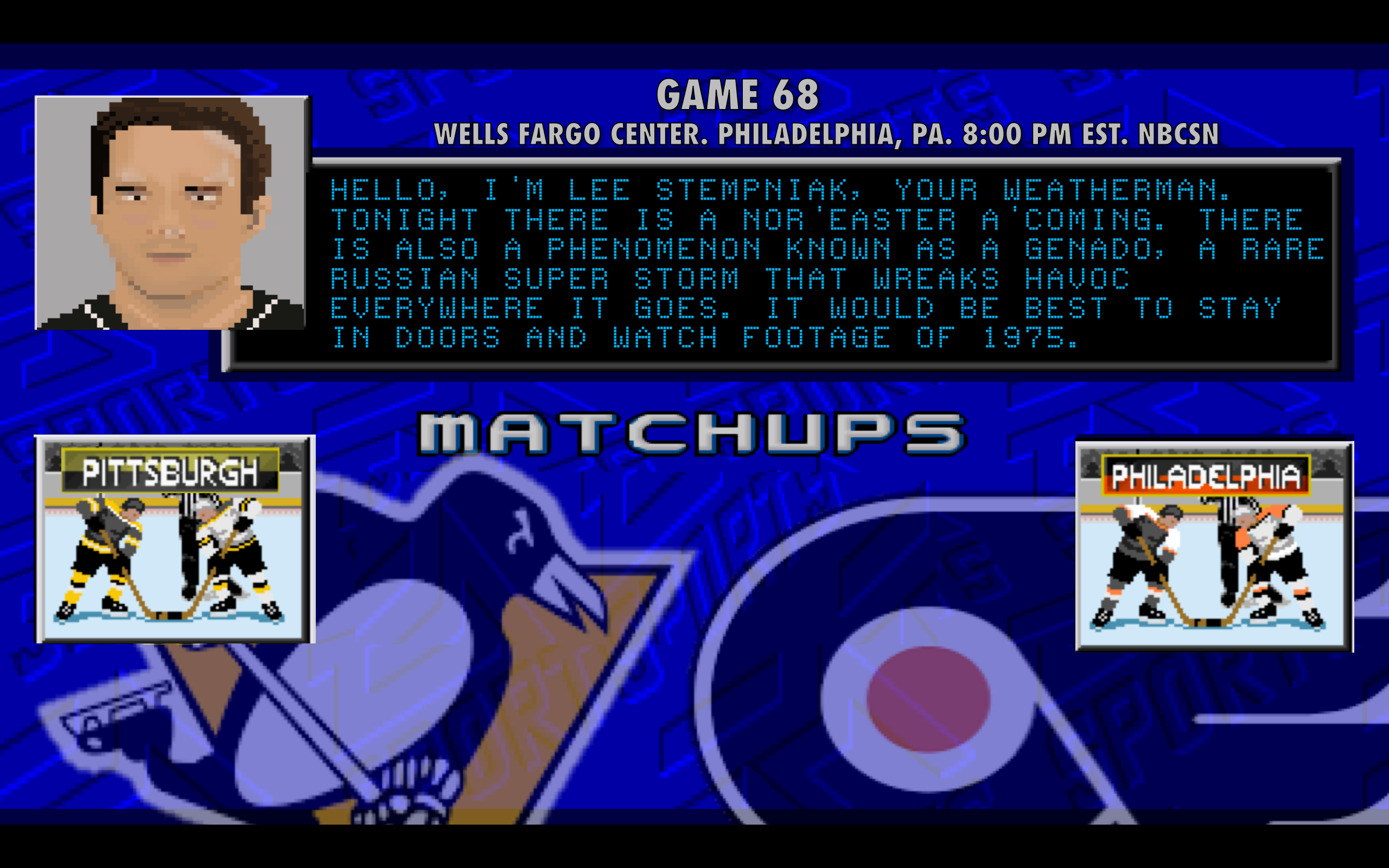 If you'll humor me for a moment, I'd like to give credit where credit is due to the Philadelphia Flyers.  Just this past summer they had the second overall pick in the Entry Draft despite having just a 2.4% chance to make that jump from 13th, and now they're in third place in the Metropolitan Division and looking pretty good for a playoff berth.  It's a big deal for a Flyers team that seemed as though it was going to stay in mediocrity-ville.
(This is as far as the due credit is going to go.)  Since the Flyers last won the Cup in 1975, here's a list of Philadelphia sports championships that have occurred:
The Phillies have won two World Series;
the 76ers have won an NBA Championship;
the Eagles have won a Super Bowl;
and the Philadelphia Union have won an MLS Cup.
(That last one isn't true, but the fact that you considered it to be probable says a lot.)
More to the point, there's this theory that the Penguins/Flyers matchup is a rivalry, but that's like saying the Red Sox/Yankees is a rivalry.  Sure, each side of that pairing could make a claim that they're winning the rivalry: the Yankees have an overwhelming advantage in the World Series wins, but the Red Sox have won more World Series than the Yankees since the not-very-arbitrary 2004 delineation.  When it comes to the Penguins/Flyers "rivalry," there is no dispute who is better than who.  It's the Penguins, by a mile, in both near-and-long-term consideration.  The Flyers are not just the black sheep of Philadelphia sports, they are the epitome of a flaming dumpster, one that has magically been burning for forty-three years.
Segue to tonight's game, the third of four meetings between these two "rivals," and we are just thirty days away from the end of the regular season (at least for the Penguins).  We're all going to spend the next month watching the standings, but with a playoff berth fairly secure (knock on wood), we may be more interested in watching the potential playoff pairings.  If the season were to end today, the Penguins and Flyers would meet in the first round of the playoffs.  If any of us were in the NHL marketing department, we would all be jumping up and down, giddy for the chance to make a marketing beast of a best-of-seven between two interstate and long-time rivals, but the NHL marketing department is full of people who don't actually give a crap about marketing so we'll have to be giddy for them.
It's perhaps too early to really make a big deal out of this game in the context of a potential playoff matchup – by March 25 and the last meeting between these two teams we'll likely have a better idea who will be playing who – but you have to know that both teams will be treating this like a playoff preview.  That means the Penguins will be looking like their ideal selves – fast, tenacious on the puck, crashing the net – and the Flyers will be playing like you probably expect them to: dirty, cheap, ugly.  Specifically, I expect one of two things to happen: either Evgeni Malkin will make Sean Couturier eat Malkin's AND his own jockstrap, or Couturier will attempt to injure Malkin and Couturier will have Phil Kessel to answer to.  Meanwhile the Flyers have a bunch of guys out of the lineup, including Wayne Simmonds, so I'm really expecting to see the trashiest play from the Flyers, because they must give their home fans something to be excited about.
Things have been going just fine for the Penguins of late, sneaking off with two straight overtime wins while they try to keep pace with the Washington Capitals.  It appears that Tristan Jarry has settled down and is making his case to be Matt Murray's backup when Murray returns from his injury.  It's hard to pretend that Chad Ruhwedel was Mike Sullivan's secret weapon, but already he's looked much better than Matt Hunwick (and we all knew that would be the case) so cheers to Sullivan for keeping that secret under wraps until now.  No word yet on Zach Aston-Reese's status, at least not as of this writing, but we're finally starting to see those fourth line ice times creep up, so there's no serious rush.
The Flyers love to pad their stats by losing in overtime. The Penguins don't have time for padding tonight. It's a big two points on the line between two teams in a game that is guaranteed to raise your blood pressure as soon as you see that awful shade of orange. Sounds like a good time to kick some ass, brother