The Pittsburgh Penguins return to PPG Paints Arena for a short two-game homestand starting against the lowly New Jersey Devils.  With the season closing in on its end the Penguins will look to these last thirteen games hoping to secure their playoff berth quickly and accrue as few injuries as possible.  The latter seems like a tall task as the Penguins have in the last two weeks added Patric Hornqvist, Carl Hagelin, and perhaps Ron Hainsey to the list of injuries that already included Kris Letang, Trevor Daley, Olli Maatta, and Bryan Rust.  Nevertheless, the Penguins have somehow managed to accrue the second-most points in the League since February 1.  It's comforting to know there's still some depth in Wilkes-Barre/Scranton to at least fill in…
…but unfortunately the Penguins have very rapidly run up against the four player limit on call-ups from the AHL (Sundqvist, Gaunce, Archibald and ugh Sestito).  The good news is that Archibald and Sundqvist were re-assigned to WB/S on Thursday, meaning perhaps the Penguins will have some actual NHL talent returning to the lineup.  The bad news is that we're all going to experience shades of two seasons ago when the Penguins had only five defensemen to finish out a season that could have ended mercifully sooner.  Every opponent from here on was likely not going to make it easy for this worn and weary Penguins team which only has one two-game break from now until the playoffs, and it's going to be up to the Penguins to limit their fatigue and stay out of harm's way.
Their opponent tonight is likely anything but harmful.  The Devils (prior to yesterday's game against the Flyers) were on a ten-game losing streak which included three shutouts and two games where they scored four goals and still lost.  Their scoring "leaders", Kyle Palmieri and Taylor Hall, each have as more points than Conor Sheary in 18 and 10 more games played, respectively.  Their starting goalie, Cory Schneider, has worse numbers this year than Marc-Andre Fleury.  They traded away their best defenseman, Adam Larsson for Hall and the two have equal point shares on the season.  If it weren't for the Coyotes and the Avalanche, they'd be the worst team in the NHL (and the Coyotes are just four points behind the Devils).
(Small side note: I think Beau Bennett deserves a round of applause for playing more games this season than he has in any previous season.  Just don't clap too loudly or you might rupture his eardrum.)
For starters, the return of Archie Comics and Sunny D to WBS says that there will be a change to the Pens lineup. The assumption would be Hornqvist, as he was labeled as being "close" to a return last game. Of course, Tom Sestito has finished his suspension and is also available, but please Penguins Jesus don't let that be the case. It was interesting trying to place Hornqvist this morning, and I am 98% sure I got it wrong in the graphic. The best bet is Hornqvist goes back to Malkin's right and Kessel reunites with Bonino, this is the pattern Sullivan has used all year. I just don't see Sullivan breaking up that top line at the moment. There is also a gray area with Hainsey other than his bush, because we haven't been informed of his current status. If Hainsey is good to go but not 100%, it wouldn't surprise me to see the Pens roll with 11 forwards and 7 defenders again. In fact, as this month grinds down that rotation may actually be a huge benefit to get players "rested." Having Chad Ruhwedel, as serviceable as he's been, in the playoffs is one thing; having Chad Ruhwedel burnt out form playing 25 minutes a night the last two weeks in the playoffs is a whole other level of shit. EDIT: Malkin left practice early, Hainsey is week to week, Poohnuts has been called up, fuck it all.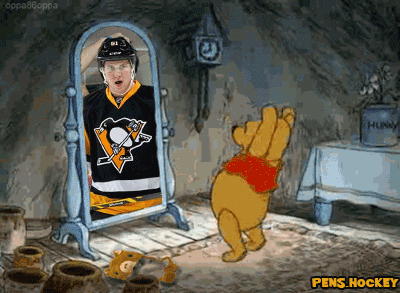 As for the Devils, I know 5 of their players: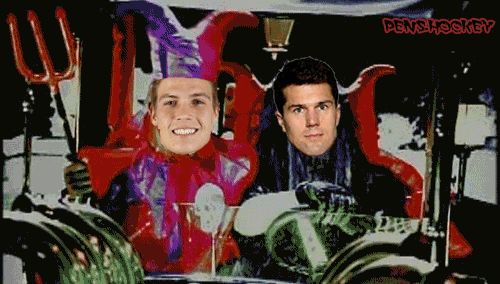 Their first line is their only line and explains their current record. Shutting down the New Jersey top line takes away 3 of their 5 players with double digit goals this season, the other two are Henrique (18) and Cammalleri (10). Regardless of the defenders the Penguins are able to dress tonight they should be able to shut down this one lined team.
I'm not even going to try to predict the starting goalie, Sullivan has shown no pattern recently so it is a waste of time in both predicting the goalie and arguing for the goalie. The Pens are currently 5-2-1 in this hell of a month that sees them play 18 games with only a 2 day rest between games happening twice (one has already occurred). Looking at March way back at the beginning of the season, if you would've told me that the Pens would be down 3 top 6 defenders and 3 starting wingers I would've settled for an 8-8 record at the drop of a hat. Even today, and especially with their spot in the standings, I will take an 8-8 record in exchange for a healthy team in April.
The Penguins should be able to handle the Devils tonight, but we have to remember that just because they are home doesn't mean they are rested. Sleeping in your own bed helps a lot, but it doesn't change the fact that you've been playing hard fought games every other day. Crosby and Malkin have let ratfaces climb up the goal column, wouldn't surprise me to see a big night from the duo tonight. Let's frking do it.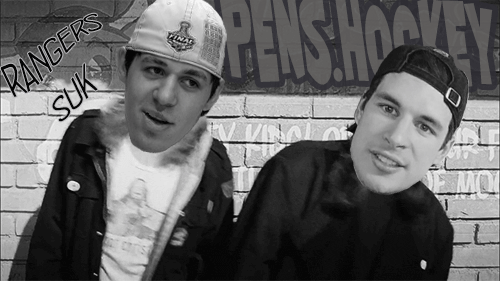 ---
Good luck to the Penn State Hockey team tonight as they take on top-seeded Minnesota in the Big 10 tournament. Penn State beat Michigan last night 4-1, and with a win tonight will solidify their spot in the upcoming NCAA championship bracket.