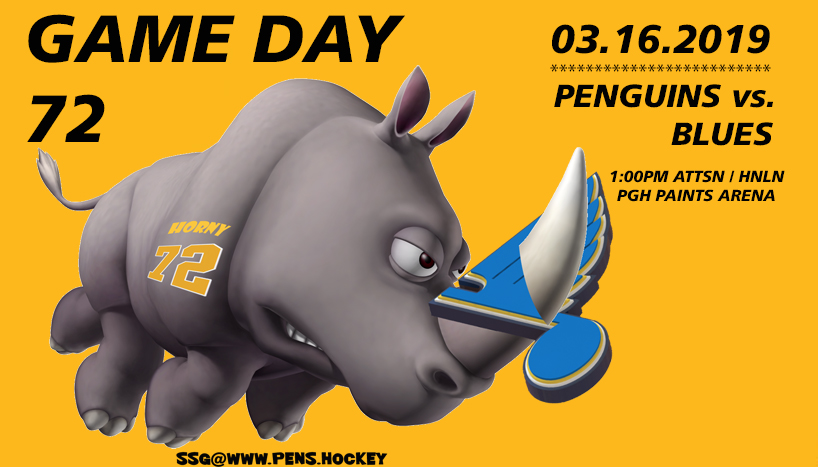 Saturday afternoon at the Taint. Playing the once 'dreaded' St Louis Blues. Reminds me of my younger days when our chants of "BAAAARCLAYYY" would ring out low and slow and build to a deafening crescendo bouncing back off the a-loo-minium dome of the Igloo. The Plager brothers are long gone and this once hated rival is now just another wanna be West team coming in here to our barn and trying to hold onto their playoff spot. Just so Winnepeg or Nashville can crush their dreams once again. Muahahaha!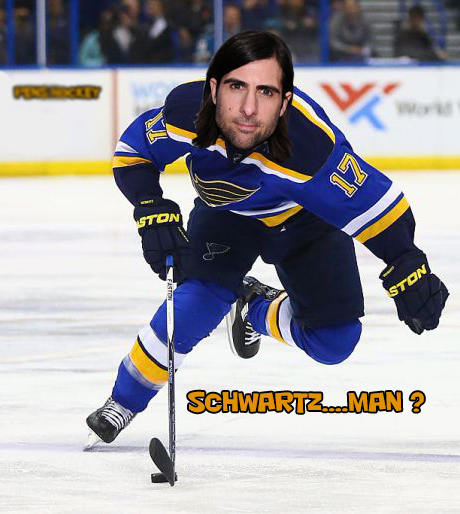 O'Reilly and Tarasenko (out of lineup) are having nice years for the flying sad notes, but that's about it in the scoring threat department for these guys. I really like O'Reilly's game. Like to see the Pens nab him. On the down side…Bozak, Parayko and Schwartz are all underachieving for them this season. Our cast aways Perron (out of lineup) and Sundqvist aren't helping much either. We also get to see our old pal Bobby Bortuuuuuuzo at the matinee. I hope they remembered to bring the Oliphantz this time.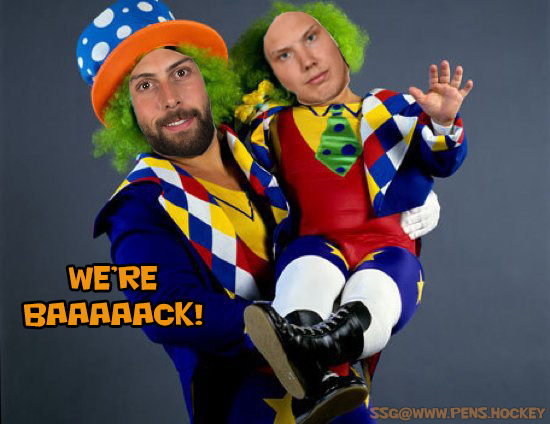 The Blues got off to a really crappy start this season but they've since been putting a game together and have managed to rise to 3rd place in the Central. They, much like us, really need the points to stay ahead of Dallas and Arizona (wut?…yup) who are hawt on their tail. The stink of interim head coach Craig 'Chief' Berube behind players on the bench really must motivate them to want to do well and stay out on the ice. Phlyur Philth.

This Bennington kid is looking pretty good as the backstop for these guys. Allen is the 'official' starter but…hey, so was MAF, eh? Only 10 GA in his last 5 starts while going 3-2 and shutting out Nashville. One of those losses came against Arizona and he only gave up 2 goals. I really hope Jordy gets the start. I haven't really had a chance to watch him play so I'd like to get my goalie ass-essing eyes on him to see if there is any "hub to this bub."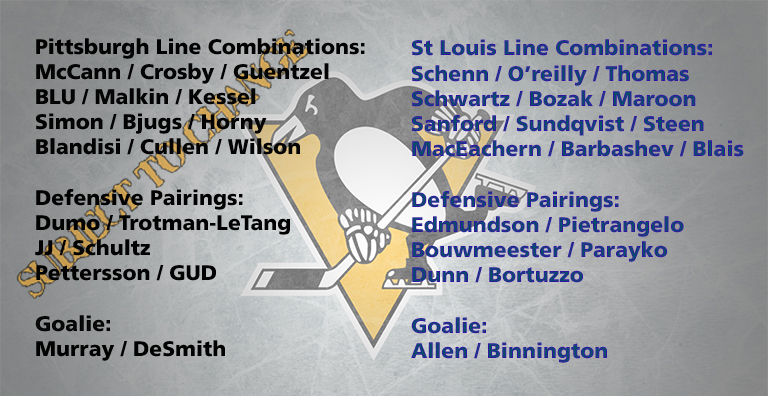 The Pens obviously have the talent to defeat these guys on paper. They perform pretty well against the West teams. But this is a day game and welp…ya never quite know how that's gonna go with the bois in Black & Yello. At the time of this writing ZAR and LeBooboo are not skating in practice so I don't expect to see either of them this weekend. Rusty on the other hand is a possible starter. It would be nice to at least get him back in the lineup for the push and ultimately ready for the playoffs.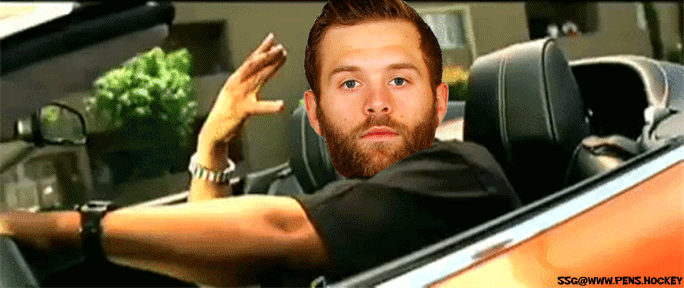 I'm looking for a great effort and at least 3-5 points of production from the 3rd & 4th lines in this game. DeSaves in goal perhaps? It'll be interesting to see how Sully handles the B2B weekend between Jeebus and DeSaves. I feel it's imparitive that WE grab 4 points this weekend. The next four games after tomorrow are all on the road and all against playoff teams. Buckle up baby!