A Savage Journey to the Heart of the NHL Expansion Draft
Part 1: "Buy the ticket, take the ride."
The Las Vegas Golden Knights will select their inaugural roster on June 20, 2017 by "drafting" from a pool of eligible (or "exposed") players from current NHL organizations. The quotes around "draft" denote that it will not be a traditional sports draft.  Only one team (Vegas) will be making the picks, which makes it more like the U.S. military draft.  Except, unlike those hippies in the 1960s, potential draft picks cannot burn their draft card or flee the country to avoid the draft.  This draft also will not be televised, which will be the first time in his stint as NHL Commissioner that Gary Bettman has avoided making a blatant cash grab.  After a private selection process—likely to allow the NHL to ensure all the picks comply with its convoluted rules—Vegas will announce its roster on June 21, 2017.
Before exploring some potential nuances in the rules, and (most importantly) how they impact the Penguins, let's look at the general expansion draft rules.  For an overview of what $500 million buys you in today's NHL, here are the rules, according to the NHL.
Vegas will draft 30 players, or 1 eligible (or "exposed") player from each current NHL organization (note: the player does not have to be on the current NHL roster).  Bad news, Vegas, you must select a Coyote, Av, Sabre, and Islander.

Each current NHL team can choose to "protect" either:

(1) 7 forwards, 3 defensemen, and 1 goalie; OR
(2) 8 skaters of any position and 1 goalie (i.e. the price for protecting a #4 defenseman or defensive prospect is two second-line forwards).

Players with "no movement clauses" (NMC) in their 2017-18 contracts must be protected and will count towards their team's protection limits (example: Sidney Crosby, Evgeni Malkin, and Phil Kessel, who have NMCs, will count as 3 of the Penguins' 7 protected forwards; the Penguins may protect 4 additional forwards).

A player with a NMC whose contract will expire on July 1, 2017 does not have to be protected (example: Thomas Vanek).
Any player with a NMC can waive it and become eligible for the draft. However, once a player waives his NMC for any reason, it is forever waived.
Players with "no trade clauses" (NTC), but not NMCs, do not have to be protected.

All first- and second-year "professionals," and all unsigned draft picks, are automatically exempt from the draft and will not count towards their team's protection limits.

For 18- and 19-year-olds, a year of professional experience is 10 or more NHL or AHL games in a season. To illustrate, 2015-16 was Daniel Sprong's first professional season because he was 18 years old and played 18 games in the NHL (2G-0A).  He hasn't played any other NHL games, so as a first-year professional, he is automatically exempt.  Once he gets healthy and plays 10 or more games in 2017, he will become a second-year professional and will still be exempt.
For 20-year-olds (or older), a year of professional experience is 10 or more "professional games" (AHL or NHL) under a NHL standard player contract (SPC) in a league year.
For international players, a year of professional experience counts only while a player is under an NHL SPC. So, players who have only played in the KHL, SM-liiga, SHL, etc., and not in a SPC, are exempt from the draft.  And players who played multiple seasons in those leagues before coming to the NHL and receiving a SPC, like Artemi Panarin, will not have those international seasons counted as professional experience (a not-so-subtle dig at the KHL).
All current NHL organizations must expose players who meet these minimum requirements:

One defenseman

and

two forwards who are (1) under contract for 2017-18 and (2) meet the "40/70" requirement. "40/70" means the player has played in 40+ NHL games in 2016-17

OR

has played in 70 or more NHL games combined in 2015-16 + 2016-17.
One goalie who is under contract for 2017-18

OR

will be a restricted free agent (RFA) at the end of the 2016-17 season.  If the exposed goalie will an RFA, the team must give him a qualifying offer (QO) before the team submits its protected list.  Unlike skaters, there is no minimum NHL experience required for the exposed goalies.
To satisfy these minimum exposure requirements, teams cannot use players who have missed the previous 60+ games due to potential career-ending/-threating injuries to satisfy the above exposure requirements (i.e. Chris Pronger, Marc Savard, David Clarkson, etc.) without NHL approval.  The NHL can also exempt these players from the draft.
Vegas is not obligated to select players meeting these criteria. If Vegas wants to select an exposed skater that does not meet the "40/70" requirement, it is free to do so.
Vegas's selections must comply with the following rules:

Vegas has to select 14 forwards, 9 defenseman, and 3 goalies (26 total players). The other 4 players can play any position.
20 of the draft picks must be under contract for 2017-18.
The salary of the selected players combined for the 2017-18 season must be at least $43.8 million (which is 60% of the 2016-17 salary cap) and no more than $73 million (100% of the 2016-17 salary cap).
After Vegas selects a player:

Vegas cannot buy out any drafted players until after the 2017-18 season.
Vegas cannot trade a drafted player back to his former team before January 1, 2018.  However, Vegas can trade drafted players to any other team without restrictions.
TL;DR recap: for $500 million, Vegas will select a roster full of cast-off "top 6" forwards (paging Dustin Brown?), the best third- and forth-liners available (I'd list Brandon Sutter here, but Vancouver genuinely believes he is a #2 center), some #4-6 defensemen, and three decent backup goalies.
To get an idea of Vegas's projected roster I went to google.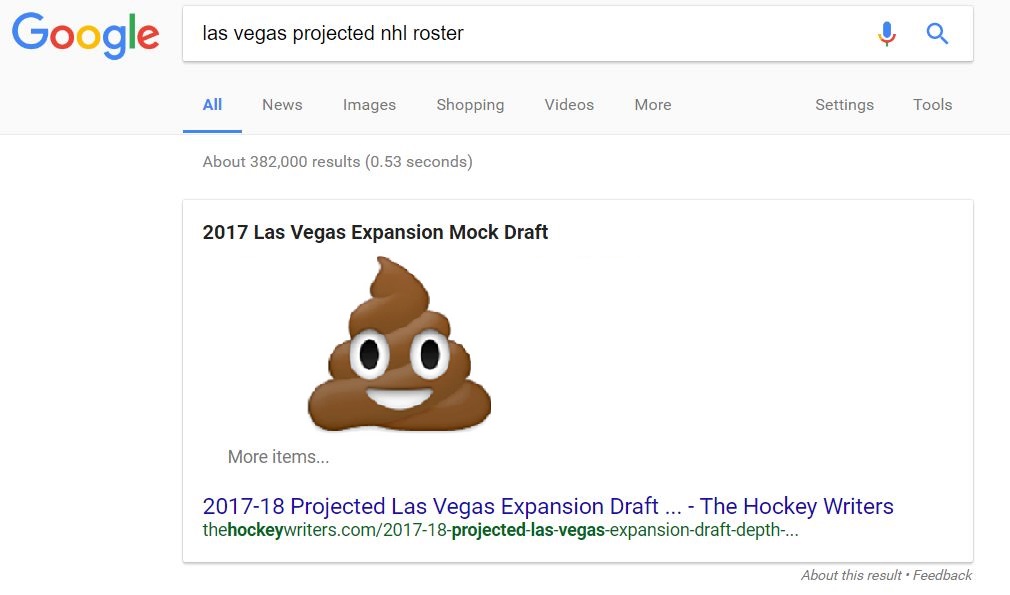 Think that's a joke?  Let's consult a more reputable and more serious (i.e., "Canadian") source.  Take it away, TSN…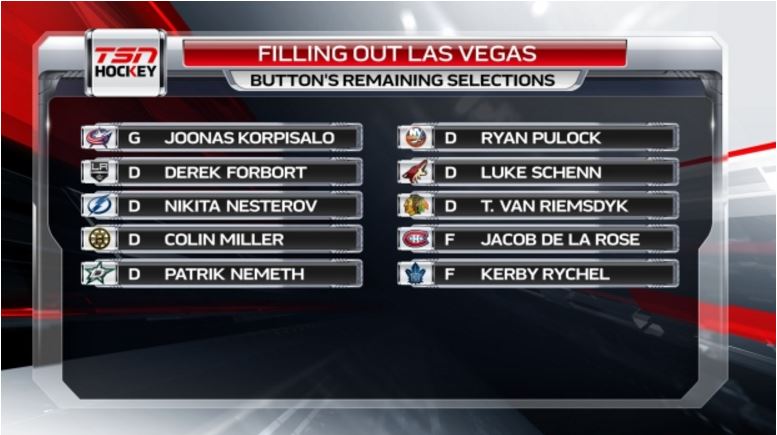 Suddenly, that smirking pile of shit doesn't seem inaccurate.
Lastly, this is the timeline of how the upcoming offseason will begin:
June 1_, 2017 – Stanley Cup Final concludes.

As an idea, the date of the final game in the last five Stanley Cup Finals (not including the 2014 lockout season) were: June 12, 2016 (6 games); June 15, 2015 (6 games); June 13, 2014 (5 games); June 11, 2012 (6 games); June 15, 2011 (7 games, a.k.a. the night Vancouver burned).

June 17, 2017 – the 30 NHL clubs will submit their lists of protected players.
June 18-June 20, 2017 – Vegas has a 48-hour period to negotiate with and sign any pending unrestricted or restricted free agents (UFA/RFA) that have not been protected. More on UFAs and RFAs in an upcoming post.
June 20, 2017 – Vegas submits its expansion draft picks.
June 21, 2017 – Vegas's draft selections will be made public.
June 23-June 24, 2017 – NHL entry draft in Chicago.
Now that we have a better idea of the expansion draft rules and the draft's timeline, part 2 of this series will cover UFA and RFA players.